I know you're all grieving after the end to the epic series of Disney blog posts, but fear not!  I still have plenty of photos from Japan saved up for this occasion.  Here is the 2nd half of our epic journey through Kiso Valley, beginning immediately after the end of the parade full of people wearing hats that may as well have been blindfolds.  Our journey was to take us up and over a steep ridge in the valley on an old path connecting Tsumago and Magome, the next post town over.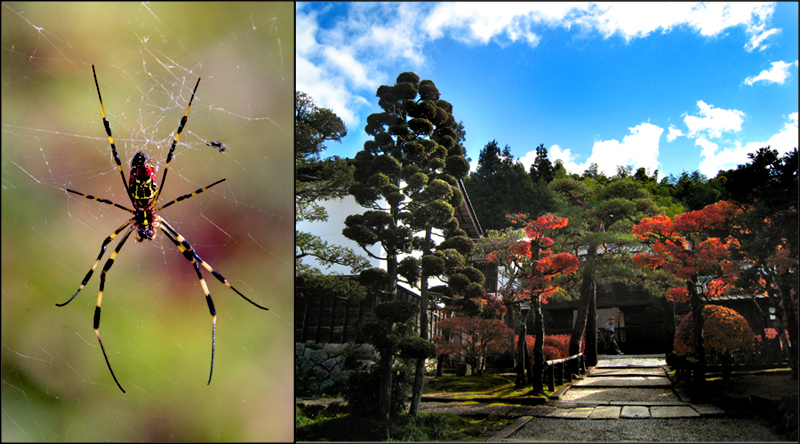 (left) some big and nasty variety of yellow garden spider - but completely harmless.  (right) a final view from Tsumago before heading to the outskirts of town towards the hike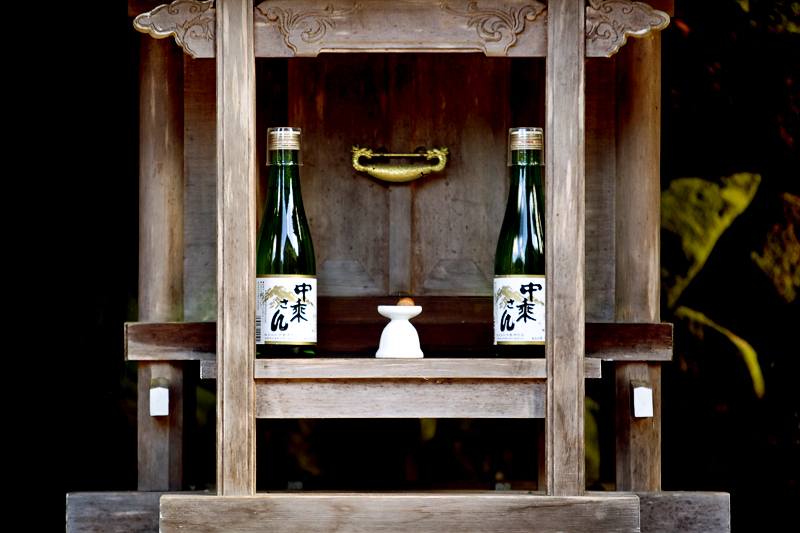 small shrine with sake offerings at the edge of town.  Somehow I couldn't resist saying to Jer, "Yo, bartender!  Jobu needs a refill!"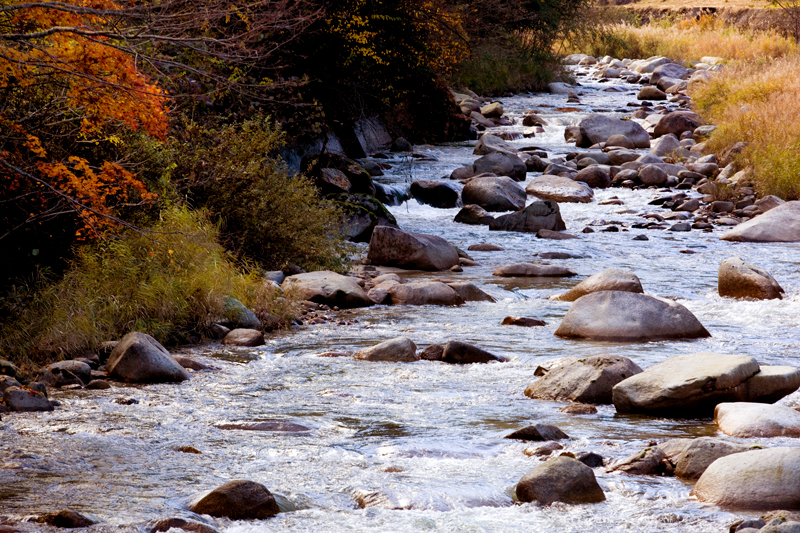 reminds me of the streams in the Smokies, and a hint of the fall colors to be seen on the trail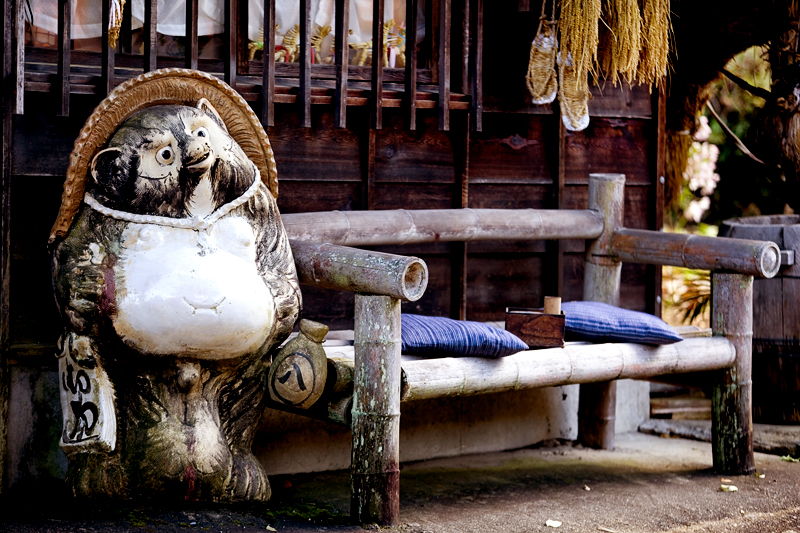 for the blissfully ignorant - I present you, Tanuki.  Some people might recognize that name as the name of raccoon-Mario on the old Nintendo games.  In reality, Tanuki exists and is sort of like a ubiquitous garden gnome, but with actual meaning and significance.  He will always be found with a hat, big bright eyes, a friendly smile, a bottle of sake, money, a pot belly, and ... ridiculously oversized testicles, which are supposed to bring good financial luck.  Funny - you usually hear the opposite said about money-driven people out here - but I digress.  I'm more baffled about the fact that Nintendo convinced all of us as children that a fat Italian man with 10 lb testicles could fly simply by shaking his tail.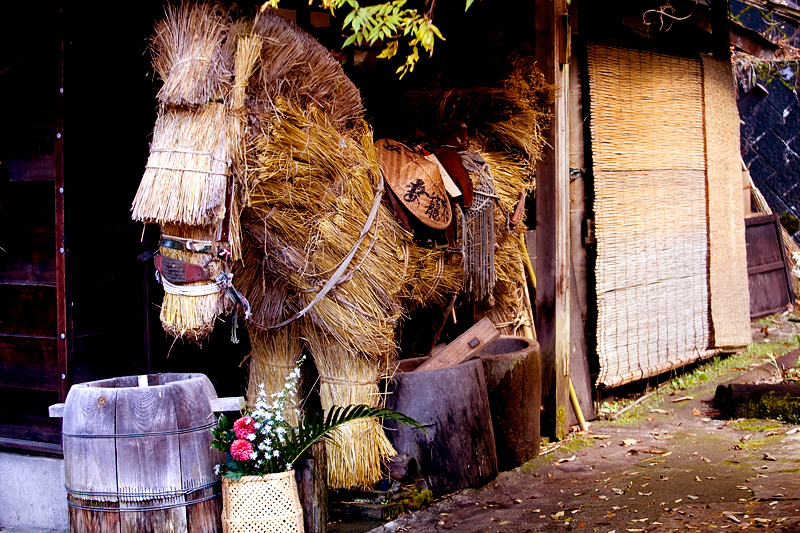 Straw man + Trojan horse = straw horse!  Or something.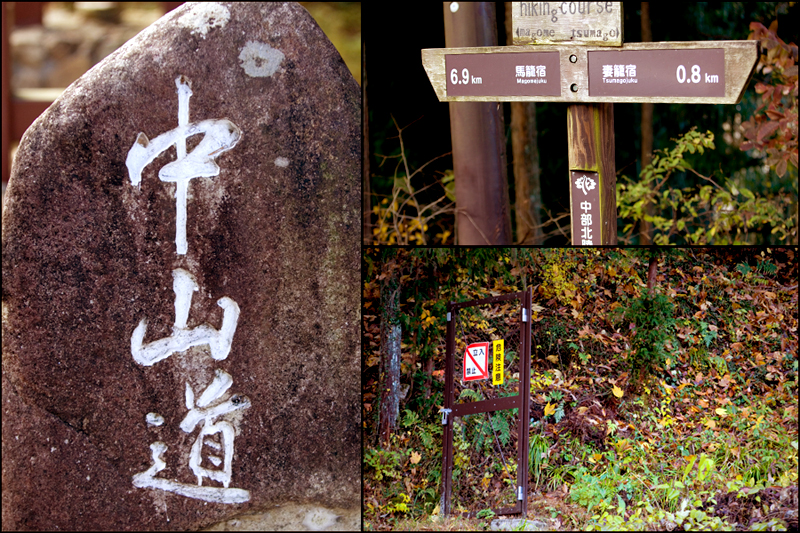 (left) Markings on a rock indicating the beginning of the Nakasendo.   (right)  You know how in Japanese culture there is the legendary "Dokodemo" door (door that goes anywhere)?  I call this door the Dokonimo door (door that goes nowhere).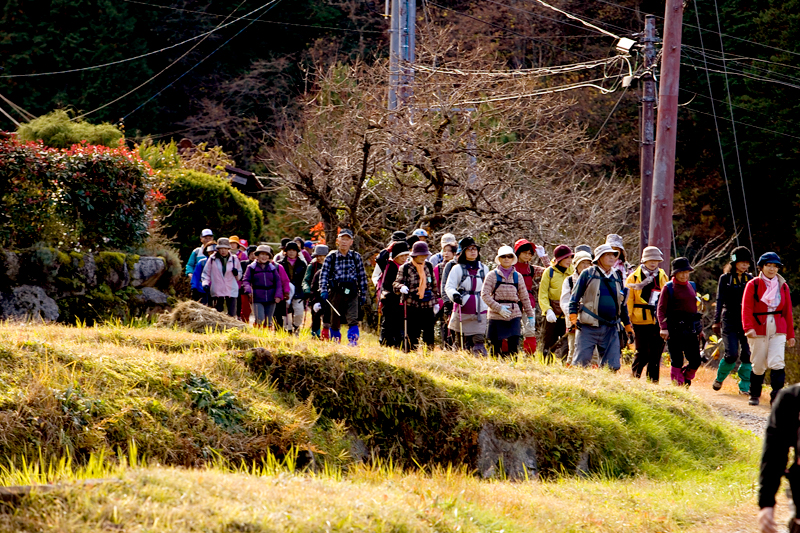 Right at the edge of town we were greeted with another all-too-common sight - the herded Japanese tourists. It always amazed me how well they travel in organized groups. I much prefer the whole getting lost in another world experience...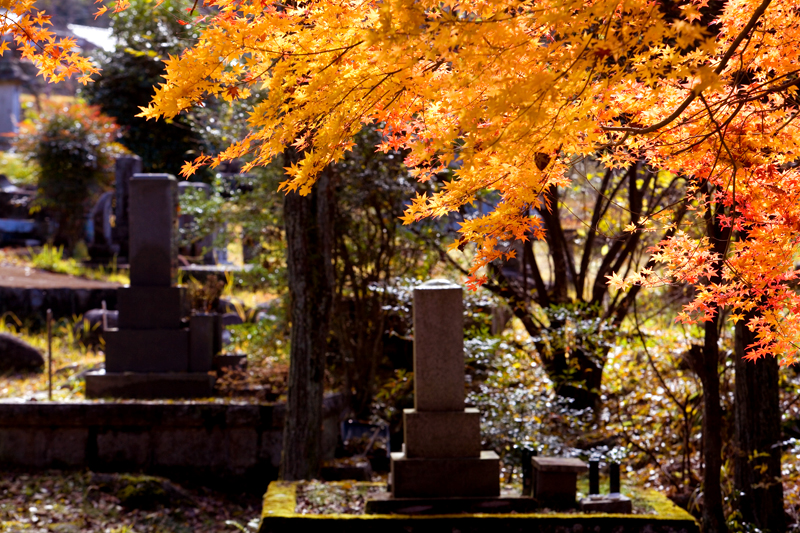 The beginning of the real Nakasendo did not disappoint. We were instantly greeted by a stunning display of bright orange and red fall colors framing a cemetery unlike one I had ever seen before.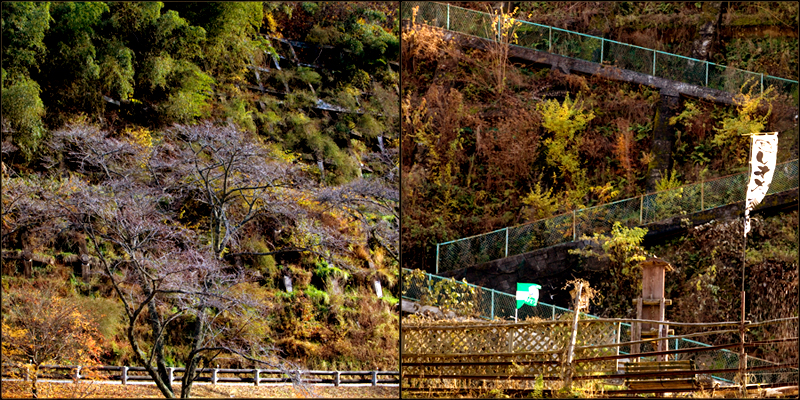 (left) The path continued through some small country house properties, some of which had small garden ponds full of fish that looked oddly like the one I ate the night before... (right) Luckily, we did NOT have to climb this path, but I have nothing but sympathy for those who tried.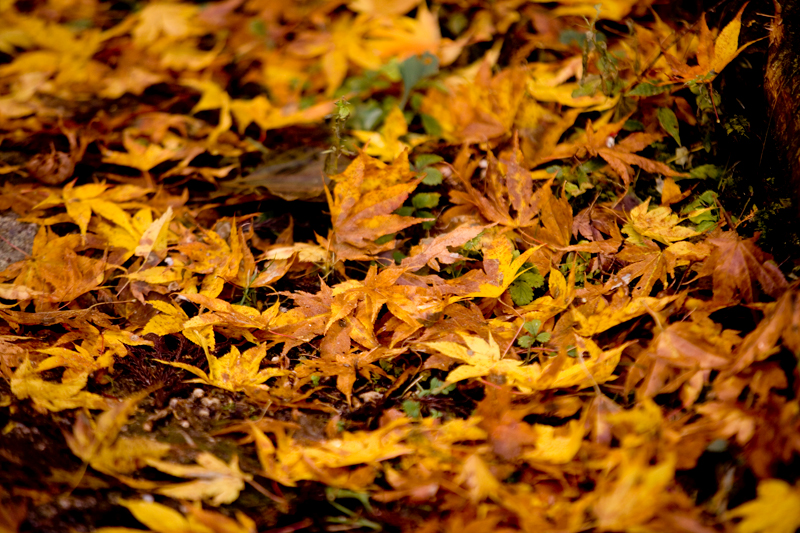 Japanese maple leaves in fall colors, everywhere!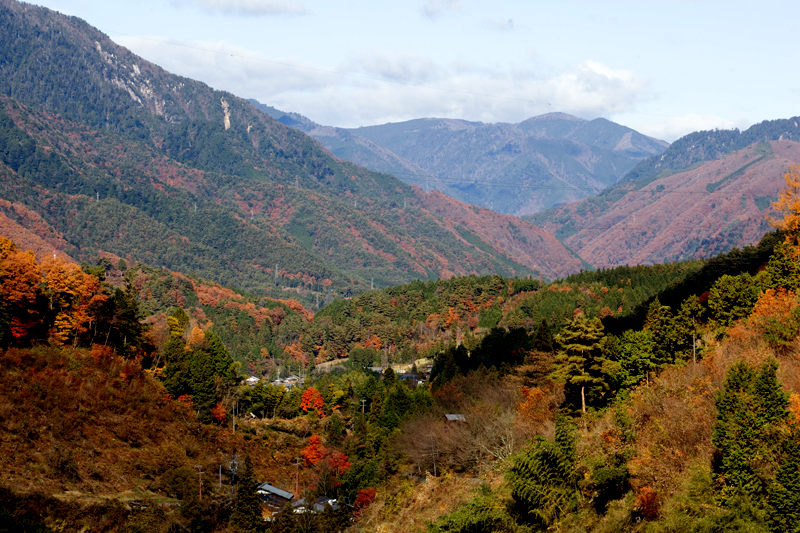 Kiso Valley in all its splendor.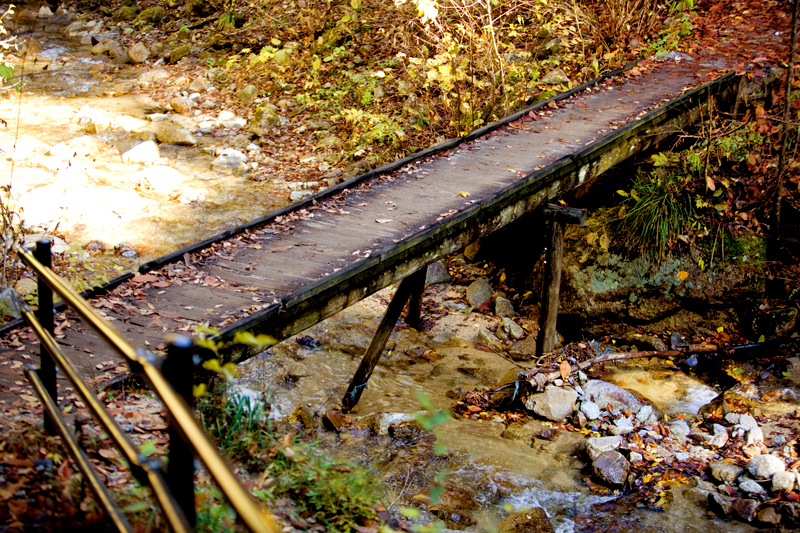 Looks kind of like the "bridge" that Little John was guarding from Robin Hood.  "Look.. this ain't exactly the Mississippi!"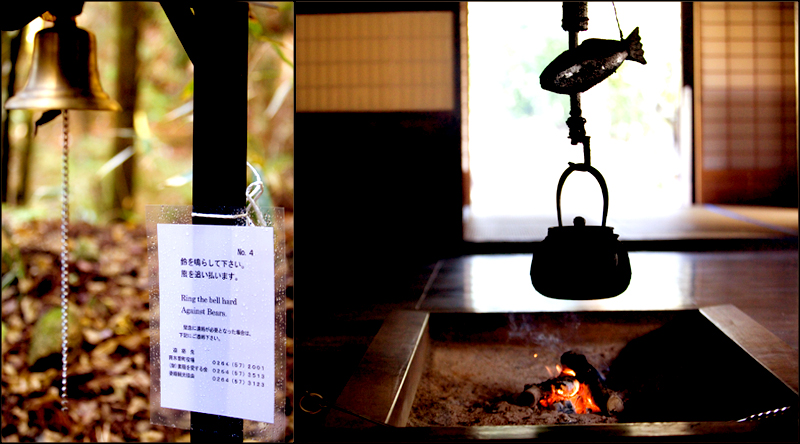 At the summit of the trail, an older Japanese man had set up a small complimentary tea house. He eagerly served us tea and simple sweets, and practically begged us to sign his guestbook and put a pin on his wall map to show where we were from. I was actually surprised at how few pins were from the West. We definitely got what we bargained for in choosing this off-the-beaten-path destination!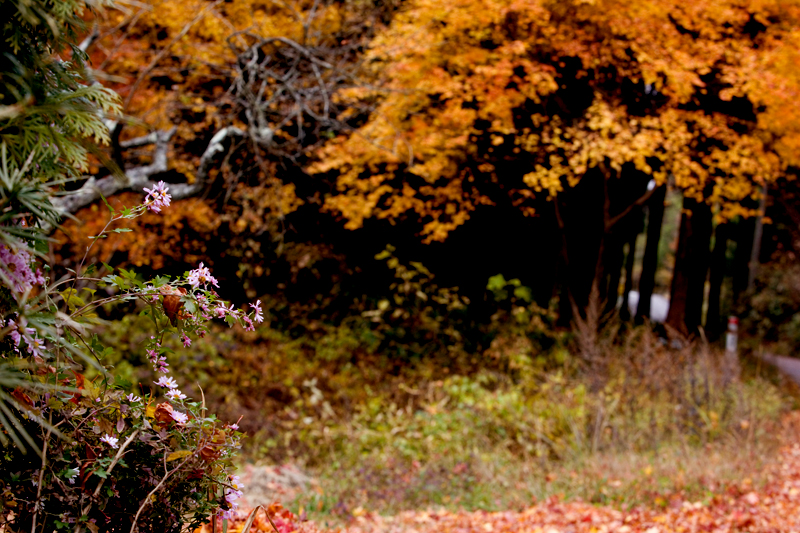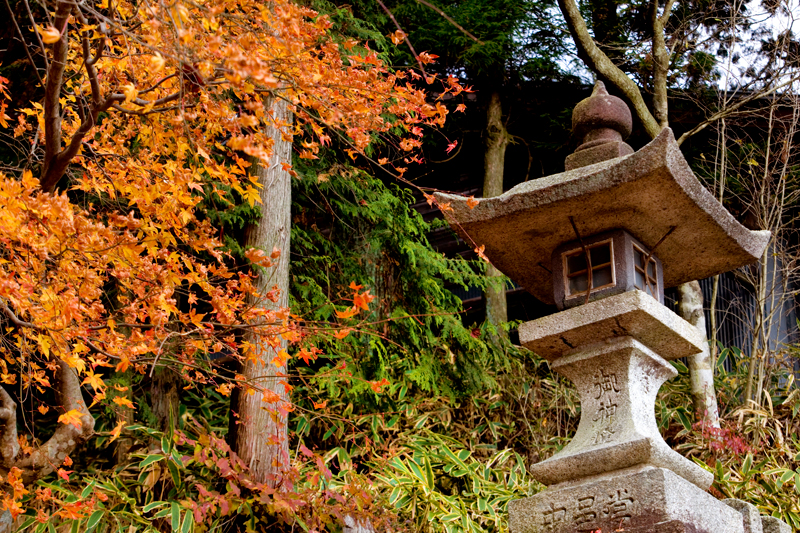 What really made fall colors, which we get plenty of in the South, special in Japan is the juxtaposition of them with shrine/temple architecture.  I couldn't get enough of these stone lanterns everywhere I went.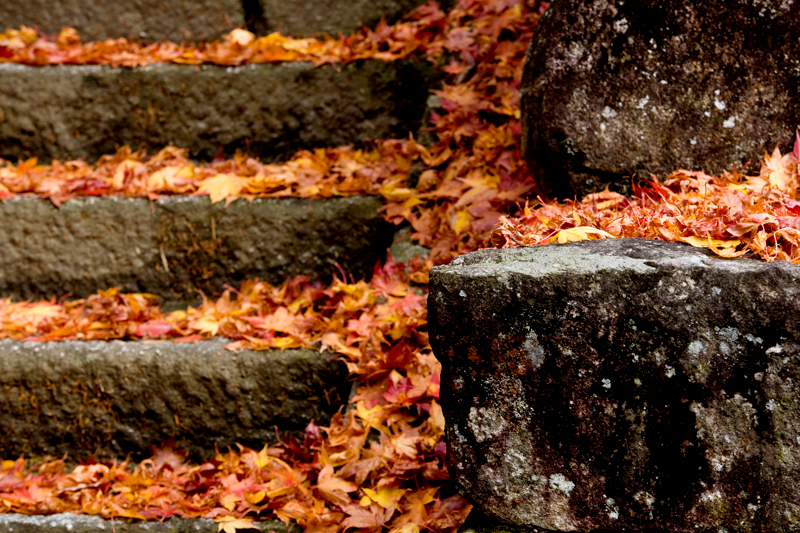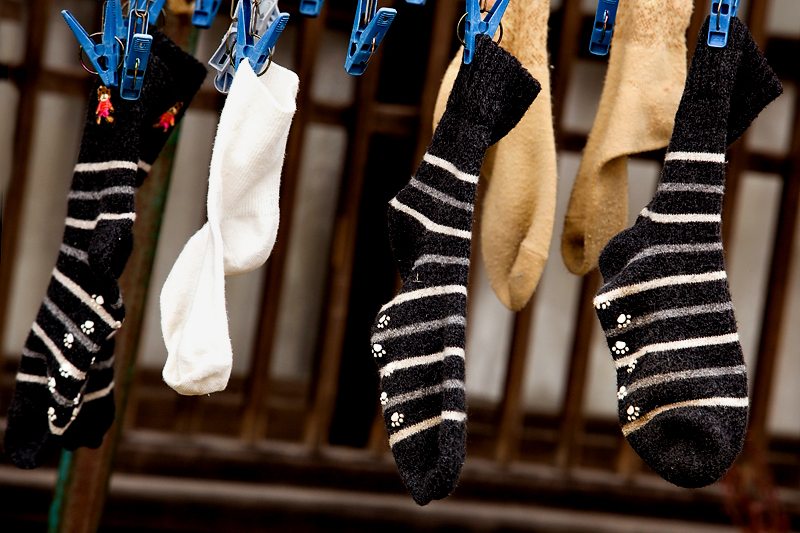 Socks hanging out to dry behind a country home.  I don't know why - I just like this shot.

Colorsplosion!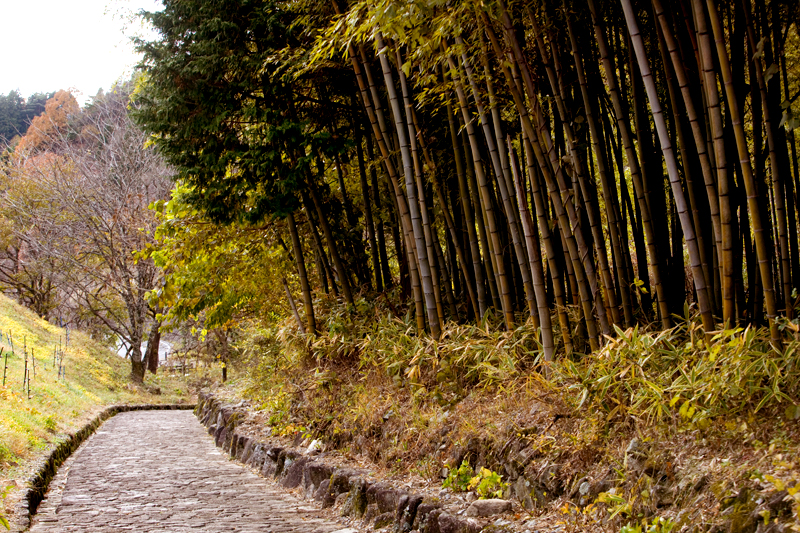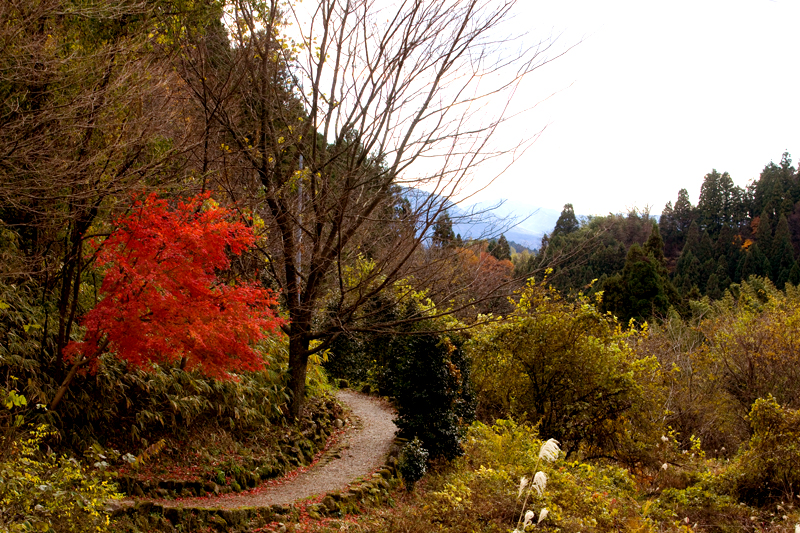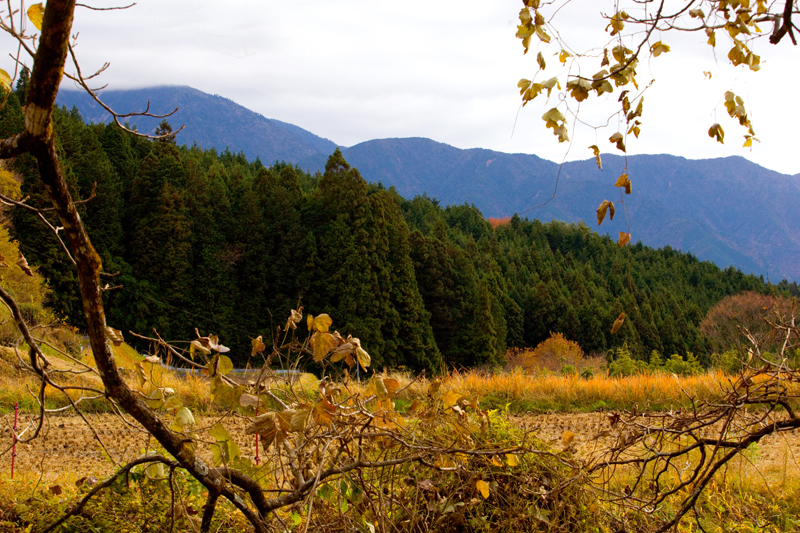 Near the end of the hike was probably my favorite view of the whole area, and it strangely didn't have much fall color.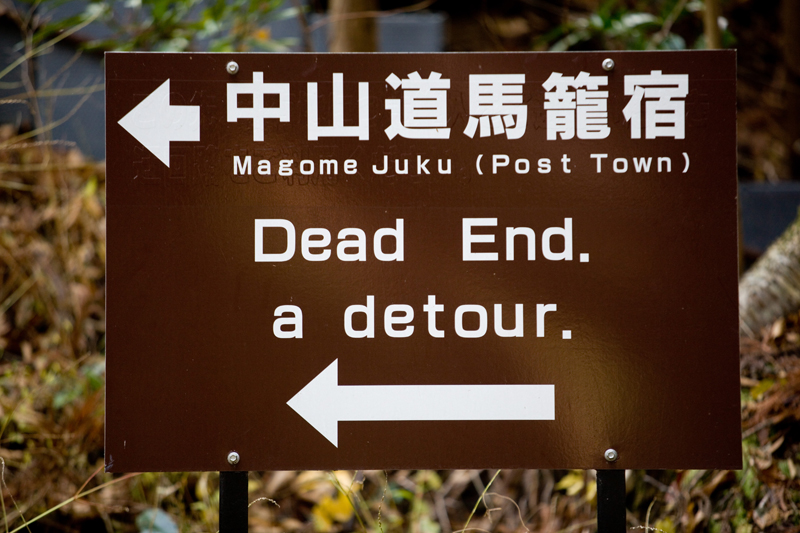 Nearly 5 miles into the hike, and literally a few football fields away from the destination, we ran into this.  %#@!%#&!

But it was worth it, as the best high views of the hike soon came into view.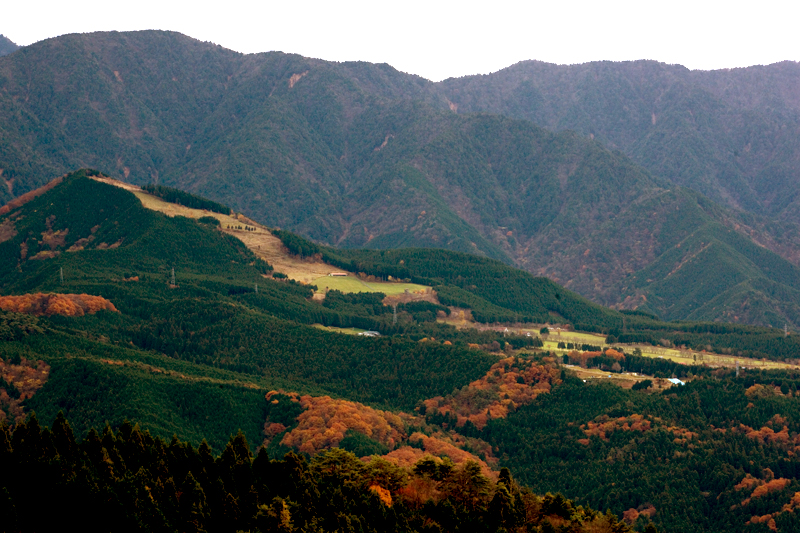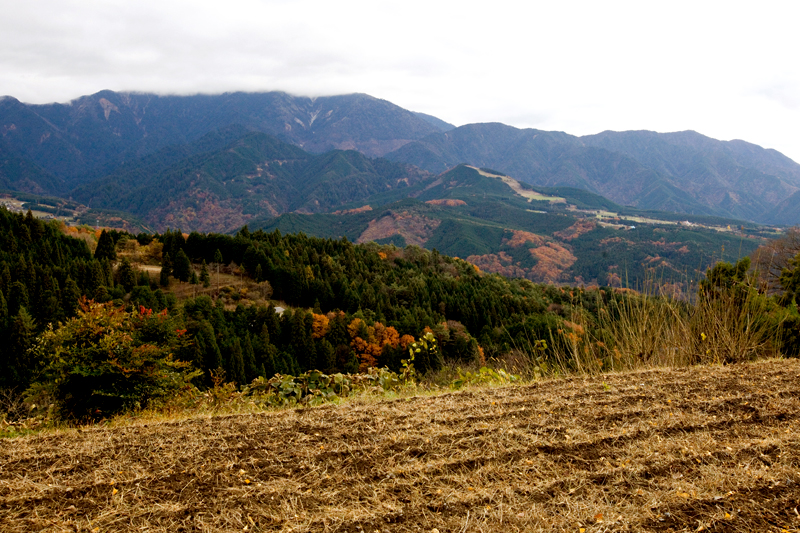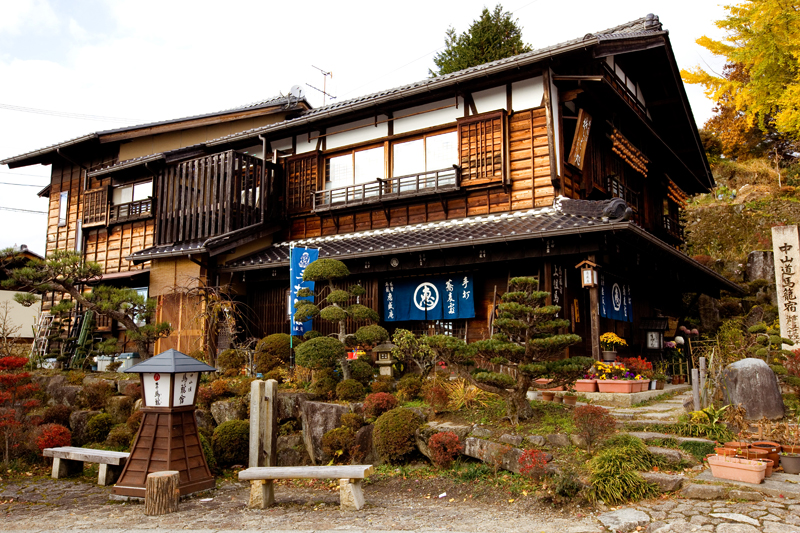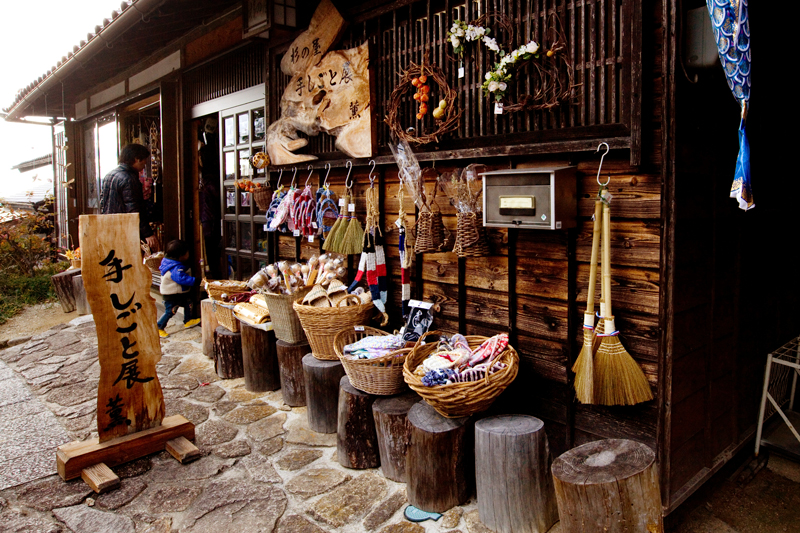 We finished up in Magome, which is a slightly busier, less preserved version of Tsumago.  We had about an hour until the next bus came along, so we just poked around for a little bit and took in the atmosphere.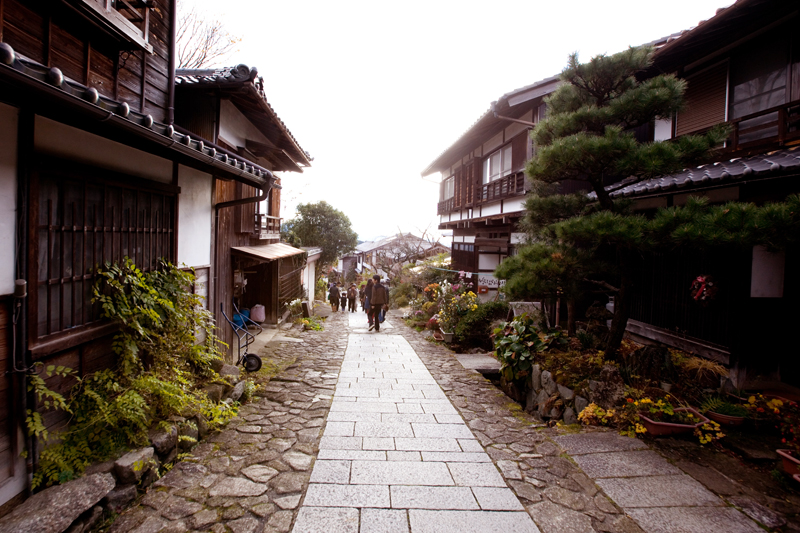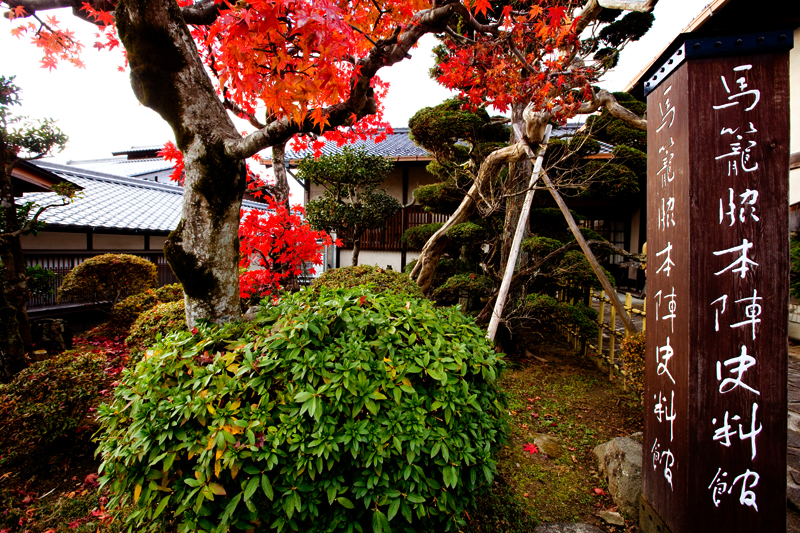 Kiso Valley and the post towns were a fantastic experience, especially after spending most of the previous and following days in the major metropolitan areas.  If you're in Japan and are traveling via the JR Rail Pass, it makes a fantastic one-night stopover when traveling between Tokyo and Kyoto.  Aside from a taxi into Tsumago and a bus from Magome (about $25 total), the pass will cover all of the trains along the way.   Unless you want to visit/climb Mt. Fuji along the way, I wouldn't pass this place up when going across the country.
Next up, after we made it to Kobe to crash at my best friend's apartment, is the ancient city of Nara!