Not wasting any time here - straight on to the second half of Kamakura.  Here we're picking up shortly after the adulterous charm episode as described in the previous post.  Another couple of miles of walking around would lead to the center of the city, where the well-known shopping street and the largest shrine of the city both were located.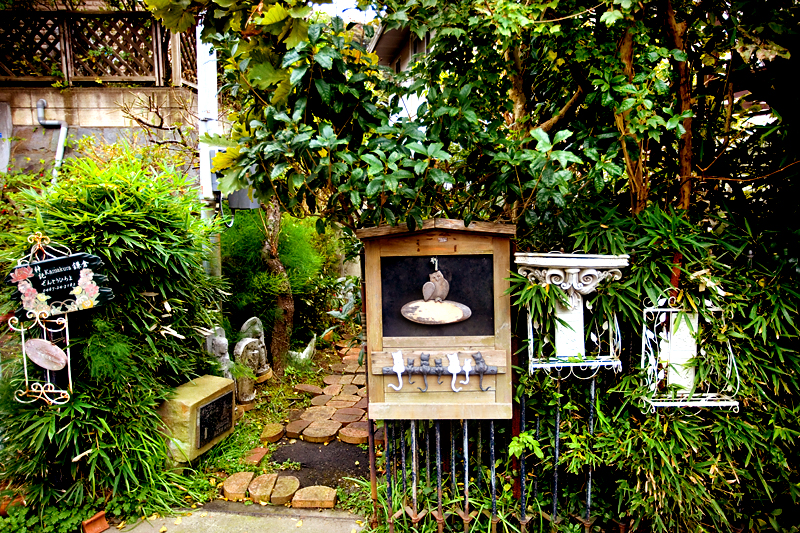 I passed by a lot of places like this along the way - large houses (by Japanese standard), many of which were converted into small cafes, tea houses, etc.  At least in a city like Kamakura, this is actually the kind of residence where you'd expect a well-off Japanese to live, not in large sprawling estates like in the US.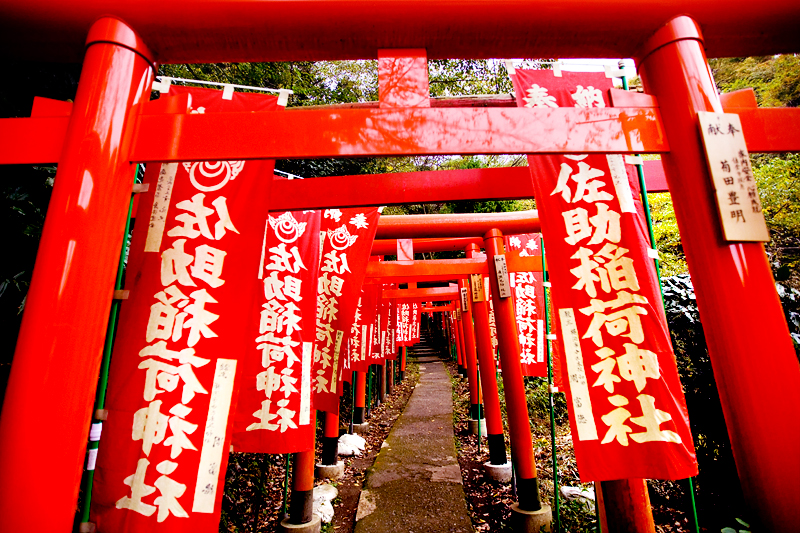 Say, um... this doesn't quite look like the middle of the city.  As it turns out, in a very rare act for myself, somewhere along the way I made a wrong turn.  I don't like to brag here, but come on, I have a magnet in my head - I can tell north just by turning around!  Anyway, this was actually a very fortunate mishap, because I ended up at the Sasuke Inari (Sasuke - name of the area, Inari - fox) shrine.  I was all by myself in this area, and was greeted with this row of at least a hundred torii that led up to the grounds above.  Even more fortunate that I got to see such a sight, because I ended up not getting to visit the granddaddy version of this place - the Fushimi Inari shrine in Kyoto.

More of the nice neighborhoods of Kamakura.  I dug the deep stone canals in particular.  (see what I did there??)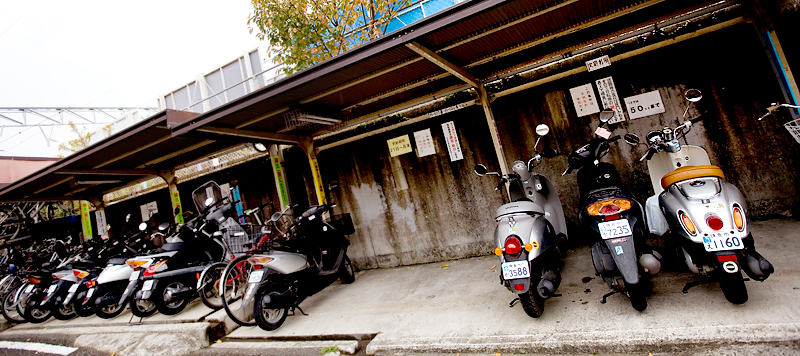 Real men ride compact, quiet, and fuel-efficient motorcycles with sissy rear-view mirrors.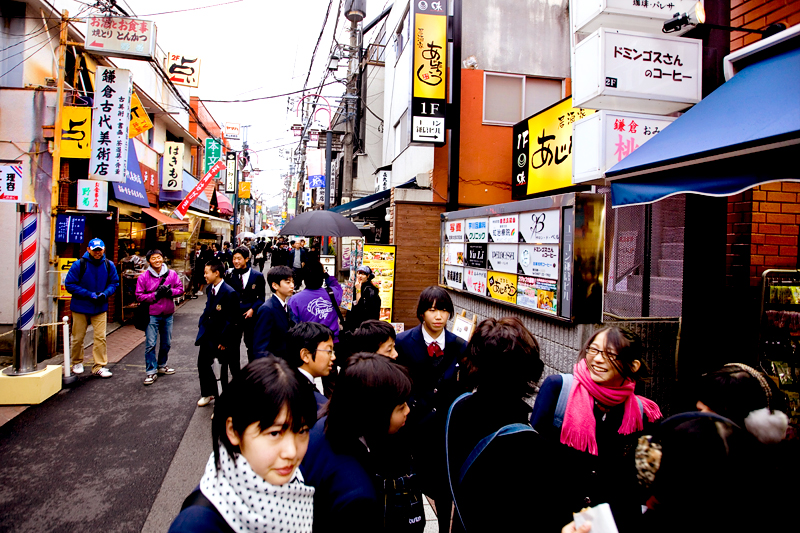 Komachi-dori - a narrow, bustling pedestrian street lined with small shops and food stands, running parallel to the main street leading up to the next shrine.  It was here where I noticed a stand selling fruit crepes, made on the spot on a hot surface.  I realized I hadn't eaten in a while, and relished a chance to practice my reading skills.  The nice lady at the counter must have noticed me intently reading the menu while serving the two people ahead of me, because as soon as I walked up and opened my mouth to ask a question about one of the items, she had quickly procured a laminated menu in English from beneath the counter, humbly offering it to me with both hands.  I ordered the "appuru shinamon" (Apple Cinnamon, pronounced in their dialect) crepe, and it definitely hit the spot.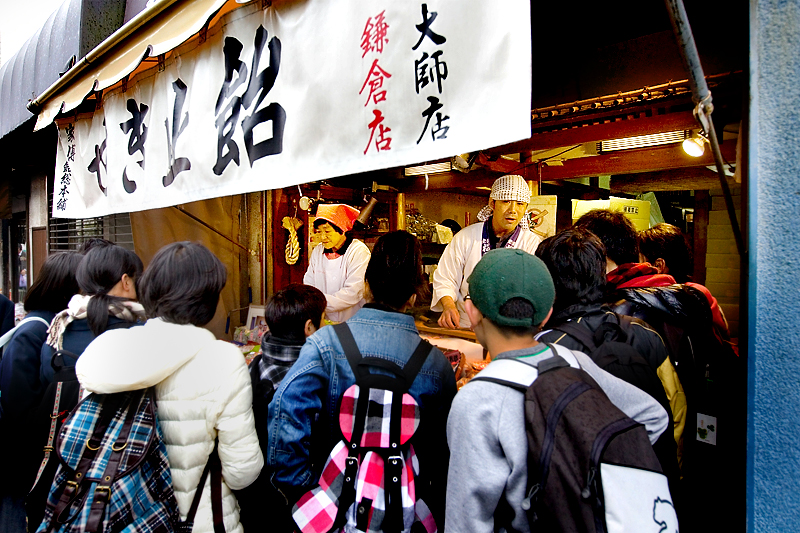 I don't know what was going on there, but there was a lot of animated banter going on between the kids and the two people working at this stall.  They were probably clamoring over some freshly-baked goodness that had just been set out.  I learned from several experiences that they take their "proof of freshness" VERY seriously on many levels.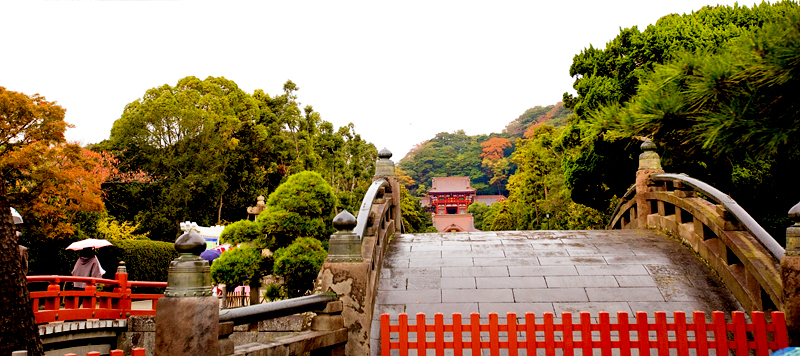 Finally at the approach to the Tsurugaoka Hachimangu shrine, the pride and joy of Kamakura.  At this point it was drizzling pretty steadily, which worked out for me since it kept the crowds down a bit for the rest of the trip.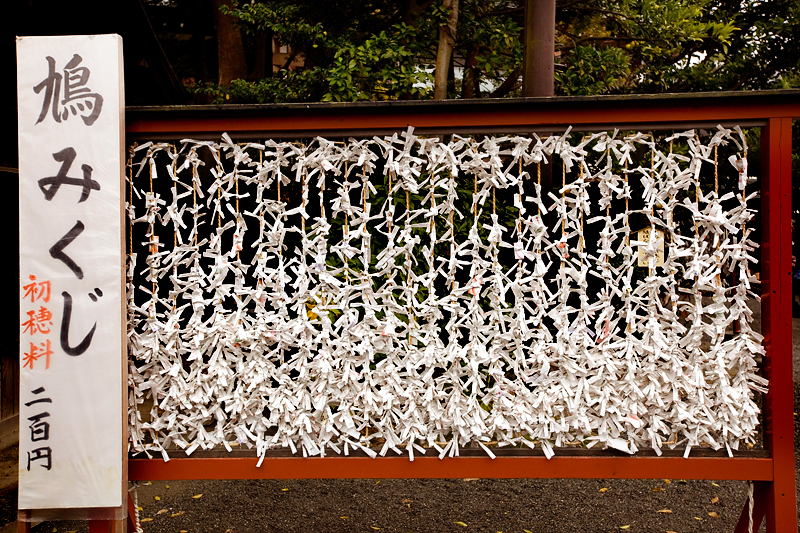 I believe this is a wall of wishes, prayers, etc, that people clip to the strings.  Either way, it made for a purdy picture.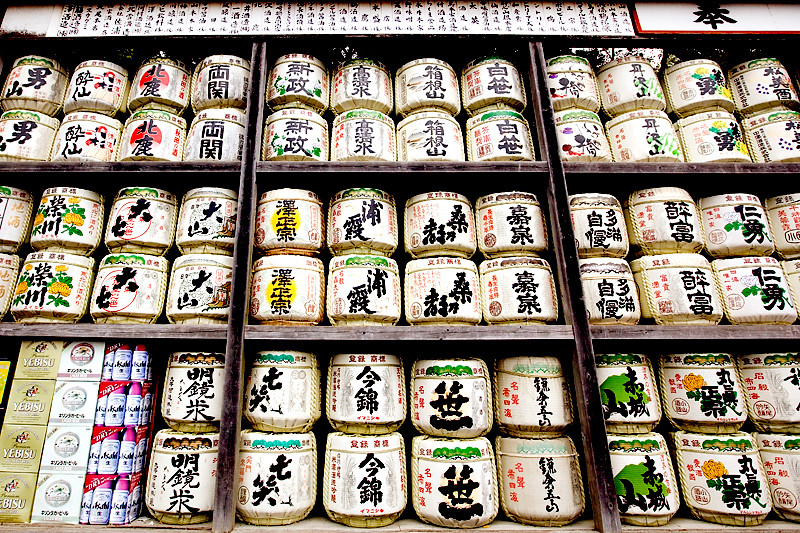 Any religion that considers beer and sake to be valid offerings is awesome in my book.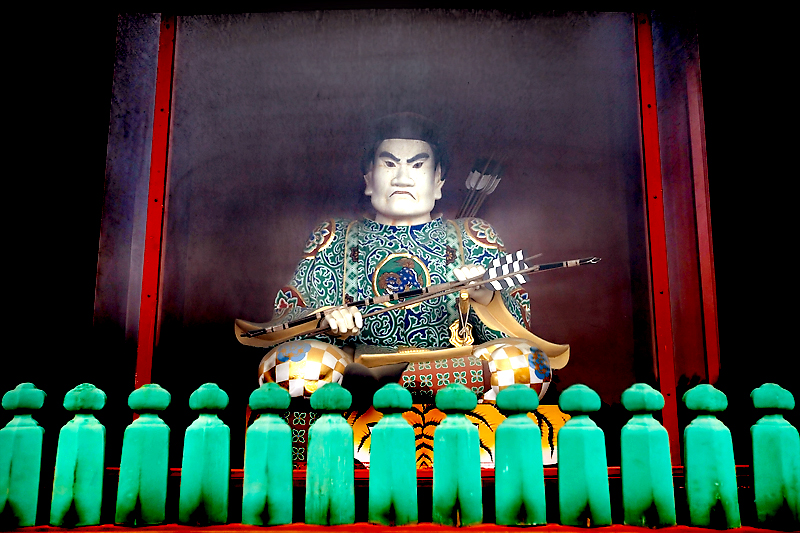 I thought shrines and temples were places of safety and solitude.  Then why did nearly every one I go to have some scary guardian looking like he wants you the @%($ off of his property?  Just wait til you see the one from Nara.  I guess once you're in the grounds and change your shorts, then you can feel a little safer about potential intruders and evil spirits and the like thinking twice about coming in.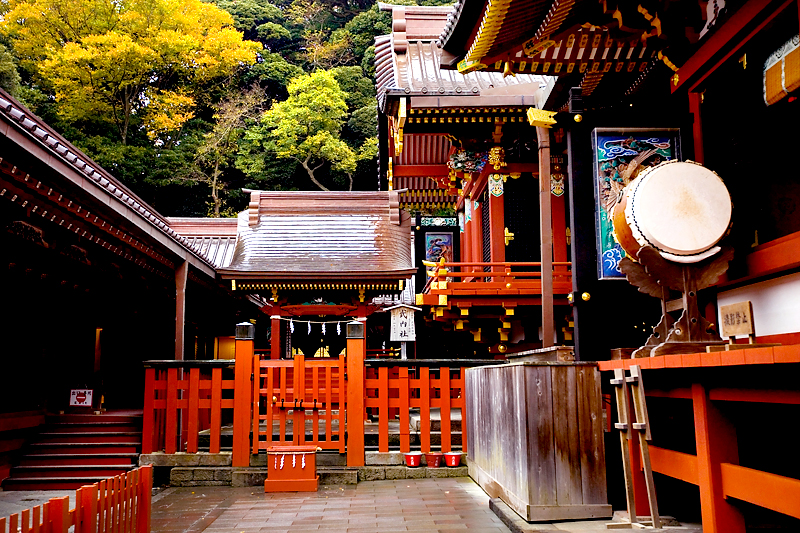 Found this little nook off to a side.  Taiko drums are always good, too.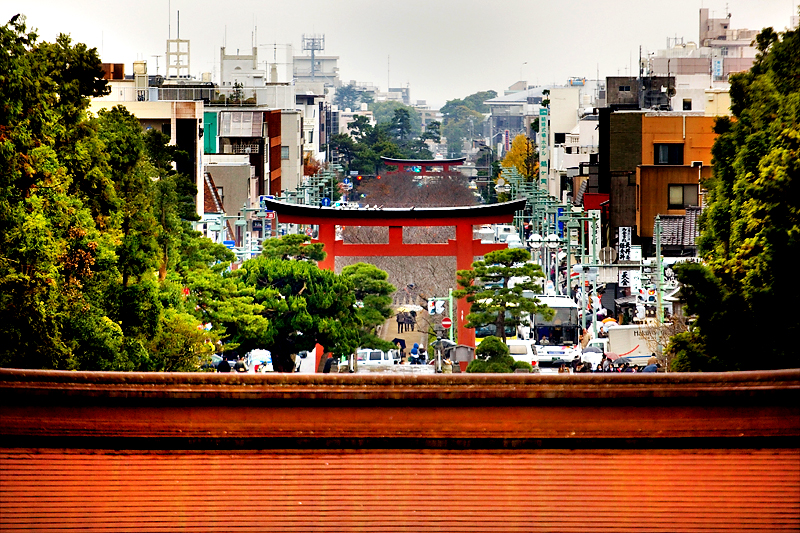 View of the classic approach to Hachimangu.    Just follow the ever-increasing-in-size torii and you'll be there in an absurd amount of time.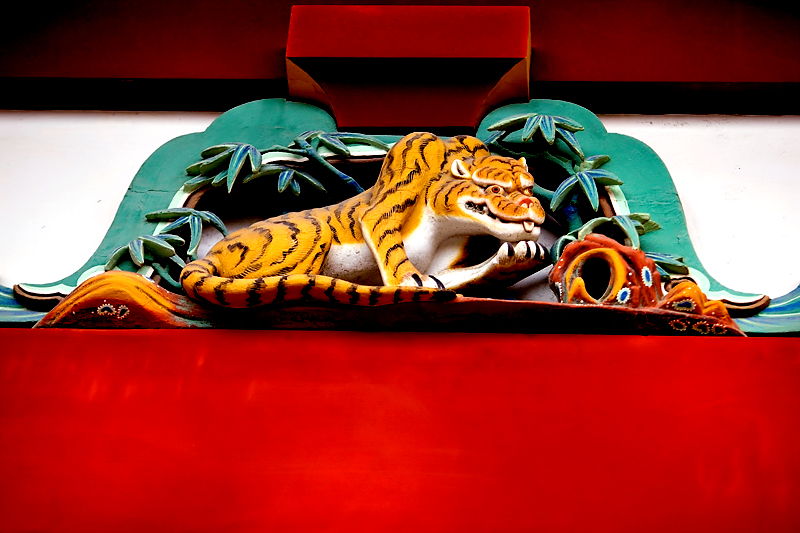 Lookit the kitty!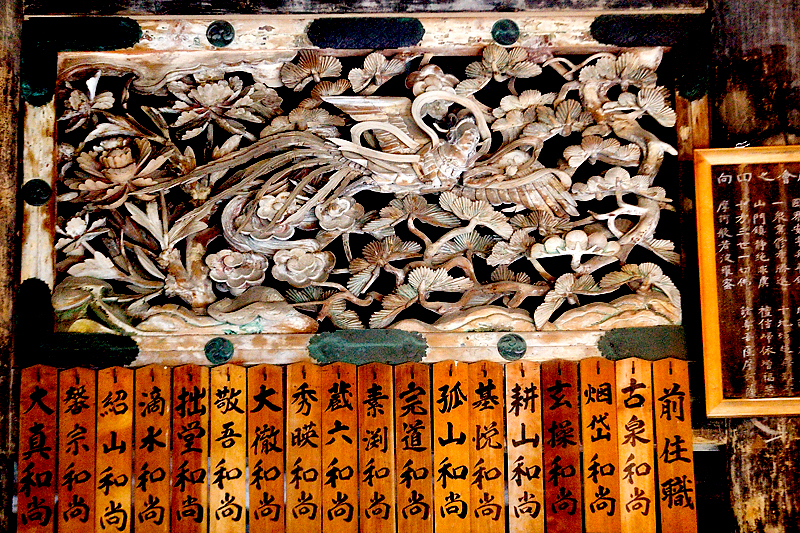 Another mile or so up the road was the second last stop - Kencho-ji.  It's the largest temple in Kamakura, and while not as grand as the Hachimangu shrine, was definitely a lot more authentic and preserved.   Found these neat carvings in one of the buildings.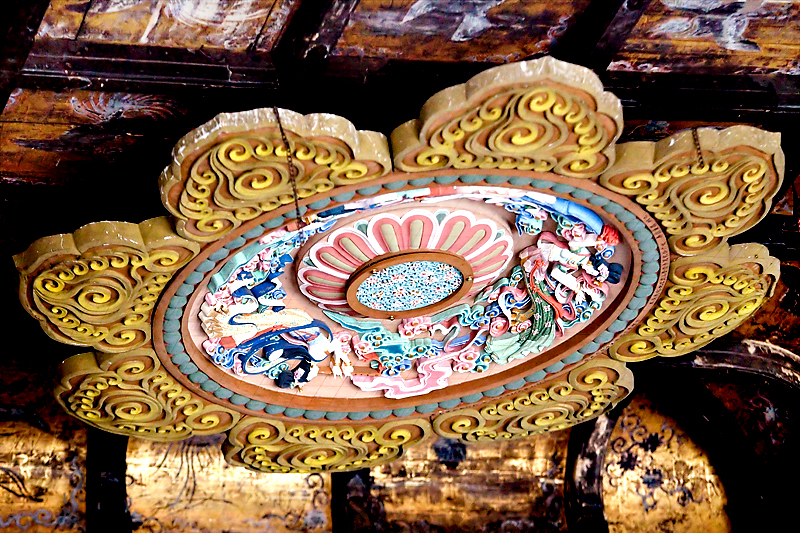 Neat carved medallion set against the ceiling.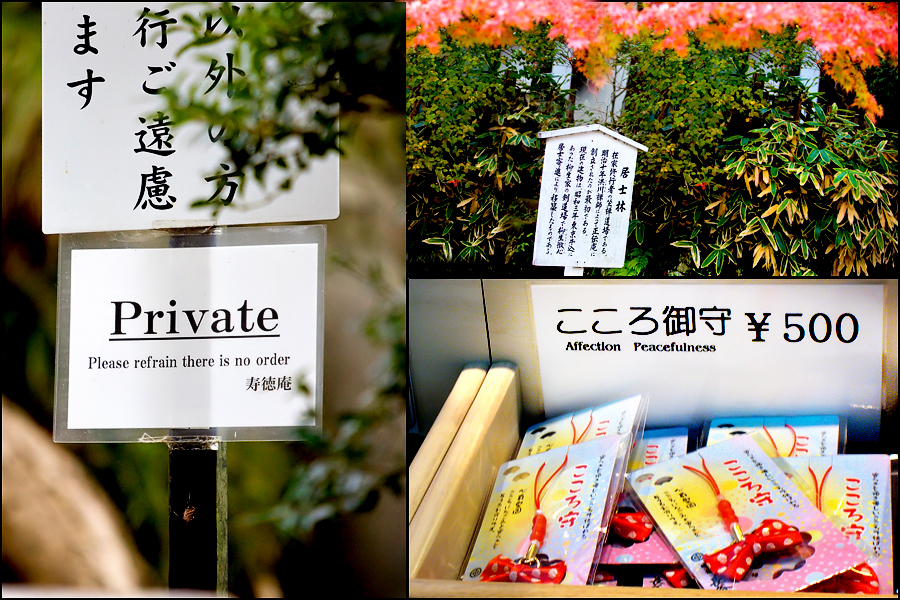 Another assortment of interesting, odd, and entertaining signs.  (l) - so does that mean if I go beyond, there'll be an angry mob waiting?  (tr) - sign at Kencho-ji framed by a tree in full koyo mode.  (br) - sure would have helped if they had one of those at Zeniarai Benten to avoid the adulterous charm episode!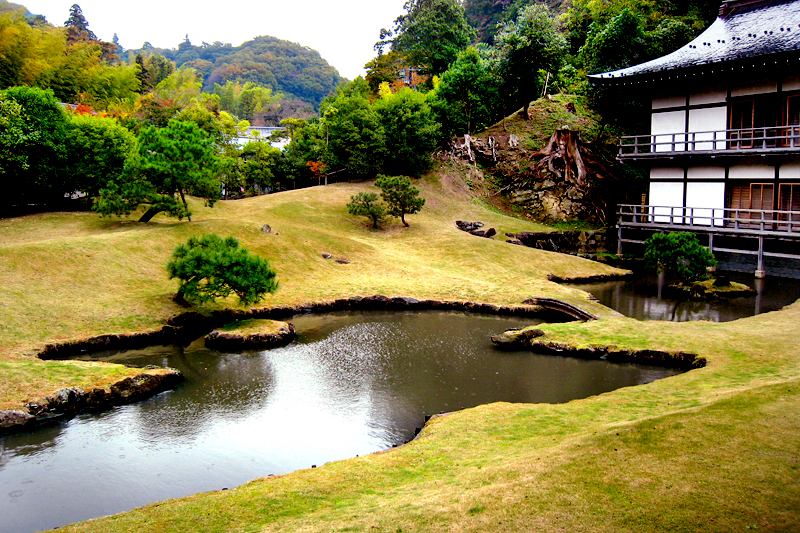 Found this little gem of a garden through the last building at the very end of the grounds of Kencho-ji.   Zen gardens really work - I was helpless to set everything down, rest on a bench for a while, and reflect on the previous 8 hours of activity while catching up in my journal.  I want one in my backyard.  As soon as I learn to like, successfully grow grass, that is.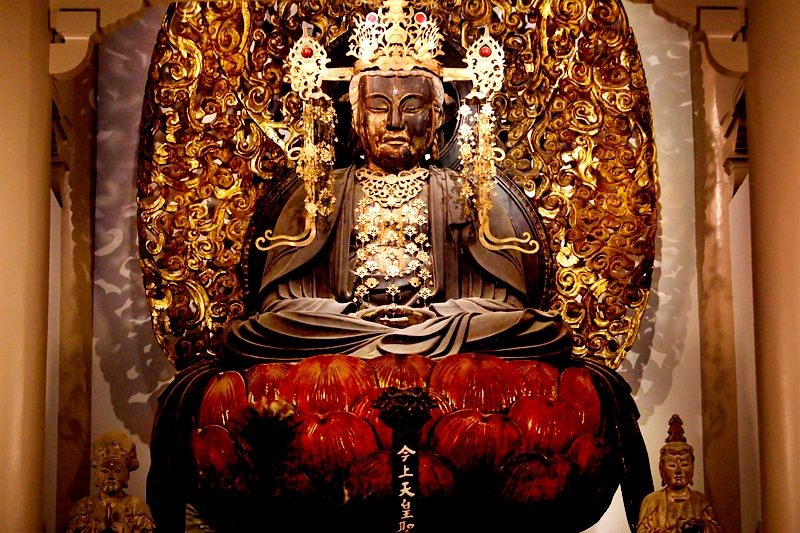 Finishing off  a great temple with a nice golden statue whose significance I wish I was educated enough to understand.
From there it was another stroll further up the road to Engaku-ji, which was right next to the Kita-Kamakura station, where I would begin the ride home.  Engaku-ji was basically a smaller Kencho-ji, completely empty, and full of bad omens.  First, the rain really started coming down finally, so I had to put my SLR away.  Second, two black crows decided to perch up on vantage points directly above me and obnoxiously caw at me, which is one of those "death is coming for you" omens.  Glad I was only superstitious for those 5 minutes earlier in the day.  Either case, I didn't stay long and soon was on my way home.
Something fun I wanted to add on these posts that involved any significant amount of moving around - a Google map that I used in my planning, which shows 95% the route that I took that day.  Just in case you want to get out there and get lost in culture yourselves.

View Japan Map #6 - Kamakura in a larger map