After my narcissistic self-portrait-in-the-building, I turned around and headed back towards the dock where I'd soon load up for a very personal, off-the-beaten-path, untouristy boat ride down the heart of Tokyo (yes, I'm laying it on pretty thick).  The Sumida river is similar to the Hudson river or to the Chicago river in that it cuts right through the heart of the city, so I figured I'd get all of my touristy urban sightseeing out of the way in one short hour while giving my feet a much-needed rest.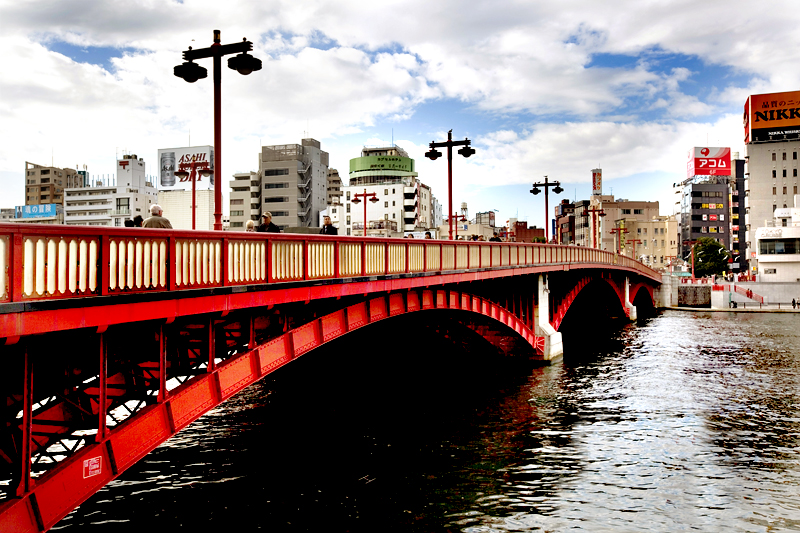 The main bridge of Asakusa that connects the lots-of-tall-shiny-buildings side with the well-preserved-and-historic side.  I was going to return here again in a couple of days to take some pictures of Masa and Asuka, who were at the time in the Japanese equivalent of "engaged", so I just poked around for a minute before heading back to buy my ticket and kill a little time before my ride.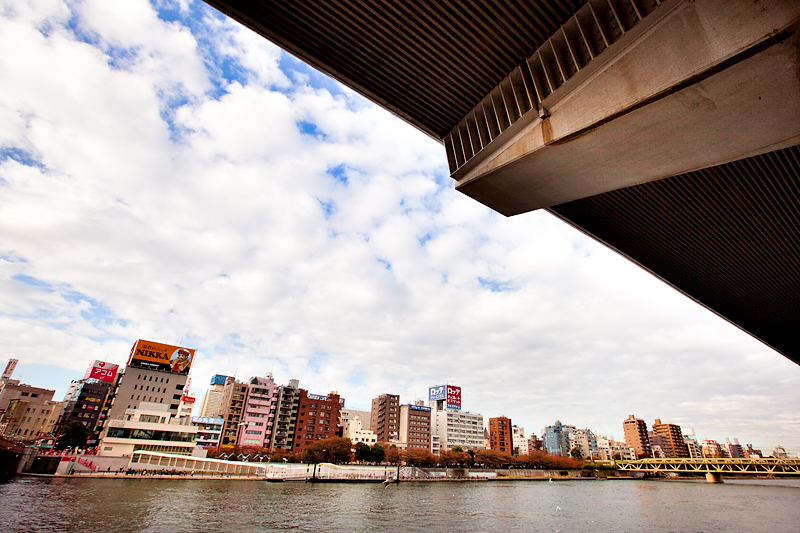 Picture of an urban landscape looking a little boring?  Add a little underside of a bridge and instantly be seen as creative!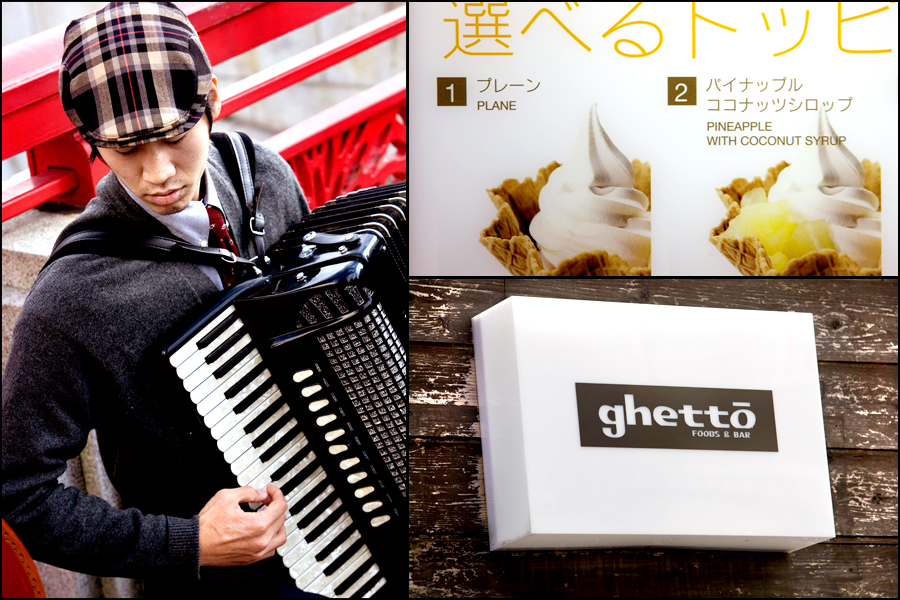 (left) While waiting for the boat, I was treated to the performance of a live street band, complete with an accordian, upright bass, saxophone, and... an old lady playing the drums on a cardboard box?  Guess even Japan is feeling the effects of the economic crisis.  (top right)  Wait, so... you get "pineapple with coconut syrup" correct, yet screw up "plain"?  Only in Japan.  Or considering the crazy things they'll eat over there, maybe that flavor was kicked up with a little jet fuel.  (bottom right)  ... what?  I really hope that isn't a soul food joint, or I can't imagine they'd be getting much foreign business.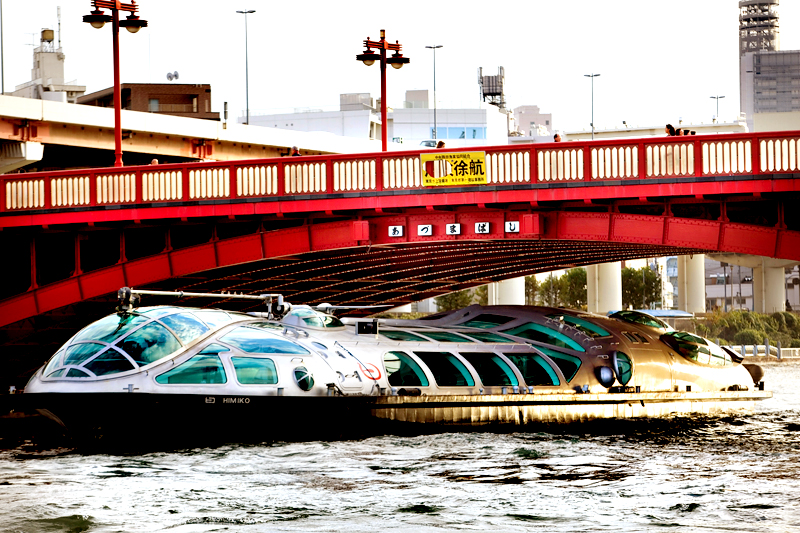 While waiting for my boxy wooden pontoon of a tour boat to embark, this miniature battleship of a boat came by.  Mommmyyyyyy!  I want to go on THAT boat!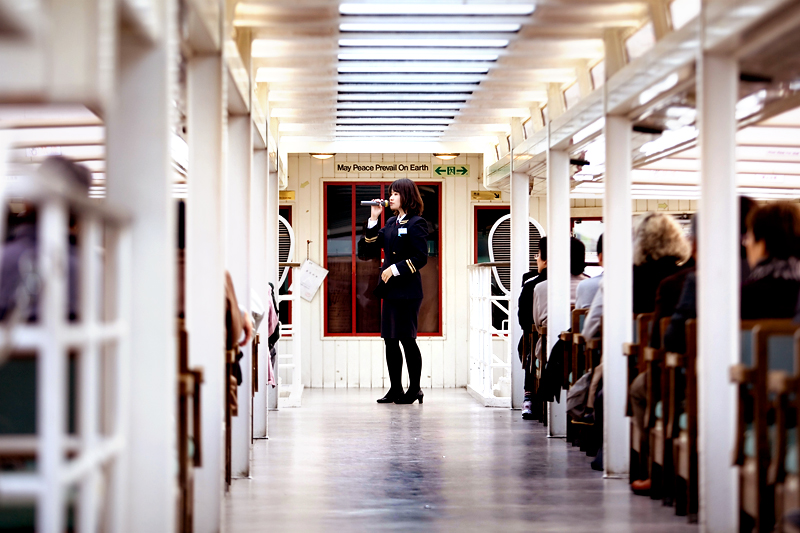 I couldn't understand a word of what she said, but she sure sounded way too happy to be riding a tour boat all day long.  Also, I'm glad 95% of the people chose the comfortable seats with the terrible views.  That left me to rule the stern of the boat without fear of knocking an old lady unconscious with my big 'ol lens.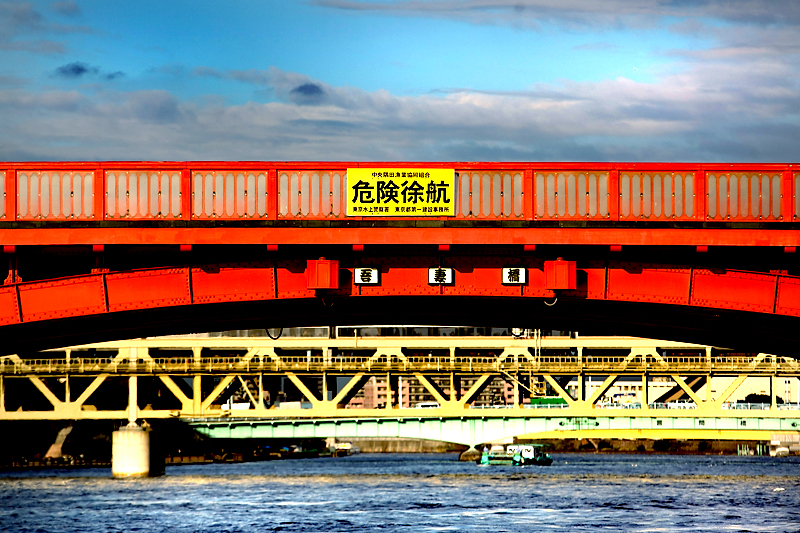 I thought I was taking a picture of some historic sign on some historic bridge that had some huge historic significance that I'd be telling you all about right now, but no, I took a picture of a sign that basically says "dangerous waters, sail slowly".  Worth a shot.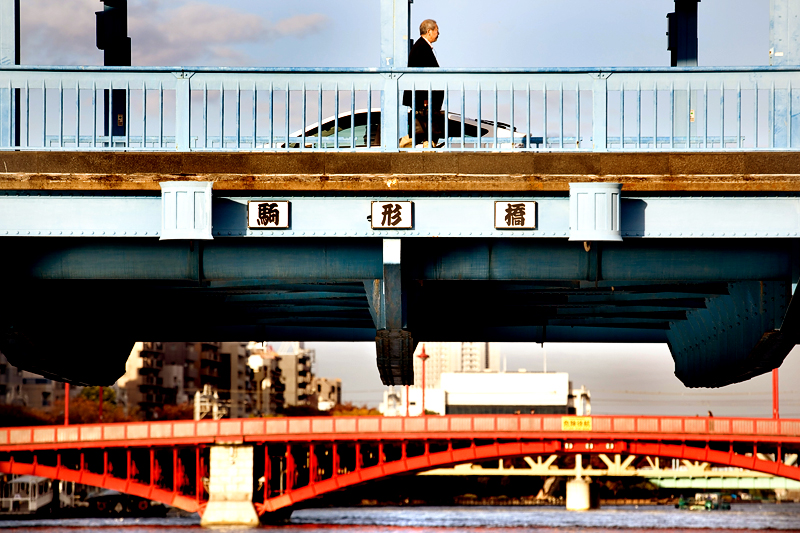 One of the interesting things about the rides were the bridges - I think you cross under 12 bridges, all of which are different colors and styles.  Here you can see the primary colors getting some love.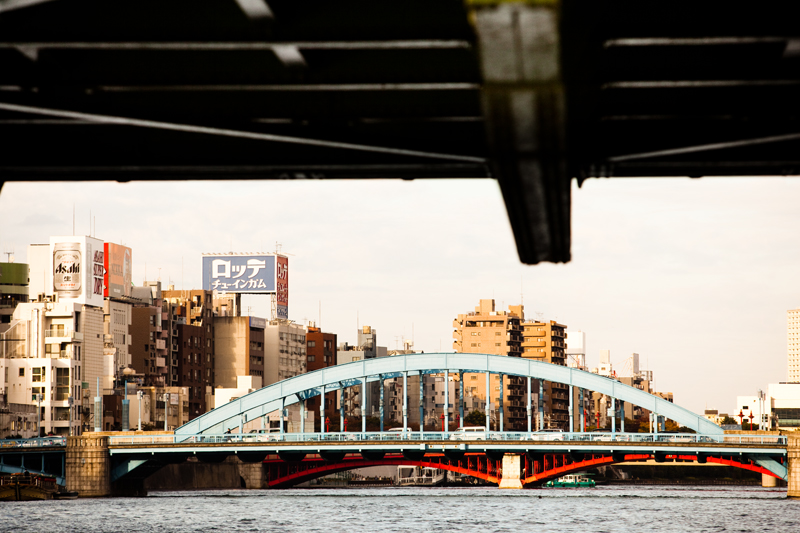 Remember what I said about using the underside of a bridge to instantly make yourself an arteest?  Yeah.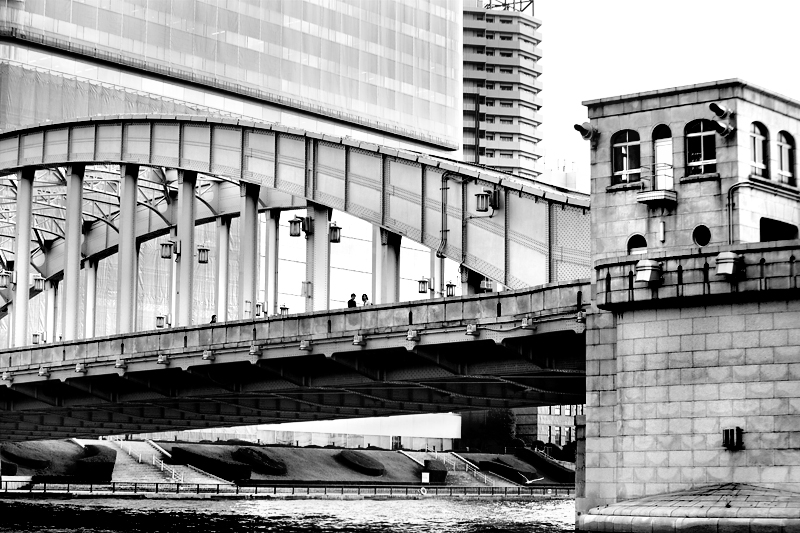 Even an old English style bridge!  Erin told me, after zooming in to those two people in the middle of the bridge, that they were staring directly at our boat with "The Grudge" faces.  She watches too many movies.

Little slice of the rear of some residences near central Tokyo.  I didn't realize it  when taking the photo, but there's actually quite a few lessons on Japanese culture to be learned here.  1)  they are not afraid of bright and bold colors on their buildings, 2) "Mickey" (the name spelled by those large letters beginning with the 3 horizontal lines) is apparently very important in the hood, 3)  Japanese don't have clothes dryers, they have balconies and ample fresh air with which to dry said clothes, 4) even the homeless are clean and tidy - they tend to live near one another in tents, they never beg, and are never a nuisance to the public.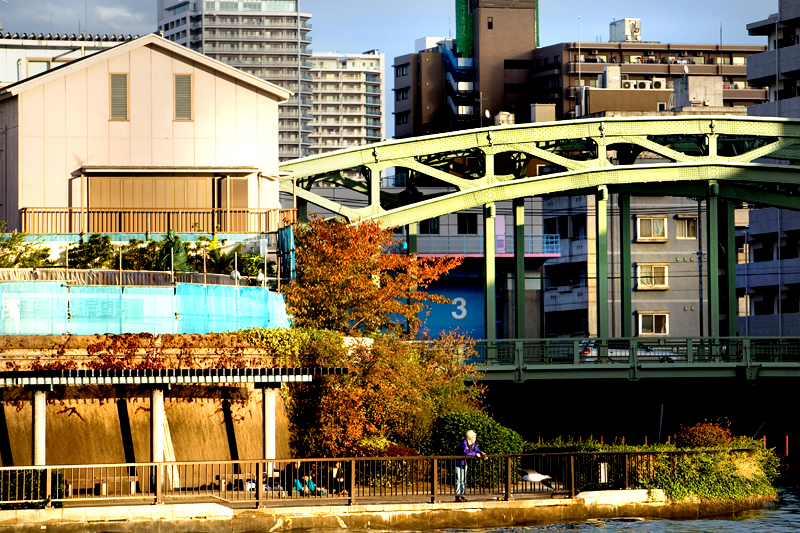 I liked the contrast of the urban scene with the greenery and with and the old man thinking he'll catch a fish with less than 3 eyes in the river going down the belly of the largest metropolitan area of the world.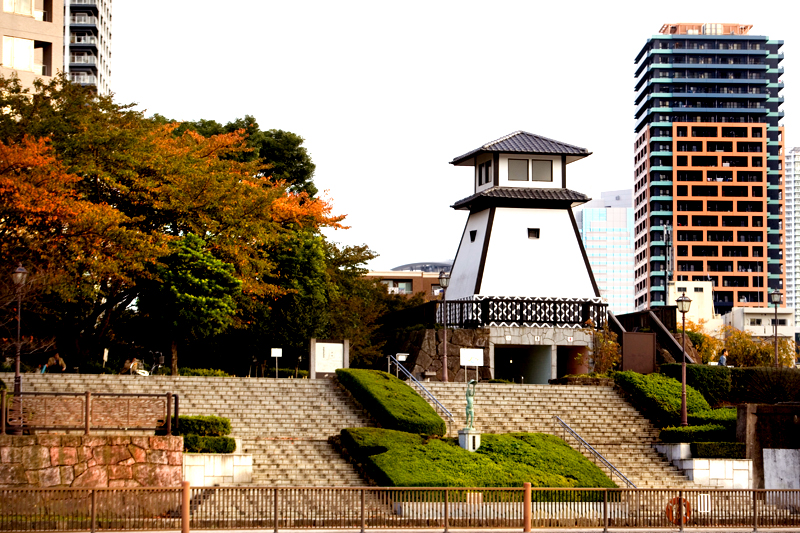 A rare slice of older architecture in the urban scene visible from the boat.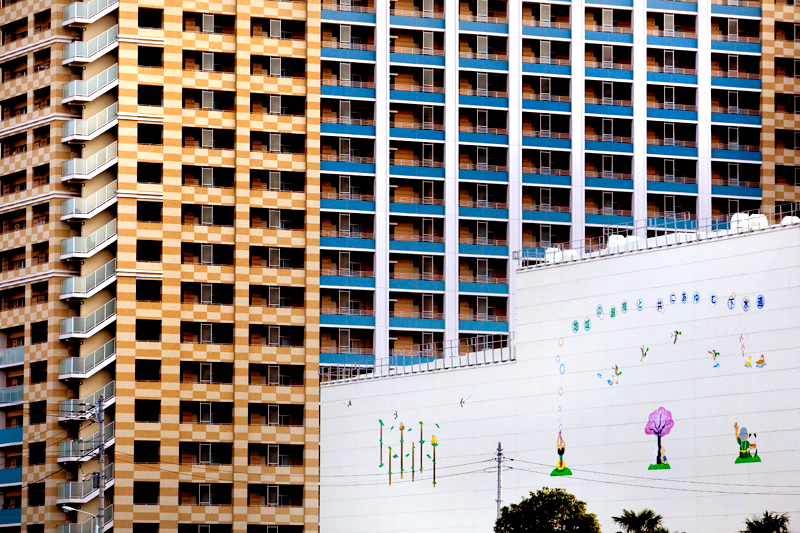 I'm not used to seeing this scene without a marching band playing Rocky Top, a Power T, and Philip Fulmer involved.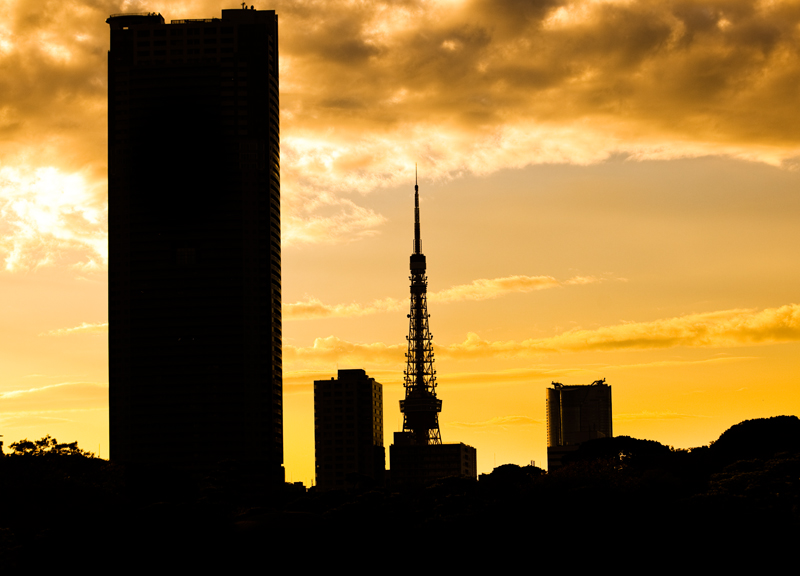 I got bored with the usual buildings, so I played with a couple of silhouettes... I think that's the Tokyo Tower here, where the most popular and expensive observation deck is.  Take the same advice I took, though, and go for the Tokyo Metro building instead, which is free.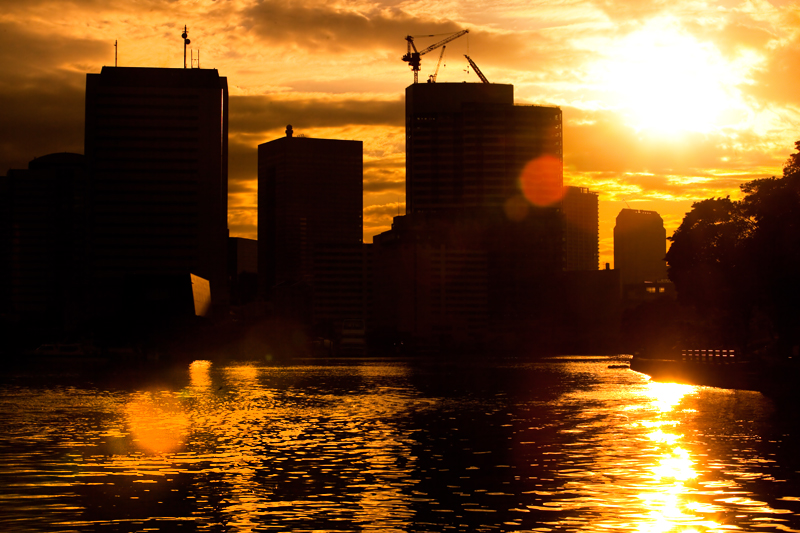 Prettyyyy....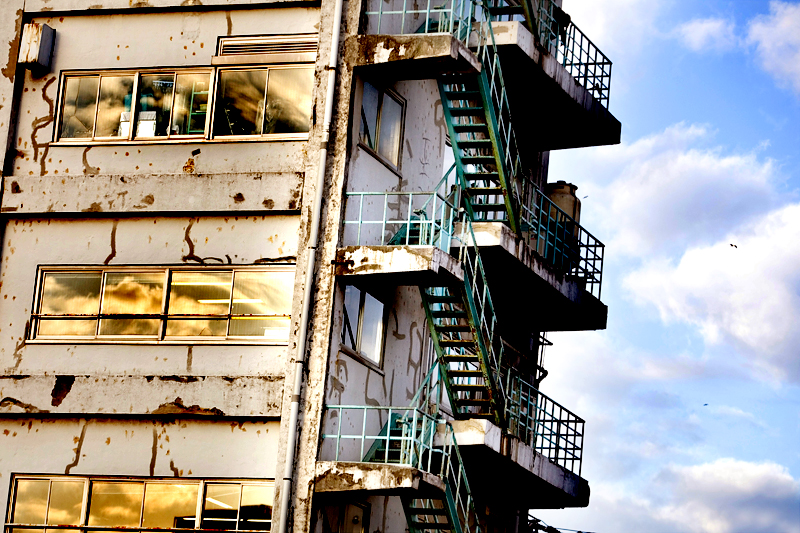 This picture always makes me want to bust out my NES and play some Ninja Gaiden.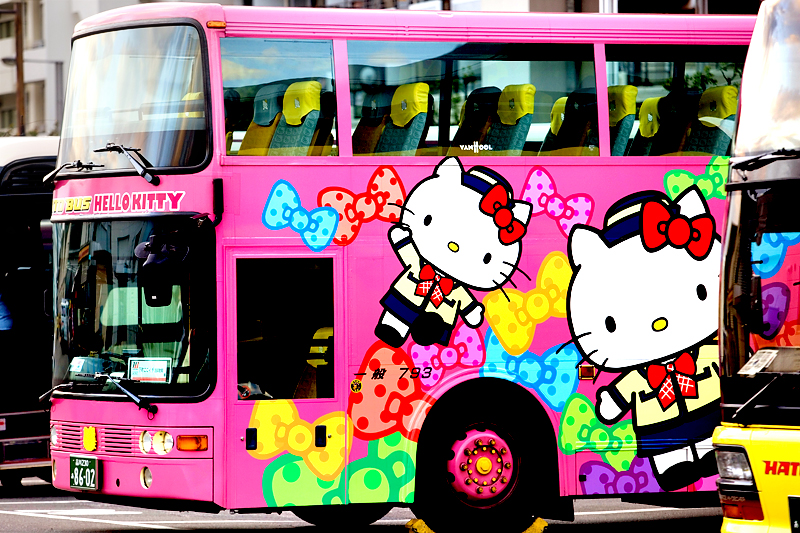 The Kill Bill fanatic in me wanted to call this something very inappropriate.  So, I'll just let you look at the cute Hello Kitty bus.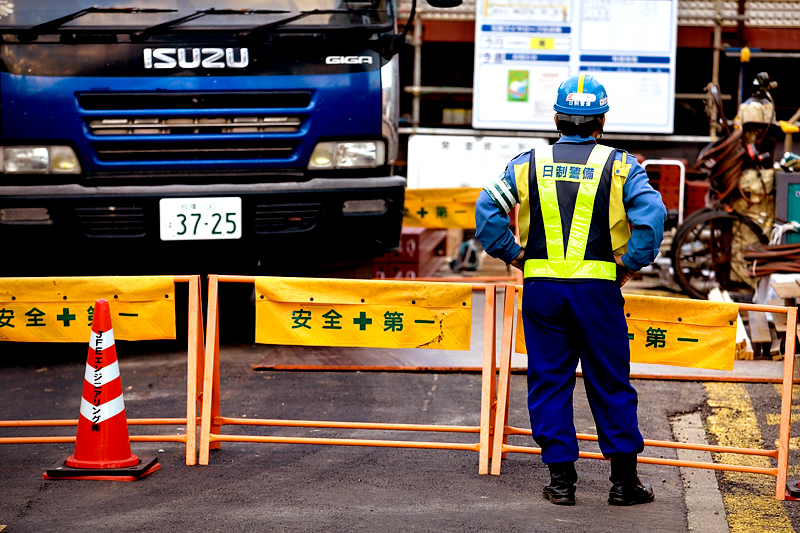 Poor guy was an Indian chief, a cop, a biker, and a soldier short of breaking out into the YMCA.

(left) the boat went about 2 mph and on super calm waters, but this guy looked like he just made it off of the Titanic.  (right)  Even the signs saying "WARNING!  DO NOT ENTER!" have to be cute.  Japan in a nutshell for ya.
If you've made it this far, I'd like to invite you to check out my super-creative and hard-working wife's little survey/contest that she's having a couple of posts back.  She's been brimming with all kinds of fun ideas to do in future weeks, so help us get started with a bang!