It's about time for another one of these... I have been slacking for too long! OK, so I can't call it slacking too much, given the amount of other things we've been posting throughout the last month. Needless to say, I don't think I'll be finishing all of these before our upcoming Disney trip, so brace yourself for some upcoming mixtures of photo posts from my two happiest places on Earth. Or something.
Here I'm just going to tie up a few loose ends before moving on to the segment of the trip where all the other people involved in my trip start making appearances. At the end of each of the days up to this point, if you'd believe it, I went out for another couple or few hours of walking each night to get some photos at night and to do general people-watching. After getting back from Hakone, I stopped at the Shibuya station on the way back to Masa's, so I set out on foot to hit a few obvious spots before calling it a night.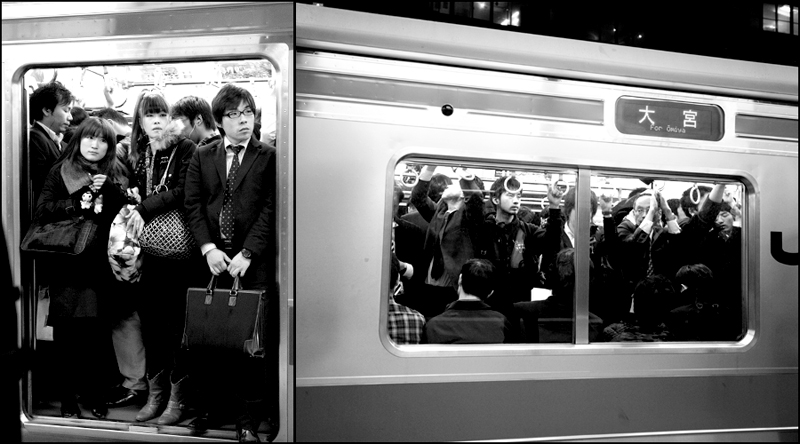 This is what the trains look like in Tokyo at 10pm. Your personal space, bubble, dislike of being touched, etc? Out the window. At the surface, they make it look like an organized group effort, but really, it's survival of the fittest without the killing part. Once I was standing up next to a seat that opened up, and seeing a young lady also standing near me, I did what any chivalrous American man would do (and against Masa's urging to go ahead and sit down) and beckoned for her to go ahead and take it. In a blink of an eye, a middle-aged man had stepped in and yoinked the seat with nobody around seeming to think it was an unusual move. Masa just shrugged at me and said, "They'll be fine - our women are tough. Don't hesitate and just grab a seat whenever you can." My inner knight in shining armor died a little that day.
Masa also turned no heads when he announced to me, on a moving train, that "it's really unpleasant when someone farts." I miss him.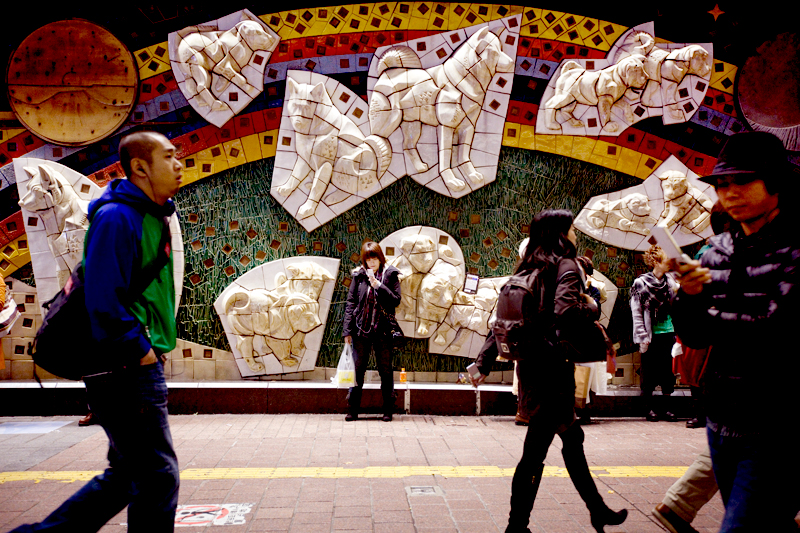 The Hachiko entrance to the Shibuya station. Most stations stick with the cardinal directions for their entrances - north, south, east, west, etc... so why Hachiko for this one? If you turn your attention to the dogs all over the wall, those are depictions of a famous dog from Japanese history, wait for it - Hachiko. There's a very touching story that Hachiko would meet his master at the station when he came home every day from work, and after the master died unexpectedly, still came back to the same spot every day for years. There's actually a Richard Gere movie based on the story, but I haven't seen it to know how accurate it is.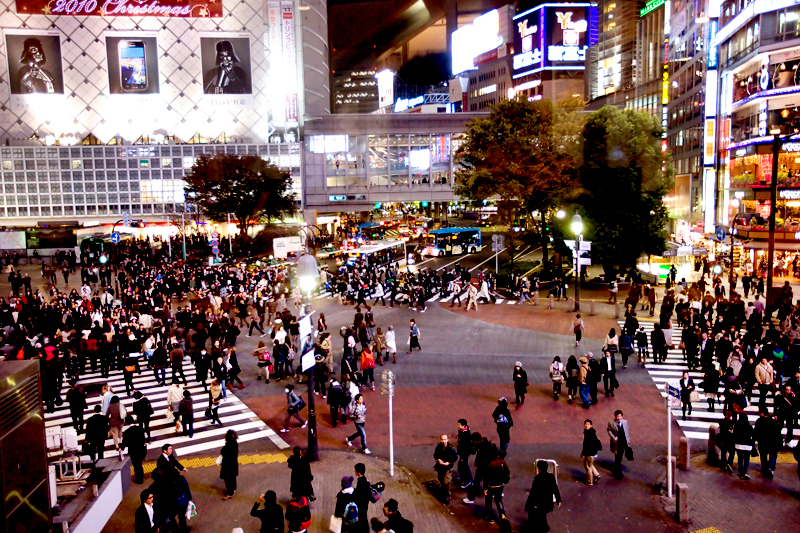 This is the big bucket list item of Shibuya - the famous pedestrian crossing. As Captain Barbossa would say, those crosswalks are more of guidelines than actual rules... All of the signals turn green at the same time, and then all hell breaks loose. The cars don't have a prayer in getting through. After briefly experiencing for the first time in my life the feeling of being one of the tallest people in a giant crowd (except for that time I visited the Wonka factory), I took this shot and following video from the Starbucks across the street. Brief, touristy, overdone, cliche, and lots of fun on a quick stopover.
Aside from that, I just ducked into some stores, got some noodles, and visited an arcade to people-watch (more on the latter at the end of this post). It was already pretty late and I had an early morning (as usual), but this was a fun little stop to see something different.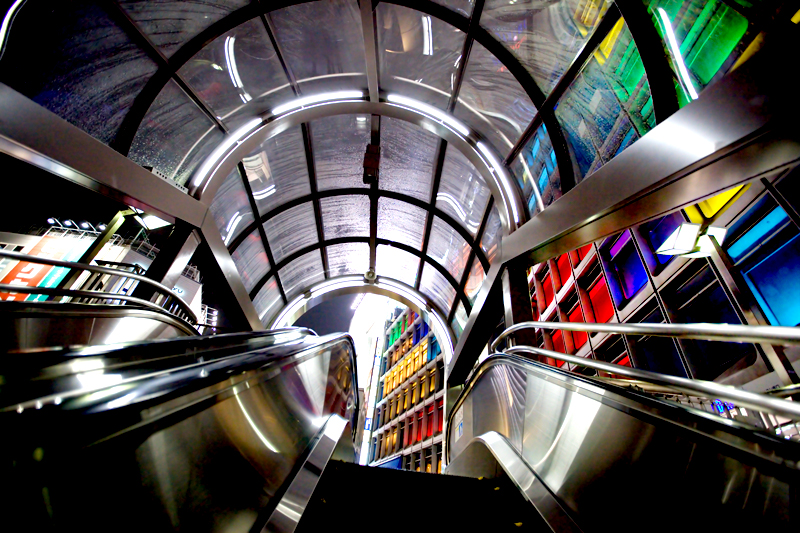 The next day was Kamakura, which was also way out past the Shibuya\Shinjuku area. So on the way home I went a couple of exits past Shibuya to Shinjuku, also known as the skyscraper district of Tokyo and the home of the busiest train station in the world. I wish I had a video to show the carnage that is the Shinjuku station, but I'll put it this way - if you didn't have your card out and ready to touch to the turnstile reader on the way in and out, you pretty much caused a traffic jam. It was human throughput at its finest. Anyway, I got this first shot on the outdoor escalator leading out of the station.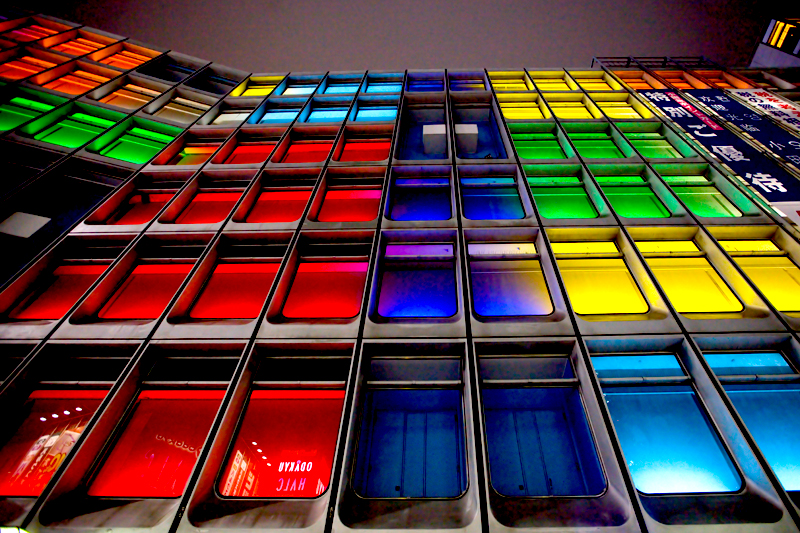 I may be color blind, but that is a lot of colors.

On the catwalks, out towards the station and the other million catwalks that dispersed all over Shinjuku.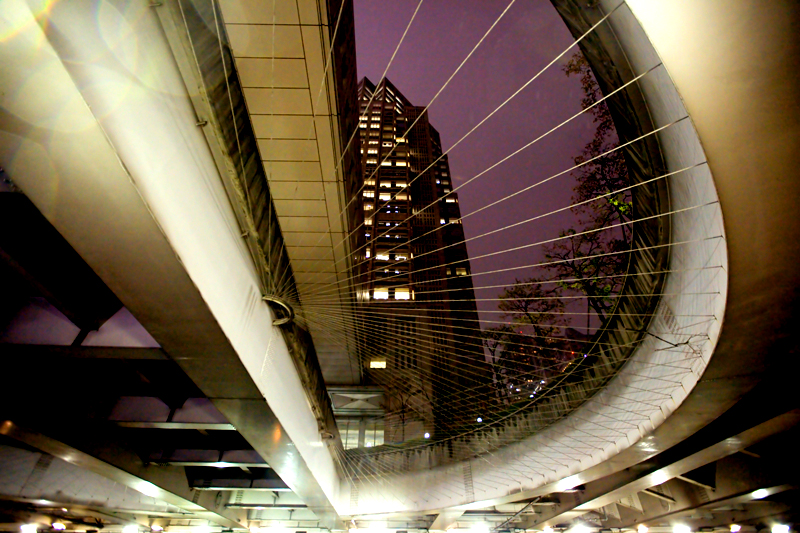 One spot I wanted to hit was the Tokyo Government building twin towers, which has an observation deck that is a) free, and b) supposedly even better than the ridiculously expensive Tokyo Tower. After walking for a while and not seeing these alleged towers, I glanced at my GPS and saw that I had gone approximately 100 meters PAST the towers. I scratched my head, then looked up and saw that I was indeed under the towers. Frickin urban jungles. At least I caught this cool frame out of it.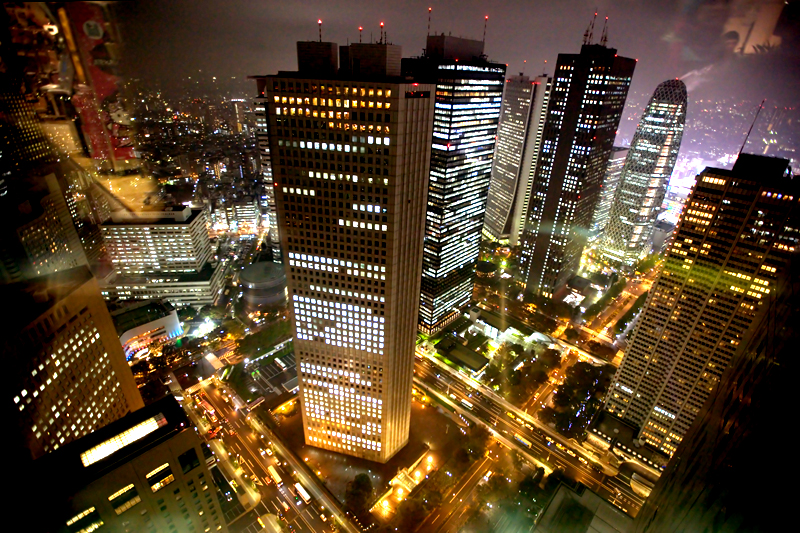 After an elevator ride resembling a Tokyo train ride, I hit pay dirt. The glare of the windows was a little annoying, but it was a fantastic view.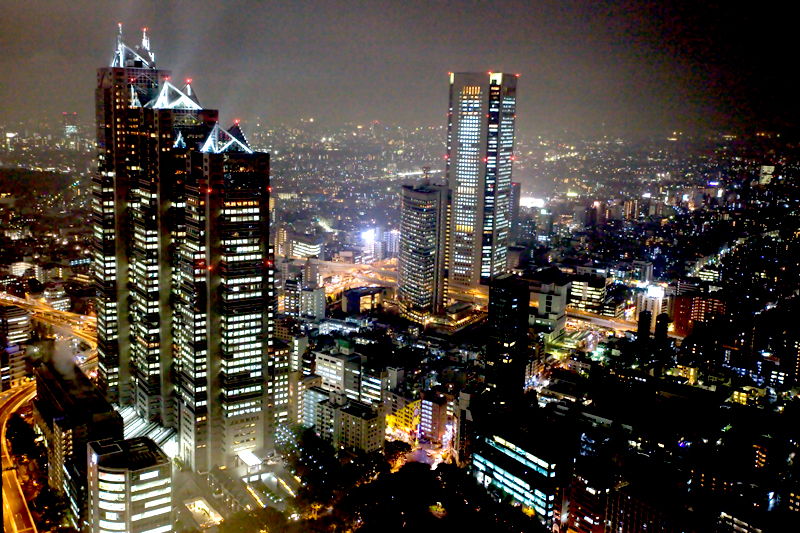 And another. Aside from the skyscraper district, Tokyo is surprisingly actually more sprawling like LA than it is like NYC. Really puts in perspective how big the world's largest metropolitan area is.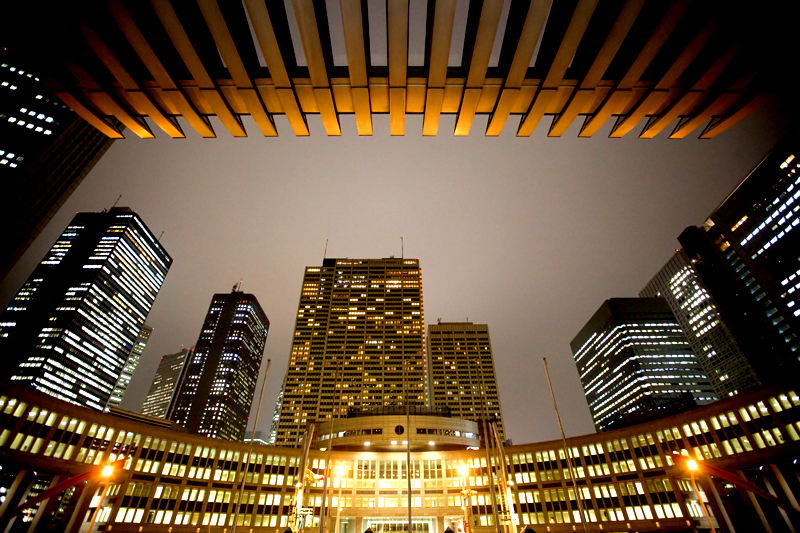 From the... I really have no idea which level of the Metro building this was, since there were about 3 outdoor levels leading in. We'll call it a courtyard.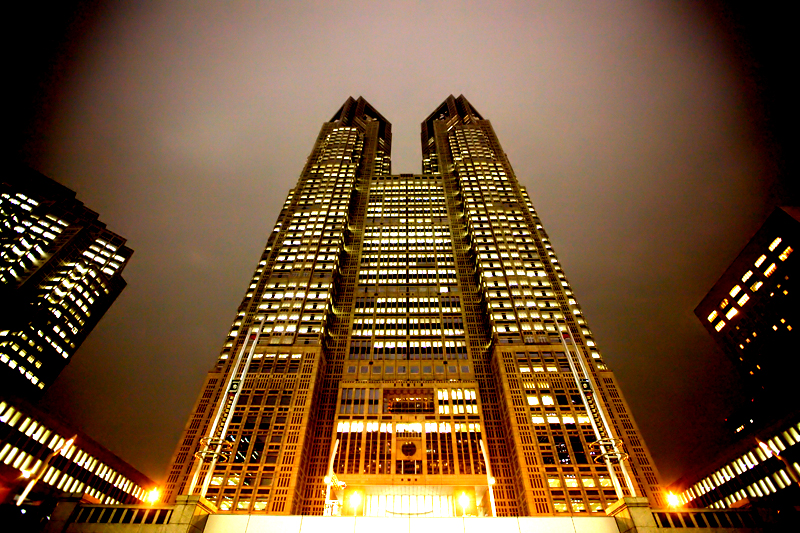 Facing the other way - all 799 feet of the twin towers themselves.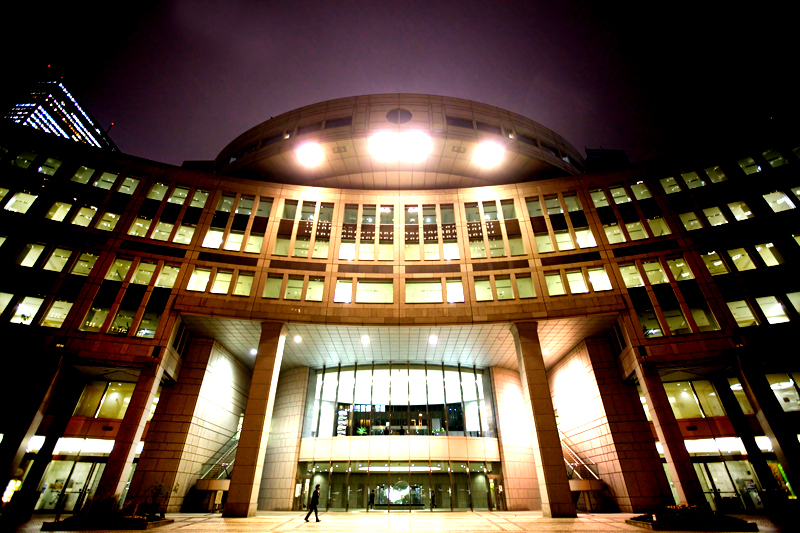 Entrance #76 to the Metro building.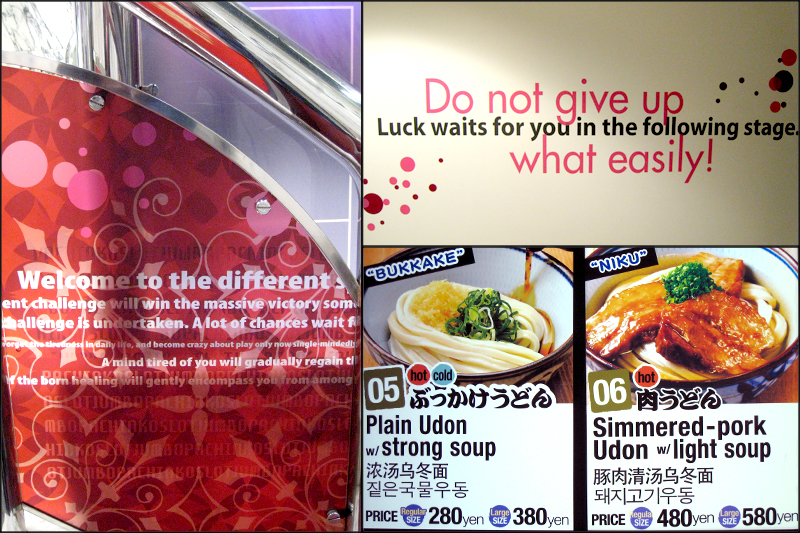 Ladies and gents, I present the winners of the most horrible translations I saw on the entire trip. Well, the most horrible translations and my dinner that night.
All your base are belong to us.
Finishing up with a few videos from the arcades of Shibuya and Shinjuku. One of my favorite movies of all time is Lost in Translation, so throughout the trip I'd duck into a few arcades and try to find some of the scenes where Charlotte was wandering around that first night. I don't think I could have actually recognized exact spots, but I did find a lot of things that are so far above and beyond what we have here. So, Mom and other people who find video games silly and a waste of time, you can stop reading now. Everyone else, especially those who love Bubble Cash, please enjoy a few clips of Japanese businessmen doing their best to look like video game nerds. In addition, if you are into video games, you might want to read more about the latest news and updates on your favorite gaming accessories like the new PS4 controller.

Energy drinks - fueling those all nighters playing virtual soccer

Salaryman by day, Pauly D by night

This was nuts - arcade games that have live scanners that interact with playing cards!?

Not a video game - but an example of the Japanese making the best use of all that open space on the rooftops of their buildings