On a couple of notes - huzzah!  We are back and refreshed from a much-needed week of Disney magic, just in time to resume the Japan posts - starting with the first appearances of my bro and of my gracious hosts, Masa and Asuka.
Masa and Asuka, like many Tokyo-ites, work long and crazy hours, so the fact that they were gracious enough to give me/us a place to sleep for almost a week was above and beyond what I could have expected.  Unfortunately that meant that they were unable to accompany us on any of our excursions, but we had one full day where the four of us went out on the town and had fun together.  It was reminiscent of the adventures Masa and I had when we were practically kids in Australia, so it was a special day for all.
We started out, at Masa's recommendation, at a narrow pedestrian shopping street known as Ameyoko (short for Ame - America, and yoko- Market)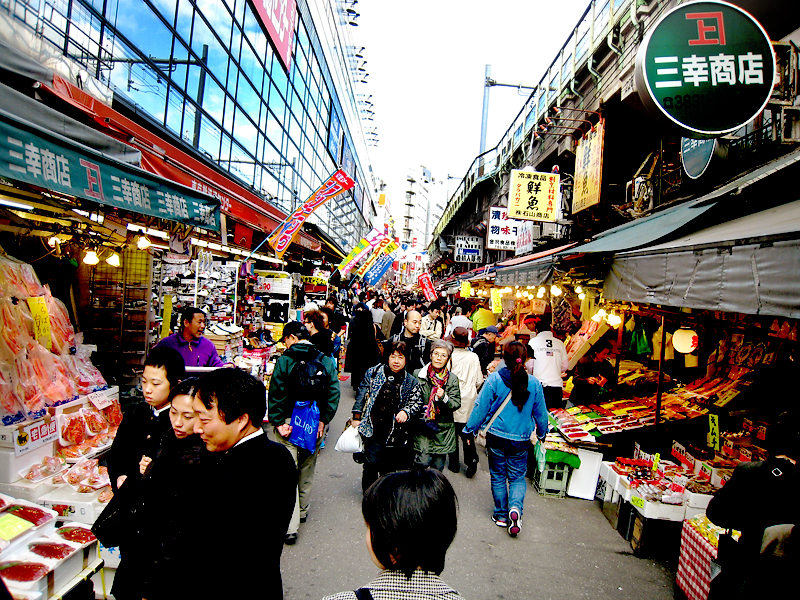 Yeah... not much American about this place after all.  I believe it was named as such due to an American influence in the area during post WWII rebuilding.  It had lots of fresh seafood, plenty of cheap souvenirs, and lots of merchants yelling at you to come check out their booth.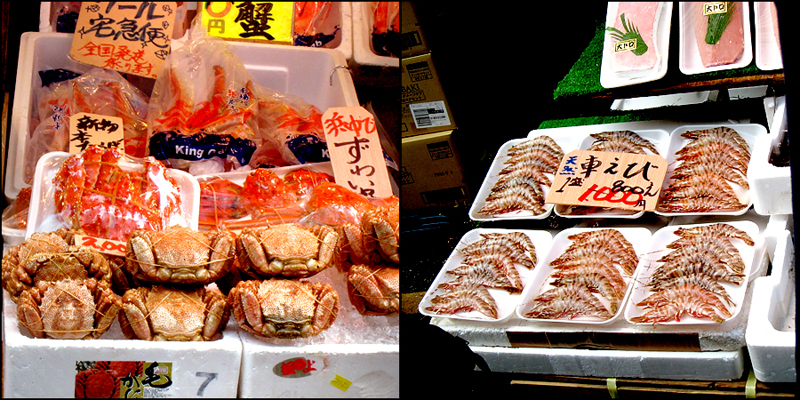 Cute 'lil crabs and shrimp. Big ass shrimp.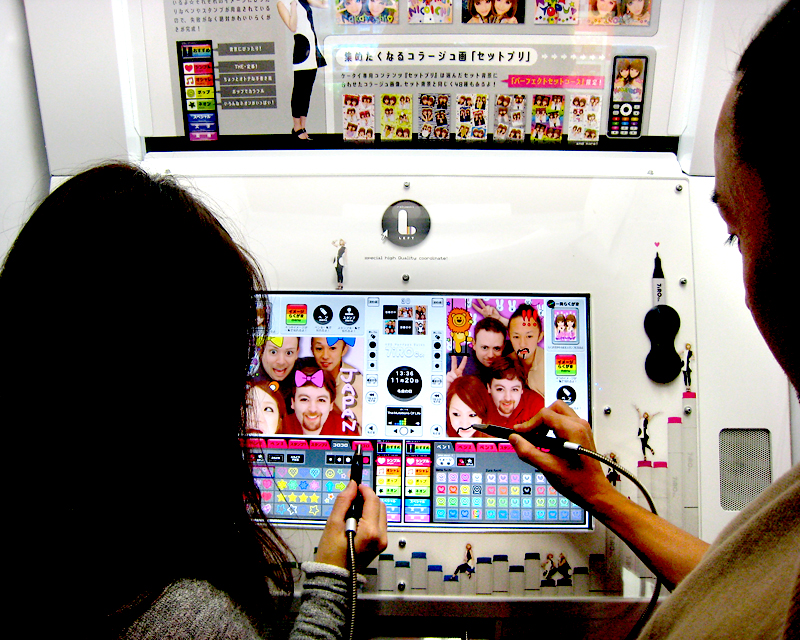 We ducked into a mini arcade near the end of the street and did a quick group photo in one of the photo booths.  I almost cannot put into words how awesome Japanese photo booths are.  Just.. look!  Of course, the software also automatically applies every filter in the Photoshop library and exaggerates everyones' eyes to look like anime eyes.
As part of my thanks for hosting us for the first part of the trip, I told Masa I'd do a short photo shoot with the two of them so that they would have some "pre wedding" photos, similar to the engagement photos that we do in the US.  They were both very excited about the offer and e-mailed me over the weeks before my trip asking about clothes and locations and the such.
But when the shoot finally came around, I got probably my biggest culture shock of the entire trip.  Masa said he was so nervous that he was nauseous!  I must have reassured him a dozen times that he would do fine and that they were going to make such a cute couple.  Once we got started, the nerves subsided, but I also noticed that both of them were so conscious of people walking down the street noticing them, something that we almost never see happen here in the US.  I knew that the Japanese culture is very big on not sticking out ("The nail that sticks up gets hammered down"), but it was still so surprising to see from a couple that in private were every bit as goofy and affectionate as Erin and I.
I just did what any self-respecting American would do, and made enough of a doofus of myself ("ugh... look at the baka gaijin over there!") to take the attention off of them and to get some laughs out of them.    Between that and my brother, the human beacon of light while holding my flash, the mission was a success and I got a few dozen great photos of the two of them over a half-hour or so, and they were ecstatic when they got their photos back after the trip.
Here's a few of my favorite.  What were they so nervous about?  Look at what a cute couple they make!

Asuka's English wasn't nearly as good as Masa's, but she knew the most important word out of my instructions here - "tickle"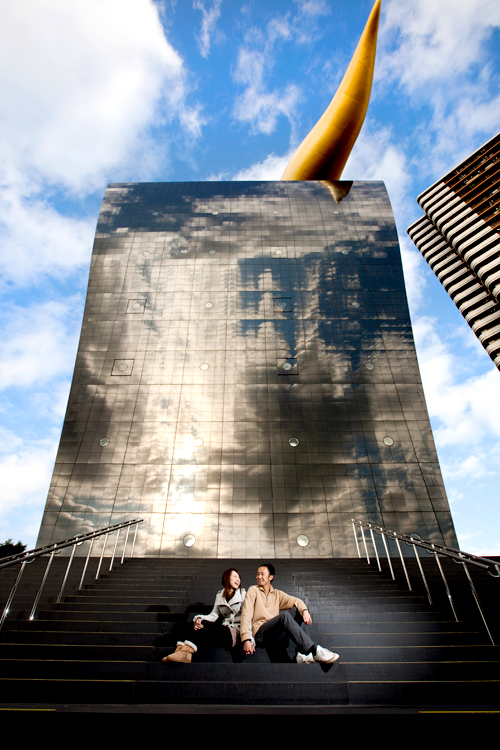 Returning victoriously to the Asahi building.  Which, by the way, is also their family name.  Appropriate, isn't it?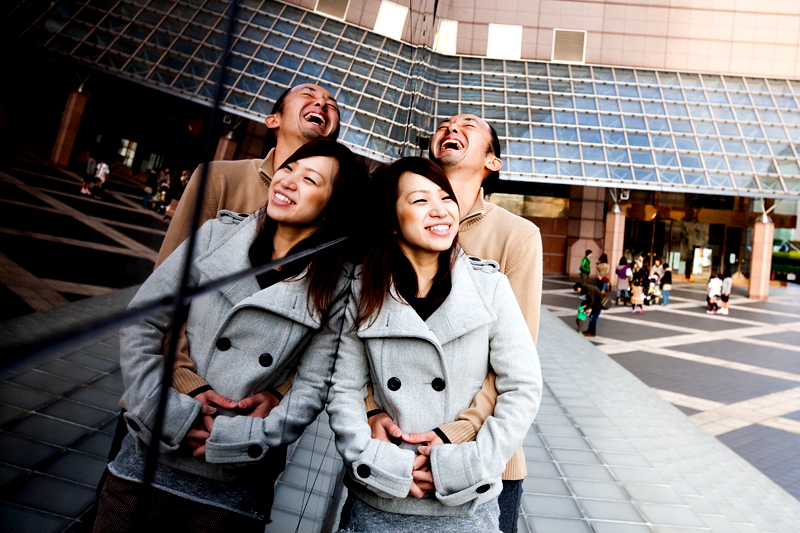 I have no idea what she said to get this reaction out of him, but it was 10x better than any of my attempts.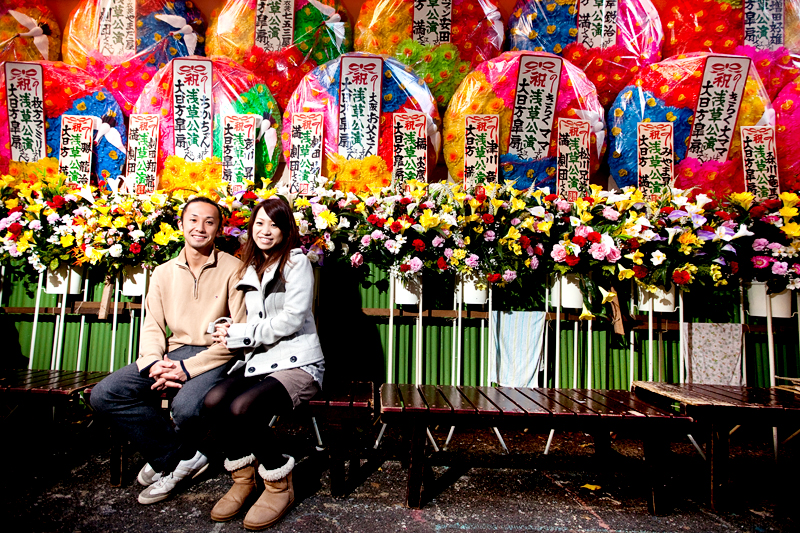 Color explosions always please my color-blind eyes.

After we finished up, we trekked on over to the Sensoji temple, the largest and most well-known temple in the Tokyo metropolis area.  It's pretty much what you would expect - a sea of people, large gates, gaudy paper lanterns, incense out the wazoo, and red, lots of red.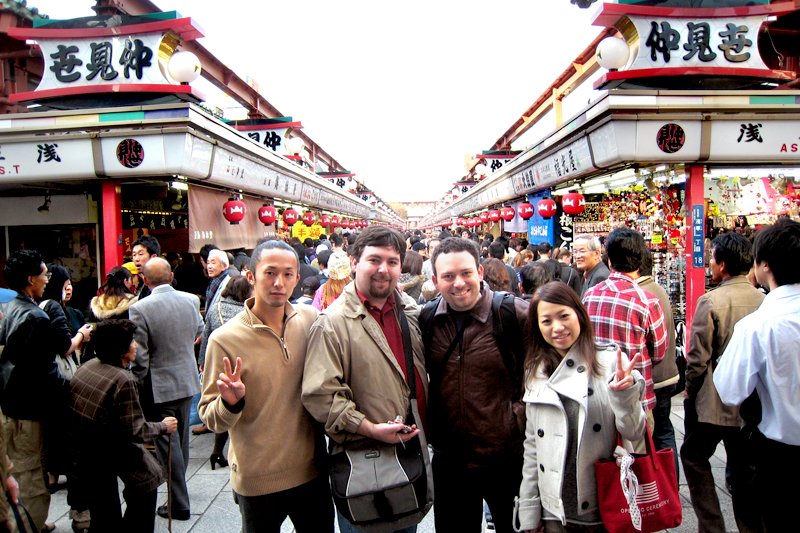 Just through the gates is a very long and narrow sea of people shopping at little knickknack shops.  Here's the whole gang, with my brother and I obviously not yet having the courage to publicly flash the "peace" sign that just about everyone in Japan flashes for any photo op.

I am a giant among men!  All 5'7" of me!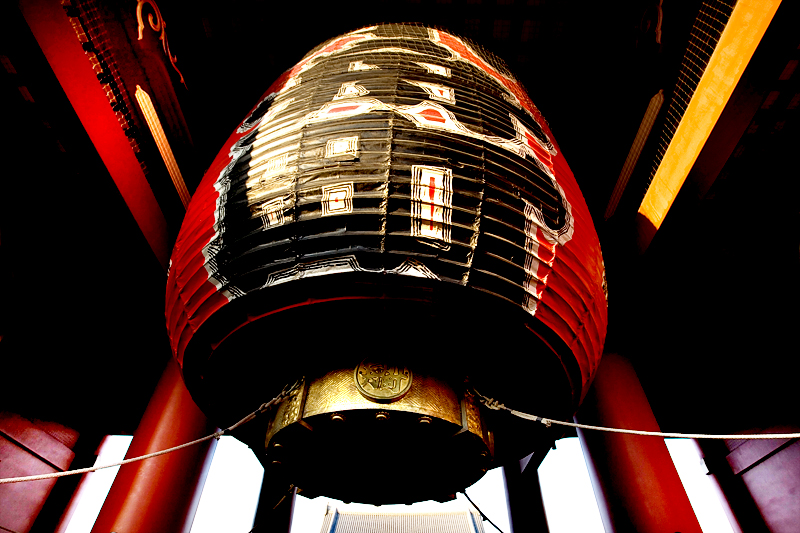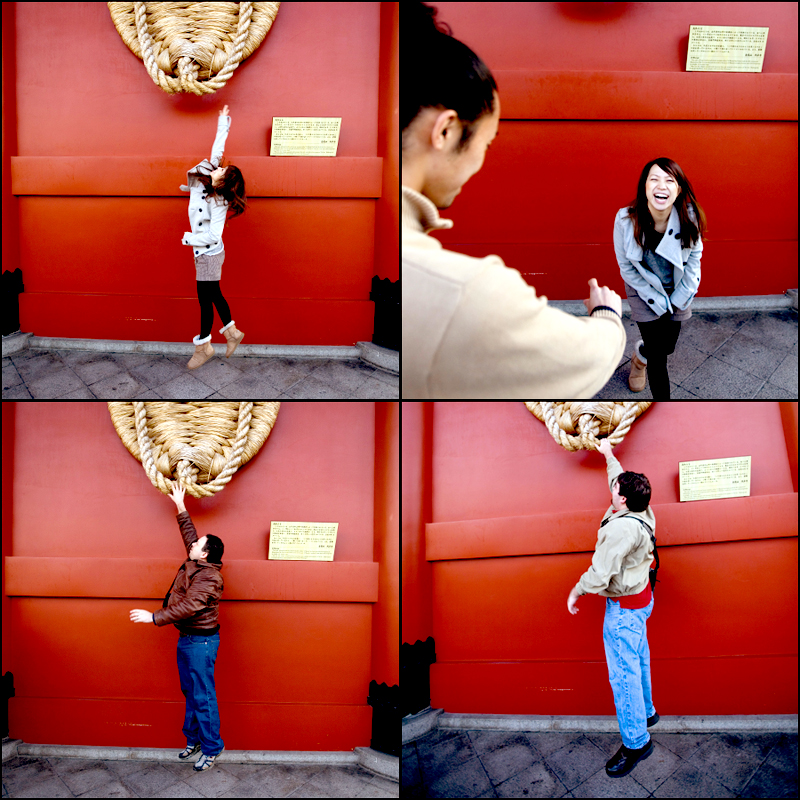 In the temple there is this ginormous sandal that is on display.  Supposedly if you can jump and touch it, good things will happen to you.  Poor Asuka, who couldn't have been over 5' even, gave it her all with Masa encouraging her on.  For the Herculanean Brownes, however, the feat was easily attained.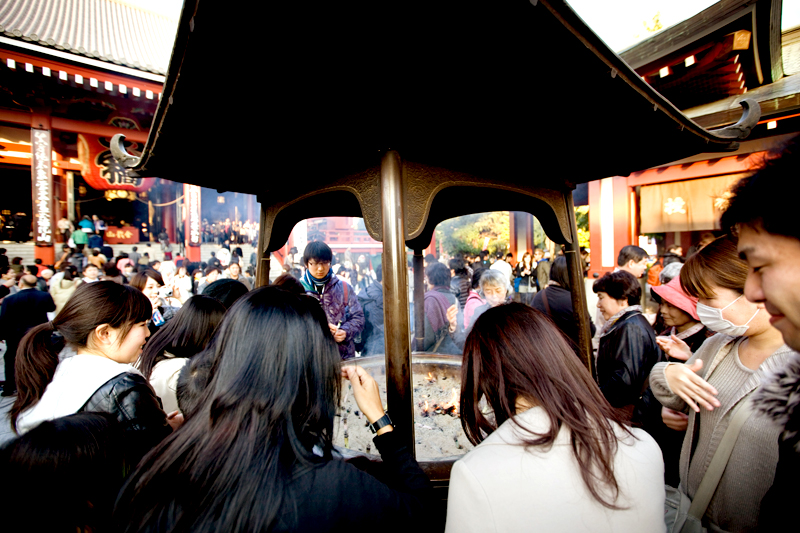 I wanted to take that entire thing home with me and have it burning in my house 24/7.   Inceeeeense...

Very cool screen paintings on the ceiling of the temple proper.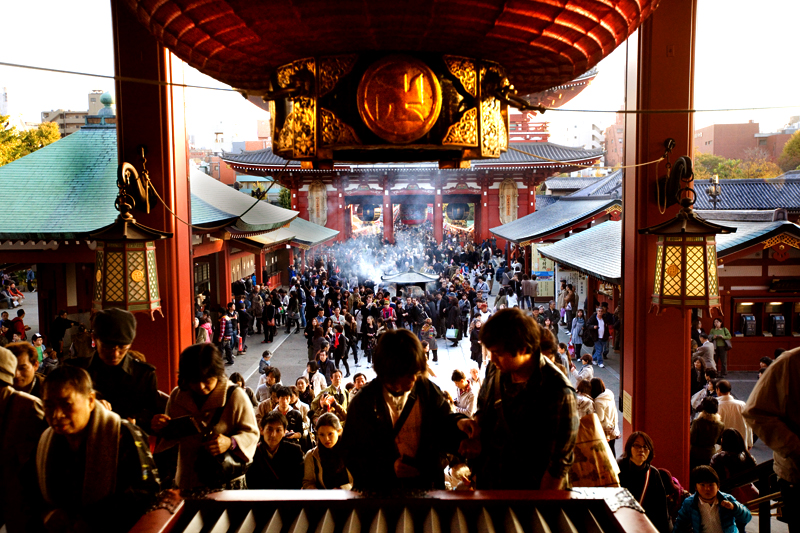 No admission fee - just a monumental amount of offerings passing those wooden slats every minute.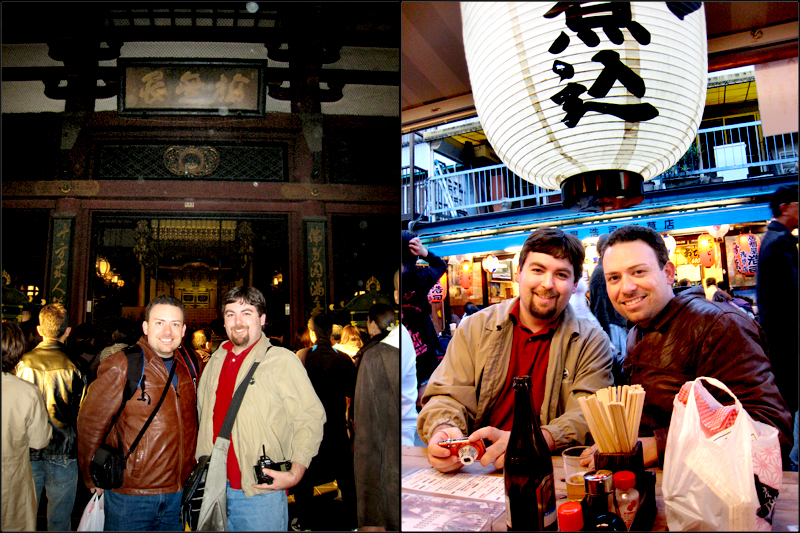 Jer and I at Sensoji.  Jer and I at a small izakaya in the alley behind Sensoji where we stopped for a drink and a snack.
Afterwards, Masa and Asuka returned home for a quick break while I gave Jer a quick tour of nearby Akihabara.  A few hours later we all reconvened near their apartment for dinner at a local okonomiyaki restaurant.  It's sort of their version of a fondue restaurant where you have many small courses and prepare your own food, but done on a hot surface instead of in pots of liquid.  I had a raw seafood salad that was out of this world, and then the okonomiyaki itself was loaded with flavor that hit the spot after a long day.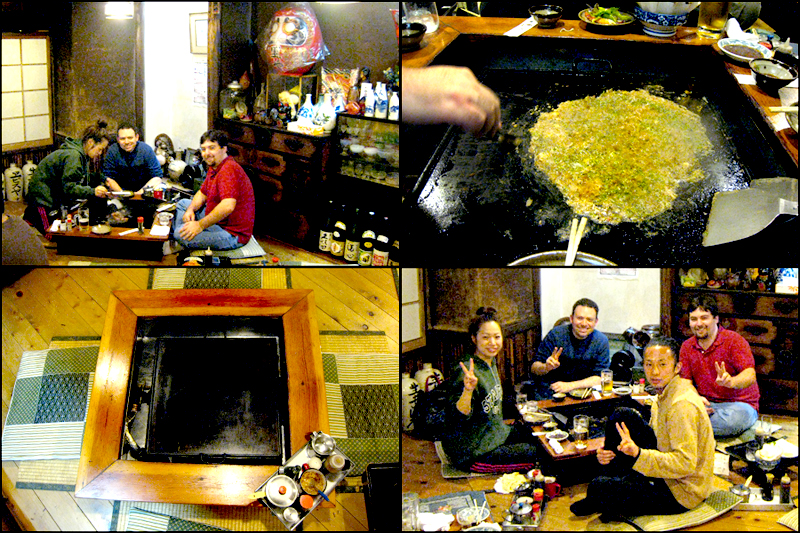 We did it!  We busted out the peace sign!  From that point forward, we would no longer be the nail that stuck out...
Up next - a brief nighttime visit to Yokohama with Jer, then begins our westward journey towards the second half of our trip, with some appearances of my best bud, Jason!