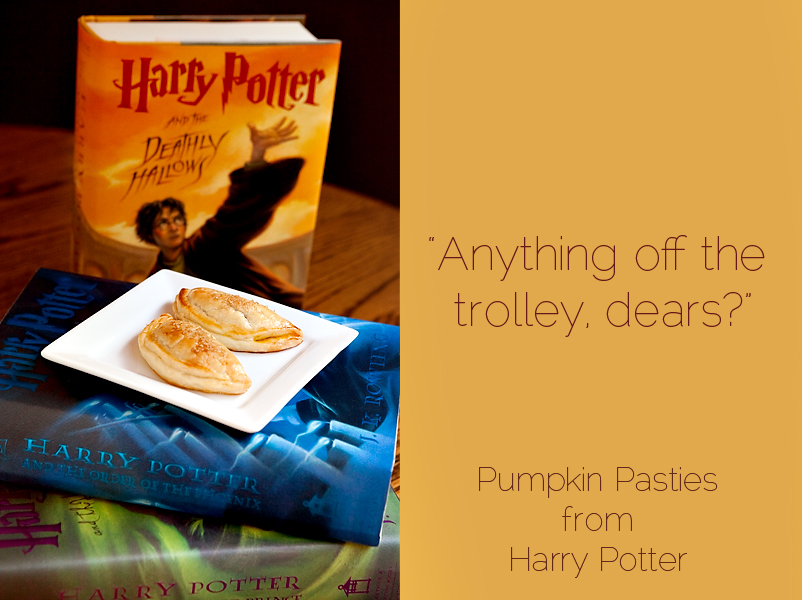 Confession:  I am a Harry Potter nut.
Really, I am.  I love those books with every fiber of my being.  The movies (though the books are way, WAY better) are a source of comfort for me.  Having a bad day?  Well, then I'm gonna pour a glass of wine, pile up on the couch with Dexter & Dewey, pop in one of the movies, and I will cheer up almost instantly.
I know the idea of recreating food from J.K Rowling's wizarding world isn't a new idea, but I've been wanting to try my hand at my own versions of some of the vittles mentioned in the stories.  We've made 2 versions of Butterbeer in the past, though I don't think I've ever blogged them (I'll put that on my To Be Blogged list - stat!).  This weekend, I whipped up some pumpkin pasties.
If I remember correctly, the first time pumpkin pasties were mentioned was on the Hogwarts Express, as Harry hurtled toward his first year at wizard school.
Most of us had probably never heard of a "pasty" before, depending on which side of the pond you reside.  A Cornish pasty is a dish found most often in Great Britain. It is a baked semi-circular pastry typically filled with diced potatoes, onion, and beef. Using that example, I suppose you could argue that pumpkin pasties could very well be a savory treat.  However, given the other goodies available on the Honeydukes Express trolley - cauldron cakes, Every Flavour Beans, and chocolate frogs - I decided that they must be a sweet snack.  Here's how you can make your own!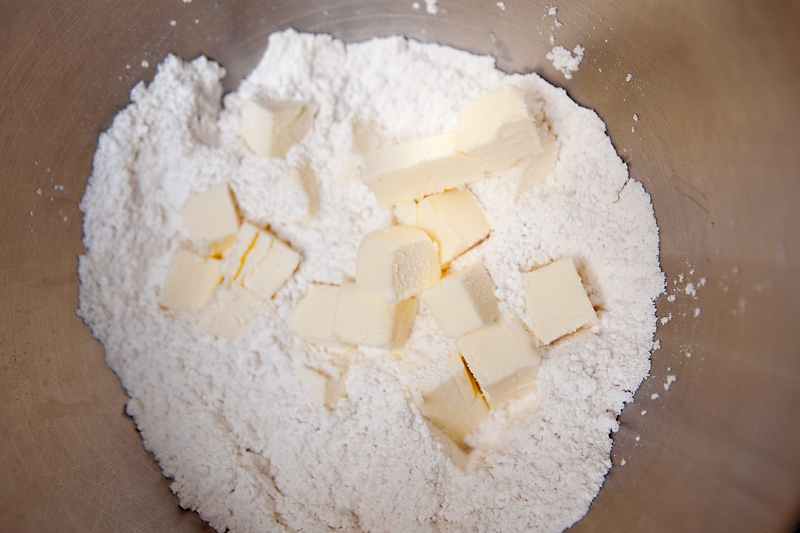 Add the dry ingredients to a bowl and toss in the cold, diced butter.

Mix that together until it looks like a bowl of dry bread crumbs.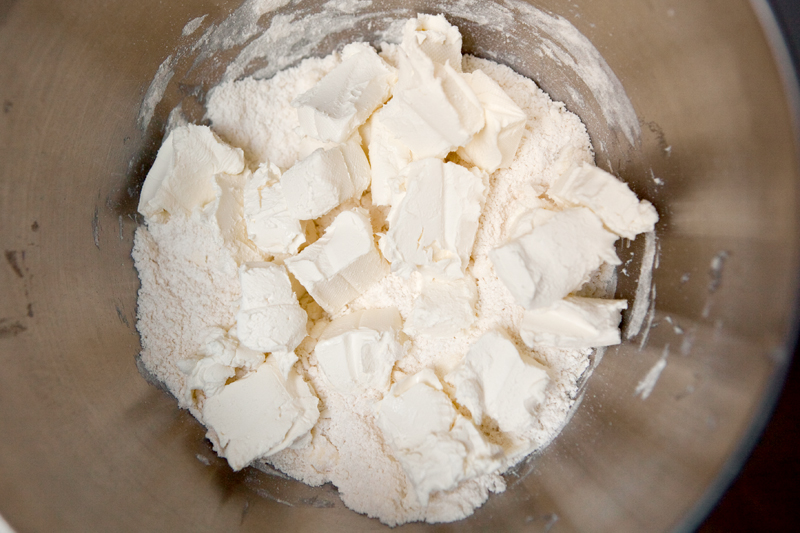 Then throw in some big chunks of cream cheese.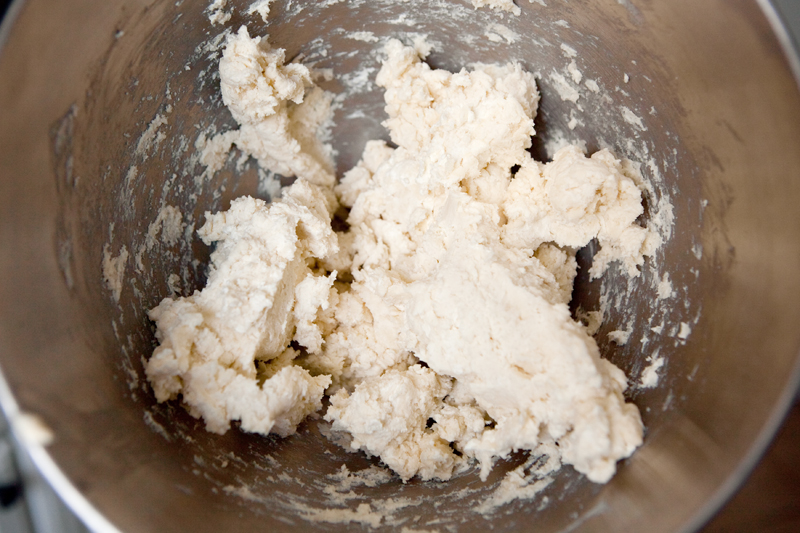 Mix until you have a big clumpy mess.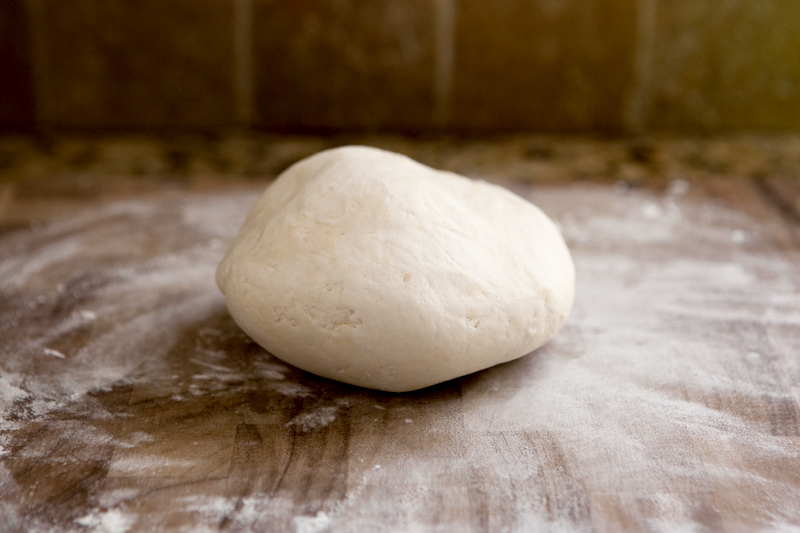 Turn the dough out onto a floured surface and knead with your hands until smooth.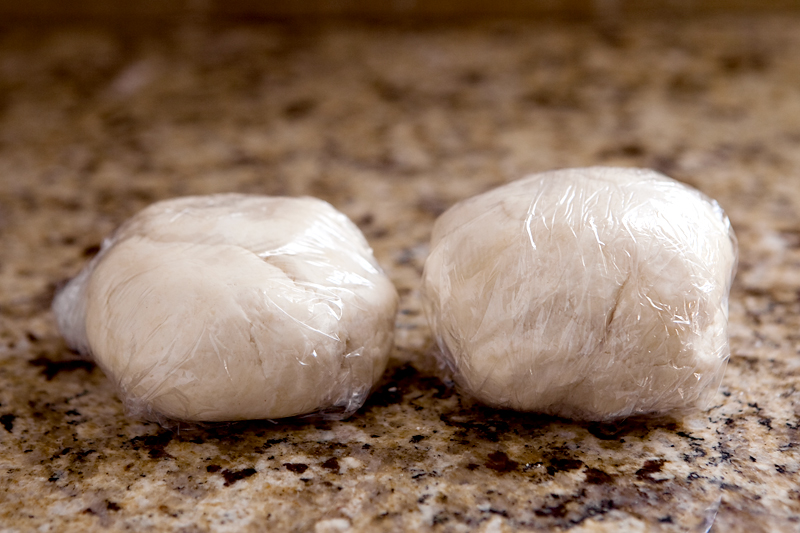 Wrap in plastic wrap and place into the fridge to chill for a bit.  I didn't want to use all of the dough for pumpkin pasties, so I separated it into two balls and froze one of them.  Feel free to do the same!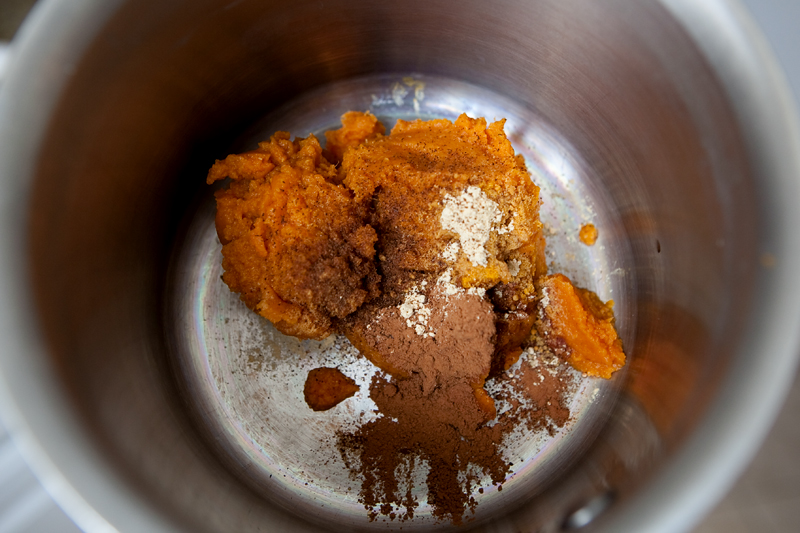 While the dough is chilling, you make the filling! (yeah, how many times have you heard THAT rhyme on food blogs?)  In a saucepan, mix together the pumpkin and dry spices and heat on medium-low until warm and combined.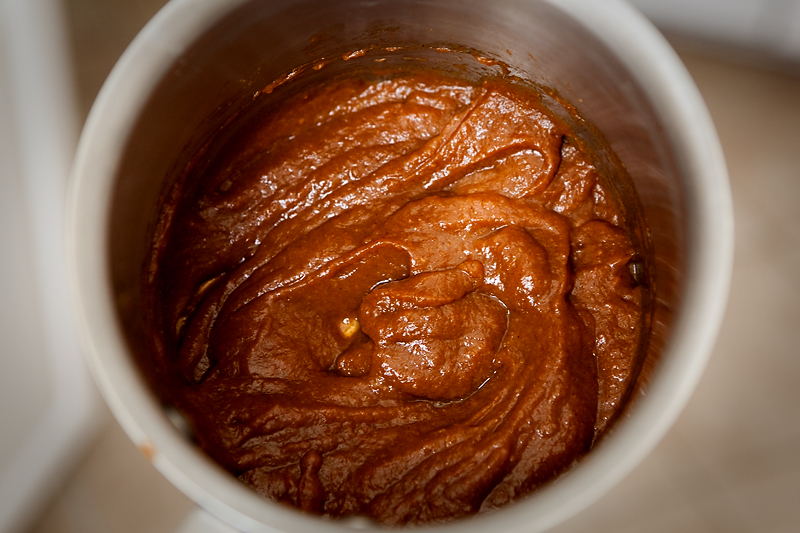 Remove from the heat and mix in the egg, salt, and sugar.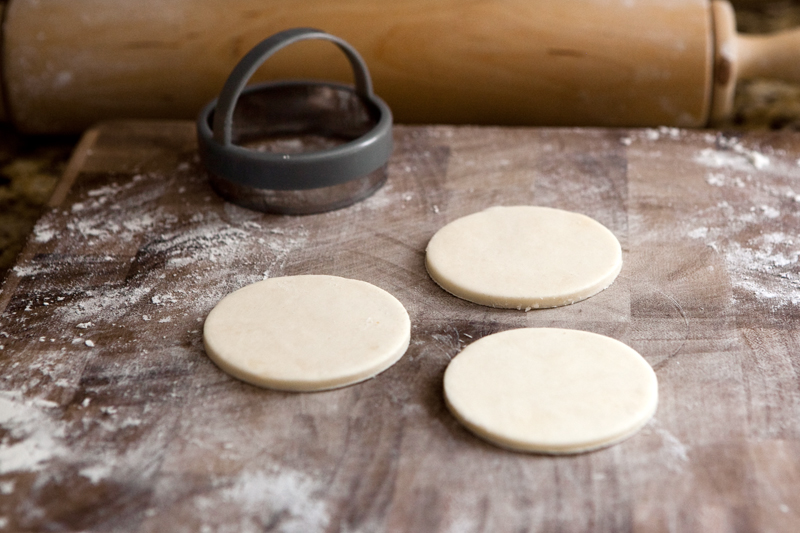 After about 30 minutes has passed (you can wait longer, even overnight if you're making the dough in advance), roll out your dough to about ⅛ inch thickness and cut with round cutter.  I left my dough a bit thick because my largest cutter was still smaller than I wanted my pasties to be.  So, I cut thicker circles and then rolled them out a bit to flatten them and make them larger.

See? They're not perfectly round anymore, but that's A-OK!  Make sure you grease your cookie sheet, by the way.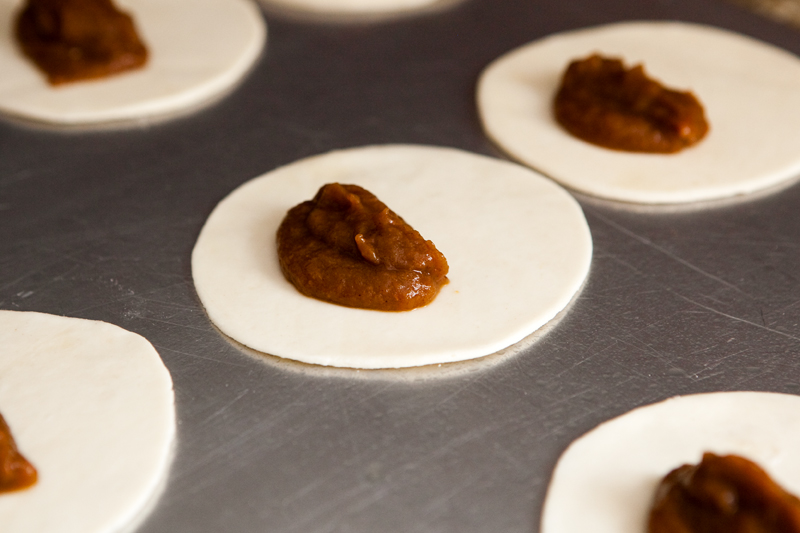 Spoon a small amount of pumpkin filling onto the bottom third of each circle.
There's really no way to make pumpkin pie filling look appetizing, but trust me, it smells delicious.

Then fold over and seal by either folding the edge over itself and pinching, or just use a fork and crimp.
It's up to you, dude.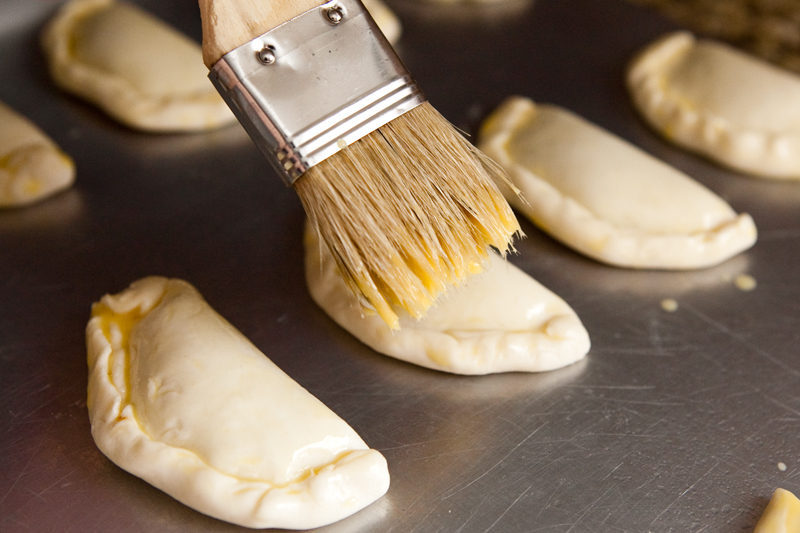 Lightly brush with a beaten egg mixed with a lil milk or water.

You can sprinkle on some extra cinnamon or raw sugar here, if you want.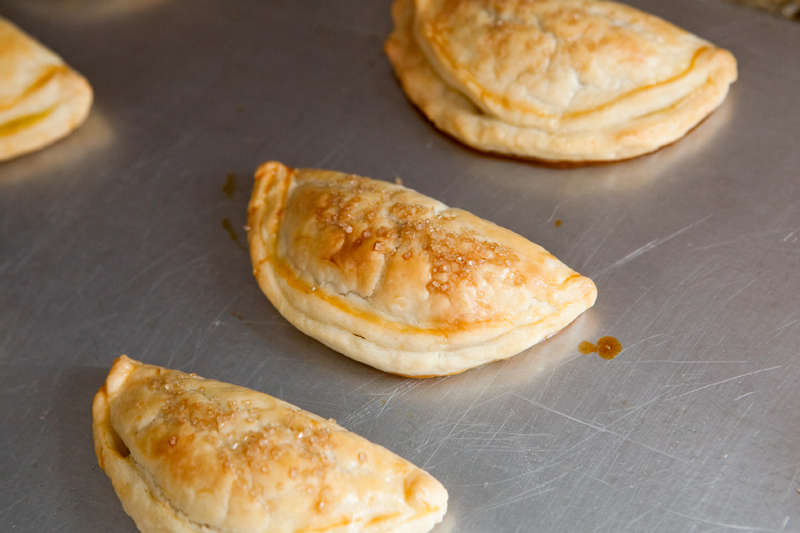 Bake those puppies at 350 for about 25 minutes, or until they look like this.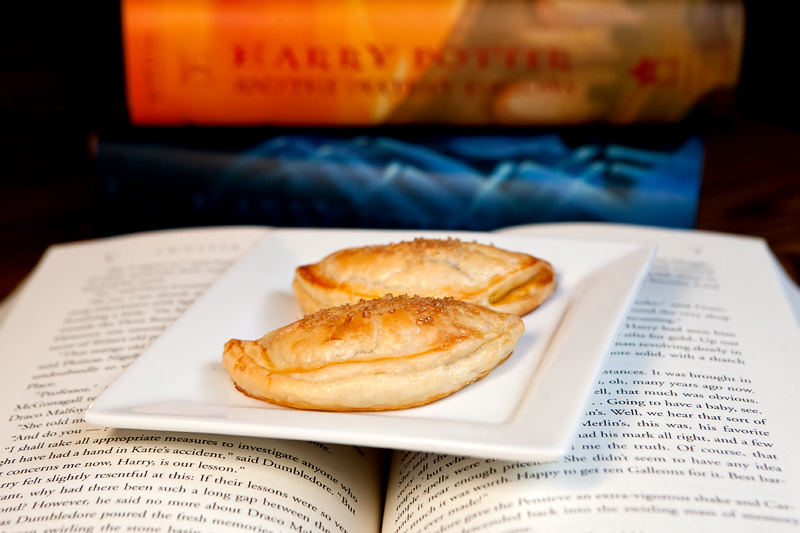 Serve to all of your fellow Harry Potter friends.  These would pair nicely with a big frosty mug of Butterbeer, am I right?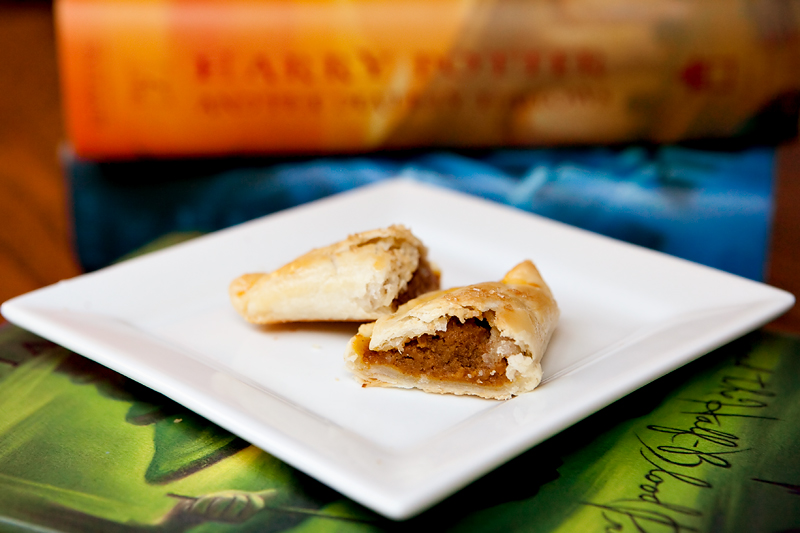 They are basically cute, portable mini pumpkin pies.
Here's the recipe!  I used a fairly basic pie filling for the center, and I used a recipe for cream cheese pie dough from this site right here!
Print
Pumpkin Pasties from Harry Potter
---
Yield:

4

dozen pasties

1

x
FOR THE DOUGH

1.5 cups

all-purpose flour

1 tsp

sugar
pinch of salt

1

stick of cold, unsalted but­ter, diced

1

pack­age of cold cream cheese, cut into coarse chunks
FOR THE FILLING

¾ cup

canned or fresh pump­kin puree

1

large egg
pinch of ground cloves

¼ tsp

ground ginger

½ tsp

cinnamon

¼ tsp

salt

⅓ cup

sugar
Optional: turbinado or demerara sugar
---
Instructions
FOR THE DOUGH
Place dry ingre­di­ents in medium bowl and mix together.
Add the cold, diced but­ter and mix it together with flour until you have what looks like coarse bread crumbs.
Add in the pieces of cream cheese and mix until the dough is very clumpy.
Turn dough out onto a lightly flour dusted sur­face and knead until a smooth dough has formed.
Wrap in plas­tic and chill for at least 30 min­utes. Can be made in advance and frozen up to 3 months.
FOR THE FILLING
In saucepan, heat pumpkin with dry spices on medium-low heat until warmed. Remove from heat.
Mix in egg, salt, and sugar. Set aside while you prepare the dough.
ASSEMBLY
Preheat oven to 350F
On a floured surface, roll out the dough to about ⅛-inch thick­ness and cut with round cookie or biscuit cutter. Place rounds onto a greased cookie sheet.
Spoon a small amount of pumpkin filling onto the bottom third of the dough circles.
Fold the circles over and seal the edges by either folding over and pinching with your fingers, or crimping with a fork.
Using a pastry brush, lightly glaze each pasty with beaten egg mixed with a little milk or water. Sprinkle on some turbinado sugar, if desired.
Bake for 25 minutes or until golden brown.
Recipe Card powered by