It's been far too long since I've done a party ideas round-up, and with the release of the new Minions movie this summer these silly little yellow pill-shaped dudes are bound to be one of the hottest party themes of the year.  I have scoured the web and put together some of the cutest and most creative food ideas for a Minions party that I could find from talented bloggers all over the globe!
As with all of my round-ups, photo credits belong to the original bloggers and there are links that will take you to each individual post  for recipes and step-by-step instructions.  If you use any of these amazing ideas, please leave each blogger some comment love and let them know!
Before we get started, I am frequently asked where to purchase some of the items used in these crafts.  Here's a quick list of some of the supplies that you can get online if you can't find them in your local craft or baking supply stores.  This list is not all-inclusive, so if you still can't find something please leave me a comment and I'll do my best to help you out!
6. Black licorice laces (use to outline goggles and shape mouths and hair)
8. Minions Pre-made Icing Decorations
9. Blue paper ice cream cups (you can use these in place of blue sugar cones if you can't find them. I'm wary of purchasing sugar cones online because they can arrive broken!)
1. Minions Snack Mix by The Simple Parent.  Candy eyeballs with blue and yellow candies are the perfect subtle nod to your party theme.  Display them in a tall glass container for the full effect!
2. Minions Candy Spoons by Living Locurto.  You could wrap these spoons up as favors or use them to stir into some hot chocolate or other warm drinks at your party (winter birthdays, anyone?) So fun!
3. Minions Twinkie Cupcakes by AngelicaMadeMe.  Half of a Twinkie, some frosting, a few chocolate sprinkles for hair, and bam, you've got a minion!
4.  Minions Coated Twinkies by My Cupcake Addiction.  Twinkies are a naturally perfect Minion shape - all you gotta do is decorate 'em!
5. Minions Banana Pudding Trifle by Mom Endeavors.  Banana pudding is an obvious choice for a minions party (ba-na-na!) and I love how Mom Endeavors added a face for the initial presentation.
6. Minions Sheet Cake Tutorial by Betty Crocker These easy step-by-step instructions, complete with photos, will have you whipping up this professional looking cake in no time using a regular sheet cake!
7. Minions Bananas by Party Delights.  If you want to incorporate some healthier snacking options at your party, these adorable bananas dressed in minions outfits are a great idea!  Get the free printables from Party Delights!
8. Easy Minions Cupcakes by Eats Amazing.  I love how you can vary the location of the eyeballs and mouth shape to create so many different faces!
9. Minions Pretzel Twists by Mommy Musings.  Okay you guys, even if you have absolutely zero skills in the kitchen you can whip up these foolproof pretzel bites.  They would look so cute in a clear glass bowl on your party snack table.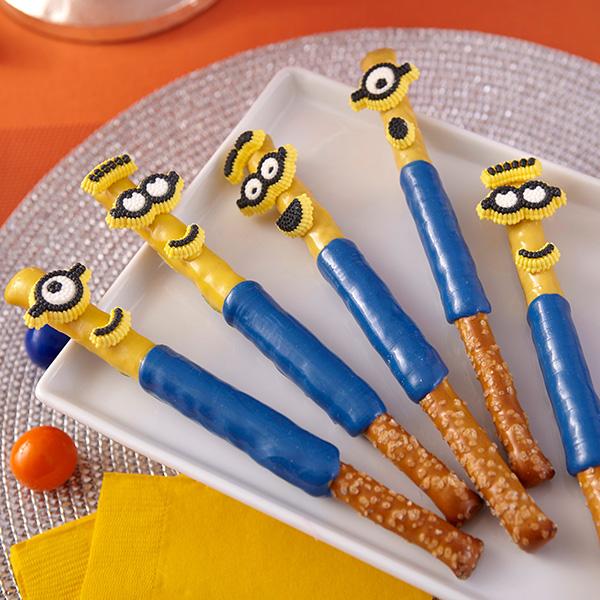 10. Minions Pretzel Rods by Wilton.  I'm convinced you can use decorated pretzel rods to fit absolutely any party theme.  These cuties are created using pre-made Minions candy decorations affixed to pretzel rods dipped in colored candy melts.
11. No-Churn Banana Minion Ice Cream by Homemaking Hacks.  This easy banana Oreo ice cream recipe uses Oreo halves to give the illusion of Minion eyes!  So very creative.  You could use blue paper cups for an even more Minion-y look!
12. Minions Honey Banana Coconut Milk Popsicles with Hidden Sweet Corn by Elizabeth's Kitchen Diary  Not only  are these adorable, but they have corn hiding inside of them!  How strange, yet cool, is that?  Totally want to make these.
13. Minions Ice Cream Party Toppers by Create-Celebrate-Explore.  I am so seriously in love with using "deconstructed" versions of characters to create cute things like this.  How adorable are these ice cream toppings?  I want to do this!
14.  No Churn Banana Ice Cream Cones, Minion Style by Hungry Happenings.  Another use of the super easy and popular no churn banana ice cream that becomes Minionized through the use of candy taffy and a blue ice cream cone.
15. Minion Apple Cakes by As The Bunny Hops These cupcakes are a little lighter and healthier since they use applesauce in place of oil or butter.  The frosting is warmed and poured into the cups to achieve the smooth fondant look and then decorated with black frosting and candy eyes.
As always, I like to end my party posts with some shopping links for licensed favors and decorations to help round out your party.
1. Minions Pinatas - Bob or Stuart
2. Minions Party Supplies Pack - napkins, plates, cups, utensils, and tablecloth
3. 18" Round mylar Minion balloons - pack of 3
4. Despicable Me Minions Favor Bags - pack of 8
5. Mylar Balloon Set - assorted Minions designs - 14 piece set
6. Minions paper baking cups - set of 50
7. Minions cardboard cupcake tree or treat stand
8. Minions Cupcake Wrappers and Toppers - set of 24 (12 each)
9. Minions silicone chocolate or candy mould - this is soooo cute!!!
10. Cake decorating set - Minions beach party
Here's your handy dandy Pinterest image to save these ideas to your party boards! Just hover your mouse over the image and click "Pin it!"
This post includes affiliate shopping links - thank you for your support!