There are many different food options available in the Animal Kingdom Lodge, but the two restaurants that get the most attention are Jiko and Boma.   We made reservations for Jiko our first night, and what a way to kick off the vacation, because it ended up being the best meal of our entire trip.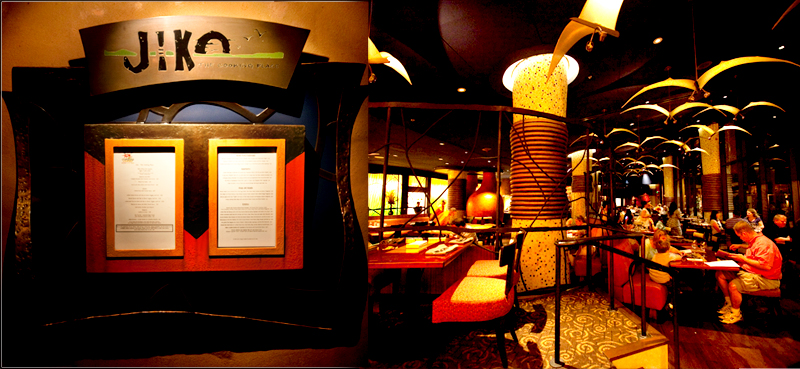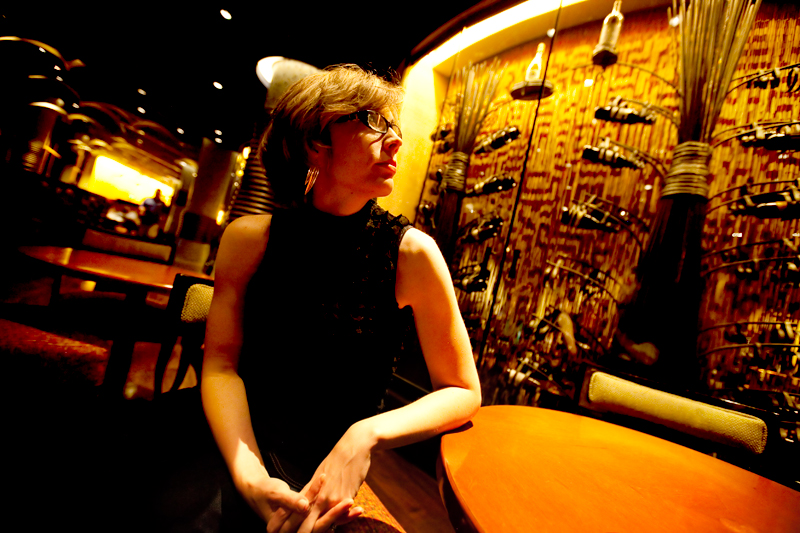 Being silly, but check out that awesome wine rack behind me!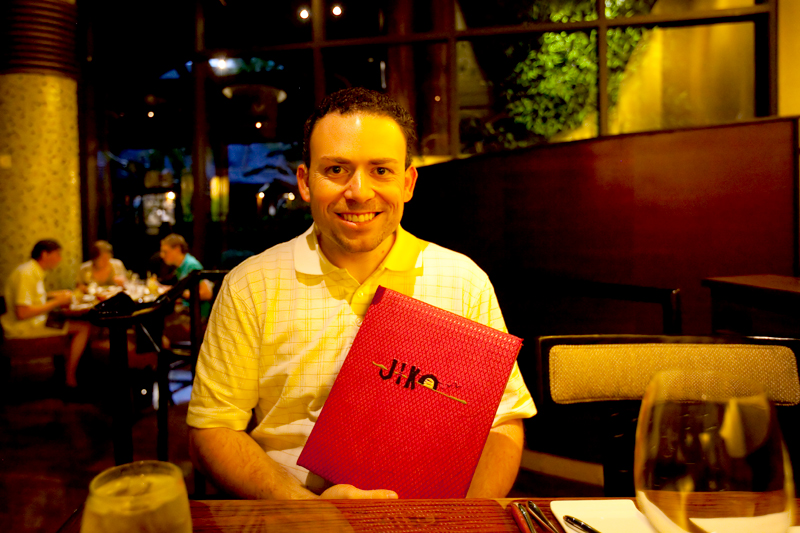 Matt with the extensive wine list.  Both of us know what we like in a good wine, but we are far from being connoisseurs.  We usually tell the waiter our preference for taste, and let him/her pick something out.  Our server at Jiko hit the nail on the head with both of our wines.

The bread basket contained a flaxseed bread, and some kind of sweeter (cinnamon maybe?) bread.  The butter was whipped with an interesting mix of sweet and spicy flavors, and I'm pretty sure it contained pieces of raisin or fig.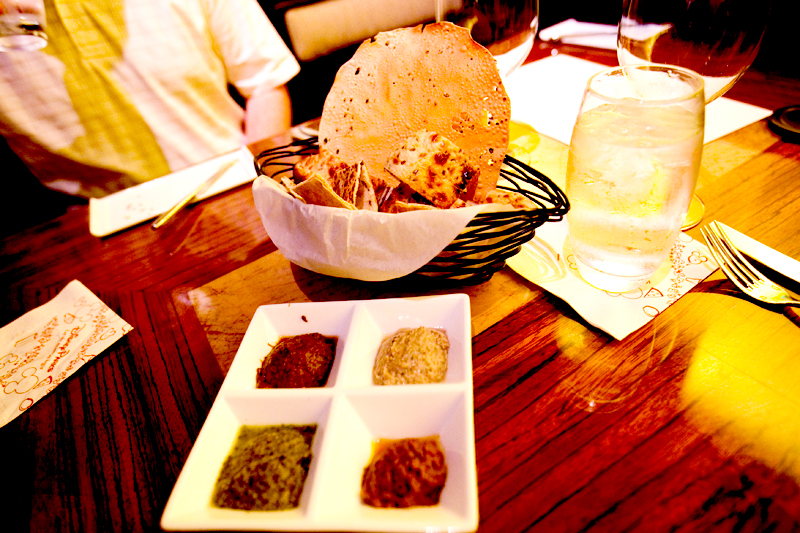 We ordered the recommended appetizer, the Taste of Africa.  The breads were naan, lentil papadaum, and pita.  The dips were chermoula, kalamata olive hummus, lentils with spinach, and sambal.  All were absolutely amazing.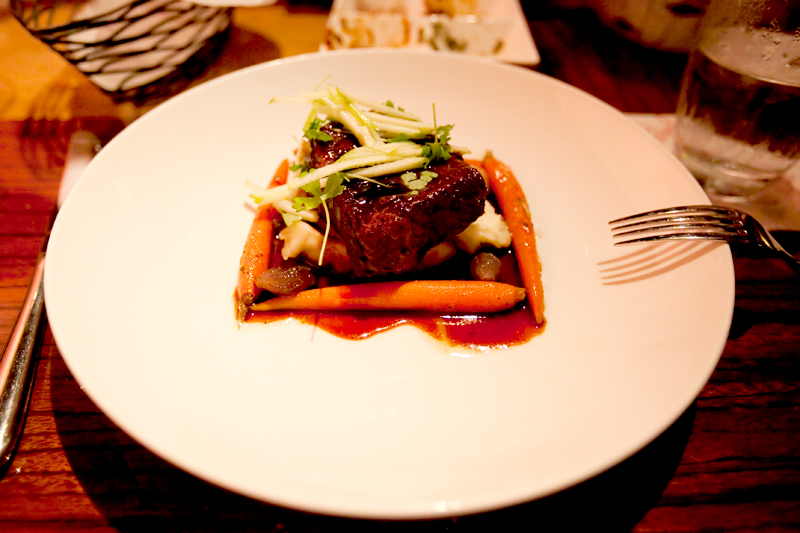 Matt's entree.  Directly from the menu:  Braised Beef Short Rib - Truffled Potato Puree, Pearl Onions, Baby Carrots, and Cabernet-Tamarind Sauce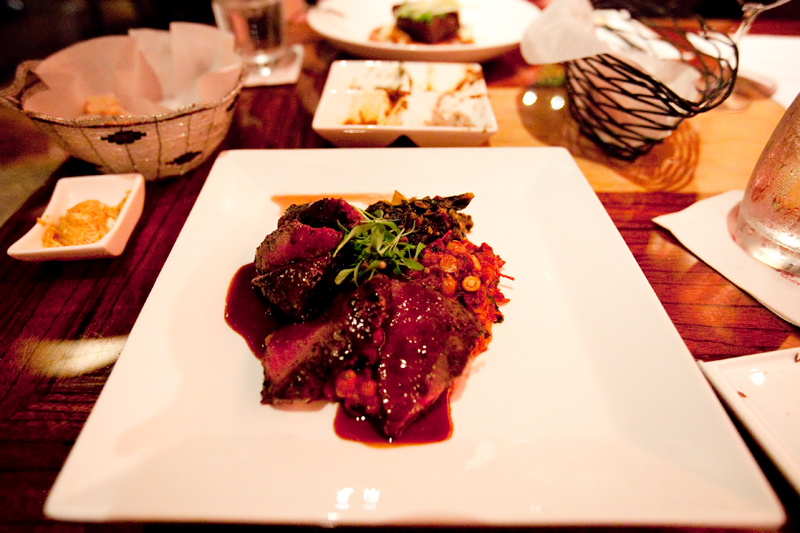 My entree.  Directly from the menu:  Grilled-marinated Lamb Loin - with Chickpea and Chorizo, Spiced Swiss Chard, and Apple Cider Reduction
The flavors in both entrees were explosive and the meat was cooked to perfection.  Both the lamb and beef were fork tender.  My lamb was just a few seconds past rare (I'm sure my dad would have had a conniption) and was pure heaven.   Jiko gets an A+ rating in our book.  You don't need to be a guest of AKL to eat there, so the next time you're in Orlando, I definitely recommend checking it out.  You won't regret it.
Oh, and make sure you keep the Tums and Pepcid handy for the following day if you aren't used to extremely rich/spicy food.  The pain is worth it!!
Our third morning in AKL we got a chance to check out the breakfast buffet at Boma, which is the largest of the restaurants at the resort.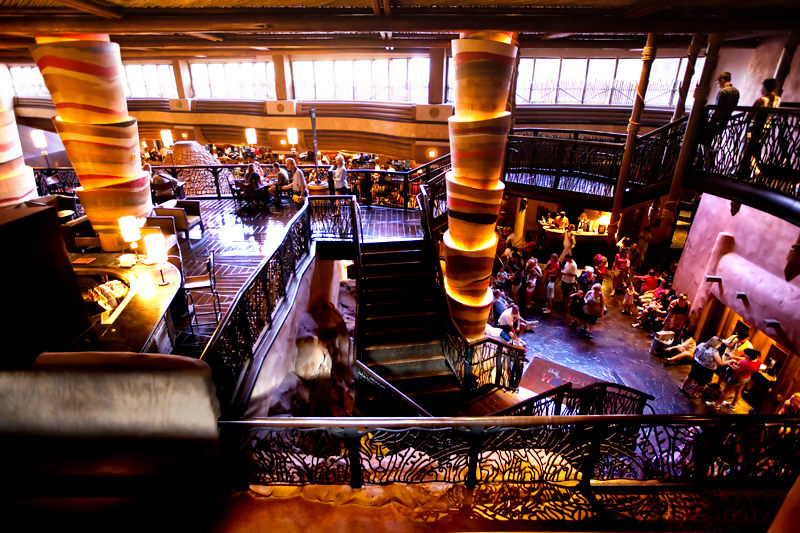 Looking down into Boma (lowest level) from the main lobby of Jambo House.
When you sit down, your glass is filled with something called West African Frunch, which is made with lemonade, pineapple juice, guava juice, orange juice, and papaya juice.  When you order coffee, they leave the entire carafe on the table, which gets mega props from me.  I am not a pleasant person in the morning until I have a goodly amount of caffeine pumping through my blood.
The buffet will please just about anyone, as it is extensive and full of amazing fresh food.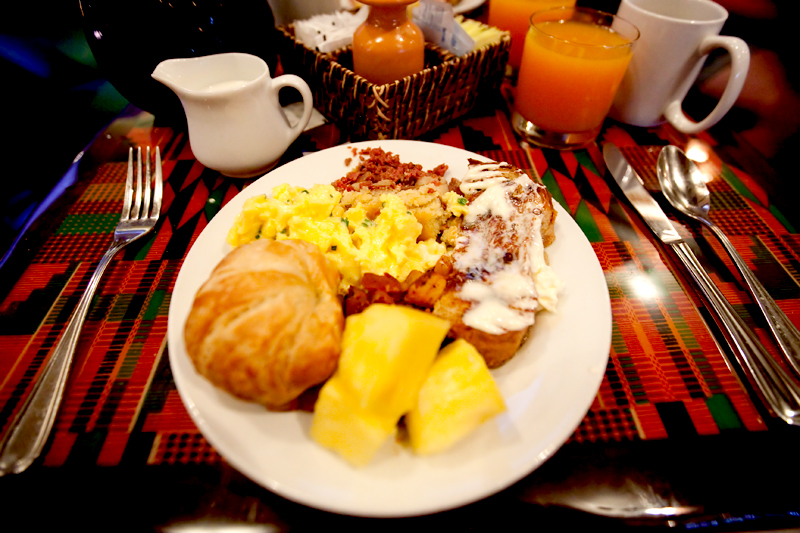 Our favorites included the goat cheese & chive scrambled eggs, roasted turkey (cut to order!), homemade yogurt and granola, and the amazing spread of fresh fruit!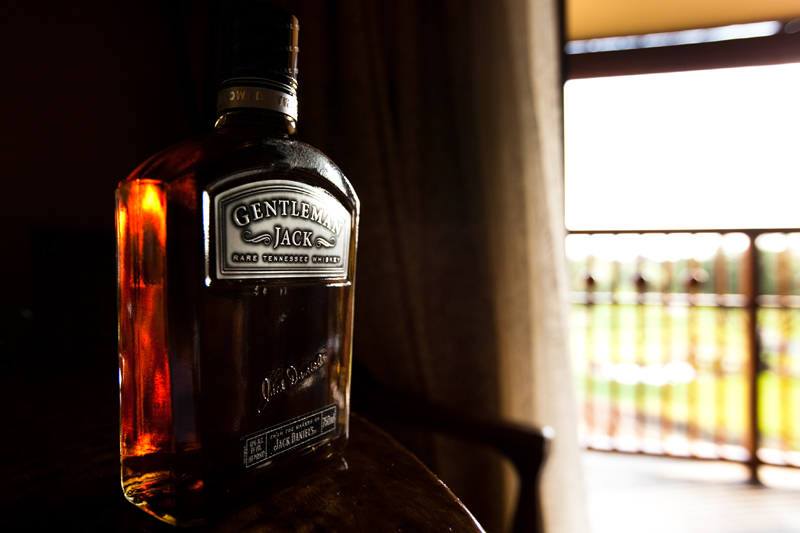 Wait.. what's this?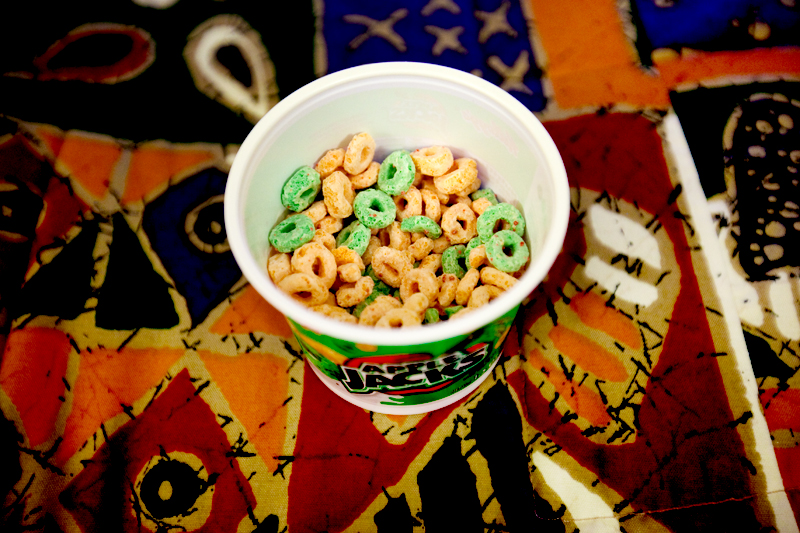 Um.. I didn't see this on the menu.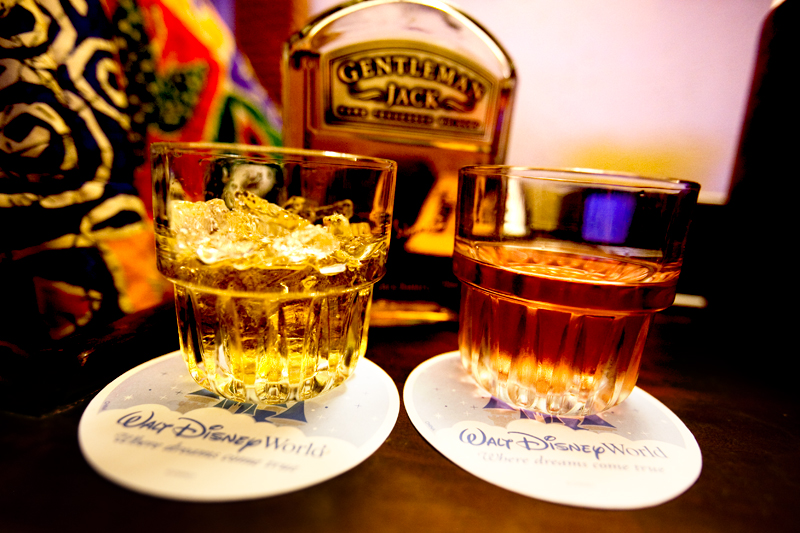 One meal a day was plenty with the food we were eating, so we were perfectly content to end our day with a snack of dry cereal or popcorn and a nightcap.   My glass is on the right, and does not contain Gentleman Jack.  Nope, I'm a total cheapo wine girl.  A glass of Sutter Home White Zinfandel suits me just fine.
When we returned,we were made fun of relentlessly about the fact that we began each day at 5:45am busting our butts in the hotel gym.  Let me tell ya, with the rich food we were eating all week, keeping up with our workouts was the only way to dissuade a little bit of the guilt.  I didn't want to work out.  I really didn't.  But, I swear, my thighs spoke to me.  They.. threatened me.   They assured me they would expand with an alarming rate if I didn't drag my butt out of bed at the crack of dawn every morning.
Really, they did.  I had to listen.  There really was no other option.