Dining on the Disney Dream is rotational, meaning that each night you will be assigned to one of the main dining rooms on the ship.  Depending on the size of your party, you'll be seated with other guests and will have the same tables buddies for the entire trip.  Our first night, we were assigned to the Royal Palace, located in the atrium lobby.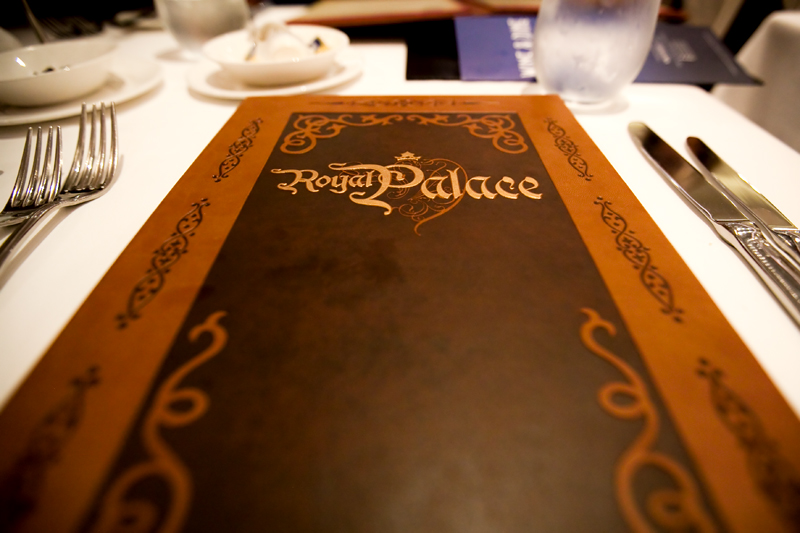 One thing we both appreciated about the dinners is that the portions are very small!  Considering how much food is available on the ship, it's easy to get to dinner and not be hungry for more than a few nibbles.  The small portions also allow you to try several different things (it's all included in your fare, after all!) if you want!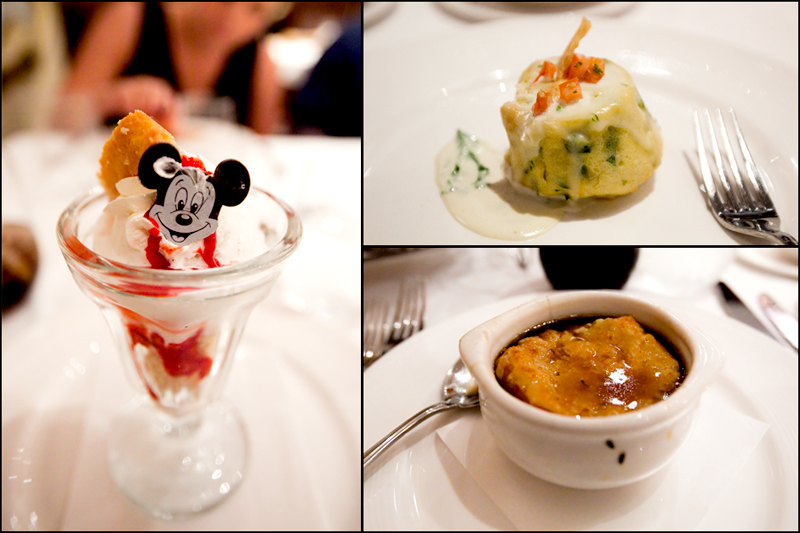 Matt started out with the double-baked Spinach souffle (top right) and then we both had Belle's french onion soup with a Gruyere cheese crouton.  The soup was seriously yummy.  I didn't get a photo of the main course (salads - our lunch at Enchanted Garden earlier kept us pretty full), but dessert was a small strawberry shortcake sundae with a lil' chocolate Mickey that hit the spot!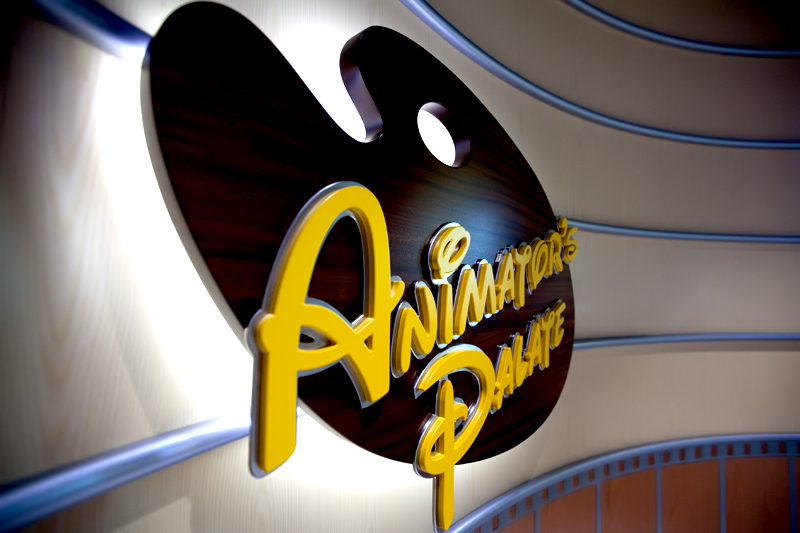 Night 2 found us at the Animator's Palate.  Definitely the most FUN of all of the main dining rooms!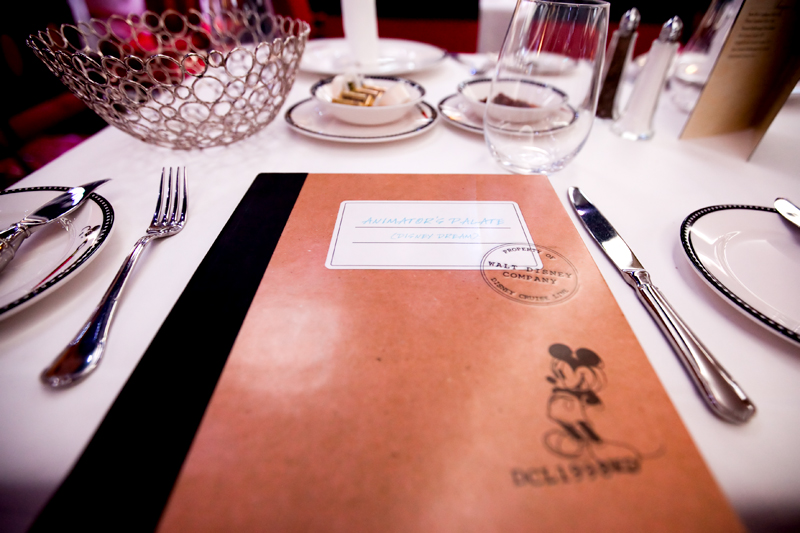 The menu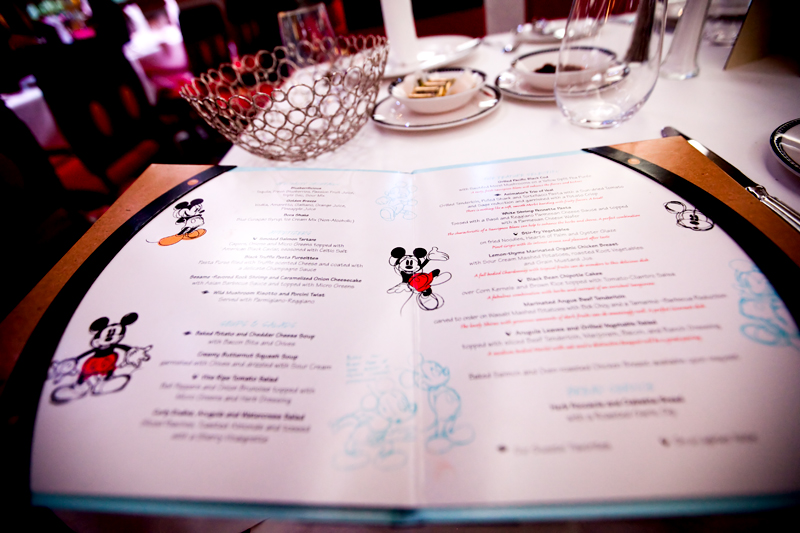 Inside.  The whole restaurant was themed like an animator's studio, and there was no lack of concept art, pencils, paintbrushes, and paint dollops everywhere.  Fabulous!!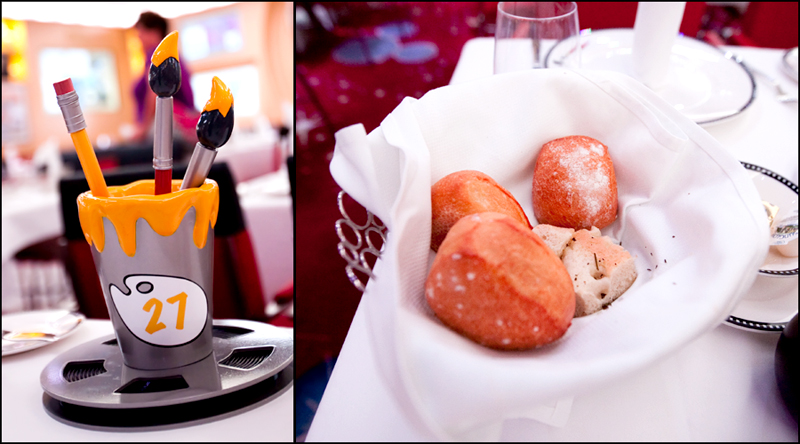 Aren't those table markers adorable?  The bread served was Herb Foccacia and Ciabatta with a roasted garlic dip.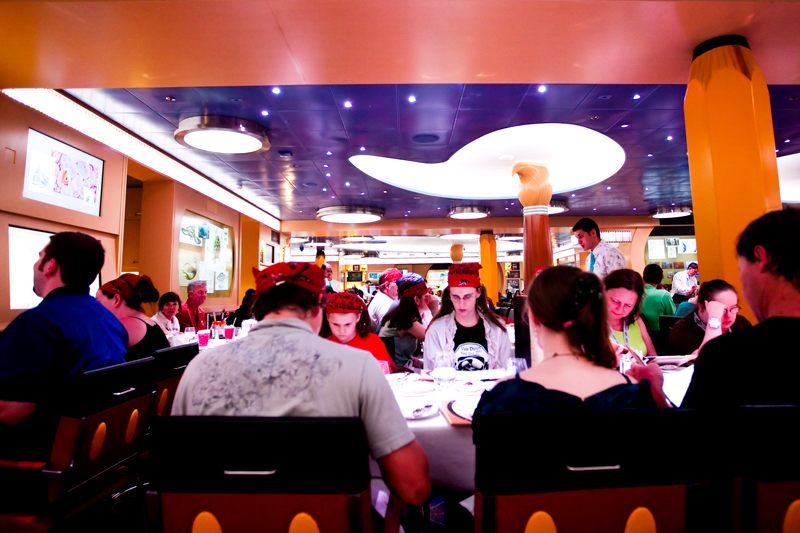 The pillars in the room were giant paintbrushes and pencils.  The walls were covered in concept art, and the chairs looked like drawers with Mickey Mouse pants patterns on it (drawers? get it? aaahahahaha!)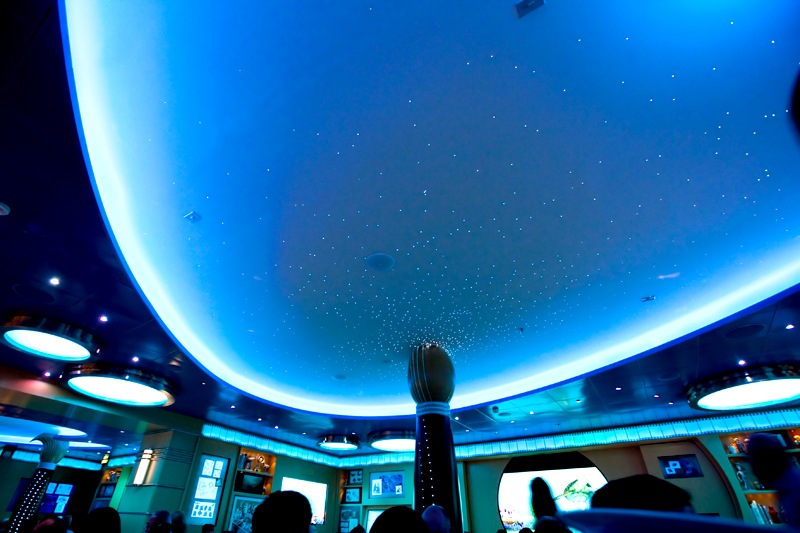 A few minutes after we sat down, the lighting in the room shifted, and the screens that formerly showed concept art now showed characters from Finding Nemo!  Throughout dinner, the lighting would shift to this scheme and the characters would appear and actually interact with random people in the room.  So cool, but it can make you a little dizzy trying to follow the characters as they swooshed from screen to screen around the big room.

This is Sesame -flavored Rock Shrimp and Caramelized Onion Cheesecake.  Yes, you read that correctly, that's a cheesecake with onions and shrimp.  I admit neither of us had ever heard of such a thing, so we HAD to have them bring us one to see what it was all about.  It was basically an unsweetened cheesecake with.. yep, onions and shrimp.  It wasn't bad and it was definitely interesting, but not something I'd order again!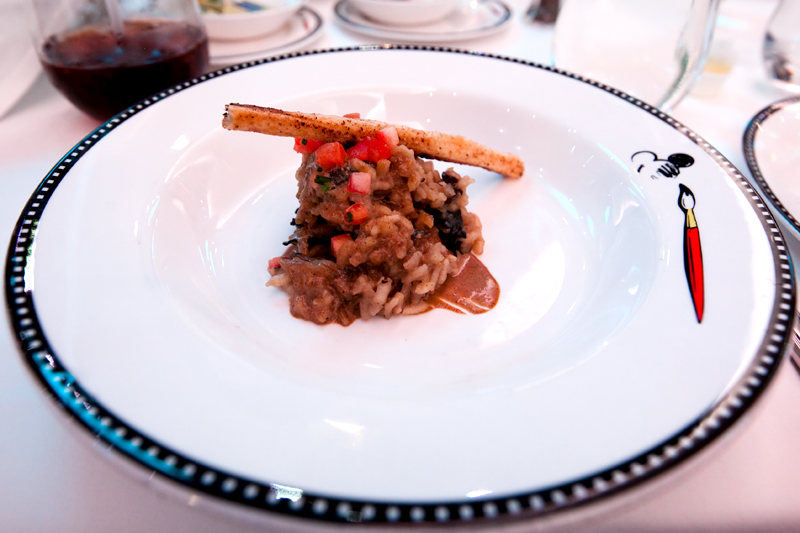 The other appetizer we ordered - Wild Mushroom Risotto and Porcini Twist.  Yummy!!  Oh, and aren't those plates adorable??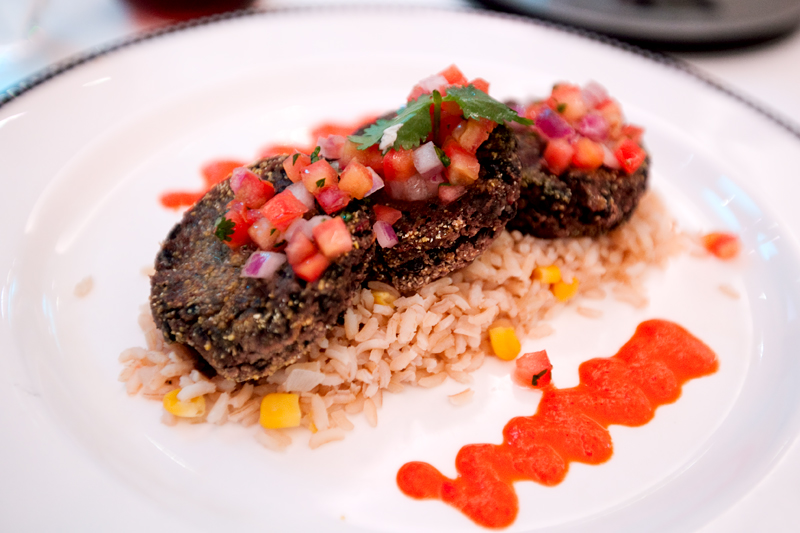 We both ordered the same entree - Black Bean Chipotle Cakes with Tomato Cilantro Salsa.  Our server recommended this to us and while it was good, I thought the cakes were just a little too dry.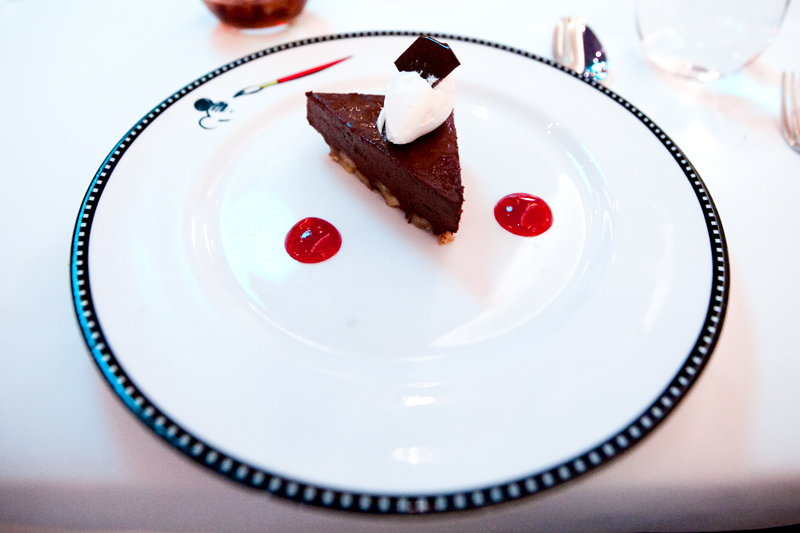 Dessert.. I LOVED the teeny portions!  I didn't feel guilty ordering dessert each night knowing it was going to be a couple of bites just to have something sweet after dinner.  Perfect!  This was Matt's choice - the chocolate brownie cheesecake.  Now THIS is how a cheesecake should be!

This was my choice, the Pinapple Financier - almond cake with pineapple and whipped cream.  Isn't the presentation purty?
For our last night, we chose to forego the main dinner rotation and instead had reservations at Palo for our anniversary.  Palo is an adult's-only special dining option, and I'm definitely going to have to save that for its own post!