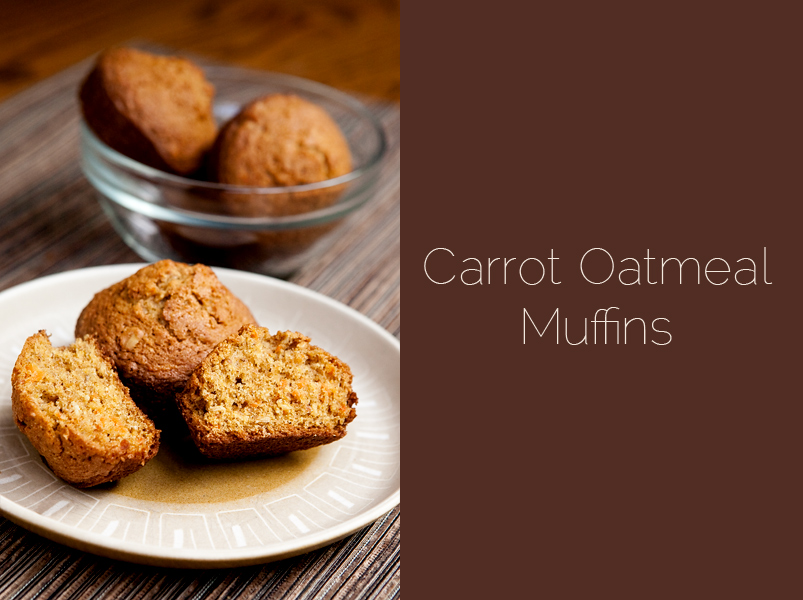 A warm, hearty muffin can be described as one of my most comforting  breakfast foods.  They can be healthy - naturally sweetened and made with whole grains - or they can be naughty - full of chocolate chips and peanut butter.
It's one of those sneaky little breakfast items that allows you to get away with eating dessert first thing in the morning.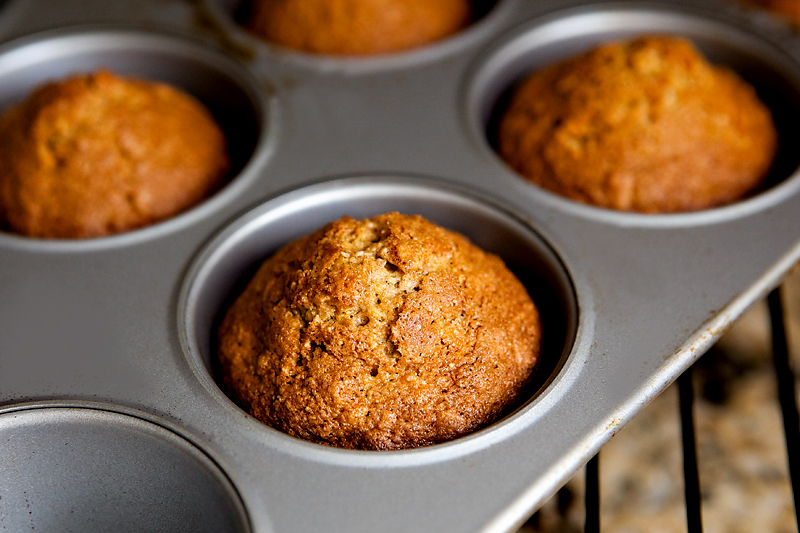 That idea got me thinking again about a fairly common question:  what is the difference between a cupcake and a muffin?
Some might keep it simple - cupcakes are frosted, and muffins are not.
Others may turn to the ingredient list to form their opinion - most muffins contain oil or shortening, while most cupcake batters start with butter and sugar.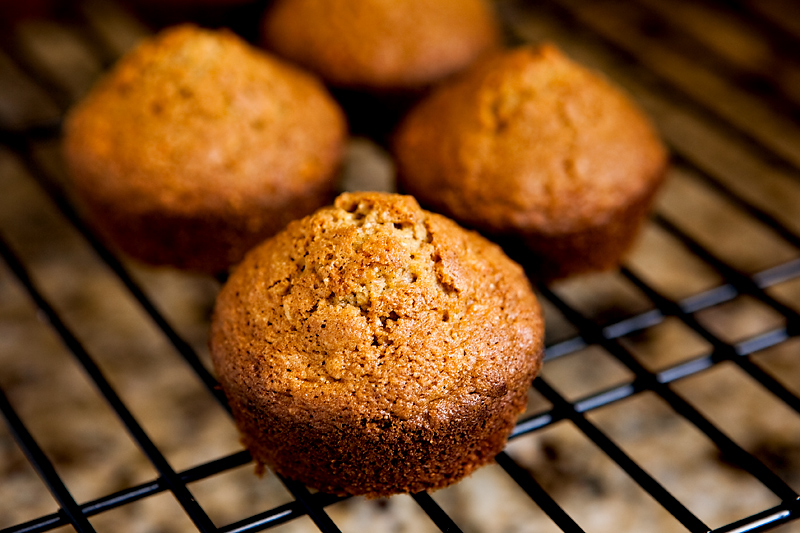 In my mind, I differentiate between the two based on texture.  To me, a muffin should have a denser crumb.  I want a cupcake to be light, fluffy, and melt-in-your-mouth-y, but I like my muffins heavy and hearty.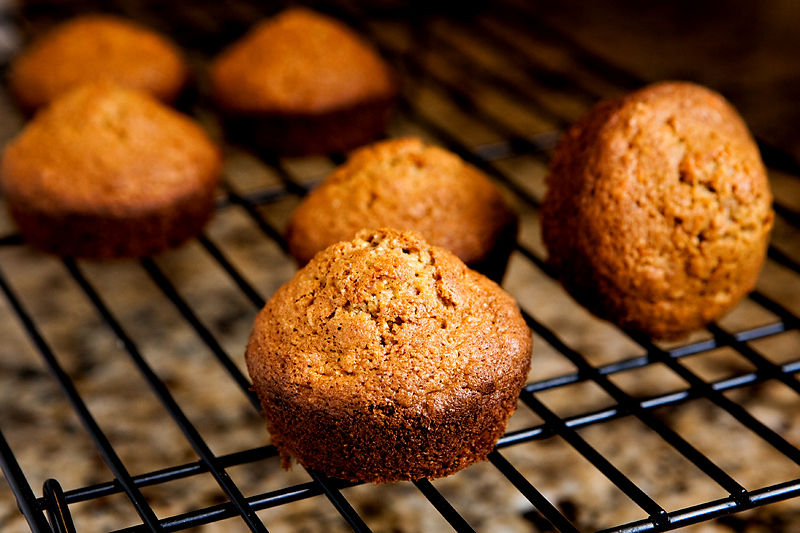 Your miles may vary!  This particular recipe breaks the  "muffins have oil" rule by substituting with unsweetened applesauce instead.  Most definitely a healthier option.  There's also some grated carrots thrown in there, and if you want to jazz it up even more, you can add some chopped nuts or dried fruit.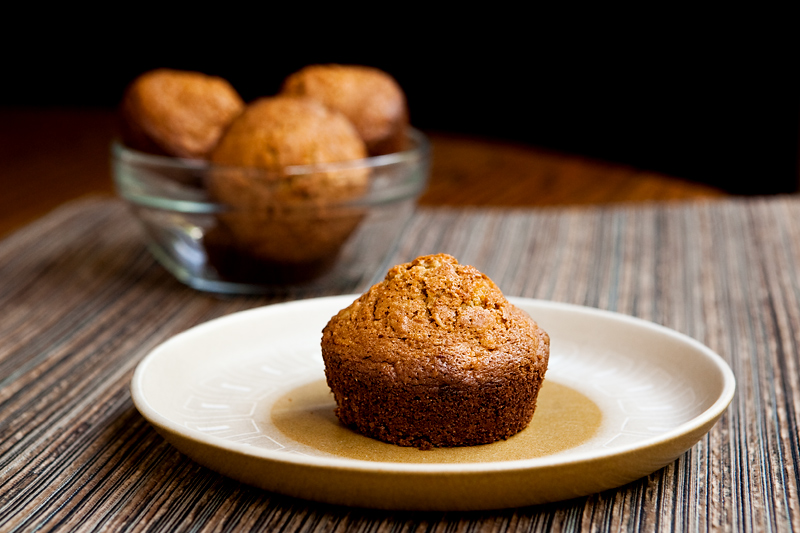 These muffins are cooked in a hot oven - 400F - which helps with getting the peaked top that you see in this picture.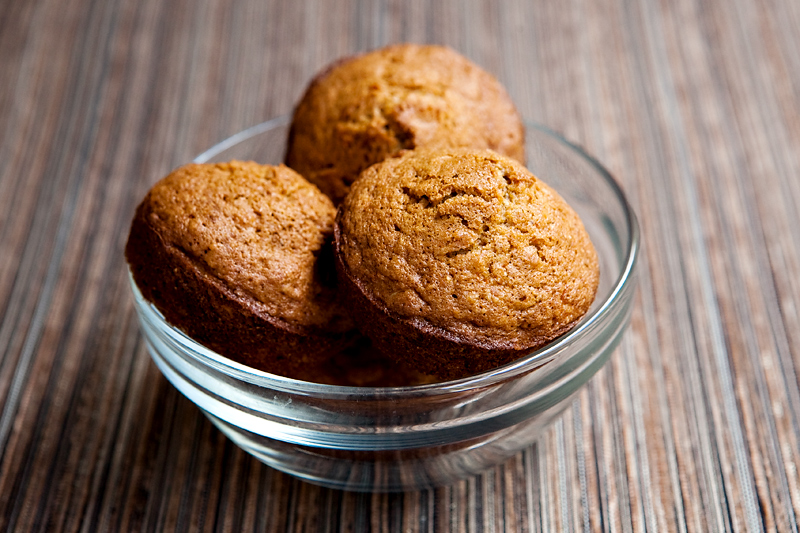 Oh, I just realized another differentiating factor between muffins and cupcakes - how they are eaten!  Cupcakes are eaten at room temperature and you can just take a big ole bite out of the side, no utensils needed.  But muffins are often eaten warm, sliced open and slathered with melted butter or a drizzle of honey (my favorite).  Even when I don't slice my muffins, I tend to tear pieces of them off bit by bit with my fingers instead of biting into them cupcake-style.
Here's the recipe!
Print
Carrot Oatmeal Muffins
---
Total Time:

25 minutes

Yield:

12

muffins

1

x
½ cup

unsweetened applesauce

¾ cup

brown sugar

1

large egg

1 tsp

. pure vanilla extract

½ cup

grated carrots

½ cup

whole wheat flour

½ cup

white all-purpose flour

1 cup

rolled porridge oats

1 tsp

. baking powder

¾ tsp

. baking soda

¼ tsp

. cinnamon

¼ tsp

. nutmeg
Optional: chopped nuts and/or raisins
---
Instructions
Preheat oven to 400F
In a mixing bowl, combine grated carrots, applesauce, egg, vanilla, and brown sugar.
In a second bowl, toss together all dry ingredients.
Add the two mixtures together and beat just until combined. Do not over-beat (will cause muffins to be chewy)
If desired, fold in nuts and/or raisins
Scoop batter into greased muffin tins
Bake for ~15 minutes
Prep Time:

10 mins

Cook Time:

15 mins
Recipe Card powered by
So, what do you guys think?  What is the difference between cupcakes and muffins?