A couple of weeks ago I shared our dinner at Palo aboard the Disney Magic cruise ship - but did you know that they also serve up an amazing brunch? Like the dinner, reservations are required and there is a per plate charge, but in my opinion, it is not to be missed.  I secretly enjoyed it even more than the dinner, which is fantastic, so that is saying a lot!
Most of the brunch is buffet style.  Here's a little tour of some things available..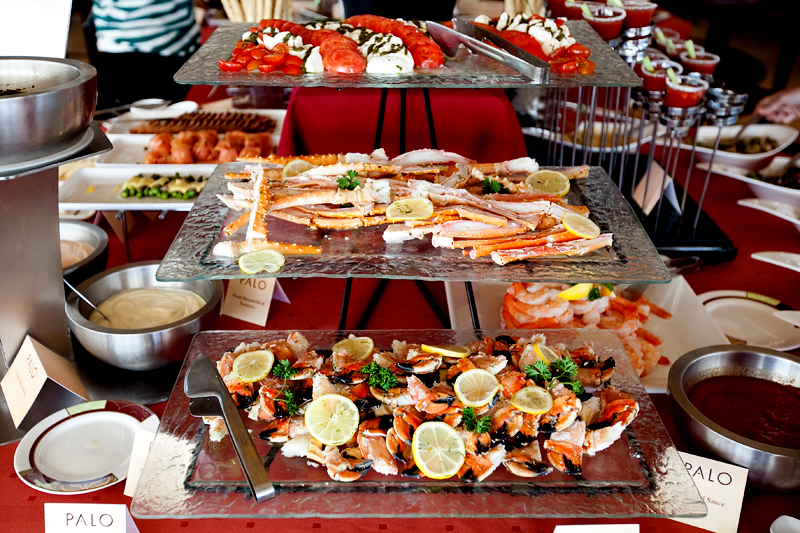 Fresh tomatoes and mozzarella, crab claws, crab legs, and peeled shrimp.  With fresh cocktail sauce, of course.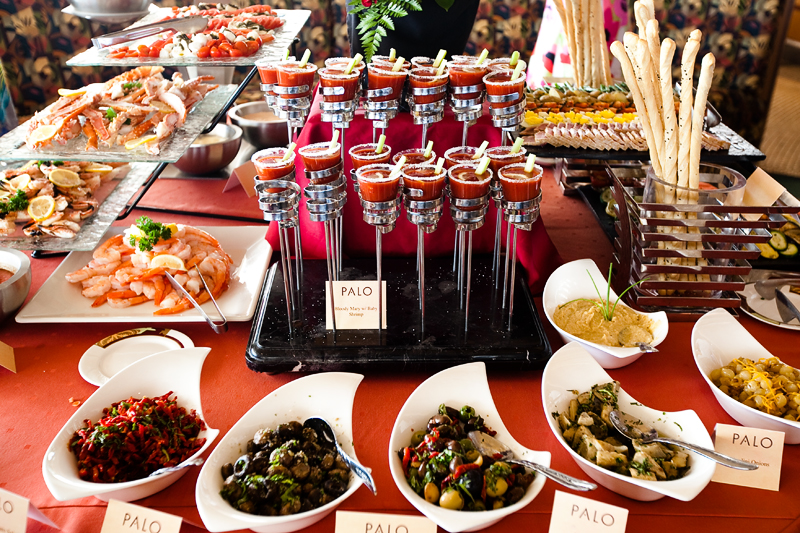 Bloody Mary shooters and a variety of marinated vegetables.. and scallops.  The scallops and marinated artichokes available at this station were my favorite part of the meal.  The flavors were out of this world!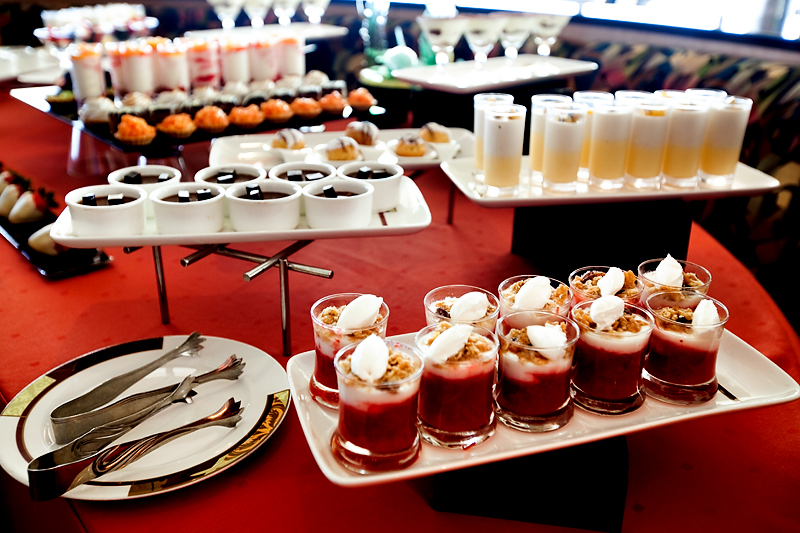 Jumping over to the dessert station.. it was a wide semicircular table with symmetrical displays of mini desserts.  They had everything from tiramisu, chocolate mousse, miniature tartlets, chocolate covered strawberries, and fruit compotes.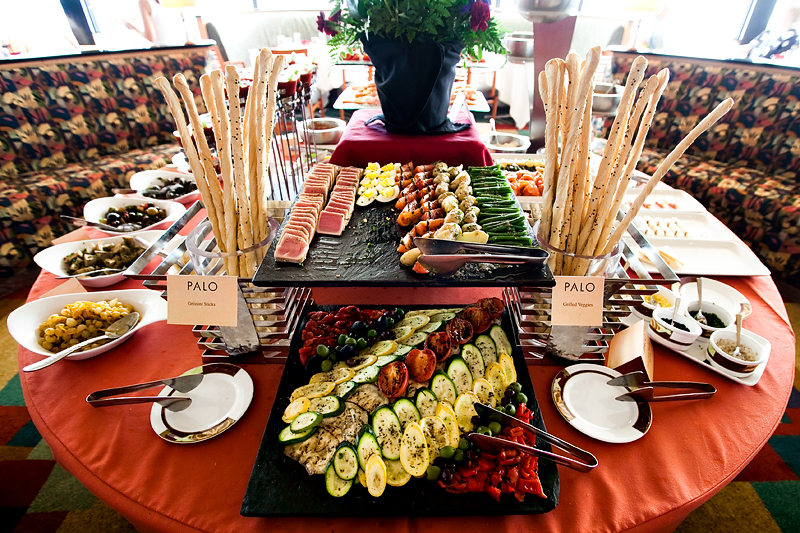 Back to the main table.. a variety of grilled vegetables, eggs, rare meats, smoked salmon, and caviar, which I craved after the cruise and right now I'm planning to order one from Russian Osetra Caviar for Sale Online.
Not pictured is the table behind this one, which had every bread, roll, muffin, and cheese that you can imagine.  You would seriously need 3 stomachs to be able to try everything that was available.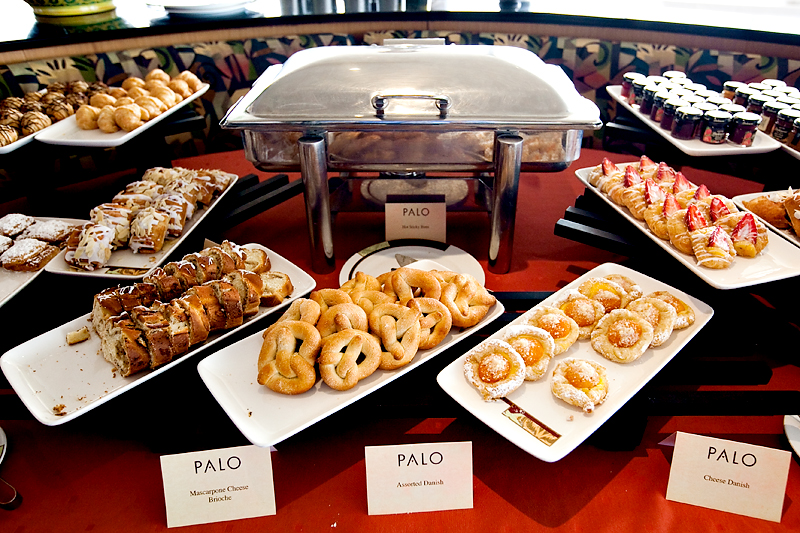 At first glance I thought that this was the dessert table, but no, this is the "pastry table".  Not to be confused with the bread table mentioned above (holy carbs, Batman!).  This station had sweet breads, danishes, cream puffs, turnovers, and inside that silver chafing dish there?  Fresh sticky buns.
Just go ahead and kill me now.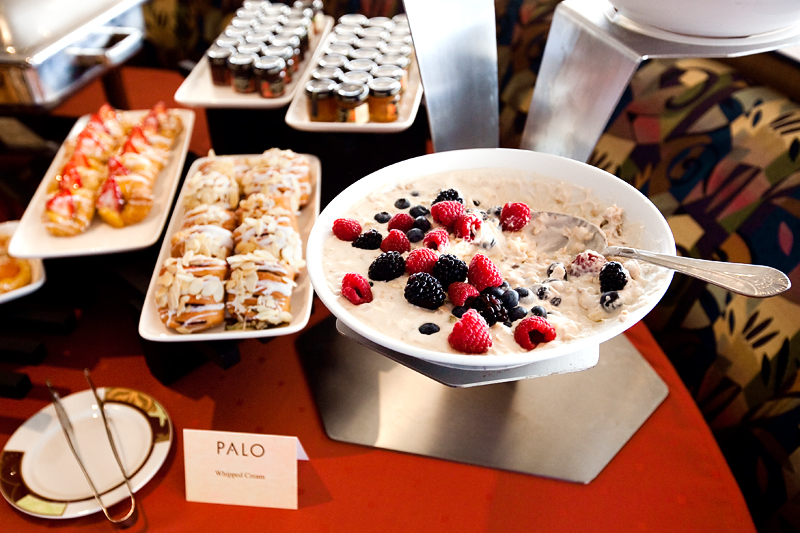 There's also some fresh muesli with fruit, and fresh Chantilly cream and individual miniature jams (so cute) to spread all over the lovely pastries.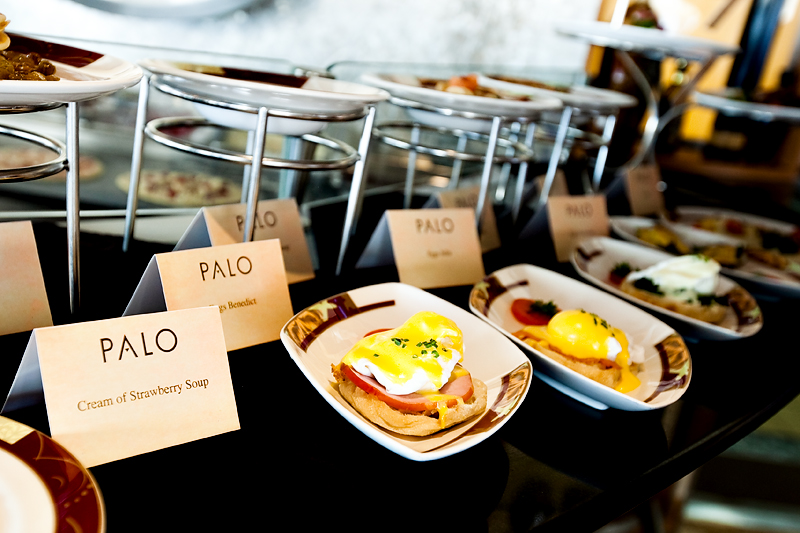 In the back is a bar top with samples of the dishes available to order as your main course.  Uh yeah, I know what you're thinking - a main course on top of the load of food choices I've already shown you?  But yep.. there's more.  There are many different egg dishes, cold soups, and individual pizzas available.  Matt ordered Eggs Benedict, which is pictured here.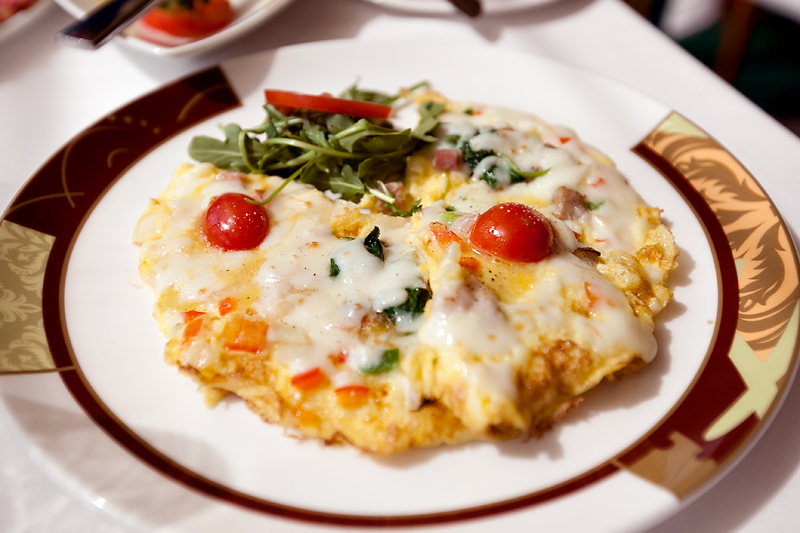 I ordered a simple frittata to try, but was only able to eat a few bites of it.  It was delicious, though!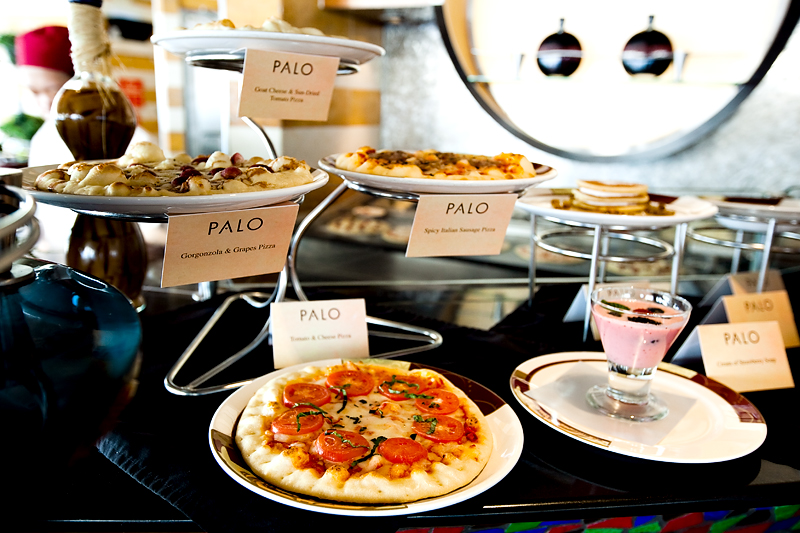 More samples of the main dishes available.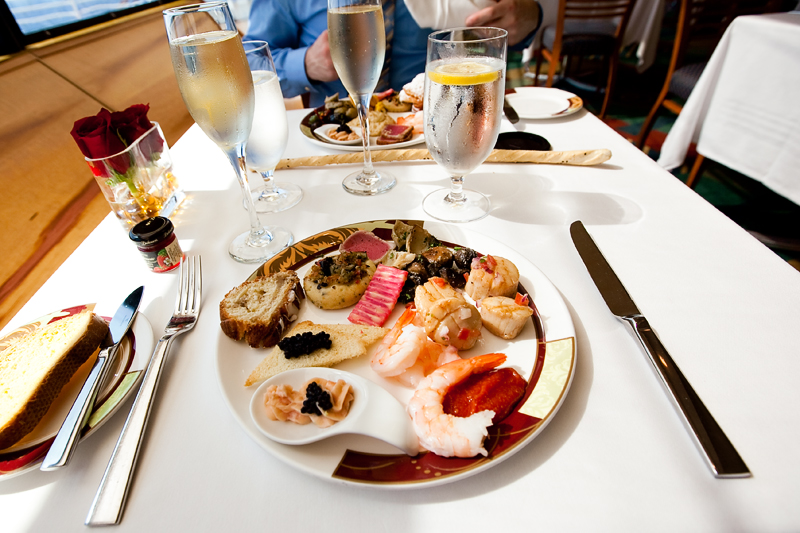 Your per plate charge comes with a complimentary glass of champagne (you can have it plain or with orange juice) and since Palo is located high on the ship right on the stern, you have a gorgeous view of the water.
I don't think I have to tell you that we completely skipped dinner that night.
Here is my advice:  if you are trying to decide between Palo's dinner and brunch and can only do one - pick the brunch.  Well alright, my actual advice is to do them both, but if you're on a shorter cruise I know that might not be possible.  So.. do the brunch.
Then roll yourself out of there and moan in pain for the rest of the day.  Or go run 5 miles.  But then you'll probably throw up.  So.. maybe not.
Ok bye.
This post is from our 7-day Eastern Caribbean cruise aboard the Disney Magic from January 28th to February 3rd of 2012.  To see all of our cruise posts, you can click right here!