There's certainly no lack of entertainment on a Disney cruise!  The Disney Dream has 3 main evening shows in the Walt Disney Theater:  The Golden Mickeys, Villains Tonight, and Disney's Believe.   There are also smaller, more children-oriented shows on the pool deck, as well as movies being shown in both the main theater and the smaller Buena Vista.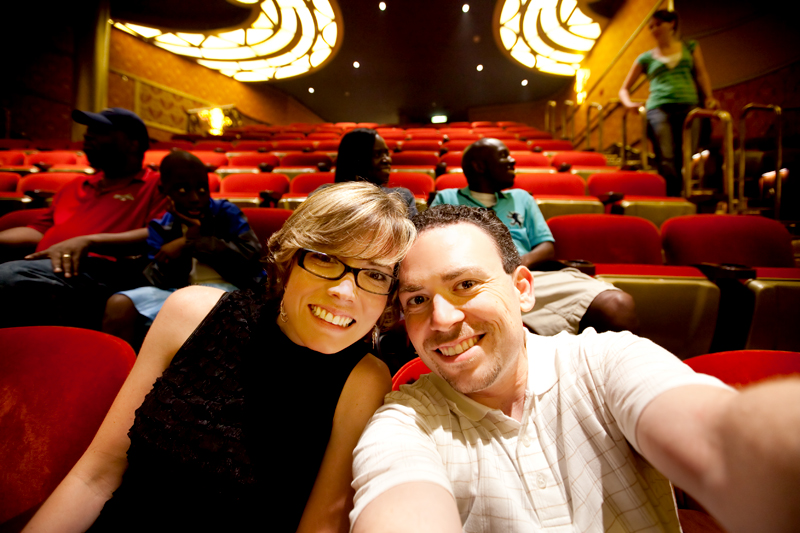 In the Walt Disney Theater on the first night, waiting for The Golden Mickeys to start.  I'll admit, we considered skipping the shows, a little fearful that they'd fall into the whole cruise-esque cabaret cheesy category.  We were proved very, very wrong!  The shows are fantastic and we ended up going to all of them!

They did things right by playing the nostalgia card and filling the shows with recognizable Disney songs - even great classics like The Jungle Book!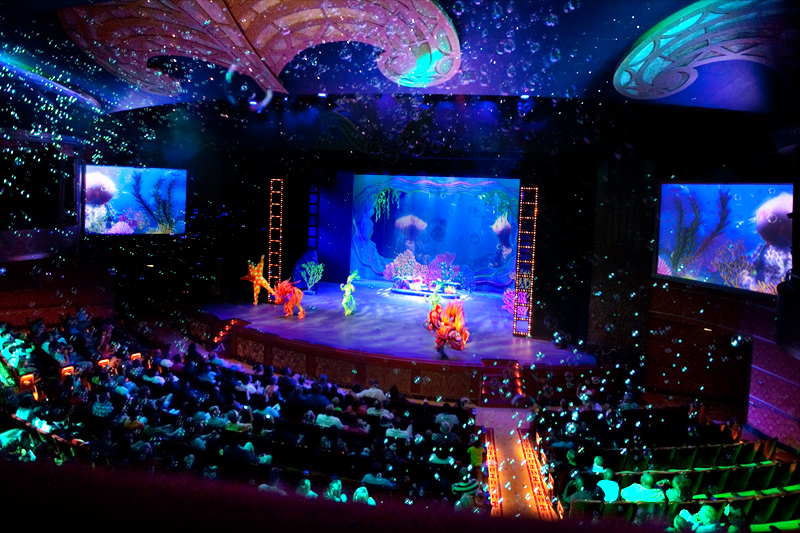 My very favorite was The Little Mermaid set.  It was so pritty!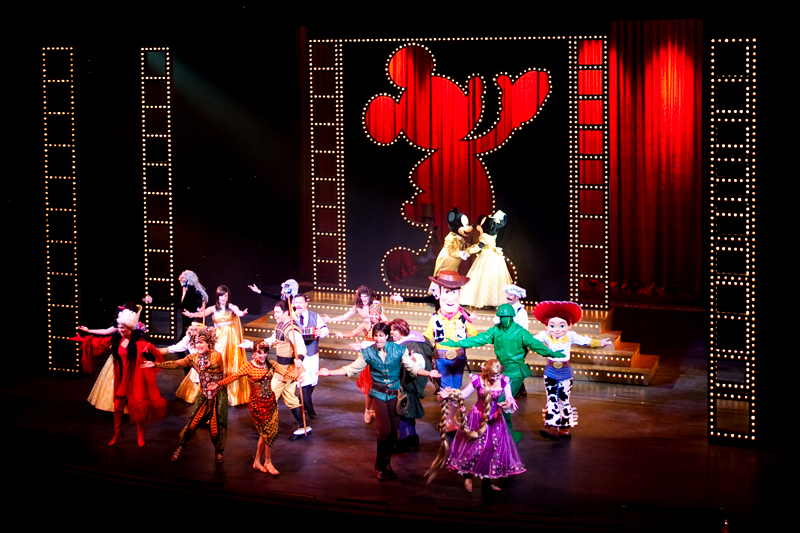 See the Toy Story characters? eee!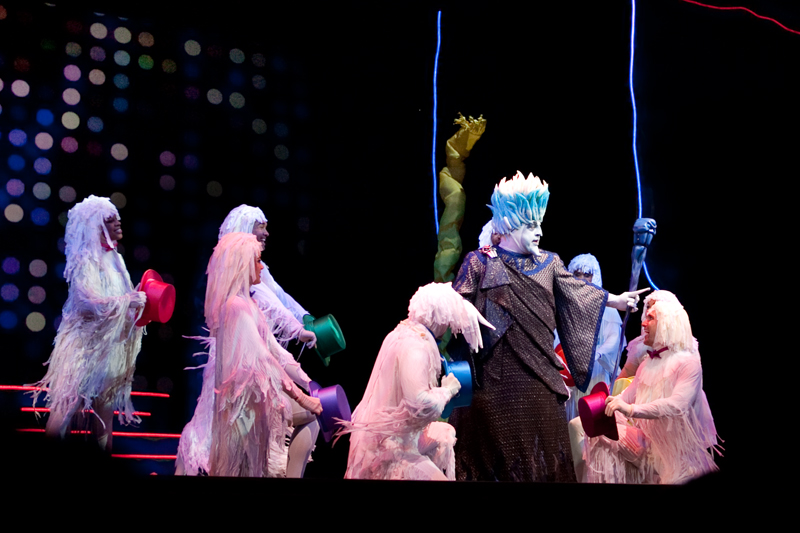 Hades was hilarious during Villains Tonight, the second night's show and my favorite of the three.  Bonus? You got to see him playing the same type of character when he appears as The Genie on night 3!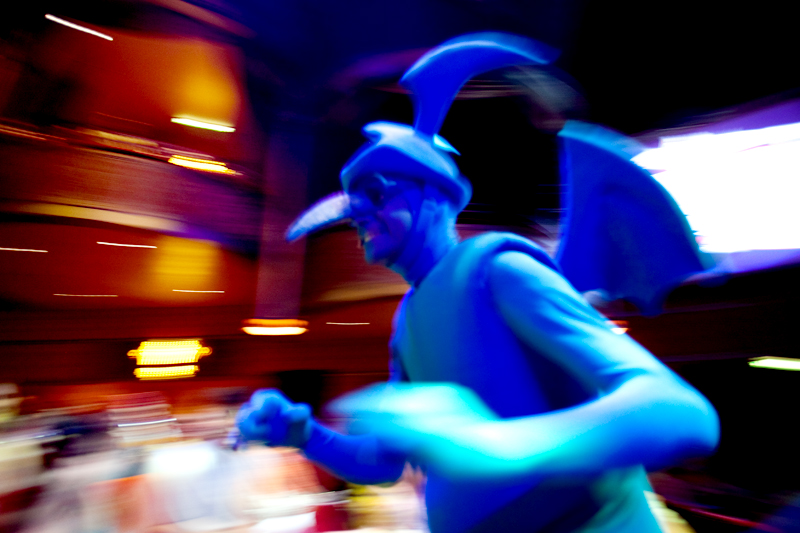 One of the pesky little hosts of Villains Tonight.  Their names were Pain & Panic, and they flitted around up and down the aisles and generally made Hades's life a living hell.  Great, funny show.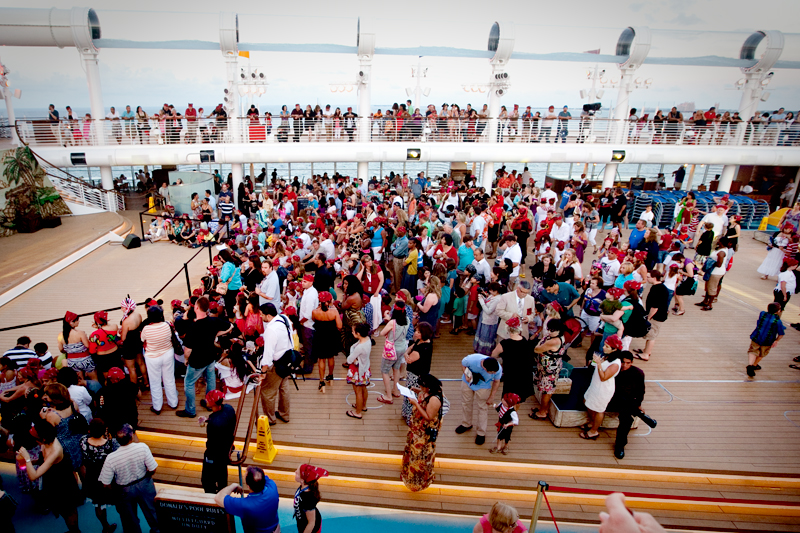 On Pirate Night, there was a pre-show on the pool deck before dinner.  Our cruise was right before Pirates of the Carribean: On Stranger Tides was released (they were showing it for free on board!!), so they were all about the pirate theming.

We watched a few minutes of the show before heading down to dinner.  Again, I was freezing on the deck in a sundress.  SORRY.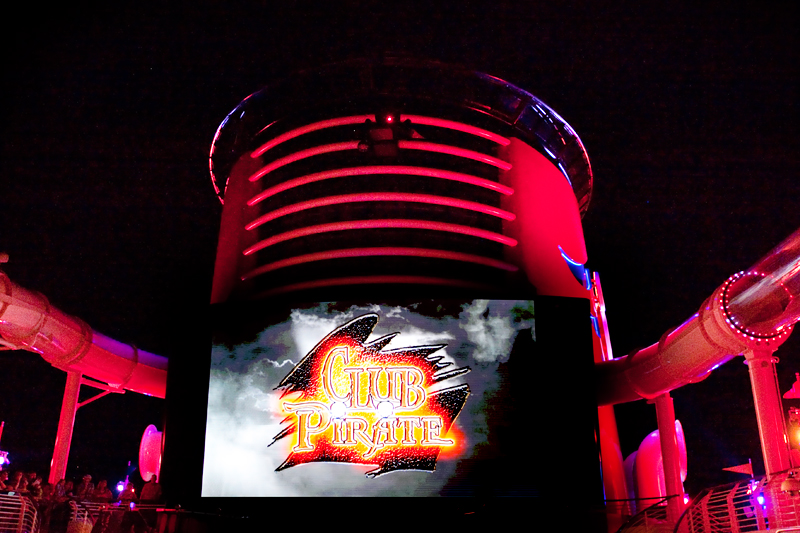 After dinner, a fireworks show was planned on the upper decks.  The deck was washed with changing colors and light patterns and made for some cool photos!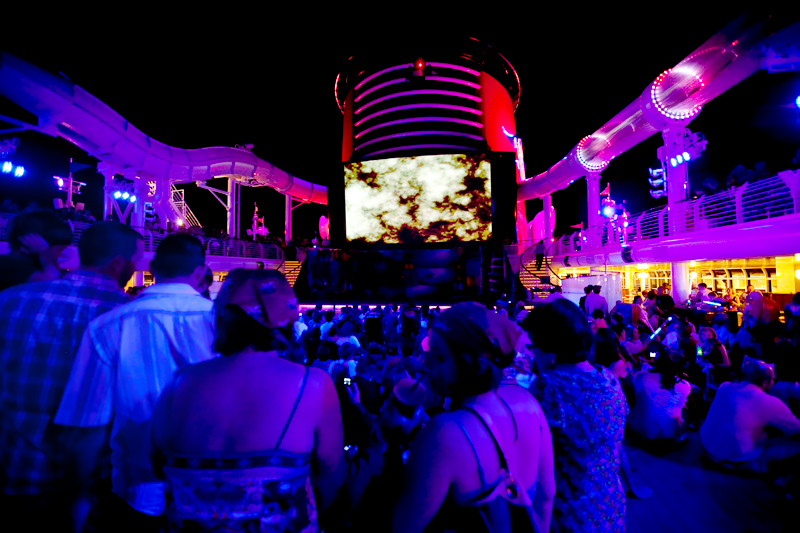 The pool deck was packed with people waiting for the fireworks.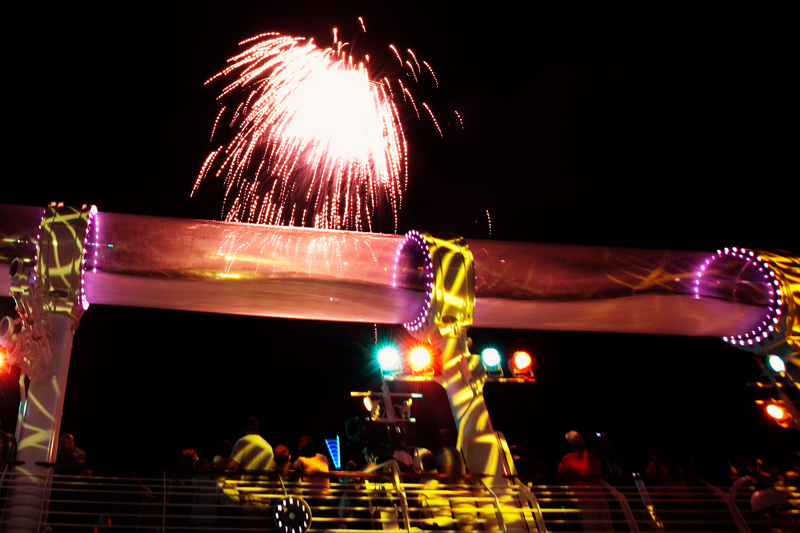 After the show started we realized we didn't pick the best place for photos to watch, since our view was obscured by the AquaDuck tubes.  Did you know that Disney is the only cruise line allowed to have a fireworks show on board?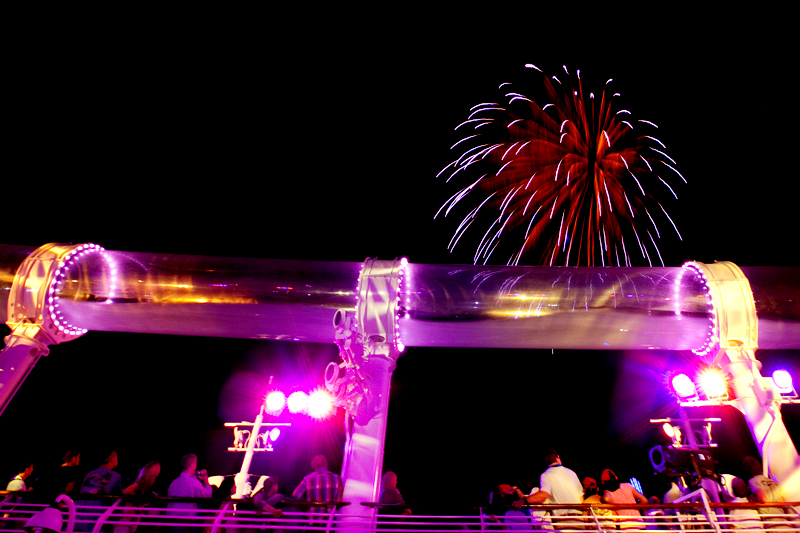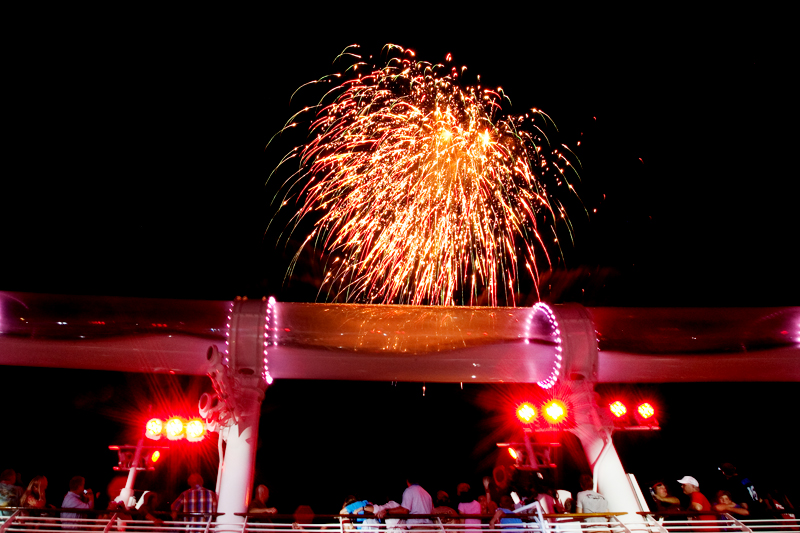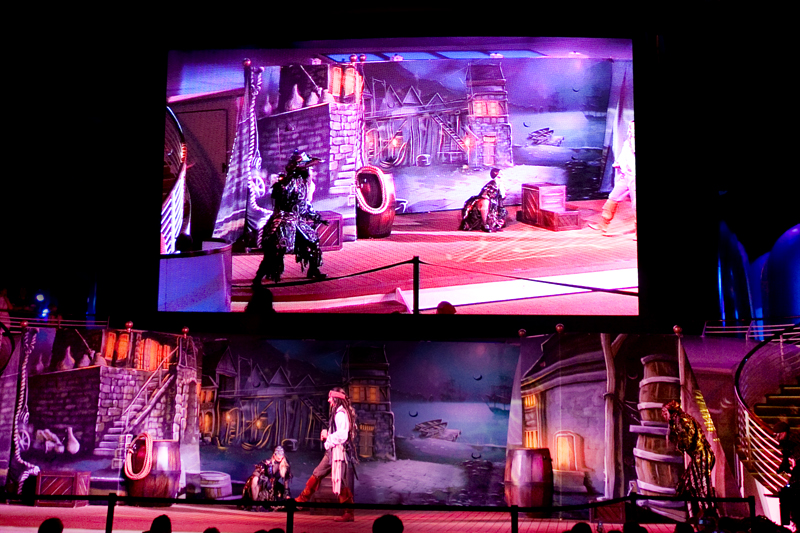 After the fireworks, there was another mini-show on the stage, complete with a drunken Mr. Jack Sparrow himself!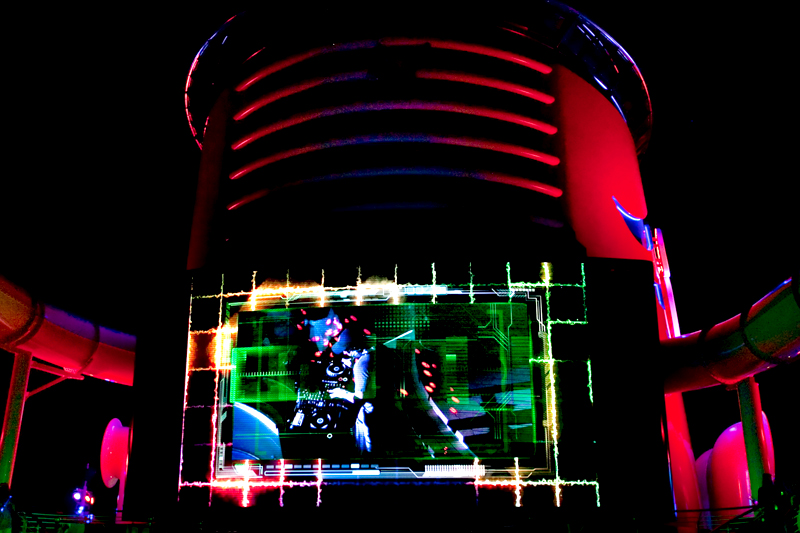 After the show they had a family-friendly dance party on the deck, but it was definitely kiddo-oriented so we headed back down to our room for some On Demand Cinderella. 🙂