Knoxville's got a brand new poke restaurant and I'm here to personally kick all of your booties into action to go have a meal here, because I am obsessed.
INFORMATION ABOUT POKEWORKS KNOXVILLE
Location:  4447 Kingston Pike (in the same shopping center as The Fresh Market)
Online Menu: http://www.pokeworks.com/menu
Phone Number: (865) 262-8800
Current Hours: Mon-Sat 11am - 9pm Sunday 11am - 6pm
OUR EXPERIENCE AT POKEWORKS KNOXVILLE
The best kind of meal is one that leaves you feeling good and energized instead of sluggish and ready to take a nap.  That's the kind of food you can expect from Pokeworks.  So what is poke?  To keep it short and sweet, poke is a native Hawaiian dish of fresh diced raw fish traditionally served over rice and tossed with veggies, sauces, and/or other toppings.
The owners, April and Shawn, are incredibly friendly and welcoming.  I watched as they personally greeted every guest that walked into the door with a warm smile and positive attitude.  Their passion for responsibly-sourced healthy food and the enthusiasm they have for their new business is obvious.  They were both helpful with answering questions and giving information about their menu.
One thing that stuck with me was when Shawn compared the Pokeworks business model to that of a gourmet coffee shop, meaning you can either order right off the menu or you can build your own bowl from the ground up by choosing your own base, type of protein, mix-ins, and toppings.  There are hundreds of ways to customize and slightly vary the flavor profile of your order, ensuring that you'll never get bored with this flexible menu.
The proteins you can choose from are ahi tuna, spicy albacore tuna, or salmon for a classic poke experience.
Though if you really just aren't a fan of raw fish (but if you've never tried it, please do... I thought I hated sushi and poke as a kid until I finally tried it and guess what?  I LOVED IT!!) there are other options such as tofu or cooked scallops, shrimp, or chicken.
Your dish is put together right in front of you and you can see all of the options laid out so you can this-and-that to your heart's content.
Pokeworks is a perfect place to eat if you are watching your calories and carbs, as you can order a salad and/or cabbage base instead of grains or noodles and load it up with veggie goodness.
Matt went with the Hawaiian Classic from the Signature Works menu.  He chose kale noodles as his base.  The bowl included ahi tuna, green and sweet onion, ogo seaweed, cucumber, chili flakes, roasted sesame oil, and Hawaiian salt.  Upon recommendation, the sauce used was a mixture of spicy ginger and umami shoyu.  Yum!  Yes, you can get combinations of sauces!  For crunch, Matt added lotus chips, garlic crisps, and onion crisps.
Matt said the kale noodles added a mild and pleasant bitterness that complemented all of the mix-ins and toppings perfectly.  He could have eaten a bowl of only the noodles!  The ahi tuna was fresh and delightful.  He enjoyed the varieties of texture in the bowl from the firm noodles, the fish, the veggies, and the crunchy toppings.
I chose from the Signature Works menu and ordered the Spicy Ponzu Albacore.  In addition to the albacore poke, it has green and sweet onion, diced mango, spicy furikake, and sesame seeds.  I was given the recommendation to add some cabbage for extra crunch on top, and I chose to add lotus chips, wonton chips, and garlic crisps for even more crunch, and I topped my bowl with seaweed salad.
I was sold after the first bite.  I was literally unable to eat a bite without following it up with some kind of sound or comment about how much I was enjoying this dish, and I swear I'm not just saying that.  I was obsessed with my lunch.  There was not a single mix-in or topping or flavor that didn't work with everything else... and the seaweed salad topping?  GET THAT.  It adds a touch of vinegar and salt to the rest of the bowl and... man, it was good.
April and Shawn insisted that we try their poke burrito, and who are we to say no?  We chose salmon to try a different protein than what we had in our bowls and filled it with recommended flavors such as sliced cucumber, masago, shredded nori, and more.  It was rolled up right in front of us like a big ol' sushi roll and now I have a big problem.  That problem is when we return to Pokeworks - and we will be back soon - do I get a bowl or do I get a burrito?!  They are both amazing, so you can't go wrong with either.  We were so full and satisfied from our bowls that we took most the burrito home, sans a few tasting bites, to stick in our fridge for later that evening.  Yumm.  The burrito would be a perfect choice if you are popping in for a quick lunch and plan to eat your lunch on the go.
Okay guys, this is not a drill, you can now get real Dole Whip right here in Knoxville.  We tried it and can confirm it's the real stuff.  You don't have to wait for your next trip to Hawaii or Disney to get your Whip Fix!
This is a great place to sample several unique beverages as well.  Pokeworks serves the Tractor line of beverages.  Tractor creates hand-crafted drinks that are all organic, natural, and 100% GMO-free.  Flavors available at Pokeworks include include uncarbonated options such as black tea, sweet tea, lemonade, strawberry rhubarb haymaker, and mandarin cardamom.
We highly recommend the strawberry rhubarb haymaker - it was absolutely delicious.  Not too sweet with a pleasing tang from the rhubarb that is mellowed out by the strawberry.  I took a refill home to my kids and they slurped it up!
Pokeworks also carries Tractor's line of unique sodas such as cucumber, blood orange, coconut, kola, and lemongrass.
Save this post to your Pinterest boards!  Hover your mouse over the image below and click the button that pops up.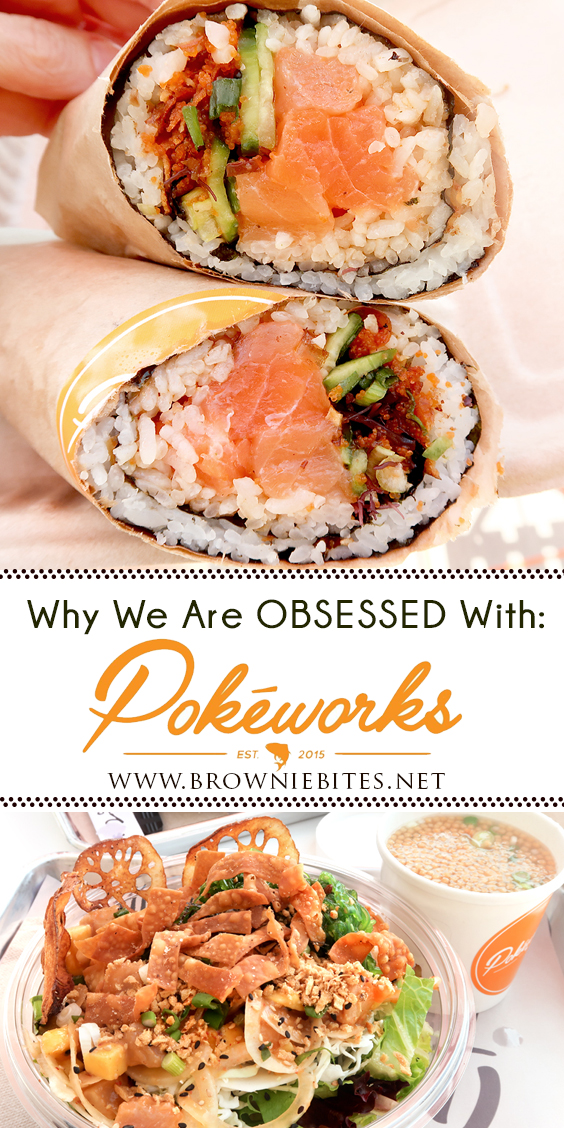 This is not a sponsored post, though we were invited to try a complimentary meal at Pokeworks to share our opinions with all of you.  We are dedicated to real and honest reviews!