I'm a subscription box addict in general, but I'm particularly excited to share this unboxing and review of Try The World with all of you.  Try the World is a curated collection of gourmet food products from all over the world.  I'm always down for trying new food, especially those from cuisines I may not be familiar with.  Since I don't always know where to start when trying to branch out and find new products for myself, it's very convenient to have a box full of recommended items sent right to my door.  I can see myself discovering so many fun new tastes this way.
Let's get to unboxing this thing!
I was sent the Michelin Holiday Box to review, and as soon as I opened the box I was impressed by the care taken to safely package my products in the shipping box.
This is what you see when you open the box.
There's a large fold-out card with information about each of the products in the box, as well as suggestions for how to use them.  The suggested uses were particularly useful to me for a couple of the products in my box, otherwise I would not have known the best way to eat them.
The box is loaded down with goodies, something always appreciated in a subscription box.  No skimping here!  The use of the natural "nesting" material to pad the glass items is a nice touch.
The first goodie is a product of the UK - Ruby-Red Restorative Winter Calming Tea.  Since I'm not a big hot tea drinker I'll be passing this one along to Matt, who I'm sure will enjoy it.  It has vanilla bean and cacao in it, so it sure sounds yummy.
Next is a box of thin, crispy Swedish ginger snaps!  Ginger snaps are a favorite cookie in this household so we will all be fighting over who gets to finish these off (include the toddler in that fight!)
From South Africa, these honey & salt toffee candies are allll mine.  Though horrible for my teeth, I can't pass up sticky, chewy candies, and salted honeys and caramels are some of my favorite flavors.
Yep, all mine.  Not sharing.
From Canada, there's a box of mini maple shortbread cookies.
There's nothing quite like the crumbly yet meltaway texture of a good shortbread.  These buttery little discs are sure to disappear in no time.
From Taiwan, this box of mini pineapple cakes wins first prize for the adorable packaging.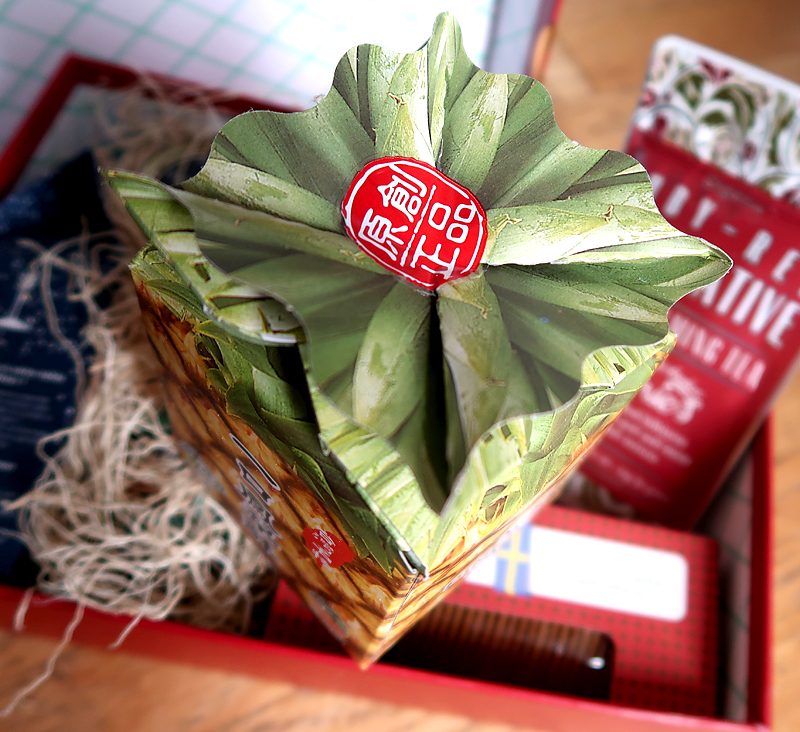 The top mimics the look of a real pineapple, and the top twists apart to open up the box.
These are such fun little cakes.  The ingredients list tells me that they also include carrots and sweet potatoes as well as pineapple - what a fun and interesting combination!
Next is a bag of French spiced bread mix!  I'll be tucking this one away until after the New Year once all of the current baked goods in my house have been consumed.
I was so excited to see this jar of Italian truffle sauce in my box.  The card insert recommends adding it to omelets or spreading it onto crostinis. I plan to try both suggestions!
Matt and I LOVE dates, so this Israeli date spread is going to get used until this jar is completely empty.  The card insert recommends including it as part of a cheese board (yum!!) or spreading it onto toast.  Ooh, or maybe toasted English muffins or bagels...
Overall, I was thoroughly pleased by every aspect of this box.  It's clear that a great deal of care went into selecting the items and packing them into the box.  If you are someone who is interested in discovering new tastes but doesn't quite know where to begin, this may be the box for you.
There's several subscription options available depending on the type of box that you want.  They make fantastic gifts.  The Snack Box is the most economical, as low as $19/month for a 5-snack box, with additional savings per box if you choose to be billed less frequently.  The Signature Box is similar to the box I reviewed above and includes 7-8 gourmet food products per box.  It is available as low as $39/month, with additional savings for less frequent billing.  Finally,  The Pantry Box is a customized box that sends you 5 food products per month based on your own tastes and perferences.  Prices start at $24.95/month.
If you're interested in trying the boxes for yourself, here are some helpful links:
Snackbox 5 Snacks Subscription
Price: $19.00
Buy Now
Signature Box Subscription
Price: $39.00
Buy Now
Pantry Box Subscription
Price: $29.95
Buy Now
I was provided with a complimentary Signature Box to review and share with all of you.  This post contains affiliate shopping links.