Animator's Palate was my favorite restaurant aboard the Disney Dream, and when I found out that the Magic has its own version of this fun restaurant, I was really excited for our dinner!  I ended up liking the Magic's version better, mostly because of the awesome decor.  I love stark black and white!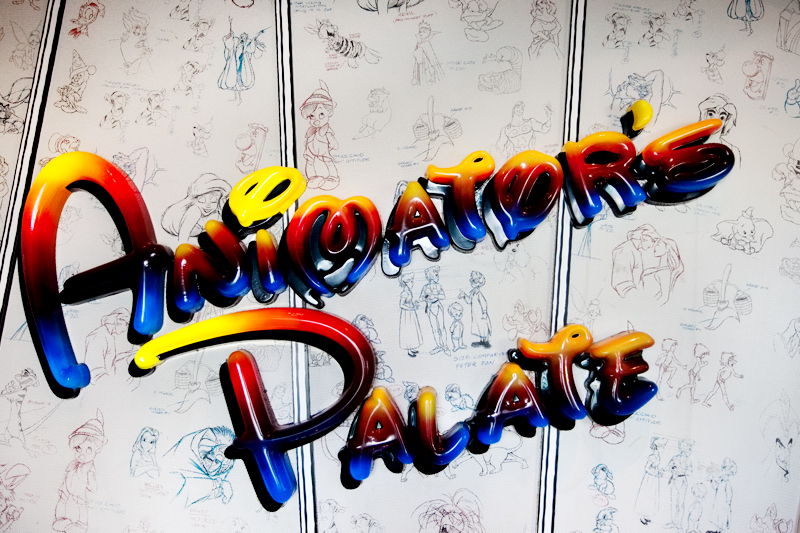 The sign in the hallway outside of the entrance.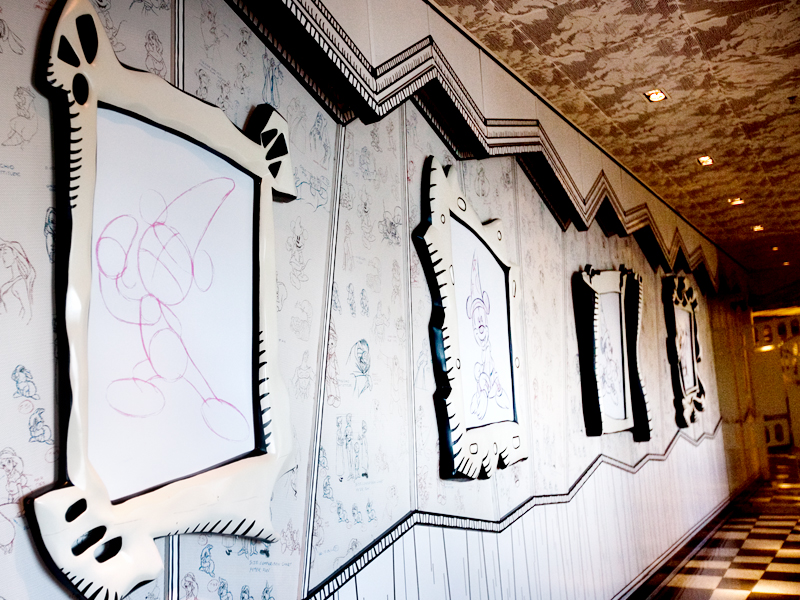 Entrance hallway covered with concept art.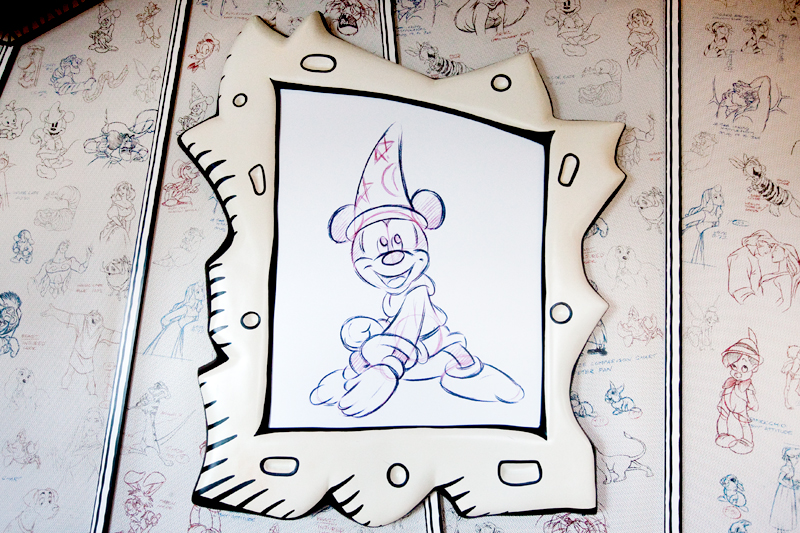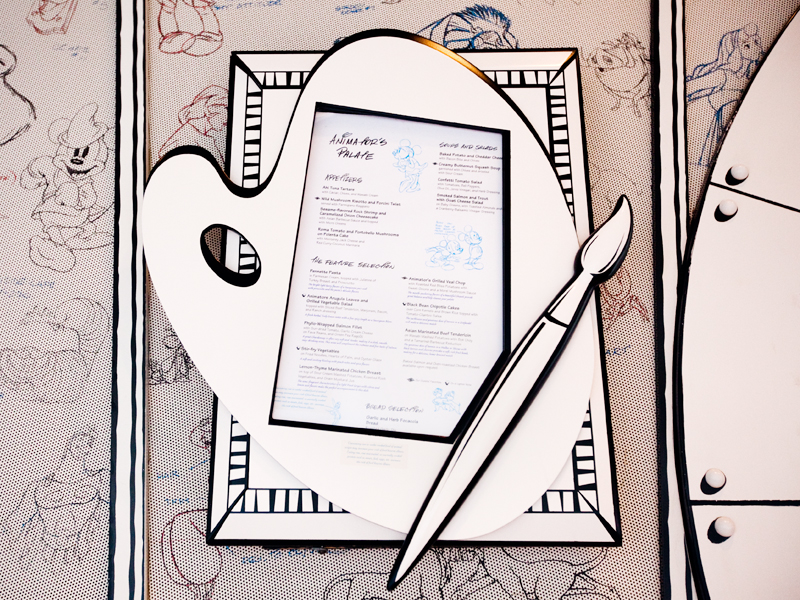 Each restaurant has a menu posted outside so you can peek at any time of day and decide what you want to eat that night!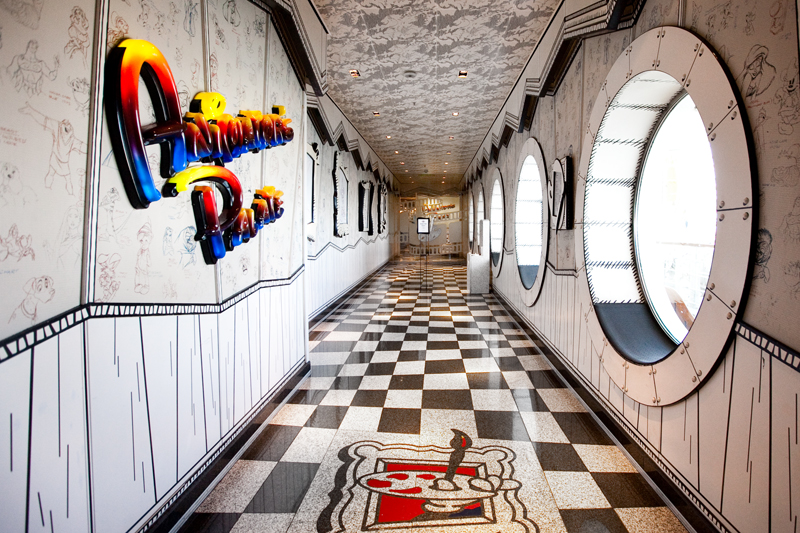 Full view of hallway.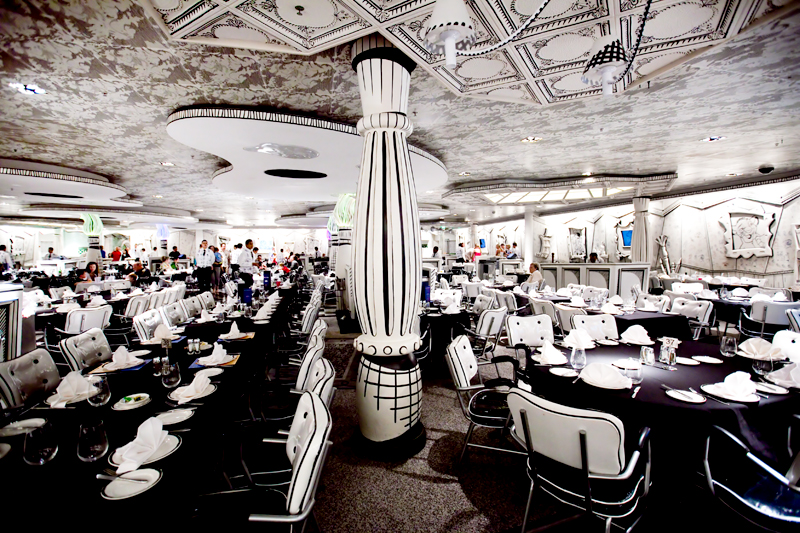 C'mon.. isn't this awesome?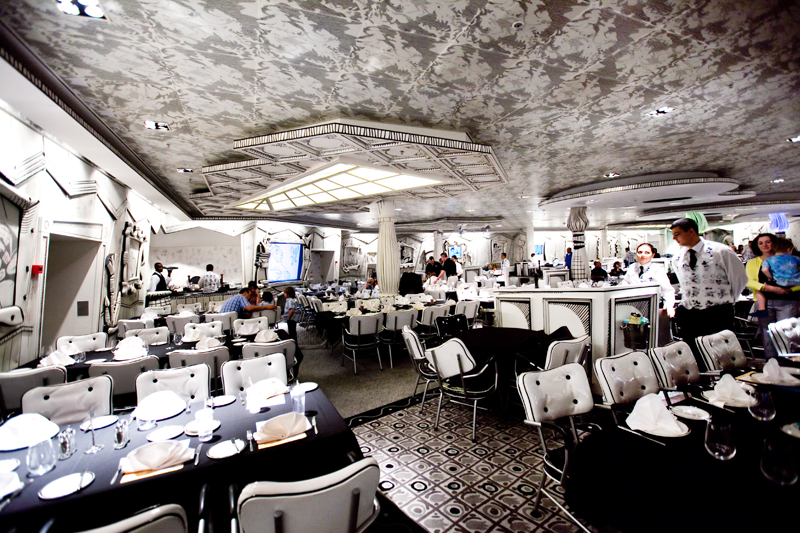 I want a room like this in my house!

Even the light fixtures are solid black and white.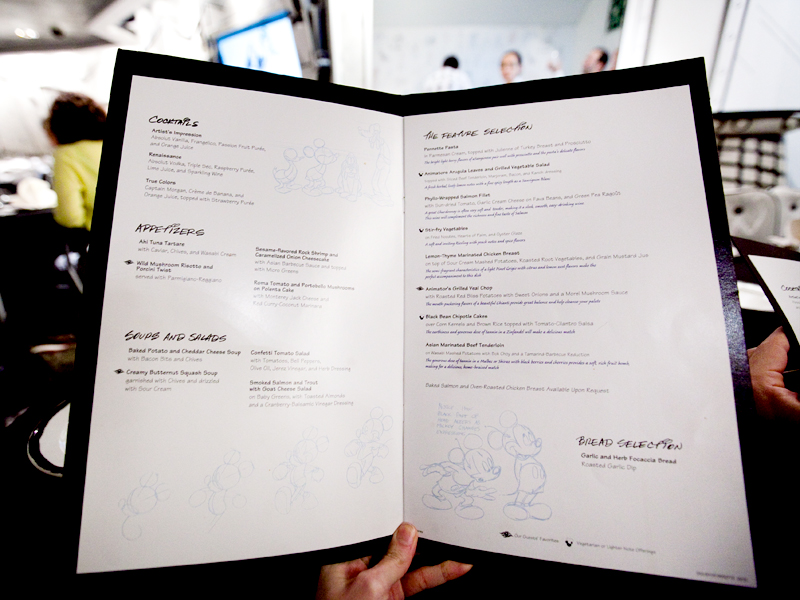 The menu, too!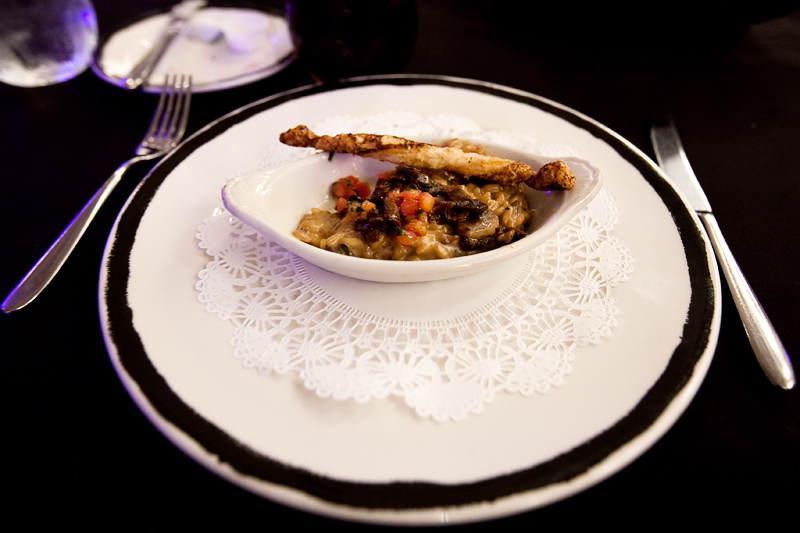 I started with the same appetizer I got on the Disney Dream version of this restaurant: Wild mushroom risotto and porcini twist, served with parmigiano-reggiano and black truffle oil.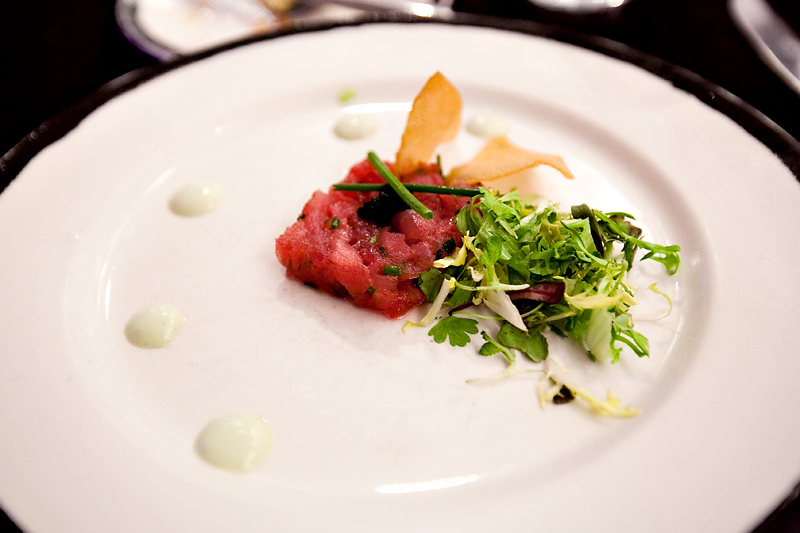 Matt started with ahi tuna tartare with caviar, chives, and wasabi cream.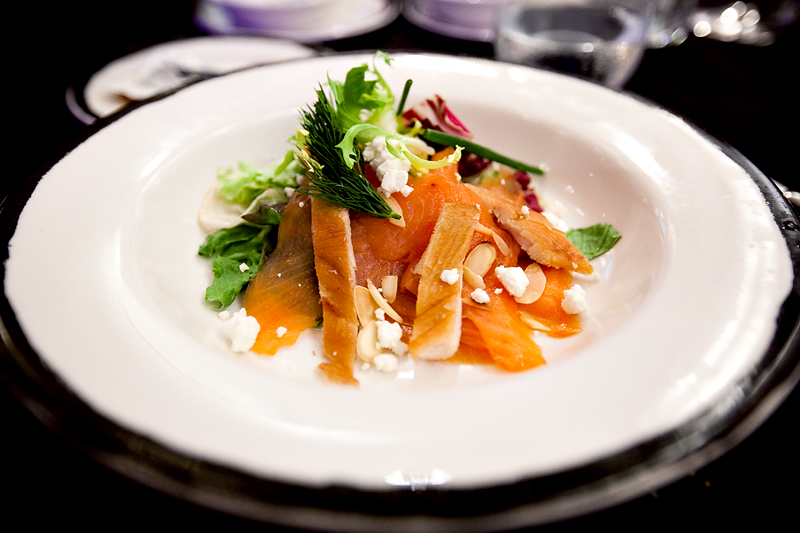 I skipped the second course that night, but Matt tried the smoked salmon and trout with goat cheese salad  on baby greens, with toasted almonds and a cranberry-balsamic vinegarette.

When you sit down to your meal, listen closely to the music being played, and then try to find the black and white portrait in the room that matches the portrait - it will shift to color!  Right before the main course is served, the entire room shifts into splashes of color (they stay solid, so no worries about getting woozy!). The servers trade in their formerly black and white vests for new colorful versions to match.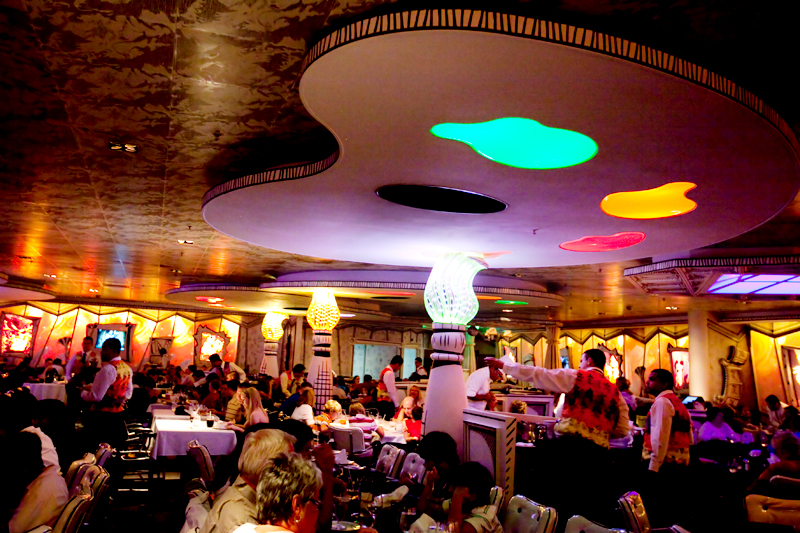 Now the paint palates in the ceiling really look festive!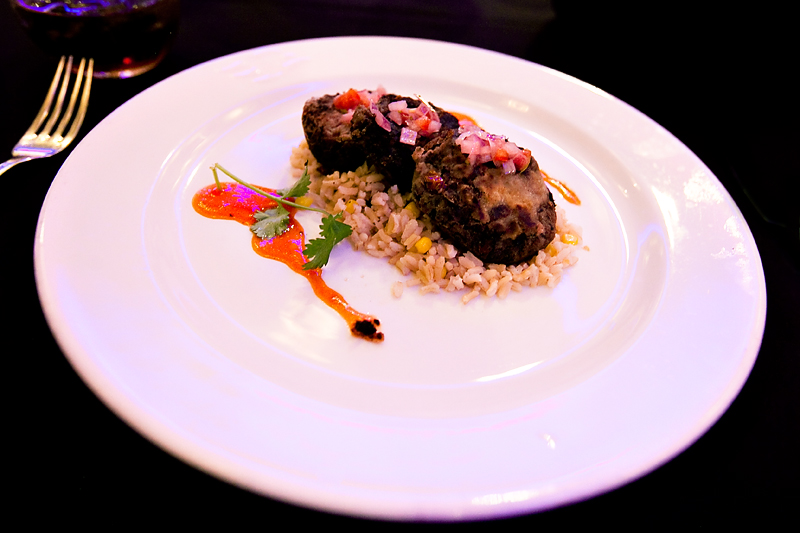 The new lighting made it harder to color balance the food, so apologies that these look a lil' pink.  I got the same entree as I did on the Disney Dream: Black bean chipotle cakes over corn kernels and brown rice topped with tomato-cilantro salsa.  If you remember from my post about the Dream version of Animator's Palate, I said the cakes were a bit dry, but on the Magic they were perfect!  I love black bean cakes and the server recommended them (listen to the recommendations - they know what is good on any given night!), so I'm glad I gave them another try!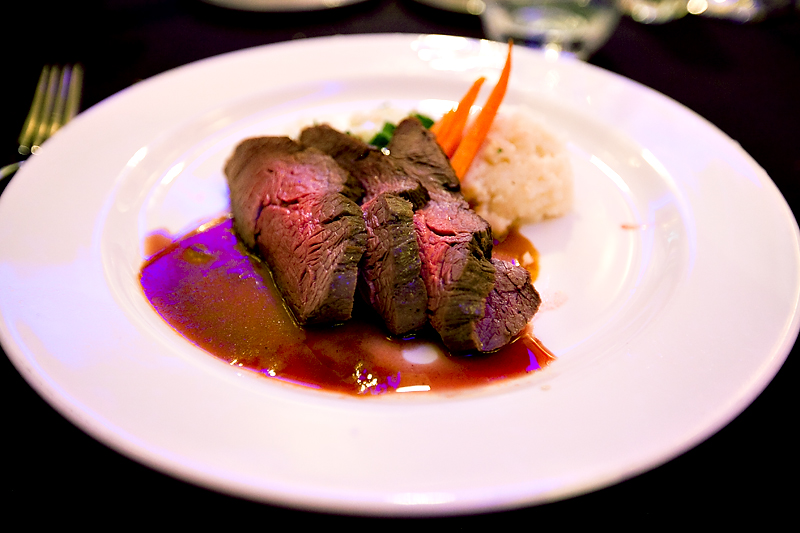 Mm.. doesn't this look delicious?  Matt's entree was Shere Khan's Asian marinated beef short ribs on smashed yucca topped with wok-fried bok choy and red Cabbage.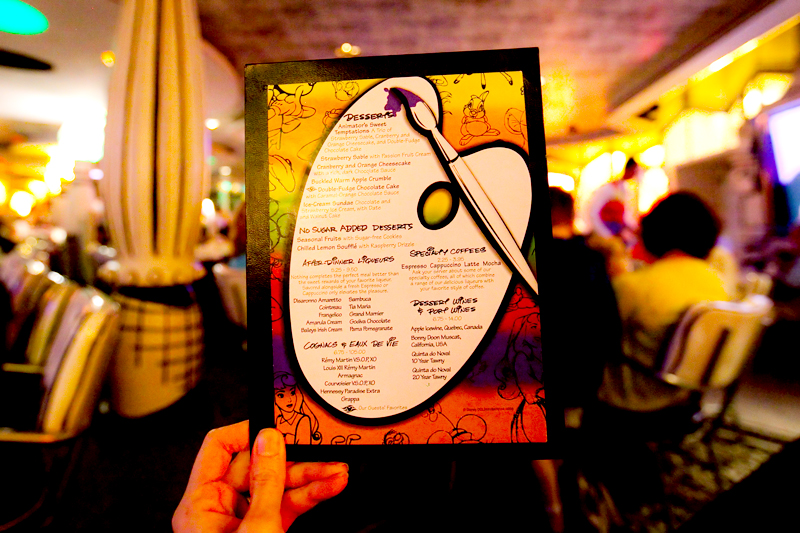 The dessert menu had also undergone a color shift!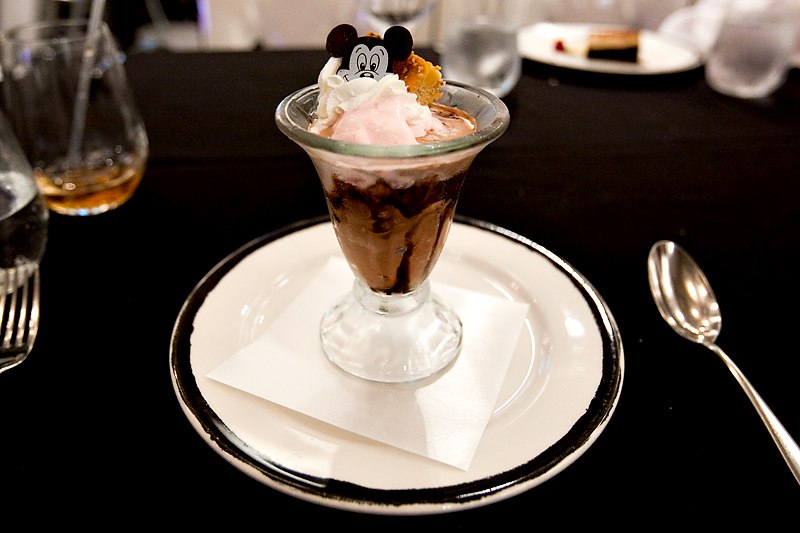 My dessert was a simple choice - ice-cream sundae with chocolate and strawberry ice cream and a little piece of date and walnut cake on top.. with a chocolate Mickey, of course.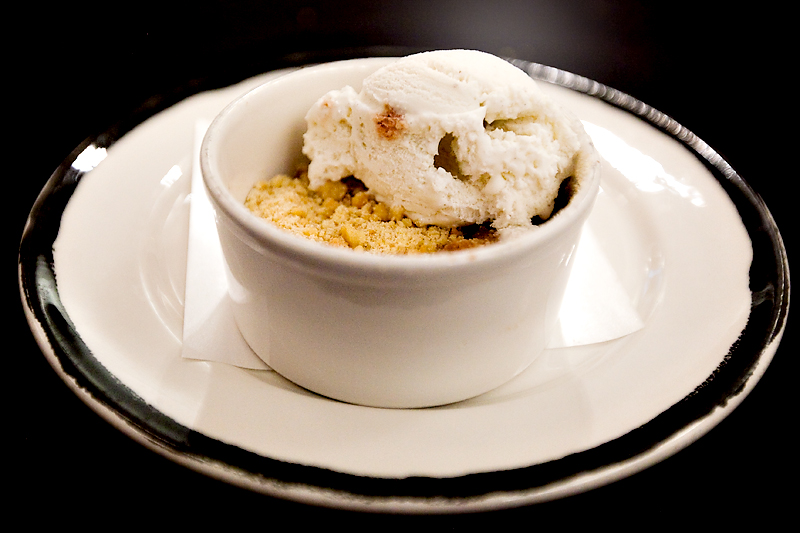 Once again, Matt made the best dessert choice - buckled warm apple crumble.  He may or may not have had to slap my hand away more than once!
This post is from our 7-day Eastern Caribbean cruise aboard the Disney Magic from January 28th to February 3rd of 2012.  To see all of our cruise posts, you can click right here!