Planning a trip to the country music capital of the world?  We just returned from a long weekend in Nashville, TN and I'll tell you all about the restaurants in Tennessee and where you should be eating and drinking when visiting the area!
Hattie B's Hot Chicken
Hattie B's Hot Chicken needs no introduction.  With three locations in Nashville and now other locations in Birmingham, Memphis, Atlanta, and even Las Vegas, Hattie B's is the gold standard in spicy fried chicken.  Drive by any of their locations during meal times and you'll see a line out the door and wrapping around the block.  We've never had the opportunity to eat at Hattie B's before and attempting to go anywhere with a significant wait with our kids is usually a big NO-NO, so during a kid-free jaunt to Nashville we decided we were finally going to brave the crowds.
We checked two locations and decided that the outdoor lines were just too much for us with it being, well, really dang cold outside.  So, we decided to hop online, place a pick-up order at the Melrose (South Nash) location, and then kill the 90-minute (!!) wait for our order by exploring some nearby shops.  When we finally showed up right at the time we were given, we still had to wait another 15 minutes for our food to be ready.  After FINALLY getting our food, we walked back to our truck and ate lunch right there in the front seat.
Starting right in with the chicken: this is fried chicken perfection.  I'm not even a huge fried food person.  I do enjoy it, but if there's other options I'll go in a different direction.  The breading on this chicken is transcendent - crispy, not a bit greasy, and the flavor, oh my gosh!  There was so much taste going on in here, ugh, so good.  That goodness didn't stop on the outside, though, because the chicken inside was perfectly juicy.
I ordered a "small white plate" which includes a quarter of a chicken (breast and wing), piece of bread, pickles (just a few dill slices), and 2 sides.  Matt ordered the "large white plate" which is 2 breast/wing quarters, bread, pickles, and 2 sides.  Note: the large white plate ended up being a crap-ton of food and Matt can usually eat a lot, so keep that in mind if you don't have an enormous appetite... he could barely eat half!
Source: Hattie B's Hot Chicken
You'll choose a heat level for your dish from the options above.  I chose mild, which was perfect for me because while I like spice, I don't like too much heat and the mild was the perfect balance.  Matt chose medium, and it's a definitely a warm medium because I tried his and it was waaaay too hot for me!
Hattie B's Nashville comeback sauce made with mayo, honey, eggs, and their signature spice blend, is a lovely pairing with the chicken and the fries (the fries were amazingly crisp and perfectly seasoned, of course).  If I had to gripe about anything, it would be the amount of meat  in my chicken.  There seemed to be a ton of breading and skin, but I really had to dig for the meat, which was mainly what I wanted.
Now let's talk sides.  We tried the baked beans, which were just okay.  I was expecting a lot more flavor for a place that's so super hyped, but I found the base to be thin and the flavor not quite there.
The greens, however, were the best greens I have ever had in my life.  Perfectly braised with a good vinegary bite and not even the slightest bit mushy.  Top notch, and such a good combo with perfect fried chicken.
The black eyed pea salad was something neither of us had had before, and it was a fresh and lighter option for a side dish and one we recommend.
Is Hattie B's worth the hype?  Sure.  If you're visiting Nashville, it's a must try, so don't miss it.  If you have the luxury of going on a weekday during "off times" (between typical mealtimes) then you can save yourself a lot of waiting, or you can order online (though it still may be over an hour before your food will be ready for pick-up).  If I was a local, it wouldn't be a place I would frequent since I don't like crazy crowds and don't eat much fried food, but as a one-off, I'm grateful we got to experience it.
Mas Tacos Por Favor
Mas Tacos is located right in the middle of a quaint residential area and is right across the street from another well-loved Nashville establishment, The Pharmacy.  The building is not much to look at, but as we all know, the more busted the building, the better the food (usually) - right?  Mas Tacos was featured on Diners, Drive-Ins, and Dives on The Food Network (Guy Fieri's face is literally spray painted on the wall inside) and since then they have gone from "really popular" to "batcrap insane popular".  They could use a building 3 times the size, to be honest, and they'd still probably fill it!
I'm gonna say this first and I'm gonna say it loud - **MAS TACOS IS CASH OR CHECK ONLY** - so bring some green (because I know no one in 2019 carries checkbooks.  Please.)  We didn't know this ahead of time (I failed at planning) and breathed a sigh of relief when we found enough cash in Matt's wallet to cover our lunch.  All prices include tax, which is probably to keep people moving.  Totals are given quickly, cash is exchanged, and the line moves along.
You order at the counter just inside the front door and after waiting in line, thankfully, the food comes out relatively quickly, though your entrees may come out at different times than your sides.  Despite the crowds, we didn't have trouble nabbing a small table in the front room while we waited for our name to be called.  There are also seating options in the cantina next door, a side room, and an outdoor covered patio if the weather is nice.
Matt ordered a horchata and he thought it was amazing.  I thought it had an impressive creamy cinnamon flavor, but it was way too sweet for my preference.
We ordered a fried avocado taco and it was excellent.  I'd never tried fried avocado before and it was a treat.  The taco was filled with shaved cabbage, onion, cilantro, and spicy dill yogurt with a small section of lime for squeezing.
I know it's hard to see the fillings here (the corner we found to sit was really dark) but this is the carne molida and pulled pork tacos.  The carne molida taco was the star of all 3 that we tried, oh wow, the beef had incredible flavor!  The taco was filled with spicy onions, salsa, and sour cream, and it's a must try when dining here.  The pulled pork taco - filled with tomatillos, shaved cabbage, and dill yogurt - was pretty good, but the other two were so much better by comparison that it seemed like an afterthought.
Also wanting to try some other menu options, we ordered the chicken tortilla soup which came with thick, crunchy tortilla strips, tomatillo, avocado, and queso fresco.  This bowl looks lovely and the tortilla strips were really nice, though the broth of the soup was incredibly salty and the chicken was a little "squeaky" and dry.  Not a dish I would order again and, unfortunately, most of this soup went uneaten.
The Saturday special was breakfast nachos (Chilaquiles) - thick tortilla strips with a flavorul tomato sauce/salsa, pulled chicken, queso fresco, a drizzle of crema and a lovely drippy egg.  This was another beautiful dish but, again, I found it to be too salty.  It was really a shame because I could tell the underlying flavors were there and you could tell a lot of care went into the planning and execution of this dish, but the salt level was really disappointing for a place with so much hype and crowds!
Would I recommend Mas Tacos?  As another insanely popular eatery in Nashville and despite the few little issues I had with my dishes, this is worth a go at least once.  Like Hattie B's, try to go during off-peak hours during the week and avoid the longer lines.
Chauhan Ale & Masala House
Chauhan Ale & Masala House is an Indian fusion restaurant by Maneet Chauhan, who you might have seen as a judge on The Food Network's Chopped.  The menu features many classic Indian dishes as well as a number of unique offerings combining Southern cuisine with Indian fare - fun!!  The restaurant is located just north of The Gulch in downtown Nashville and has convenient parking right across the street.
We arrived just after they opened (11am) and we were seated right away, a nice change from the crowds we had been fighting the previous two days!
I have such a stupid obsession with these pretty glass water bottles that are left at the table.  I dunno why.  They's purty.
We dined during Sunday Brunch and after looking over the menu we decided we had to dry the tandoori chicken poutine appetizer, which is tandoori chicken, makhani sauce, cheese curds, and masala fries.  This was the dish that was brought to our table, omg.
Yeah, we took home more than half of this.  So rich and decadent but sooo amazing.  The base of fries was generously sprinkled with masala and then buried under a mountain of tandoori chicken and a ton of cheese.  It's addicting and you'll have to make yourself stop eating them.  If you're dining with three or six friends, make sure to order these and maybe you can make it through more than we did knowing we still had entrees coming!
For my entree I went basic with some chicken tikka masala served with mixed greens (at my request instead of the usual basmati rice).  This was, hands down, the best tikka masala I've had to date.  The warm sweetness from the masala spices balanced the acidity of the tomato and the richness from the cream made this dish rich without feeling too heavy.  Like the poutine, this was also a generous portion and some of it needed to go home with us.
Matt ordered the breakfast parantha tacos which had vindaloo sausage, scrambled eggs, provel cheese, kachumber, and mango mint chutney wrapped in Malaysian parantha.  He made the best choice of the day, because there was so much freshness going on in here and it was such an interesting mix of flavors.  The use of parantha as a taco shell is a fun idea, too!
So if you're looking for some really, really good food in downtown Nashville but don't want to deal with the crowds and lines of the super hyped world famous places... go to Chauhan.
Bearded Iris
Matt loves beer. Matt loves craft beer in particular, so we usually hit up at least one local brewery during our travels.  I gladly tag along because I think they're cool, and I try to be a good sport and taste everything, trying to find one beer - any beer - that doesn't make me pull ugly faces.  So, we found ourselves at Bearded Iris, a well-loved and mighty popular brewery in the northern part of the city just a block away from the Cumberland River.
Though it was only 3pm on a Friday, Bearded Iris was already busting with people and all of the seating inside had already been taken.  Nashville peeps love them some local beer.
I loved the whole vibe inside.  The industrial look of the building was kept intact, and the cool juxtaposition of crystal chandeliers and the dark wood bar made for an interesting combination.  The bartenders were friendly and helpful and let us sample a few things (newsflash: I still hate beer) before Matt placed his order, filling his growler from home with Bearded Iris's Homestyle (a beloved brew).  He tried a couple of others while we hung out in taproom as well - Mood Ring and Astro - both of which he recommends.
Next to the bar are canned 4-packs of many of their brews.  I don't have to tell you that Matt took home a couple of those for himself and we were also filling orders for a fellow craft beer lover back home in Knoxville.  We waltzed out of there with a cardboard palette of beer and it was quite the sight.  I forgot to take a photo because I was too busy giggling.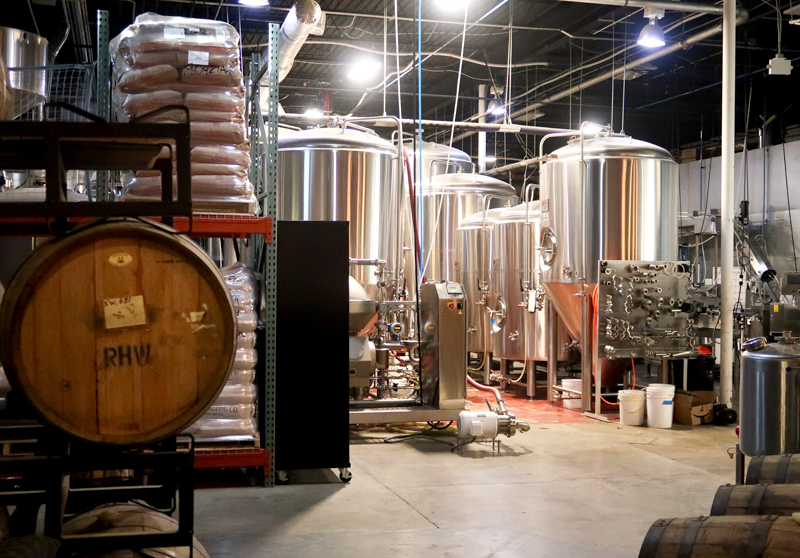 The seating area is open to the brewery itself so you get to see where all the magic happens while sipping - it's a really stinkin' cool location and I can see why the locals love to hang out in here.
The Well Coffeehouse (Downtown)
We were wandering around the loud touristy area of Music Row and the surrounding streets trying to find a place to squat and chat for a couple of hours.  It was a Sunday afternoon and the Titans were playing just down the street, so you can imagine that the area was a bit... congested.  After being unimpressed with the loud honky tonk bars and restaurants that line Music Row, we found The Well Coffeehouse on 4th avenue right at the end of all of the loud madness downtown.
Compared to the noise outside, the silence inside of this place was deafening.  We ordered our drinks (and learned that they make their own flavor syrups as well as selling bags of their own roasted beans), took our coffee, went upstairs to a little loft seating area, and finally had some quiet time!
Matt ordered his usual basic cappuccino, but I couldn't resist the Cozy Sweater (cinnamon and honey) latte with skim milk.  It was pure. heaven.  It wasn't overly sweet like flavored lattes tend to be and the milk foam was sillllllky smooth.  I wish we had a Well Coffeehouse in Knoxville, because I would be a frequent visitor.
Save this post to your travel Pinterest boards!  Use the pretty image below, or use the share links at the top and bottom of this post to share on social media.  Thanks so much for visiting!