Psst.. I have a confession.
I do not have a strong track record with making food that is.. pretty.  It's something that I've desperately wanted to learn for many years, but each attempt has ended with a disappointing result.  Last weekend, I decided it was time to try again. I planned to attempt some decorated shortbread (or sugar) cookies using the common "pipe and flood" technique.
Typical of most things that I do, I can't just start simple.  No, I can't just practice piping hearts and dots and getting a smooth fill.  That's just not me.
No, I decided to tackle a batch of cookies inspired by the smoking hot book series (and now movie), The Hunger Games by Suzanne Collins.


To Make the Cookies: I used Sweetopia's recipe for Melt in your Mouth Shortbread Cookies.  I only wanted to make a  small batch of cookies for this experiment, so I cut the ingredients down by ¾.  It's a wonderful recipe and the resulting cookies are easy to roll and cut, they bake up flat and uniform, and they really are melt in your mouth delicious.
Marian from Sweetopia suggests removing the cookies from the oven before they begin to turn brown, so that's what I did.  The bottoms of them were just beginning to show color when I removed them from the pan.  I let them cool on a wire rack before attempting any decorating.

Next, you'll want to make some Royal Icing.  This type of icing is popular for decorating cookies because it dries  hard.  I used Wilton's recipe for Royal Icing  using meringue powder.  There are  recipes out there that call for egg whites instead, but I admit to being a little skittish about raw egg white icings when I know they'll be stored at room temperature.  I know the sugar inhibits bacteria growth in the egg, but.. it's just a mental thing for me.  Feel free to use the egg white version if you don't have or can't find meringue powder!
I did some research before starting this project to prepare myself.  I knew that one of the most difficult steps would be getting the correct consistency of the icing so that it would  be easier to work with.  Royal icing is adaptable in that you can either add warm water to thin it out, or add powdered sugar to thicken.  Convenient in that there's no way to permanently mess up your icing, but frustrating in that it is harder than you'd think to achieve the perfect thickness.
The first step is to pipe an outline using a pastry bag fitted with a small, plain tip.  You want the icing to be relatively thick for this step, so that it holds its shape.   I quickly learned the importance of keeping consistent pressure on the bag, and found that piping a perfect circle is really, really difficult!
Before filling in the cookies, you'll want to let the outline air dry for a bit.
The next step is flooding the inside of the cookies with colored icing.  The common way of doing this is using water to thin out the icing used for your outline so that it spreads easily and creates a perfectly smooth surface.  Again, I turned to Sweetopia for a tutorial on getting correct icing consistency.  Marian uses a technique that allows her to use the same consistency icing for both the outline and the fill.   This idea was attractive to me, because it would eliminate the extra step of thinning out the icing and re-filling the pastry bags.  I tried it, but my icing was  too thick, because as you can see, I had quite a few lumps and ridges in my fill.
Note to self: practice icing consistency for next time.
Something else to mention - black icing does not taste very good!  You have to add quite a bit of color to achieve a deep black, so the flavor of the food dye is potent.  I wanted a black fill for some of these cookies for presentation purposes,  but keep the taste in mind if you are making these to give to friends or for a party.
I read a tip that said if you add cocoa powder to the icing you can cut down on the dye flavor, but I haven't tried it.  If you do, let me know how it works out!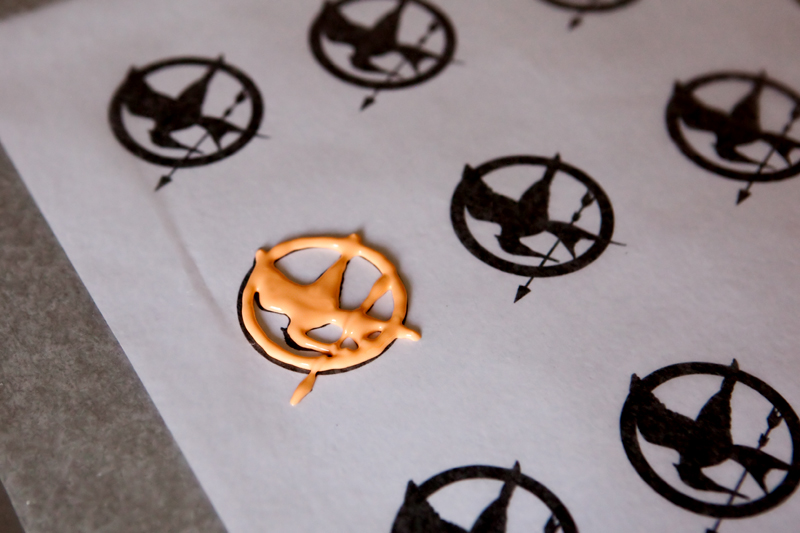 While the flooded cookies were drying, it was time to pipe my decorations.  I'm not comfortable using pastry bags, so I opted to pipe the toppers separately so that I could make extra, and wouldn't end up messing up an entire cookie if I screwed up.  I decided to make transfers for Katniss's famous mockingjay pin, as well as some orange and yellow flames, because she is The Girl Who Was On Fire, ya know.
How to make Royal Icing Transfers:
1. Print your design on regular paper.  I filled up an entire sheet with the designs so that I could make a few extras in case some of them got messed up or broken.
2. Place the paper on a flat surface and cover with wax paper.
3. Fill a pastry bag with semi-thick royal icing (about the consistency of your cookie outline) and pipe over the design.
4. Let air dry (do not refrigerate or put in tupperware - it won't dry!) for at least 24 hours.
5. Carefully peel the designs away from the wax paper and attach to tops of dried cookies with a small dollop of royal icing.
So here they are!  I have to say, I'm pretty proud of how these turned out.  As I said, I have a strong history of failures when it comes to pretty food.  They are certainly not perfect and I learned so much to apply to my next decorating project.. I can't wait to do more of these!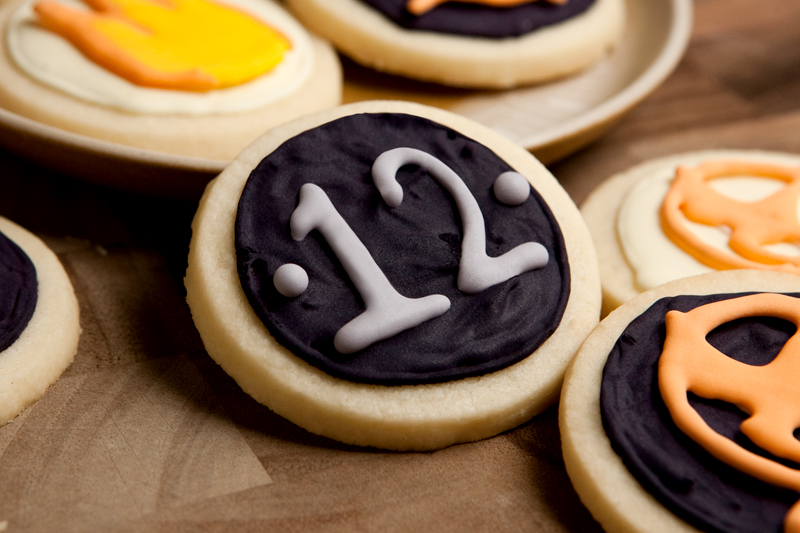 I got brave with the District 12 design and piped the numbers directly onto the cookies instead of making icing transfers.  I practiced a few times on wax paper first before going in for the kill.  I'm pretty happy with the result!

The ivory cookies were colored simply by adding a few extra drops of vanilla extract.  Remember that if you want your icing to stay pure white and you want to add a flavoring, any color in the extract will be picked up by the icing.  I have both clear (imitation) vanilla extract and pure (caramel-colored) extract.    The flame transfers didn't quite come out as well as I'd hoped, but ah well.. it was a learning experience!
I can't wait to try more of these!  I feel like I have a better plan of attack for next time for preparing and executing projects like these.  I made an absolutely epic mess in my kitchen this first time, but next time I will be better organized.  Hmm.. what do you think I should do next?
Book lovers - if you haven't already read The Hunger Games series, you should definitely give them a try.  I just finished the second book, and I'm having a blast!  Such a fun (albeit morbid and depressing) premise, and easy to read in an afternoon or two.