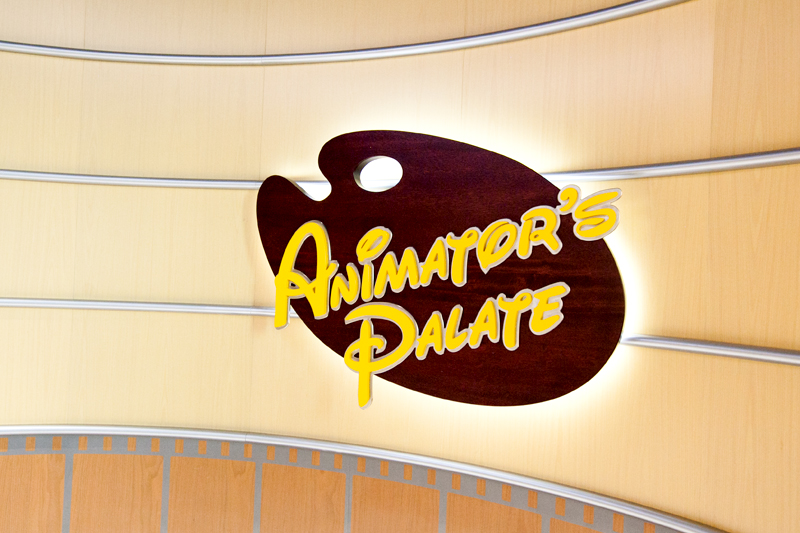 Our second night at Animator's Palate delivered a brand new menu, as well as a few surprises!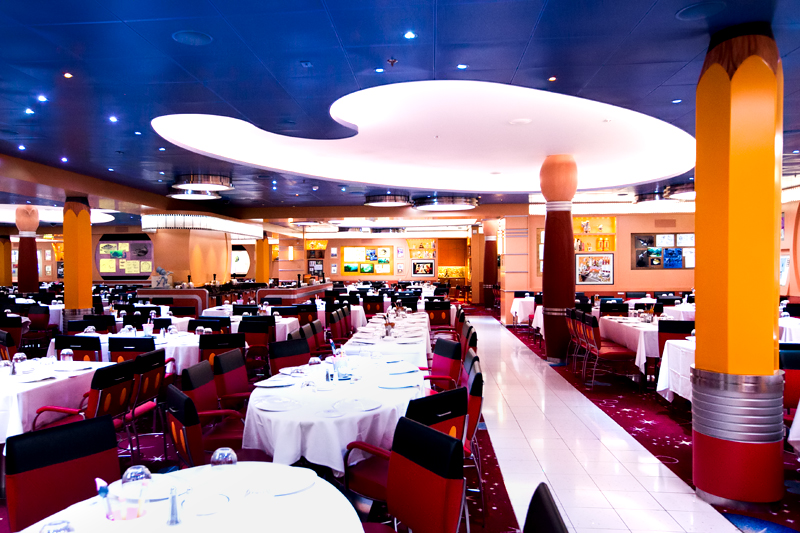 I'm re-posting a couple of the interior shots of the restaurant for those that may have missed the first post.  If you want to read about our first night here, then click right here!
 We sat down at our table to find this.  We were instructed by our server to use the provided blue markers and draw a figure inside of the template, and to sign our names.  She didn't tell us why, but we had to be finished and have our drawing turned in before she would bring the menus!  Evil! 🙂
We were told the theme of the night was "Animation Magic".  While we ate, scenes from classic Disney movies played on the screens around us.
Then it was time to chow!  Again, you'll have to pardon any slight color casts in these images.  The funky lighting in Animator's Palate plays havoc when trying to take well-balanced food photos!
 The second night's menu was a little different than the first in that part of it was a set menu.  The appetizer course was marinated garlic and herb shrimp with zesty lemon aioli, prosciutto with melon, and sesame-crusted tuna sashimi.  It was a fresh and tasty start to the meal!
 I was very intrigued when this was placed in front of everyone.  The soup course was called Corn, Three Ways, and consisted of a piece of spiced cornbread, buttered popcorn soup, and a little container of caramel popcorn.  So unique!!
 We were advised to dump the popcorn right into the soup and eat it all together.  I admit, I have never heard of popcorn soup, and was totally willing (as always!!) to try something new!  So fun!
 For my entree, I chose the oven-roasted Tom Turkey breast with green beans, sweet mashed potatoes, rosemary stuffing, giblet gravy, and cranberry relish.  It sounded like total Thanksgiving comfort food and was a great choice!
Matt ordered the rosemary-scented medallions of lamb with grilled red peppers, yellow squash and zucchini on a polenta cake with lamb jus.
 We both ordered the Princess Jasmine banana bread pudding - a brioche bread pudding topped with caramel sauce and toasted macadamia nuts.  Now, those of you that know of my dislike for bananas may be surprised, but I actually love banana bread and most other banana-flavored desserts (except banana pudding - ick!!) This was delicious!
 My mom ordered the sampler dessert that night, which consisted of Cinderella's lemon-infused cheesecake, chilled chocolate souffle, and tiramisu.  Looks soo good!
After dinner, the lights dim and you are treated to something very special - all of the drawings that were submitted before the meal are brought to life and inserted into classic scenes from Disney movies!
I thought this was such a fun idea!
I could imagine being a kid and seeing your drawing dancing around on a big screen with your favorite Disney characters.  I must have a baby immediately so I can take him/her on a Disney cruise!
"So, what made you decide to have a baby?"
"Oh, I decided that I wanted someone to bring to Animator's Palate!"
".... okay man, whatever you say."
Heck, even as an adult I thought it was fun!
 At the end, the "credits" roll, made up of the signatures of all of the "artists"! Can you see our names?
This is part of a blog series detailing our super fun family trip, a 7-day Western Caribbean cruise on the Disney Fantasy!  Click Here to see more posts!