It's no secret that Matt and I take a gabillion pictures when we go on vacation.  I hope you all have enjoyed seeing the images from our winter Disney cruise and that they haven't been too overwhelming.  At least most of them were food-related, right?
After this post, there is only one more to go in this series, and that will be our day on Castaway Cay, Disney's private island and one of my favorite places on Earth.  For now, though, I thought I'd lump together a few more photos of the Magic that aren't deserving of their own post.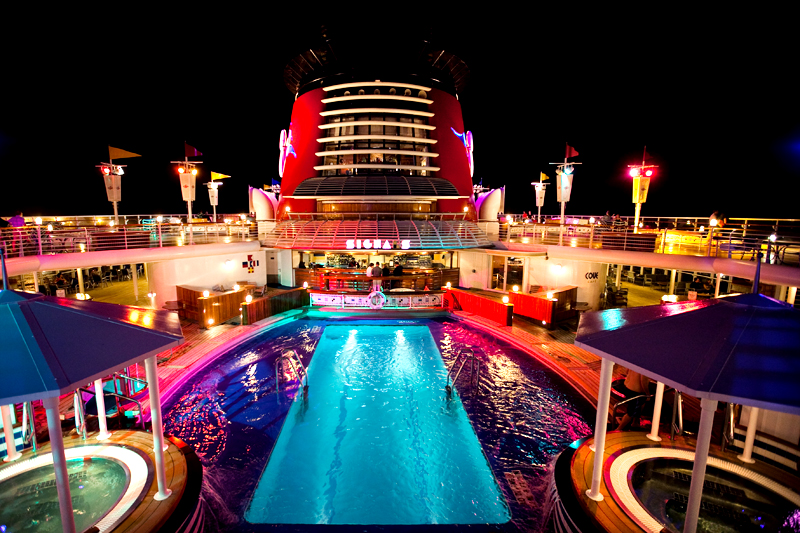 This is what the adult pool area, Quiet Cove, looks like at night.  Lots of lights and lots of color!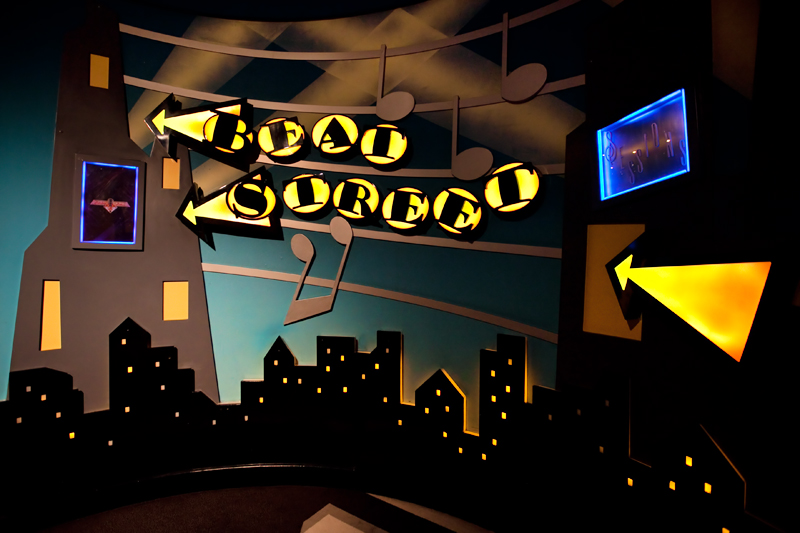 Deck 3 has an adults-only area known as Beat Street, which houses the nightclubs and lounges.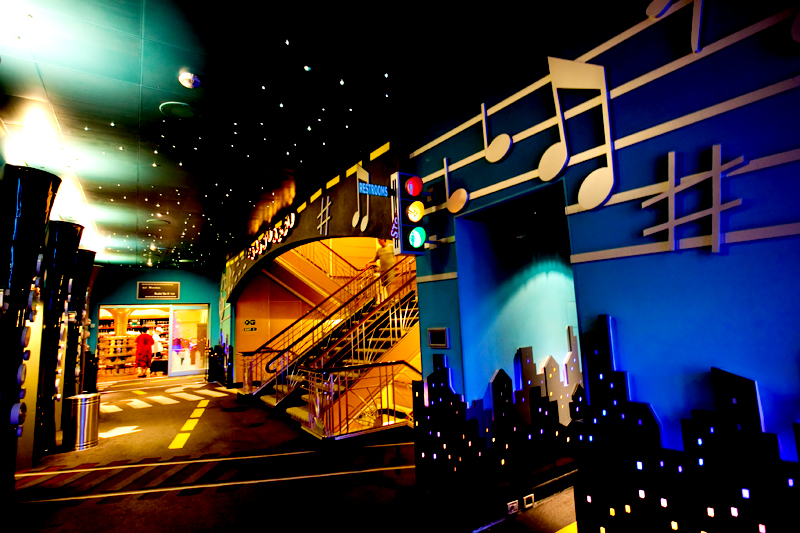 This is what it looks like as soon as you come down the stairs - a stark difference from the rest of the stairwells on the ship.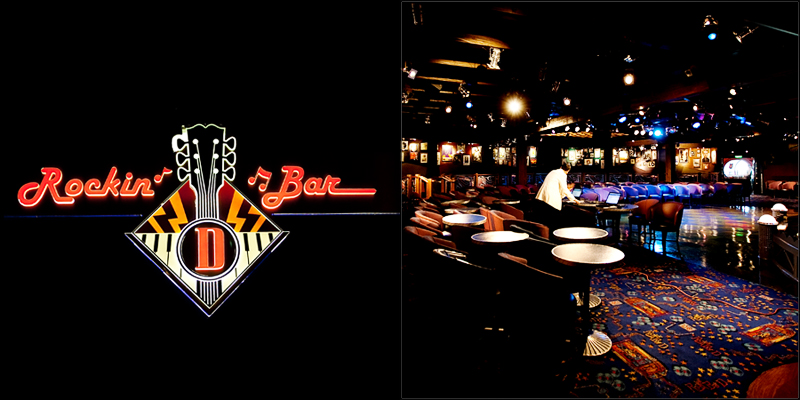 Rockin' Bar D has live entertainment and dancing almost every night.  There are also other activities such as Bingo and couples gameshows, which were actually pretty funny!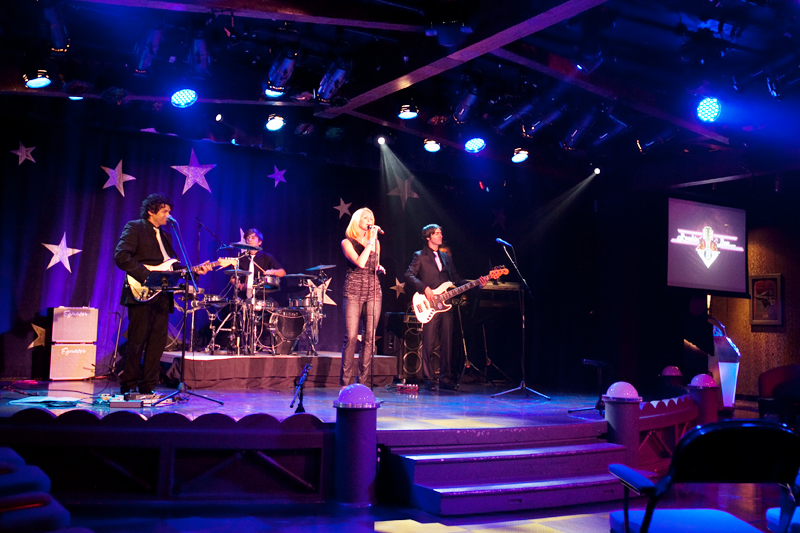 One of the benefits of the 7-night cruise is that you have much more time to explore the ship and take advantage of what it has to offer.  On the 3-night cruise, each day was a different port, so your days are pretty full from that.  After you factor in the main shows each night and the 2-hour dinner, there's not much time left to do other things!  I liked the luxury of spending an evening in the bar, chatting with my hubby and having a drink.  After all, cruising is about chilling and relaxing, right?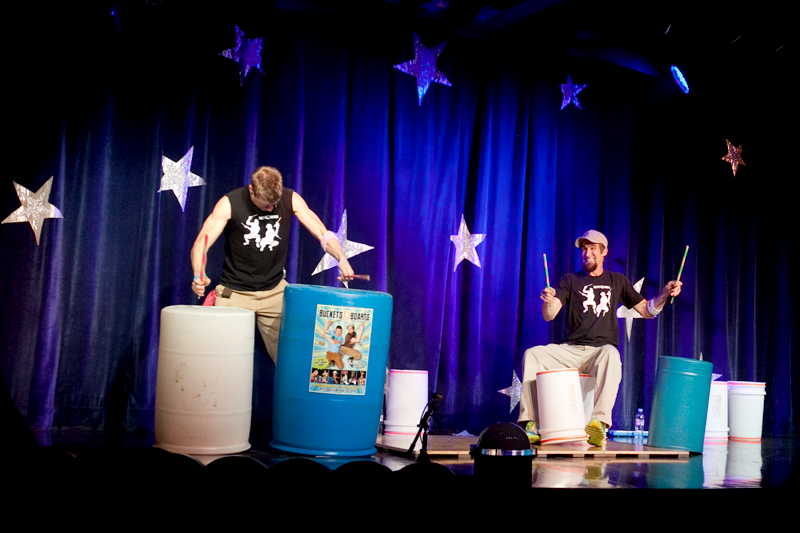 Oh my gosh, I LOVED these guys!  Buckets 'N Boards is a percussion show based out of Branson, MO.  These guys are insanely talented.  They headlined one of the main shows, and then did this smaller show in Rockin' Bar D a couple of days later.  Look em up on their website for more info.  I love seeing young talented people doing well in their careers!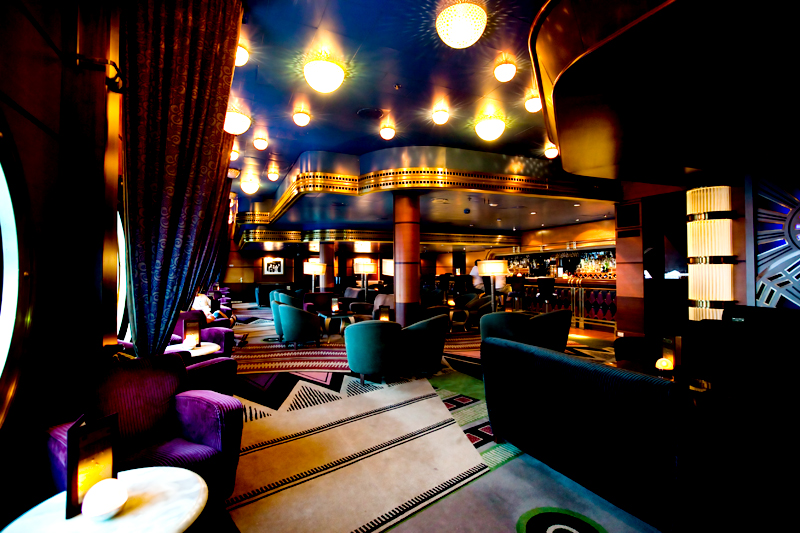 This is Sessions, a more low-key lounge featuring live piano music most nights.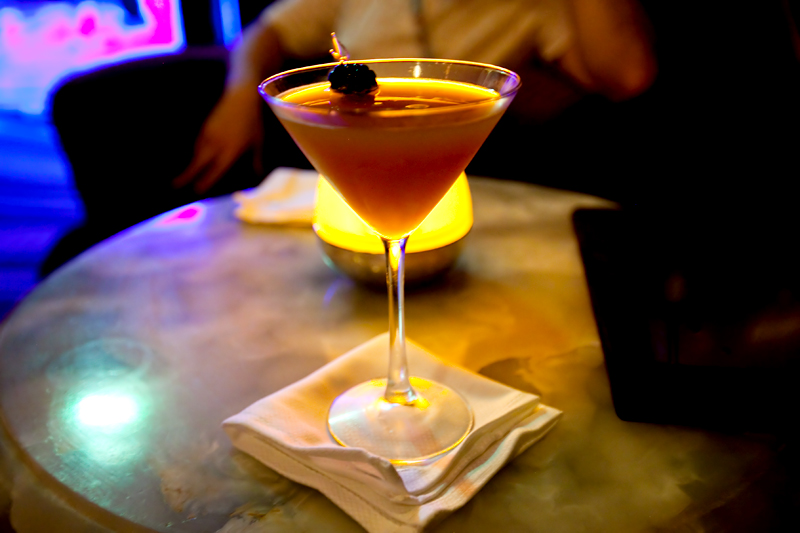 We stopped in Sessions for a pre-dinner martini one night, and it really hit the spot.  You can really feel the vibration from the ship's engines on Deck 3 - it was fun to pretend like we were well-to-do members of society traveling across the Atlantic on a luxury oceanliner of yesteryear.
What, you don't do that too?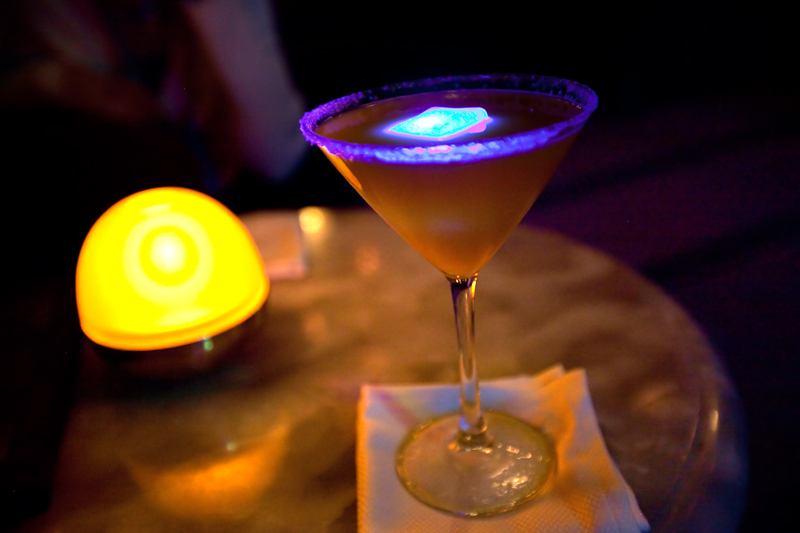 Matt's martini came with a plastic glow-y ice cube thing that he could keep!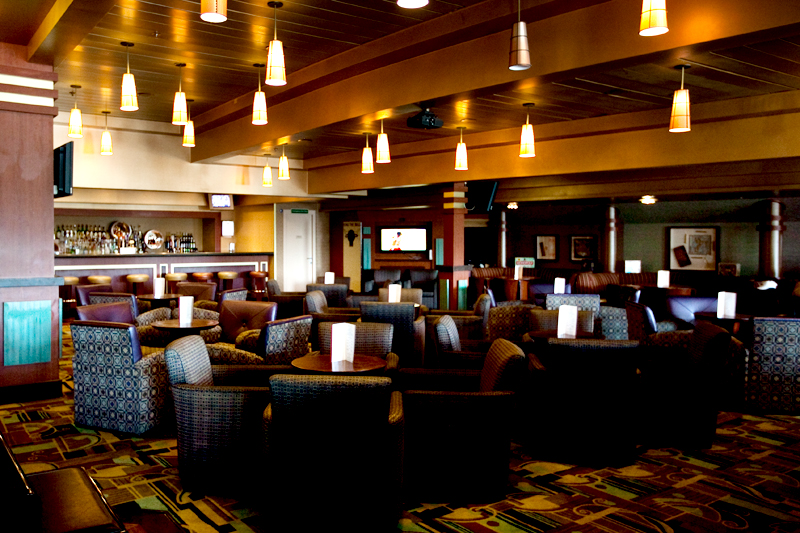 Diversions is a sports pub that has televisions for watching the game while playing a board game and, of course, having a drink.
I don't want to know how much cruise line revenue comes solely from alcohol sales.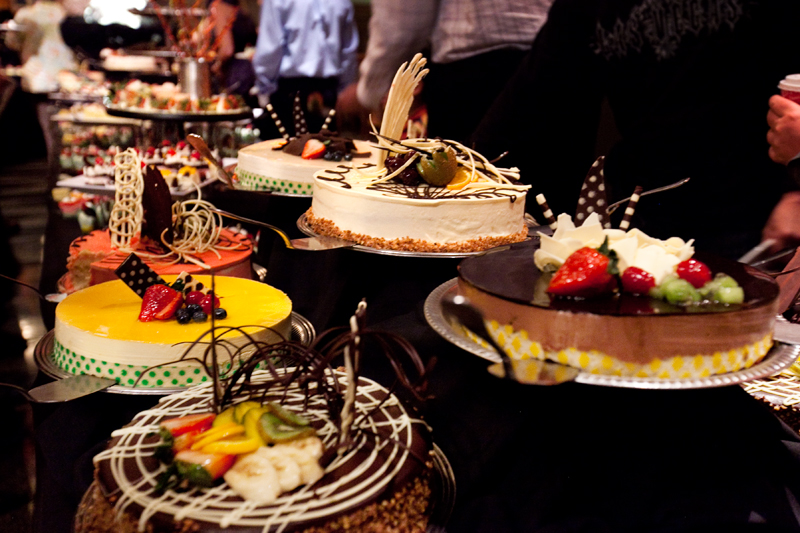 Well now, what the heck are these beautiful cakes?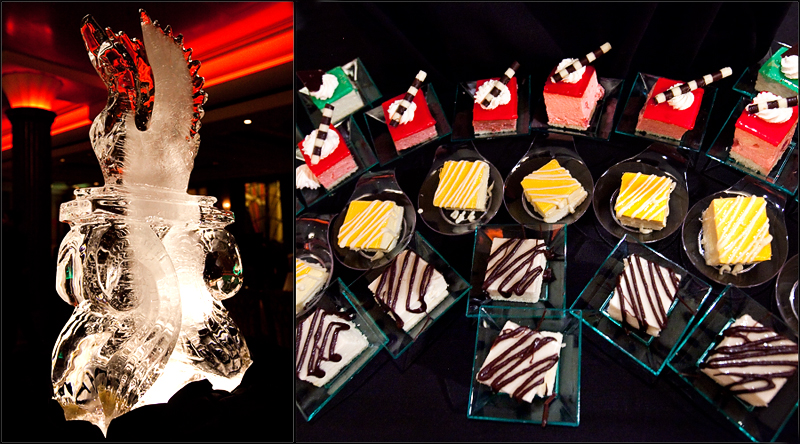 About midway through the cruise at 11pm, the restaurant Lumiere's hosts a Gala Dessert Buffet.  There are tables of beautifully decorated cakes (so beautiful that no one wanted to cut them.. everyone went for the individual cakes and petit fours instead!), chocolate fountains with fruit, ice sculptures, and just an insane amount of butter, sugar, and chocolate confections.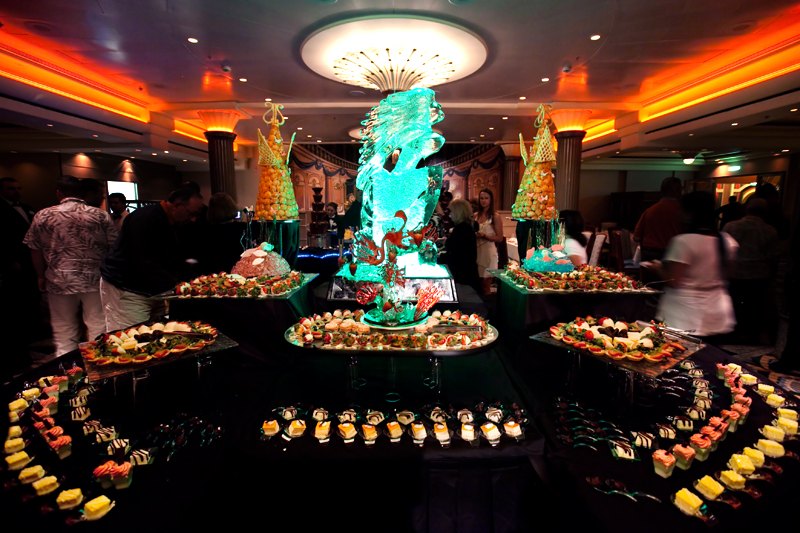 Yeah.. it was pretty serious.   Just don't think about the calories.  They don't exist on a cruise.