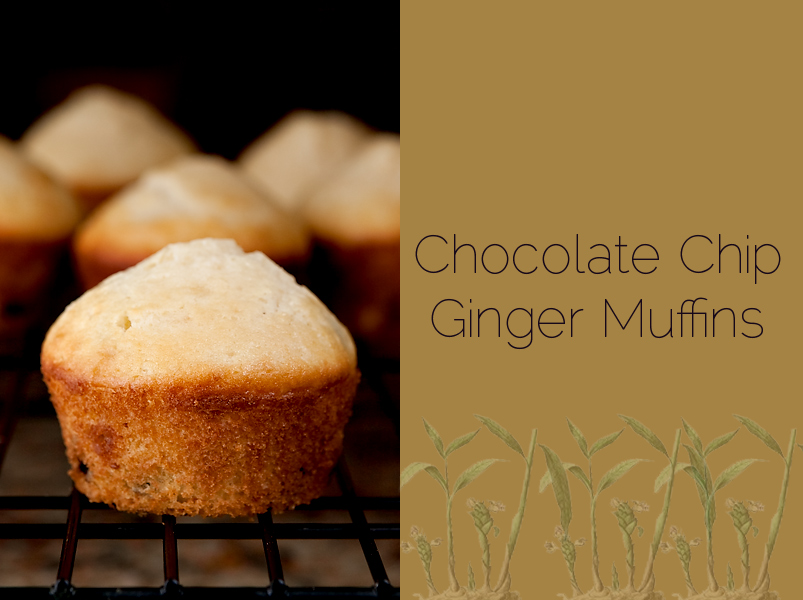 The other day I posed a question: what is the difference between a cupcake and a muffin?
This is one of those muffins that can tow the line.  There's no oil, nuts, or dried fruit in the batter.  Heck, they are even full of chocolate chips!  The texture is a bit fluffier than a hearty muffin.  If there was a big dollop of buttercream on top, you'd call it a cupcake and wouldn't give it a second thought.
But that won't stop you from eating these for breakfast.. right?

Very good.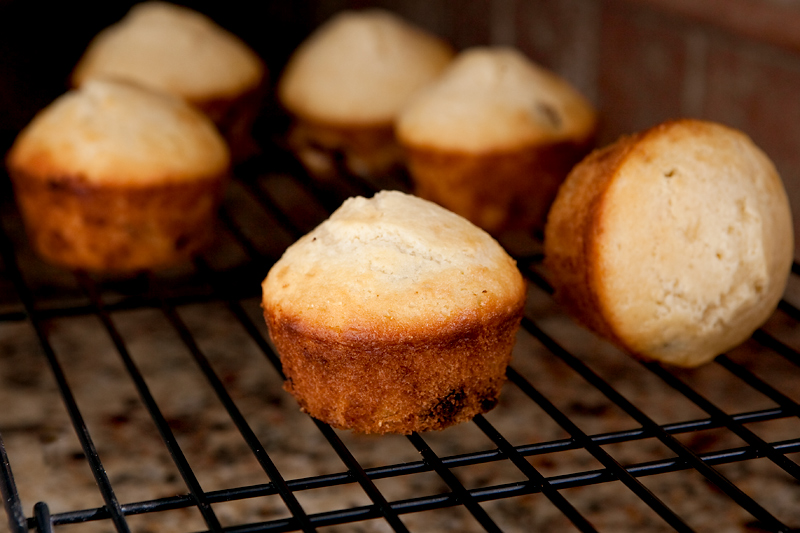 I found the original recipe for these at Baking Bites.   I've been holding onto a bottle of crystallized ginger that our friends Kara & Remington gave us at Christmas, so when I saw this recipe I knew I had to try it.
I have a confession, however.  As you can see from the photos, the muffin tops are a bit lacking in the chocolate department.  I was a little distracted when putting together this recipe, and failed to apply my techniques for preventing chocolate chips from sinking right to the bottom of the batter.
It doesn't affect the flavor very much, but it certainly robs you of seeing those beautiful plump chips sticking out of the top.  Heck, you could even say that these muffins are in disguise!
"No, I'm not absolutely full of chocolate, no way.  I'm healthy!  Gobble me up - it's okay, really!"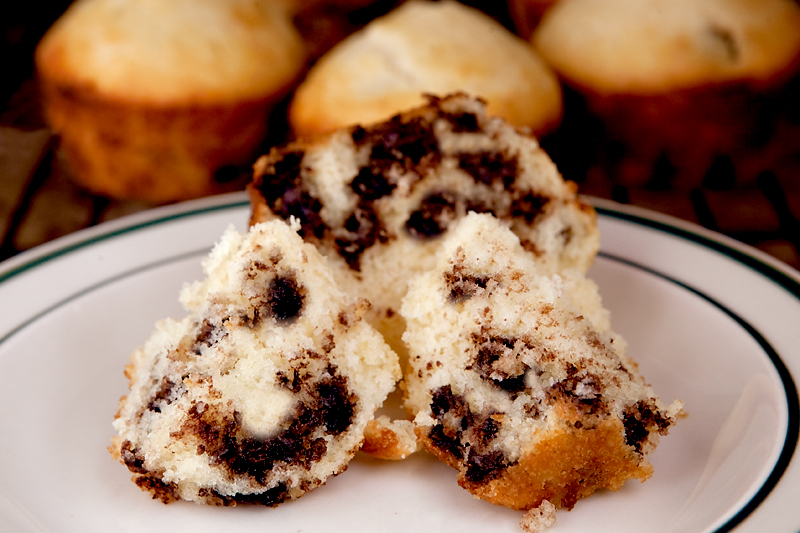 The inside wasn't too bad.  The middle of the muffins did have some chips, but the majority of them were sitting pretty right at the bottom.  No worries, though.  I've altered the directions of the recipe below so that you don't space out like I did and have the same thing happen to you.  Just in case, I'll even post the directions for non-sinking chips twice!
Preventing Chocolate Chips from Sinking Into Batter:
1. Don't fold the chips directly into the batter.  Instead, fill each muffin tin compartment halfway with batter, and sprinkle each with some of the chips.  Then spoon the rest of the batter into the compartments and sprinkle the tops with the remaining chips.  Bake immediately.
or!
2. Before folding the chips into the batter, lightly toss them with some flour.   Spoon into muffin tin and bake immediately.
So, if you want to make deceptively sinful muffins, then it doesn't matter if your chips sink.  Your tops will be nice and smooth and you'll have a blast of chocolate sitting at the bottom.  But if you want a more even distribution of chips, then follow the tips above, or in the directions of the printable recipe below.  You can apply those tips to any kind of batter using chocolate chips (cakes, cupcakes, bread, etc), especially those with thinner batters that can be very tricky when using add-ins!
Sunken chocolate chips or not, I thought the flavor combinations of the chocolate and the candied ginger was fantastic. The solid bits of ginger give you a blast of flavor every so often, while the ground ginger carries that flavor through the entire muffin. Mmm..
Here's your recipe!
Print
Chocolate Chip Ginger Muffins
---
2.5 cups

all-purpose flour

1 cup

plus 2 TBS white sugar

2 tsp

baking powder

½ tsp

baking soda

½ tsp

salt

1 tsp

ground ginger

6

TBS butter, melted and slightly cooled

1

large egg, beaten

¾ cup

buttermilk

½ cup

milk

½ tsp

vanilla extract

1.5 cups

chocolate chips, dark or semi-sweet

¾ cup

candied/crystallized ginger, finely chopped
---
Instructions
Preheat oven to 375F.
Line a muffin pan with paper liners, or grease and flour.
In a bowl, whisk together the flour, sugar, baking powder, baking soda, salt and ground ginger.
In bowl of stand mixer, combine melted butter, egg, buttermilk, milk and vanilla extract until smooth.
Gradually add dry ingredients and stir just until no streaks of flour remain. Fold candied ginger into mixture.
Divide batter into prepared muffin tin, filling each compartment only halfway.
Sprinkle chocolate chips over the top of the batter.
Fill the compartments to the top with remaining batter, and sprinkle the top with the remaining chips.
Bake for 18-20 minutes, until muffins are lightly browned and a toothpick inserted into the center comes out clean.
If you used muffin tins, remove from pan immediately and let cool on wire rack. If you greased your tin, let cool in pan for 5-10 minutes before attempting to remove, and then cool the rest of the way on rack.
Recipe Card powered by