Looks like yogurt, right?  Wrong.  Elli Quark is actually cheese!  Yeah, I'd never heard of quark before so I was a bit confused.  It looks and smells like yogurt but has a milder flavor - it's missing that tangy bit of sourness that yogurts have.  Quark is a German style spoonable fresh cheese that has an even better protein-to-carb ratio than yogurt and is stupidly low in calories - only 80 cals per 6oz container.
According to Elli's website, Quark is made using hormone-free milk and fresh fruit sourced from local California dairies and farmers.  It is non-GMO, contains no sugar or artificial sweeteners, and is a good source of probiotic live and active cultures.  There are no artificial ingredients, color dyes, starchy fillers, preservatives, gluten, gelatin, corn, nuts, or soy.  Okay, so that's all pretty darn impressive, so how does it taste?  Well, I'm here to tell ya.
Elli was kind enough to provide us with a sample pack of all 12 Quark flavors for us to review.  Yes, this product was shipped directly to my house, and they will ship directly to yours, too.  You can place orders directly from the website.  The quark arrives in an insulated container packed with frozen gel packs.  Pretty nifty.
Onward!
First up is Elli Quark Bananas Foster.  I let Matt take this one due to my not-so-great relationship with most banana products.  Matt loves all things banana so I knew he could give a more accurate opinion.  One thing we both noticed was the fresh banana smell that came pouring out of the container when we ripped off the lid - there were also some caramel notes present as well.
The quark was smooth and ivory in color.  Matt said that the banana flavor was strong and came through front and center, almost masking the other typical "bananas foster" flavors like the slightly caramelized brown sugar, rum, and vanilla.  He really enjoyed this flavor but said that if those other flavors were a little more prominent that it would be perfect.  I bet this one would be awesome dolloped onto some oatmeal with fresh bananas and cinnamon to really bring out those more subtle flavors that are present.
Blueberry is one of my go-to flavors when buying regular or Greek yogurts, so I was stoked to give Elli Quark Blueberry a whirl.  Removing the lid I noticed the fresh fruit flavor and a pretty purply-blue color dotted with bits of fresh blueberries.
This one was so yummy!  The smooth and fluffy quark texture worked well with the blueberries and I polished the whole thing off pretty quickly.
This Elli Quark Cherry never had a doubt in my mind, because cherry is always a good choice.  The problem I run into sometimes, though, is that the cherry flavor in a lot of yogurts or ice creams tends to be pretty subtle and lacking.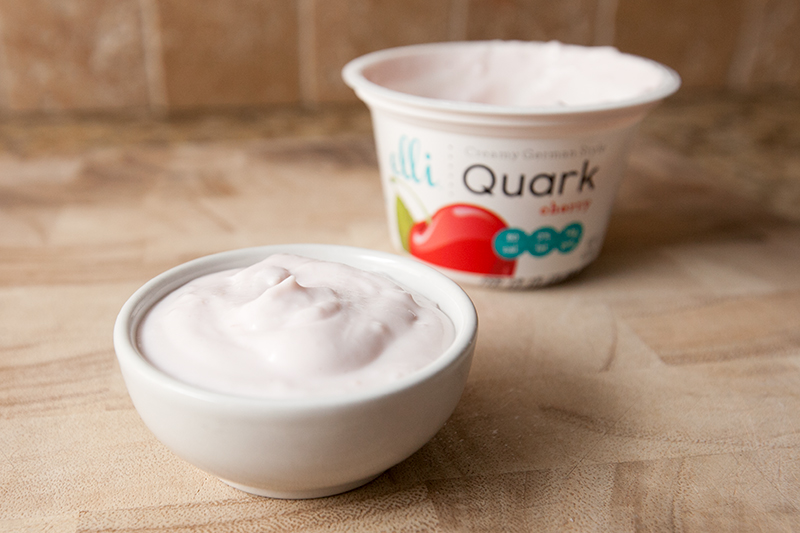 I was not disappointed.  This fluffy pinkish quark was loaded with cherry flavor - in fact, this was one of the strongest flavors of the whole bunch.  Fresh cherry pieces are distributed throughout the quark and I can't stress enough just how fresh these fruit flavors are.  Serious yum.
Lemon isn't my favorite flavor when it comes to yogurt.  In fact, when Matt does the grocery shopping and needs to pick up my stash of breakfast Greek yogurts for the week I make a little note on the list that says DO NOT get lemon... or any citrus.  There's something about the texture of citrus "meat" that just doesn't work for me when combined with a smooth yogurt texture.  So, I tucked into Elli Quark Lemon with some reservations, but with an open mind.
Yet again I was hit by the strong fruit smell once the lid came off.  It wasn't a Lysol-y smell either, which is a rut some citrus yogurts fall into.  Nope, this was a fresh, tart lemon aroma.  The sweetness balance of the quark was spot on... you got a bit of sour tang from the lemon but just enough sweetness to take the edge off without being too cloying.  This one was great just by itself but I can see eating it alongside from fresh strawberries or with some ricotta pancakes - mmmm!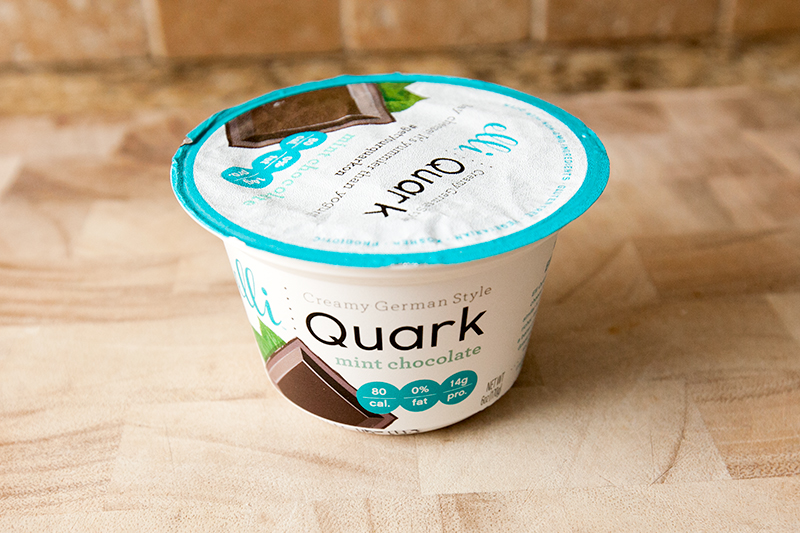 I thought Matt and I were gonna have a fist fight over which one of us got the Elli Quark Mint Chocolate, but I was nice and let him have it and he ate it for a mid-morning snack.  I took the pictures before handing it over so I got a whiff of the minty chocolatey aroma.  I snuck a small taste and whoa Nelly!  Matt described this one like a Girl Scout Thin Mint in quark form, while I immediately thought of those mint chocolate Andes mints from my childhood.
Elli Quark Mint Chocolate is fluffy and totally smooth with a pale mint green color.  The taste is a winner with the mint and chocolate flavors in perfect balance with each other.  I can think of lots of fun uses for this flavor such as spreading it inside of some chocolate protein crepes or scooped into a protein shake with some fresh mint leaves and chocolate protein powder.
Elli Quark Peach is a totally safe flavor and a good place to start if it's your first go 'round with this yogurt-but-not-yogurt schtuff.  I have at least one container of peach yogurt in my fridge every week.  Peeling back the lid I noticed that this one has a milder smell than the others and I could see little peach pieces dotted throughout.
As I expected, this one was a nice, mild, and unassuming flavor.  Because the fruit took more of a back seat I was able to get a better idea of the naked flavor of the quark itself, which was creamy and mild but without the tangy sourness of a regular yogurt.  This is another good choice by itself or would be delicious in the summer paired with a big bowl of fresh peach slices since the mellow flavor of the quark reminds me a lot of a smoother version of cottage cheese.
Plain Elli Quark is not something I would eat by itself, but I am familiar with plain Greek yogurt and it's endless usefulness as a "skinny swap" for less healthy choices such as mayonnaise and sour cream.  So I was curious about this undressed version of Elli Quark.  In taste - and I know I've already touched on this earlier in the review - it's mild and creamy without any tangy sour zings that you'd expect from a plain or Greek yogurt.  I'd expect that you could use it as a healthy swap for mayonnaise, etc just as you would with Greek yogurt.  But since I was mostly trying Elli Quark as a breakfast food (where most of my yogurt eatin' takes place), I tried something else.
Tada - Cheerio parfait!  All right, so it's nothing fancy, but I was reviewing Protein Cheerios  at the same time and thought the sweetness of the cereal would be good for adding some extra interest to the plain quark.  I'm no stranger to mixing yogurts with granola, Chex, Cheerios, or other cereals, so this was par for the course for me.  There's seriously endless ways, both savory and sweet, that you could use plain Elli Quark.  How would YOU use it?!
Just gonna tell you straight up that Elli Quark Red Velvet is my very very favorite flavor of them all!!  When I opened it up the first thing that smacked me in the face was the smell of cream cheese.  Though some will argue that boiled frosting is the proper topping for red velvet cake, here in the South most of us expect to have that sweet and tangy cream cheese flavor when indulging in the popular food-coloring-loaded dessert.  When trying out anything that claims to be red velvet flavored I look for two main contributors to the flavor - cream cheese and a subtle bit of chocolate.  If I can detect those two tastes, then it's a win for me.
Elli Quark Red Velvet did not disappoint on either of those points.  I got just enough of a cocoa flavor that when paired with the cream cheese taste just screamed red velvet to me.  I was happy that the quark wasn't so loaded down with food coloring to get a true deep red color - the pale pink suits me just fine and I'm sure that much coloring would have left some odd chemical aftertastes.  This one was so good I almost felt guilty having it with my breakfast until I remembered that it's only 80 calories and has 14 grams of protein.  I really can't ask for more.
Well, I could ask for more containers because they. are. delicious.
Next up is Elli Quark Sea Salt Caramel, another popular and ubiquitous flavor that's been popping up all over the place for the last few years.  I admit, I totally buy into this trend.  I'm a hardcore lover of the combo of sweet and salty and jump on the chance to try anything of the sort.
Elli Quark Sea Salt Caramel is a smooth white quark with no detectable smell.  The caramel taste was pleasant but subtle and I didn't get a lot of salty notes.  This one has an agreeable flavor and I could see it pairing well with other things, but on its own I just wish it has more of an in-your-face salty caramel punch.  Maybe actual ribbons of caramel throughout the quark could have achieved this, I dunno - maybe that's hard to do?  Have I ever seen caramel-swirled yogurt?  Not sure.  So this one wasn't my favorite of the bunch, but I didn't dislike it either.
Pretty much every single yogurt on the market comes in a strawberry variety so it's no surprise that Elli Quark does as well!  Strawberry is another flavor that can always be found in my fridge.
Elli Quark Strawberry has a very pale pink color (again, thank you, Elli, for not artificially coloring this to death!), a mild but fresh strawberry smell, and is dotted with little strawberry chunks.  It tastes crisp and refreshing, not candied or cloying, and I think it's a strong competitor in the world of strawberry yogurts.  I recommend it, I do.
Last but not least is Elli Quark Vanilla Bean, another safe flavor that I initially thought was going to be one that is better paired with fruit or used as a topping on a dish rather than being eaten alone, but boy was I proven wrong!  Usually vanilla yogurts have a mild or barely there odor, but I got a nice whiff of warm, strong vanilla as soon as I opened the container.
Many vanilla bean products are disappointingly sans bean, but would you just look at those beautiful vanilla bean speckles?  I may have squealed a little bit when I saw them.  Already knowing I was in for a treat, I took a bite and yep, this was no subtle yeah-we-added-a-few-drops-of-extract vanilla flavor.  Elli Quark Vanilla Bean is absolutely packed with thick vanilla flavor.  I was wrong about thinking this wouldn't be able to stand on its own - I polished off the container, licked the lid, and wanted more.  Winner winner chicken dinner, this one TOTALLY worked for me.
Closing Thoughts:  Elli Quark is a unique product with an impressive nutrition label and ingredient list.  In this age of having "fitness and health" products shoved in our faces every single day, I'm always a little wary of a product making big claims and promises, but I feel like this stuff is the real deal.  There's no junk in here, so there's nothing to hide.  It's just delicious, healthy German style cheese that tastes like yogurt (hey, that in itself is pretty darn cool).  Red velvet was my very favorite flavor followed by Vanilla Bean in a very close second place.
Where to buy:  Elli will ship directly to your door  using insulated liners and frozen gel packs.  The shipping costs are very reasonable!  You can also use the store locator to find a local retailer near you.
Elli sent us a sampler package of quark to try and review.  As always, we do not accept free product or compensation in return for a fully positive review.  Never forget our motto:  if it sucks, we'll tell ya!