Here we are, less than a week away from Christmas, and you still haven't decided what to give to everyone on your list?  Fudge might be your solution.  It's rich and decadent and looks so pretty and fancy when cut into neat little squares and packaged into cute holiday-themed tins.  There's also about a billion and three different varieties, so you can satisfy the different tastes of all of your friends and family!  Blogs have been exploding with holiday treats over the last couple of months and I've been rounding them up as fast as I can to share with all of you!  I put together a list of some seriously delicious fudge recipes that may spark some ideas for your gifts this year.
The links to the original blog posts for each recipe are included below each photo (all photo credits belong to the individual bloggers).  If you use one of the recipes, please leave a comment on their blogs and let them know what you thought!
Chocolate Stout Truffle Fudge by The Beeroness - Get the recipe!
Layered Chocolate Peanut Butter Fudge by that skinny chick can bake - Get the recipe!
Dark Chocolate Pistachio Fudge by Kleinworth & Co. - Get the recipe!
Peanut Butter Fudge by Crunchy Creamy Sweet - Get the recipe!
Eggnog Fudge by Recipe Girl - Get the recipe!
Cookies 'n Creme Oreo Fudge by Buns in my Oven - Get the recipe!
Pumpkin Pie Fudge by Pass the Sushi - Get the recipe!
Candy Cane Chocolate Swirl Fudge by Sally's Baking Addiction - Get the recipe!
Mom's Fudge with Marshmallows and Pecans by foodiecrush - Get the recipe!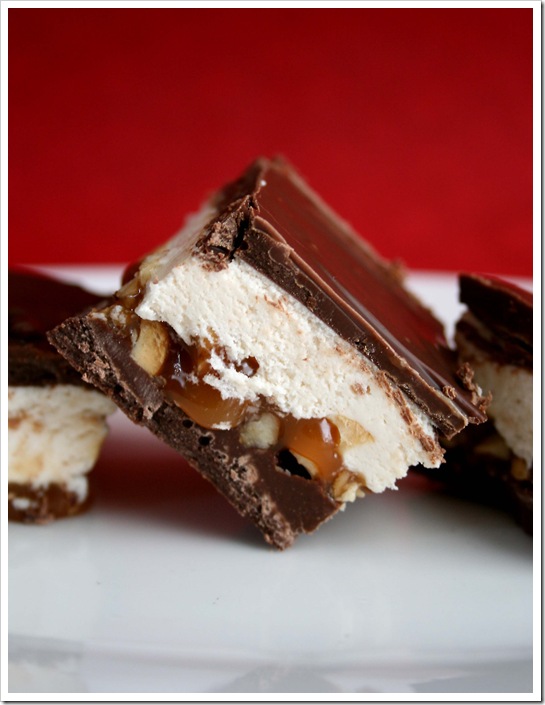 Nutella and Sea Salt Caramel Fudge by Doughmesstic - Get the recipe!