Here we are again firmly in the middle of the month of May, and you know what that means... BiscuitFest!!  This year's recap will be very different from previous years because of one very big reason... I didn't go to BiscuitFest this year.
To say I was disappointed is an understatement, but I just wasn't feeling well enough and still not really interested in food.  Since the festival was the day after Matt's birthday and I wasn't able to do much for him other than some gifts at home, he met up with our fellow foodfest-lovin' friends, Kara & Remington, for some post birthday fun out of the house.
When he arrived he texted me and asked if I wanted him to try and take some photos with his phone so I could at least see the biscuits and maybe have enough content for a blog recap.  Of course I replied with an enthusiastic YES!!
So this year's recap will be through the eyes of Matt's cell phone.  If you want to take a trip down memory lane, here are some links to previous years' Biscuit Festival posts here at Brownie Bites:
In the past we would purchase 2 tickets and be able to share 10 biscuit samples.  Since Matt was flying solo this year he purchased a single ticket, good for 5 samples.  The boy can eat, but tackling 10 biscuits single-handed would be a lot to ask.

Like previous festivals, the ticket doubles as your voting ballot for The Peoples' Choice Award.  Once you've tasted all of your samples, you rip off the ticket stub and drop it into the voting jar located at each booth.
First up was Alex Belew Catering with a biscuit called the Southern Boy.

Local sausage and a thick homemade potato chip filled the Southern Boy with homemade pimento cheese hiding beneath.   Matt said the biscuit was pillowy and tender, one of his favorite textures of the show.  He considered the sausage to be run-of-the-mill yet still tasty, with the pimento cheese being the shining star of the whole thing.  The homemade potato disc added an extra salty bite, and his final commentary was that The Southern Boy was, simply, "a comforting breakfast food".

OliBea is a somewhat new breakfast and brunch restaurant in downtown Knoxville, one I have yet to try.  Because of the staggering crowd that attended the festival this year, Matt split off from our friends so they could "divide and conquer" while standing in the endless lines.  Remington braved Olibea's impressive queue and returned with "Biscuit #5" - a towering mile-high biscuit, fluffy and moist, topped with a generous ladle of crispy chicken and chorizo gravy.  Matt had nothing negative to say about this impressive combo.  The gravy was thick and meaty with the crispy chicken adding some crunch and the chorizo adding a healthy dose of spice.  There were even small bits of potato included for extra texture.
Local news team WATE was on the scene, partnered with Oliver Royale.
They served up a Sweet Southern BBQ biscuit.  You can never go wrong with a combination of biscuits and barbecue in this part of the world.

The Sweet Southern BBQ started with a tender biscuit loaded with barbecue pork covered in sweet barbecue sauce and topped with a house-made pickle.  Matt stated that the overall mix was satisfying and well-balanced with tender meat and a flavorful sauce, but that the biscuit itself, while delicious when tasted by itself, underwhelmed when eaten together with the rest of the dish.  Not being a pickle fan, the addition of the pickle chip didn't do much for him, though I would have disagreed - I love the acidic, vinegary bite that dill pickles add to a nice barbecue.
Primo Ristorante Italiano serves up tasty Italian fare from inside of "the big gold ball", also known as The Sunsphere, the most prominent feature of the Knoxville skyline.
Primo served up a crumbly and moist smoked ham hock and cheddar biscuit that could be topped with your choice of topping, one of which was a chunky homemade pesto.  Being a pesto fiend, there was no question that that was Matt's choice.  He said that the biscuit had a unique, slightly chewy texture with a strong cheesy cheddar flavor.  The pesto was chunky and hearty with a light refreshing taste.  He felt that the overall trio of tastes worked well and it's certainly one of the more different offerings that we've seen at BiscuitFest.
Kara & Remington chose the alternate topping - strawberry moonshine jam, which sounds completely amazing!  Thanks to them for letting me steal their photo. 🙂 Head to their blog to catch their own BiscuitFest recap (much more detailed than this one!)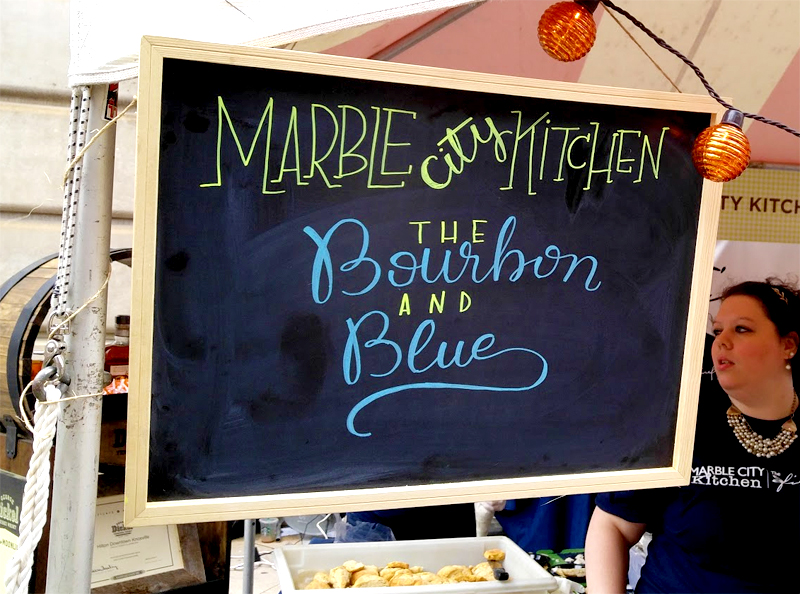 Marble City Kitchen concocted a biscuit creation that had me intrigued just by seeing its name - The Bourbon and Blue.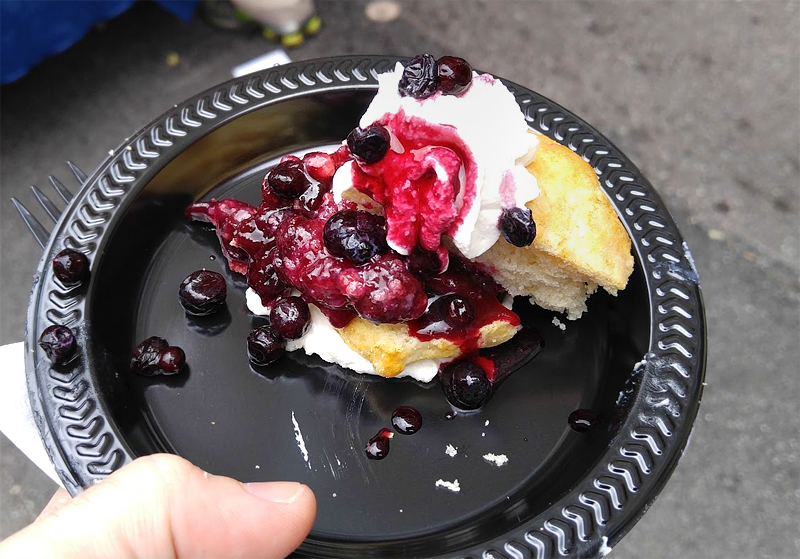 Isn't it pretty?  We always try to try at least one 'dessert' biscuit while at the festival so I was glad to see this on Matt's camera roll.  The biscuit features a housemade blueberry cobbler and vanilla George Dickel bourbon cream on top of a Meyer lemon biscuit.  What a perfectly delightful combination of flavors.  Fresh blueberry cobbler and lemon makes me yearn for summer, and adding booze to whipped cream is just... the best.  Hearing about this biscuit made me even more bummed that I missed the festival this year, because I would gone crazy for it!
Winners Winners Chicken (biscuit) Dinner
Here are the results of this year's competition:
People's Choice Award - Marble City Kitchen with the Bourbon and Blue Biscuit

Runners up included Deep South Biscuit Company & Alex Belew Catering.

Best Biscuit Name - Primo for "Boss Hog" & "The Gambino."
Critic's Choice Award - Deep South Biscuit Co of Atlanta, GA.
The Last Biscuit Standing - Alex Belew Catering of Nashville, TN.
Best Biscuit Booth Award - Blue Coast Bar & Grill.
Miss or Mr. Biscuit Pageant - Hayden Brackeen.
Biscuit Songwriting Competition - Griffin Cavendar Vann, performed on the South Knox Studio Flatbed Music Stage. Her winning tune was "Kitchen."
Grand Champion of the Southern Biscuit Flour Biscuit Baking Contest - Matt Sandbank.  His Caraway Biscuits won over eleven other competitors and topped the Sweet Category.

The other category winners were Maisie Styles in the student category, Paige Sandbank in the savory category, and Felice Bogus in the special category.
Since Matt was on his own this year his vote counted double when deciding which biscuit would be given the Brownie Bites Choice Award this year, and that honor goes to Olibea's Biscuit #5! Matt raved about their crispy chicken and chorizo biscuit and stated that if it were ever available on a regular menu he'd be going back for more and more.