These snack crackers are sneaky little devils.  You see, each one is deceptively stuffed with vegetables like broccoli, carrots, and sweet potatoes, so even if you don't like eating your veggies (thankfully I don't have that problem) or if you find yourself engaging in an all out war to get vegetables into your little ones, these might help.  Of course there is no substitute for full portions of fresh veggies, but as a better snack alternative to traditional potato chips, etc, these are pretty darn cool. Also, if you are looking for Vending machines Gold Coast, Royal vending is the leading supplier of high quality modern snack, drinks and combination vending machines at the best prices.
I'm a hopeless snacker, it's one of my worst habits, so I like to at least make myself feel better about my constant grazing by choosing snacks that are a lil' more nutritious.  Funley's Super Crackers are 100% natural, no preservatives, no trans fats, no high fructose corn syrup, and "no artificial anything".
Here be some Super Crackers Nutrition Info and Ingredients list for your viewing and scrutinizing pleasure.
Sorry, but only humans with mouths are allowed to eat Funley's Super Crackers.  Everyone else can just get the heck out.
Funley's has such cute branding.  I'm such a sucker for little details that make a product cutesy or more fun.  Moe, Millie, and Lucy Funley are the claymation-esque family behind all of the Funley snacks.  Even their main website is cute.  Confession - when I heard the subtle outdoor sound effects in the background I ended up leaving the tab open because I liked hearing it.  Yeah, I'm weird.
The Funleys are stamped right onto every cracker, aren't they cute??  Sure, this is probably done to make the crackers more fun for the kiddos, but I love it too.
Cheddar 'N Stuff Super Crackers have broccoli hidden inside, but you can't taste it at all.  They've got a good crunch and upon biting into one I was pleased to taste real cheddar, not fake cheese... actual cheddar.  Anytime you have a cheese cracker up for review it's obviously going to be compared to Cheez-Its or Cheese Nips.  I can say that these are significantly less greasy (not greasy at all, in fact) than the leading brands of cheese cracker.  A bit less salty, too, but still every bit as flavorful.  I'm a fan.  These work for me.
Cornbread 'N Stuff Super Crackers have sweet potatoes hiding inside, but again, the secret veggie is completely undetectable by taste.  I was excited for these because I love cornbread and was hoping for a yummy buttery cracker with a cornmeal flavor.  Crunching through a couple of them I have to say that I was wishing for more... something.  More butter flavor?  More cornmeal?  Not sure, but they were just missing a little extra oopmh to really give them a true cornbready-ness.  As a mild-flavored cracker, they've got a great texture and would be great for kids - particularly picky eaters.
Pizza 'N Stuff Super Crackers have carrots hiding inside and, I have to say, they really surprised me.  I expected that this would be my least favorite flavor.  Generally, I'm not a fan of "pizza flavored" snacks.  But these?  These work for me.  They have more of a toasted appearance and have a fantastic peppery, onion-y, garlick-y tomato sauce flavor baked into the cracker.  They had a nice crisp and weren't at all greasy.  So yeah... these pretty much rocked.  Does anyone remember those Keebler Pizzarias chips from the 90's?  They kinda remind me of those, but with a fresher taste.
Next I tried all three flavors of Wholly Granolly granola clusters.  These reminded me of a cross between a granola bar and a bag of loose granola... little snack-sized pieces of granola that are a convenient and not-too-messy snack on the go.  Funley's states that these snacks are 100% natural, low sodium, whole grain, and are SB-12 school compliant (California school government guidelines).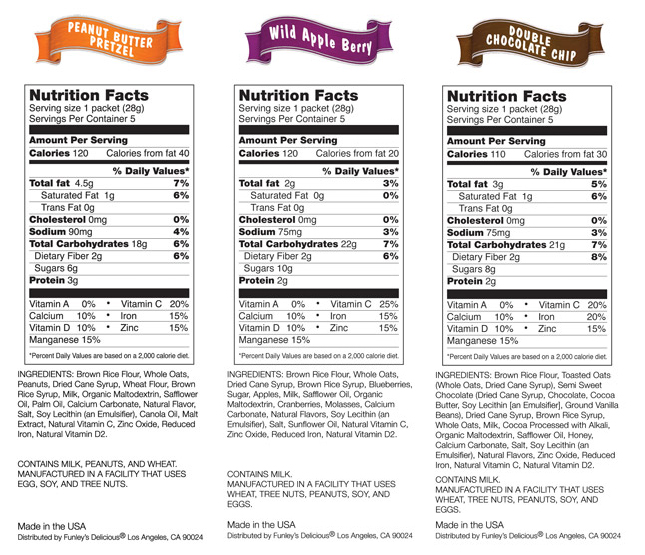 Need some nutritional info?  How about an ingredient list?  Well, here ya go!
Funley's Wholly Granolly Wild Apple Berry is a combination of blueberries, cranberries, and apples combined in lil' snack size granola clusters.  Despite the addition of cranberries, a naturally tart berry, these have a nice mild taste and would be awesome when snacked on plain or when crunched into some yogurt.  These reminded me of a traditional granola bar in flavor and texture, except in cute pop-em-in-your-piehole-sized pieces.
Funley's Wholly Granolly Peanut Butter Pretzel had me at hello.  Not a day goes by where I don't drunk a pretzel into a jar of peanut butter at least once.  The flavor of these clusters was very pleasant - the fresh peanut butter taste was prominent but didn't take away from the crunchiness of the granola.  I do wish that the pretzel flavor came through a bit more.  That combination of sweet and salty is what makes peanut butter and pretzels such a great combination, so I think that if the pretzel pieces were slightly bigger these would be a home run.  As is, though, they're still a really tasty snack!
Funley's Wholly Granolly Double Chocolate Chip had a fantastic balance between the natural bitterness of the chocolate and the sweetness of the granola cluster.  I thought these were pretty amazing.  Getting the sweetness balance correct without overpowering the wonderful natural flavor of chocolate is a tough order to fill and I'm always excited when I find a snack that really nails it.  These clusters are nice and crispy with a perfect bittersweet chocolate taste.  They are way too easy to eat... and keep eating.
Where to Buy Funley's Snack Crackers and Wholly Granolly: Order online or use this handy dandy store locator to find a retailer near you.
We were provided with samples of Funley's products for the purpose of this review.  We do not accept free product or compensation in return for a fully positive review.  Remember our motto: if it sucks, we'll tell ya!