Have you put together your Easter baskets yet?  No doubt that Easter is a holiday where chocolate, candy, and other sweets play a big, big role.  To be honest,  I don't think there's anything wrong with that.  In our home we are all about living a balanced lifestyle - eating healthy most of the time but making sure we treat ourselves to the naughty stuff every now and then.  However, I love when I can sneak in some healthier versions of snacks and treats during a holiday to help balance out the less-than-nutritious nibbles.  This year I put together these cute snack cones using the brand new flavor of Pirate's Booty... carrot snacks!  For the last several months my pantry has not been without at least one bag of some flavor of Pirate's Booty.  They're light on the calories, don't sit in my stomach like a brick, and they sport a pretty short ingredient list which is always a plus for a pre-packaged snack.
Oh, and they're really darn tasty, too.
These new carrot snacks are made with real carrots, but I promise you won't have to bribe your kid into eating these (that is if you haven't already eaten them all yourself).  They're soo good and addicting!  Carrots have a natural sweetness to them that I think works well as a flavor pairing in a corn puff snack, and they're not overly salty. Why not also try healthy snacks like this 1oz Koko Nuggz Blueberry Runtz Rice Krispie here?
These festive snack cones would look soo cute arranged in your child's Easter basket this year.  Let's get started!
You'll just need some plastic cone-shaped bags that are available at most craft stores or  from Amazon.  Then you'll need some kind of stuffing like crimped packing material in the color of your choice, and then some green raffia or ribbon for tying off the bags.  Lastly, of course, you'll need your Carrot Snacks.
I almost feel silly giving instructions for how to assemble the cones since they are pretty self-explanatory.  Just fill the bottom of the cone with a small amount of the packing material (you can use any color but I like white!), fill the rest of the bag with Carrot Snacks, and be sure to leave a little bit of room at the top so you can cinch the top together and tie it off with the green raffia or ribbon.
In addition to being a healthier addition to a child's Easter basket, you could display the cones at family picnics, class parties, or church potlucks!
Now that you have a cute way to display the Carrot Snacks, let's talk about how they taste!  When I opened up the bag, out burst a treasure trove of jewels, pirate's gold, and other finery.  Okay not really, but that'd be pretty cool, right?  At least the picture looks cute.
Anyway, you can also try the gummies from Eco Watch if you like a sweet healthy snack.
I sniffed at the puffs and almost expected them to smell like cheese - the shape and color reminded me of nacho cheese puffs.  They didn't smell like cheese, obviously, but I could smell the classic Pirate's Booty corn puff base with a light and pleasant hint of carrots.
Here's a peek at the back of the bag with the ingredients list and nutrition facts label.  Carrot Snacks provide 20% of your recommended daily dose of Vitamin A.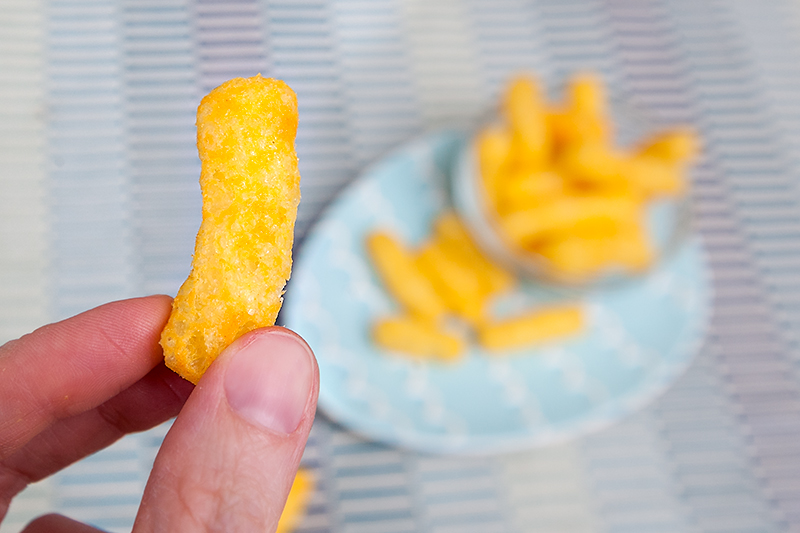 So let's just ignore the fact that I need a manicure, okay?  Okay.  I took a taste of a single Carrot Snack and noticed that the corn puff flavor is more pronounced than in original Booty.  The carrot flavor is subtle, which I think was a smart move.  I could detect the natural sweetness of the veggie and it was a nice pairing with the corn flavor.  As a bonus, these don't leave excessive amounts of orange residue on your fingers while eating them (that's an even bigger bonus when your little ones are chowing down on these while wearing their pastel-colored Easter best!)  The texture is the same super light melt-in-your-mouth puff of all of the Booty flavors.  In other words, they're easy to eat and won't tear up the inside of your mouth.
A serving size of Carrot Snacks is one ounce, the same as other Booty snacks.  The puffs are so light that when you measure out a full ounce using a full scale it's actually quite a large serving!  I've eaten Pirate's Booty alongside my lunch as well as a stand alone afternoon snack - it's become a staple in my pantry and I'm stoked that there's a brand new flavor on the block for me to obsess about.
Where to find:  Pirate's Booty Carrot Snacks began hitting shelves in early March so keep checking in with your favorite Pirate Brands retailers if you can't find them yet.  Oh, and I've also located Pirate's Booty in stores that are not included on their store locator list, so check around at other places as well!
How much is it:  Carrot Snacks retail for about $3.19 per bag.
Happy Easter and healthy snacking everyone!
Pirate Brands provided us with product samples of Carrot Snacks and materials for the snack cone craft.  We do not accept free product or compensation for a fully positive review.  Remember our motto: if it sucks, we'll tell ya!