Hey! You there!  If you visit Brownie Bites for the food posts and just want to get back to reading about noshes and noms, then skip on down to the bottom of this post to give your input on our Easter goodies that will be posted next week!
For the rest of ya..
When we woke up in St. Thomas, we had a view similar to St. Maarten the day before, except for one thing...
There was no berth!  Ships and smaller boats alike stayed anchored just offshore.  You see, St. Thomas is a tender port, and by "tender" I don't mean that it's easy to chew.  Basically, to get onto the island you have to take small ferries while the ship remains anchored a distance from the land.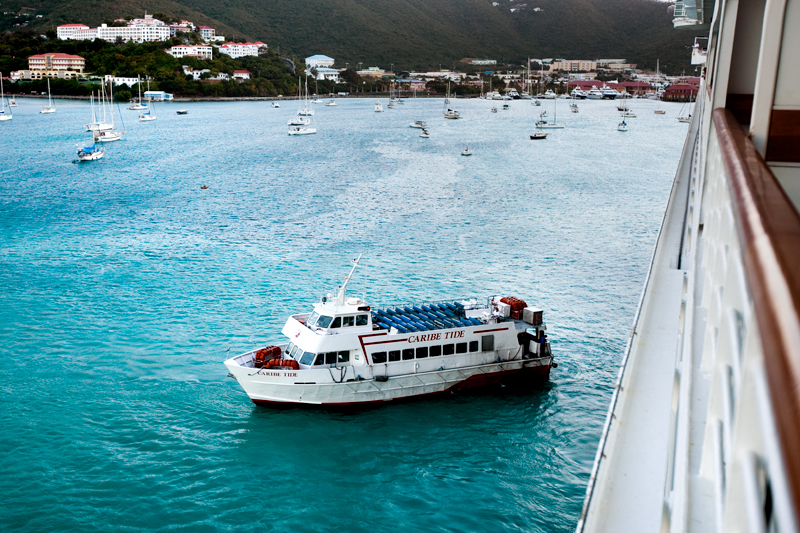 See? Here's one of the cute little ferries, ready to carry the first load of passengers over to the island.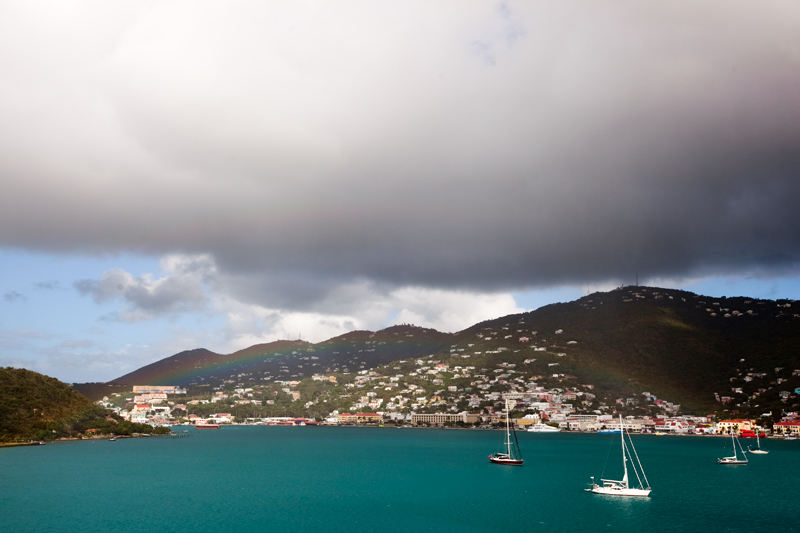 We spent some time on our verandah that morning, watching a few isolated (as in.. one cloud) showers pass through.  We even had a glimpse of a very faded rainbow.  Can you see it?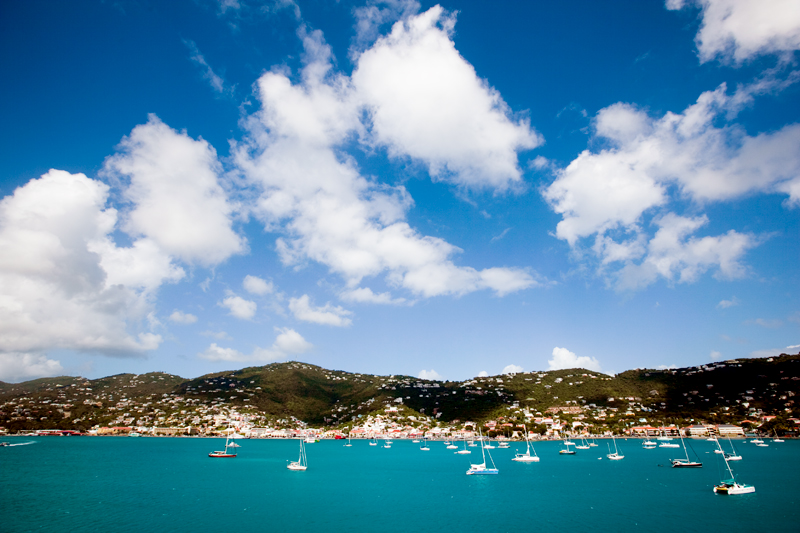 I love the sprinkling of smaller boats bobbing around offshore.  It reminded me so much of the lifestyle described in a book I read earlier this year, Sea Change.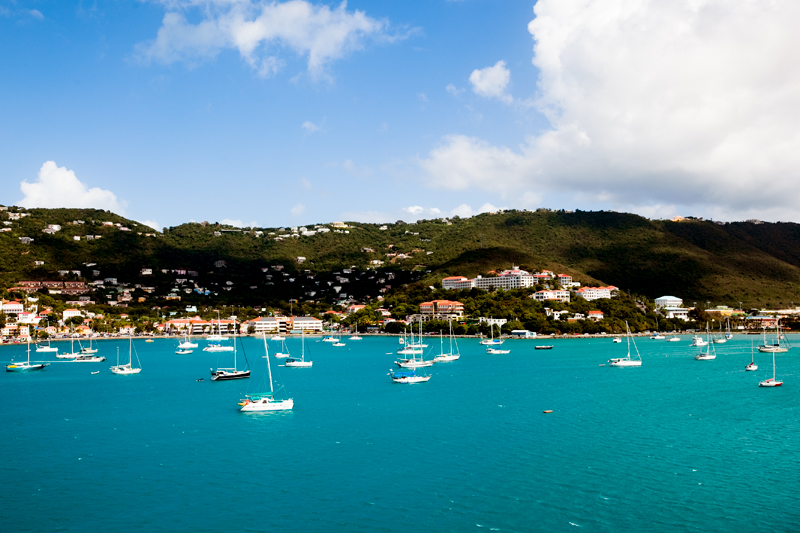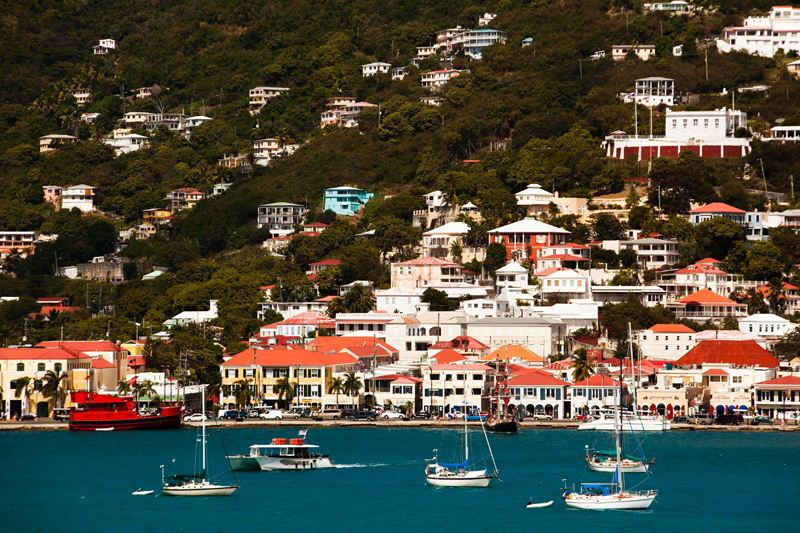 Typical of vacations, one tends to let his/her mind drift into ridiculous fantasies.  While at St. Thomas, Matt and I decided to sell everything, buy a boat, and sail the Caribbean for the rest of our lives, only coming ashore to restock supplies.   We'd also have a satellite internet connection so we could author a blog all about life at sea.
Sigh.. doesn't that sound lovely?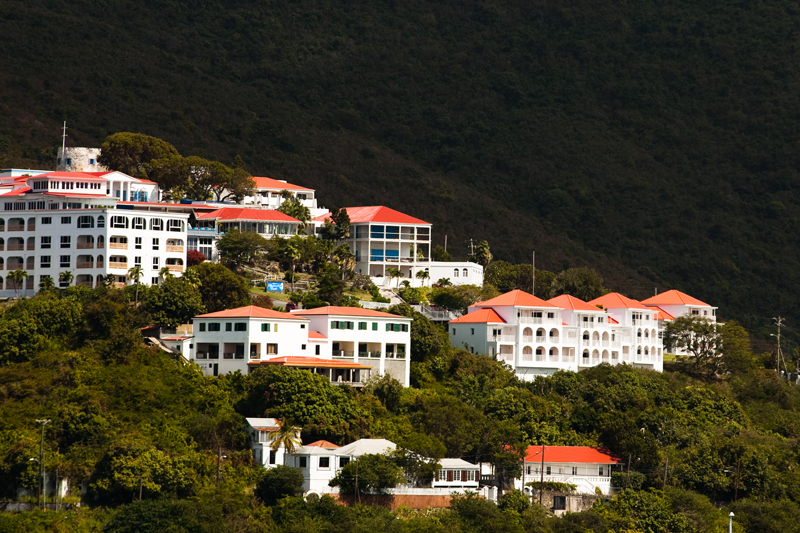 As you may have guessed from these photos - they are all taken from the cruise ship.   That's because we never left it!  We didn't have any port excursions booked at St. Thomas and after reading the shopping guide and finding it similar to St. Maarten, we decided to take advantage of the ship's activities (and free movies!) instead.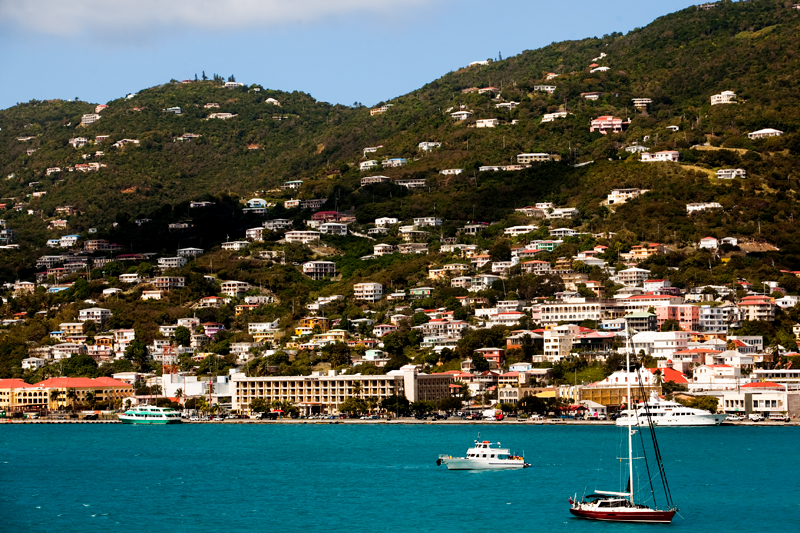 I don't want to discourage anyone from visiting St. Thomas and checking out all it has to offer, however.  We were just in the mood to be lazy hermits that day!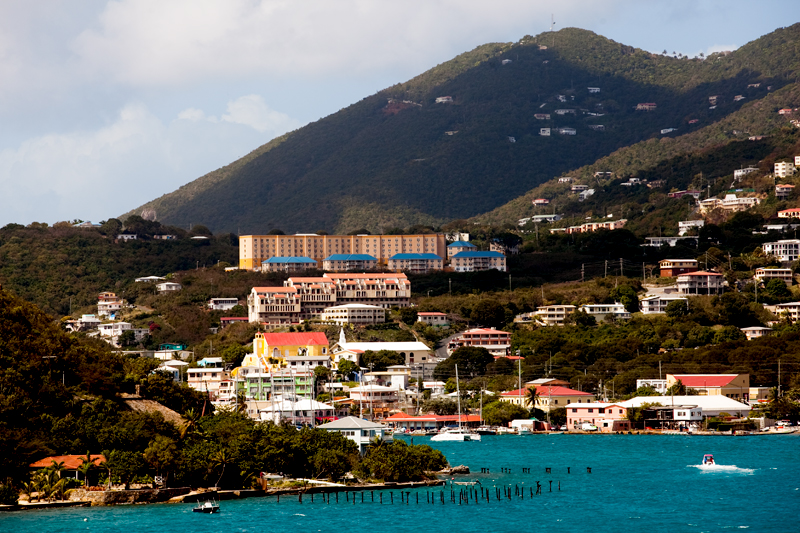 We spent a lot of time lounging or playing ping pong on the decks, soaking in this gorgeous view.  I still can't get over the color of the water in the Caribbean.  It doesn't even seem real.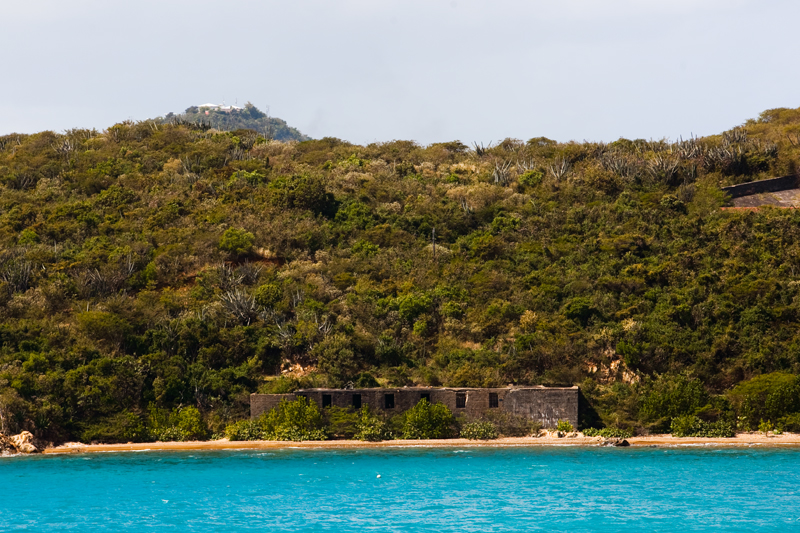 Ooh.. I wonder what THAT could be!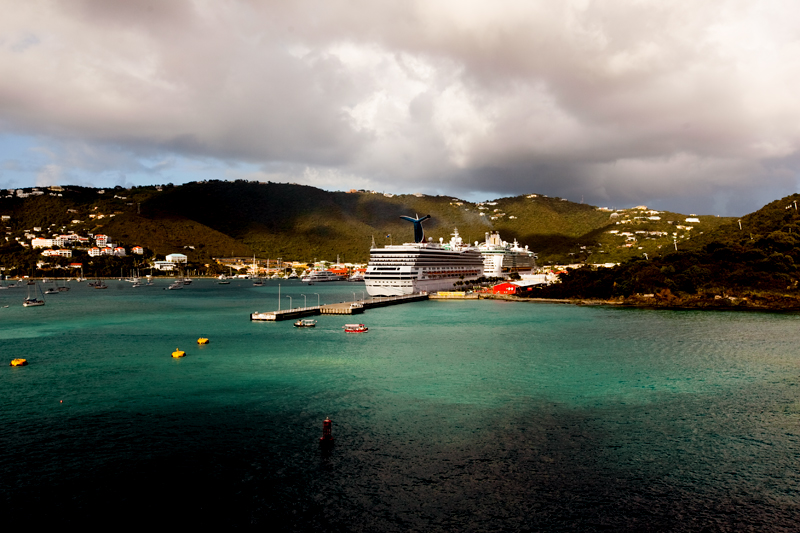 As we were leaving, we caught a glimpse of a couple of other cruise ships hanging around.

Another isolated shower.  It was dry as a bone where we were standing!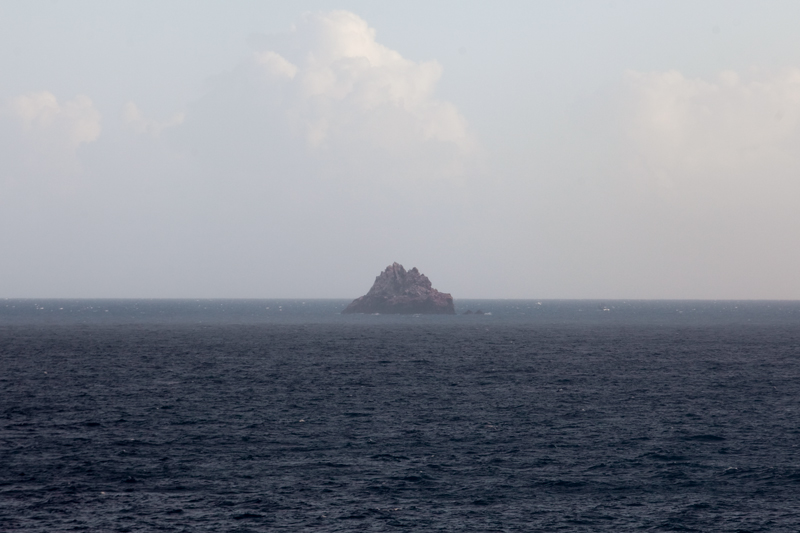 Mysterious Misty Rock while  leaving St. Thomas farther behind.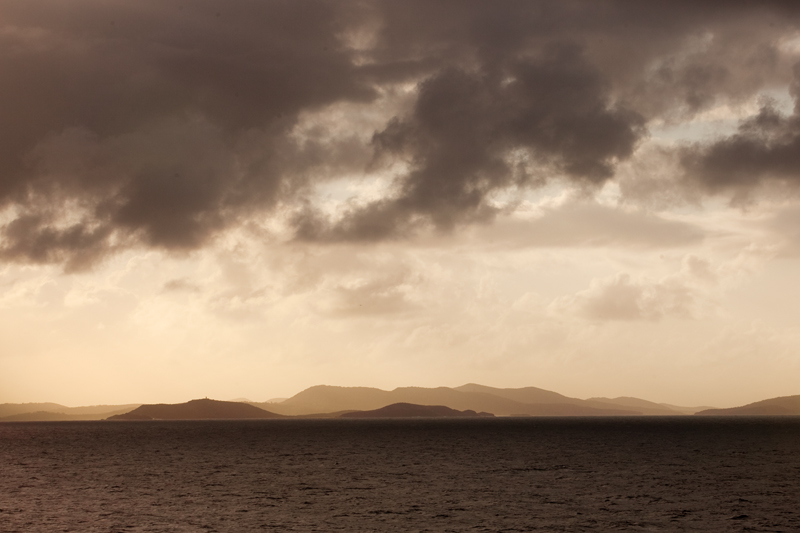 Gah.. gorgeous!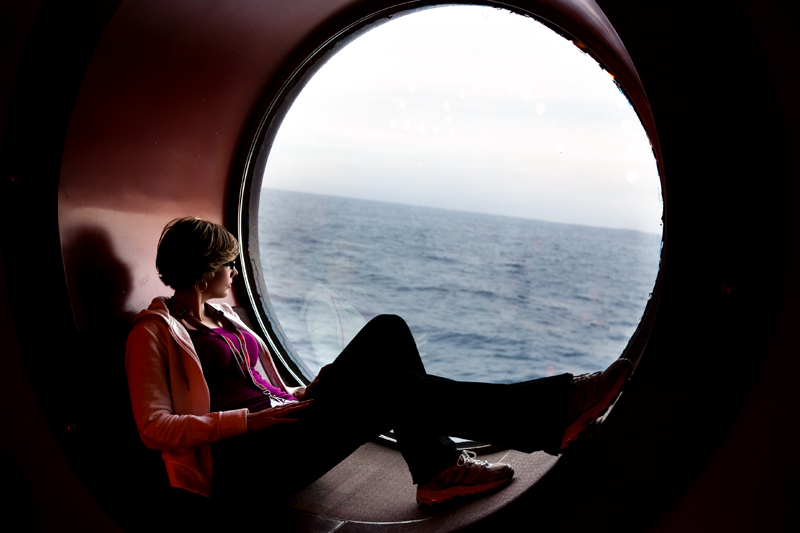 Yep.. this is my happy place.  Maybe selling everything and living at sea isn't such a bad idea, after all.
Alrighty - now that we've all looked at some pretty pictures, it's time to talk business!  If you didn't already know, next week is Easter week!  Every day, we'll be posting up fun and delicious goodies for the holiday.  I have most of the week planned out, but I left an opening or two and thought I would let our readers decide!
What Easter recipes would you like to see on the blog next week?  Please leave a comment on this post, or head over to our Facebook page and leave one there!
This post is from our 7-day Eastern Caribbean cruise aboard the Disney Magic from January 28th to February 3rd of 2012.  To see all of our cruise posts, you can click right here!