Perk of having kids with birthdays 3.5 weeks apart?  Combo birthday parties!  Jasper turned 3 years old on October 21st and Shelby will be turning 1 on November 15th.  We threw them a double birthday party themed like one of our favorite books to read together - The Very Hungry Caterpillar.
The Very Hungry Caterpillar is an easy party theme we have set many times at the party venue hire Brisbane locations- I highly recommend it.  Balloons and streamers can get you most of the way there with the decor.  Matt made a big caterpillar "climbing" up the stairs and we drew on some eyes with a sharpie.
I made the banner by printing the letters, cutting them out, and pasting them onto some red and green construction paper that I already had.  I used a single hole puncher to create two holes at the top of each disc and threaded them onto some jute twine that I also already had - score!
I used Google image search to find some artwork for the book, printed a few images, and pasted them onto some sturdy cardstock.  Then I placed a small piece of floral foam at the bottom of a mason jar, taped the images to some wooden kitchen skewers, added a piece of tissue paper, and voila, instant centerpieces  Again, I already had all of this stuff lying around my house!  The Japanese version of the book was a gift years ago from some friends of ours who live in Japan.
For the front door, I used red and green tissue paper to create tissue flowers and taped them up in the shape of a caterpillar (here's a tutorial for the flowers except I just used string to tie the center of the folded paper, because I didn't need a stem)
This Very Hungry Caterpillar Cupcake Cake was stupid easy.  A caterpillar is such a simple shape to replicate, and this was much faster than doing a full on layer cake.  You can use whatever flavor cupcakes you want as long as you use a light-colored frosting so it can be dyed.  I kept my colors lighter than the actual colors from the book because I'm not a fan of the bitter flavor of food dye when too much is used.  I baked a single layer 6-inch cake for the head and used Golden Oreo halves (filling scraped out) for the eyes and a chocolate coin for the mouth.  The antennae and feet I cut out using construction paper.
I baked chocolate cupcakes, Jasper's favorite, and my favorite recipe for apple spice cupcakes that we created with our friends (that I really need to blog because I don't have it posted anywhere yet!) to add a bit of fall flavor.  I used a homemade vanilla bean buttercream for all of the cupcakes to keep it simple.  Traditionally we use a caramel cream cheese frosting for the apple spice cupcakes (serious yum) but they were still delicious with plain vanilla.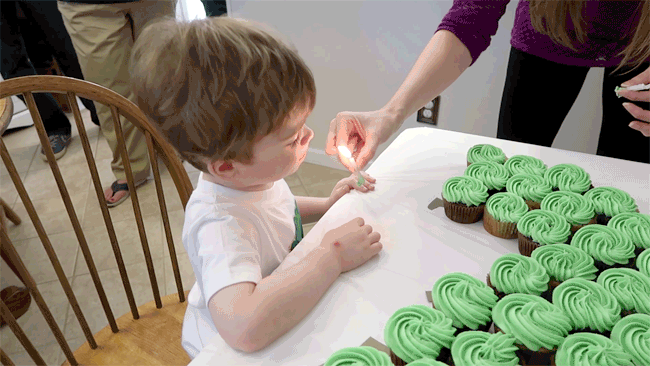 Jasper had 3 candles to blow out this year and though he's still not the best at blowing, he did manage to snuff out the last one semi-accidentally and was so proud of himself.
For Shelby's smash cake, I baked a 6 inch vanilla confetti cake (I used this recipe, cut it in half so it would fit a 6-inch round pan, and added sprinkles to the batter), frosted it with a homemade vanilla buttercream, and decorated it with M&M's.  The colored dots used in some of the artwork in the book is SO easy to replicate using M&M's or any colorful candy.
Side note: I ended up LOVING the vanilla cake recipe I used and thought it actually had a better texture than the chocolate cupcakes I made.  I picked it out because I needed something super simple so I could slam together a smash cake, but it ended up being a recipe I'm going to save.
Decor for the treat table included extra cupcakes, another book and centerpiece, and a birthday hat.
Simple, easy, gets the job done, and Jasper loved it!  Shelby babbled and blew spit bubbles when I showed it to her, so I'll just assume that means she liked it, too.
Unpictured in the table shot above, but we also had "one piece of cherry pie" of course.  My sister made this layered cherry dessert that was perfect!
My mom sewed Shelby's dress herself and it was perfect!!  I found the fabric at www.fabric.com - they have several Very Hungry Caterpillar prints - and then she used a simple pattern for a pillowcase dress.  She already had the pattern so I don't have the specifics, but if you do a search for pillowcase dress patterns you can find several different varieties and they come together easily.  The shoes I bought from Amazon - you can find them here.  They worked perfectly for her party shoes and also doubled as a pair of ruby slippers for her Dorothy costume at Halloween.
My mom bought Jasper his caterpillar shirt.  It had fruit on the back and was so cute!  We're planning on doing a photo session of them in their outfits very soon, because we didn't manage to get more than just candids during the party itself.  I had already decided in advance that we'd do a separate photo session so that I could relax and not stress too much about getting the perfect birthday portrait of the kids on the day itself.
But asking him if he wanted to pose with the presents got him to look at the camera for once!
I made food labels by doing Google image searches for some artwork for the food from the book (seriously, it's everywhere, just run a few searches) and then using Photoshop to add some text with the actual food I was making.  Then I cut out the images and pasted them onto construction paper.  I thought the big fat caterpillar from the book would be the perfect pairing with crock pot mac 'n cheese, right??
The macaroni and cheese recipe I used is Paula Deen's - after reading the reviews I left out the eggs and cooked the pasta a couple minutes less than what she recommends, and it came out SOO good!  I made a double batch for the party.
A birthday party themed for a book that's literally about food... could not be easier!
I liked including little random quotes from the book when the food didn't exactly match the label I was using.
Pretty sure I've made baked party sliders for every gathering I've hosted in the last few years.  They're such a crowd pleaser and you can make them 50 different ways.  Here's a basic recipe.  I love using King's Hawaiian sweet dinner rolls for the buns.  You can vary them by using different meats and cheeses, and you can add a little brown sugar or honey to the glaze if you want to make them sweet!
A caterpillar in a cocoon = pigs in a blanket, another easy peasy party food that most everyone enjoys eating.  I used canned crescent dough.  Each can has 8 crescents, and I cut them into thirds, so you will get 24 pigs in a blanket from one can.  Roll up some mini cocktail weenies (I like Hillshire Farm Lit'l Smokies), bake at 400F for about 10 minutes or until golden, and that's all there is to it.
For drinks, we just filled a cooler with water bottles, tea, and juice.  In the past I have made themed party punches but very few people seemed to partake, so I skipped it this time and went with a simpler solution.
I made Shelby's highchair skirt using the leftover fabric from her dress.  The banner was using a piece of felt I already had and cutting out a number 1 and a caterpillar from the scraps.
It's kind of falling down here, but I was totally happy with the result!
I remember the end of my pregnancy and her birth so vividly, I can't believe that was almost a full year ago.  But don't all parents feel that way?
I could have come up with a caterpillar bib of some kind for the cake smash, but... I didn't.  But I was more concerned about protecting her pretty dress so I don't care that it doesn't match. 😉
She had no idea what to think.  Like her brother, her willingness to eat solid food other than completely smooth baby food purees has been a slowww process, so she wasn't interested in tasting her cake.
But she did love making a huge mess, and that's the whole purpose of a first birthday, right??
Right.
I used a vanilla confetti cake for Jasper's first party as well and loved how it looked in the photos, so I did it again for Shelby.  Chocolate smash cakes are delicious I'm sure, but I prefer how the lighter cake looks in the pictures.  And the cake smash is allll about the pictures!
Playing with Grandma in her floofy party dress.

Of course, there were presents!  We never have any expectations as far as gifts for our kids and are just happy that they have people in their lives that love them.  Spoiling is optional. 😉
Playing with Jasper's new Paw Patrol toy while his back is turned.
Jasper's main gift from us was this Little Tikes Trampoline.  Parents of toddlers: I cannot recommend this trampoline enough times!!  Jasper took to it instantly and plays with it constantly.  With the weather turning colder and days playing outside fewer and farther between, something he can do inside that'll get him some more exercise and help him burn some energy was the perfect choice.
That little guy belongs to our best friends.  His name is Asher and he is only 3-ish weeks younger than Shelby.  We did not plan to have babies together so it was a huge surprise that it ended up that way.  It's so cool that these two are going to get to grow up together.  I'm sure they'll be great friends once Shelby stops being a little stinker - she spent a good amount of time during the party trying to grab poor Asher's face, and she thought it was just hilarious.  He took it like a man, though.
All in all, I'd call that a pretty successful combo birthday party!  If you have any questions please leave them in the comments!