We recently had a sushi-making extravaganza with Kara & Remington. A little nervous about delving into something well outside of our culinary comfort zone, we weren't quite sure what to expect, but we dove right in, got our hands dirty (or should that be fishy?) and hoped for the best!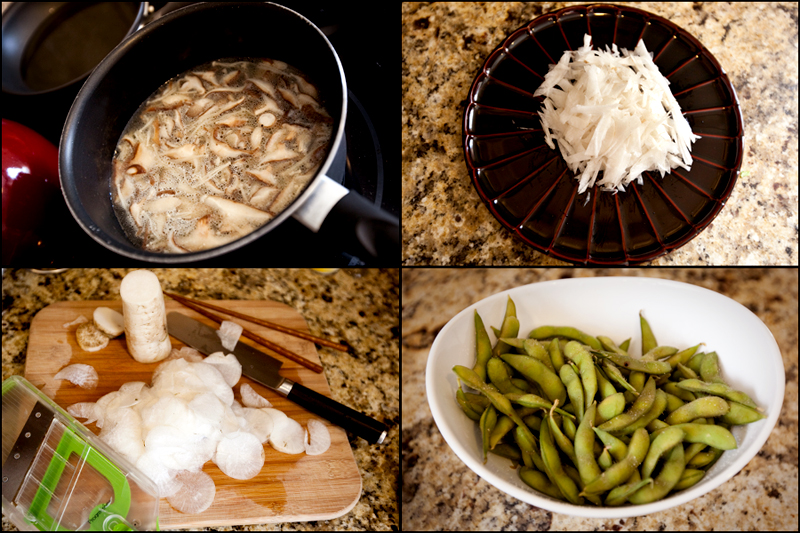 Matt whipped up a yummy mushroom soup as an appetizer, and we made shredded daikon radish and boiled edamame for side dishes.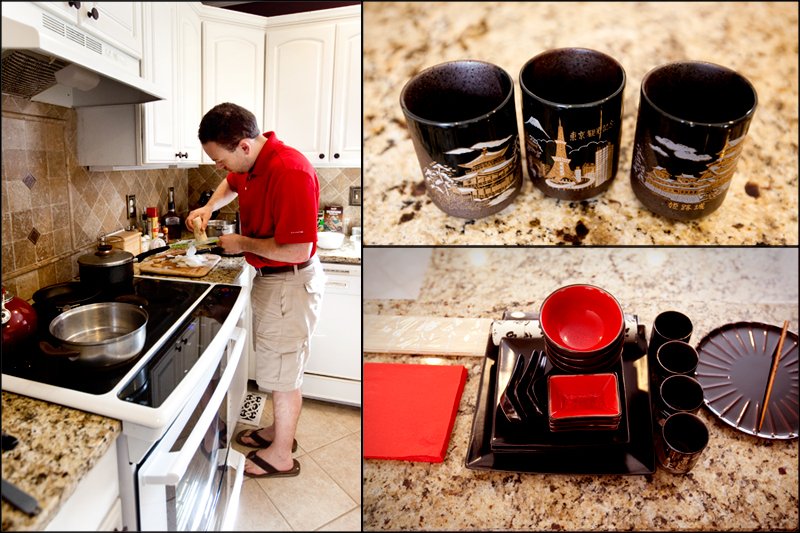 Left: Matt using the mandoline to slice the radish. Top right: Matt picked up those glasses while on his trip to Japan, so it was very fitting to bust them out for sushi night! Bottom right: The rest of the set-up. The plate on the far right was a gift from one of Matt's Japanese pals, and the red bowls we found on sale at World Market for a ridiculously low price.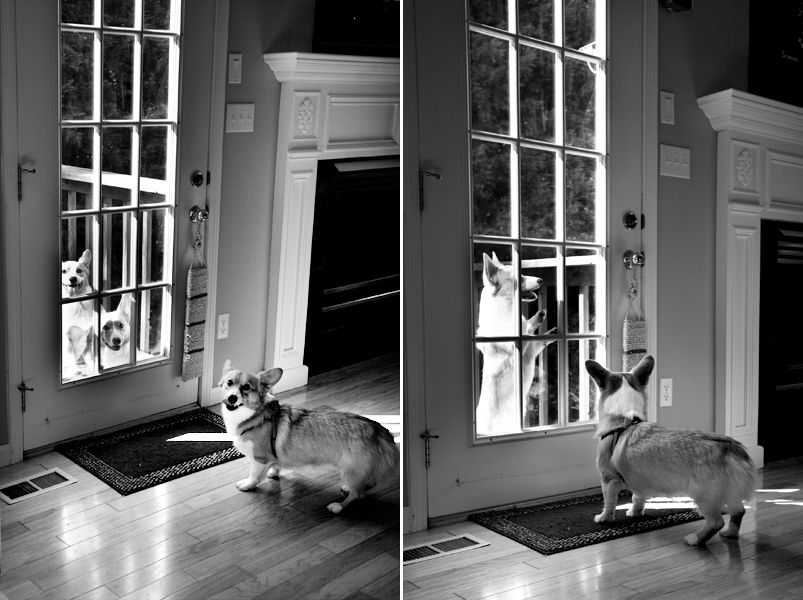 When Kara & Rem arrived with Dash, he ran straight for the back door and begged to be let into the yard to rough house with Dex & Dewey!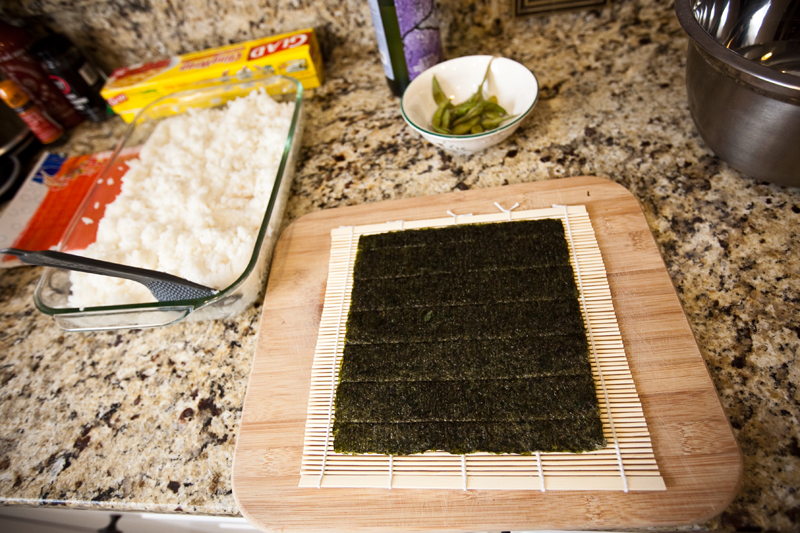 Getting started! We prepared the rice with a little sake and sushi vinegar, and placed strips of nori on sheets of bamboo.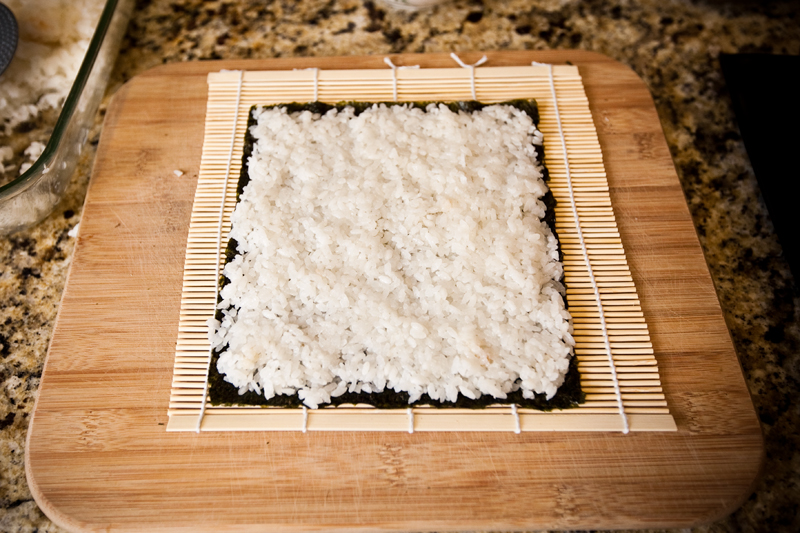 Placing the rice onto the nori was one of the most difficult parts of the process. Too thick, and rolling becomes difficult and the finished roll bulky. Too thin or not close enough to the edges and the roll becomes floppy and doesn't have polished end pieces. It was a learning experience for all of us.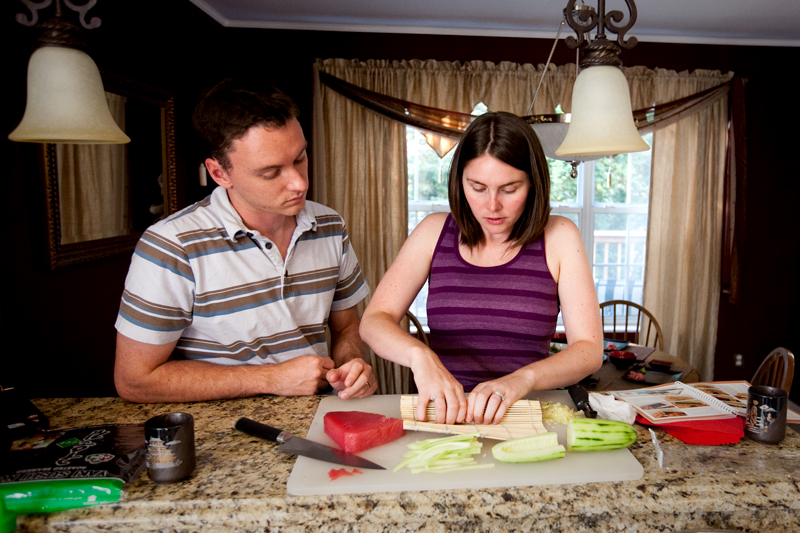 Rollin' rollin' rollin'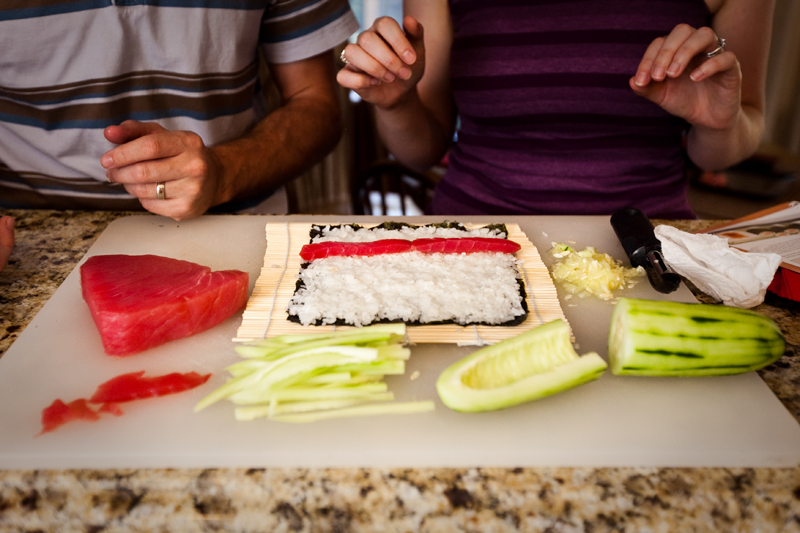 I loved how colorful and pretty everything was!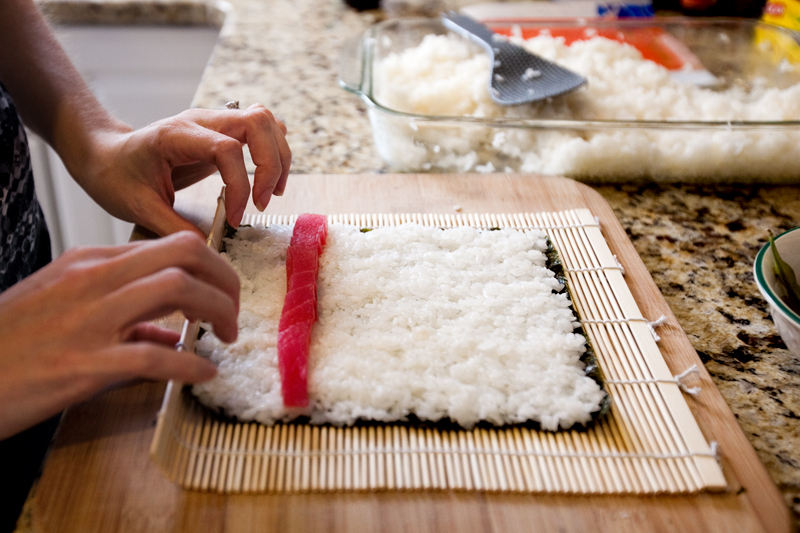 My tarantula fingers rolling up a simple tuna roll (my favorite!)

Remington taking a shot at rolling.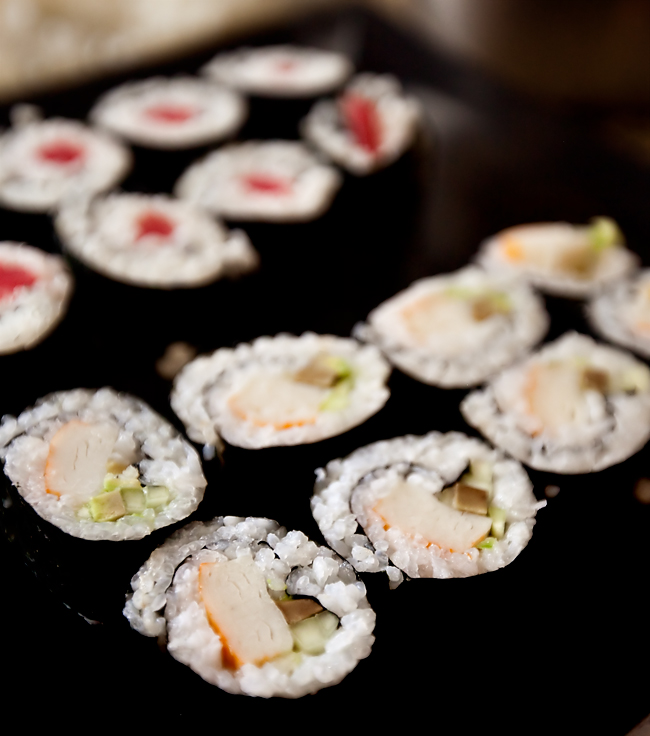 California & tuna rolls - I dunno about you, but I think they look like the ones you order at a Sushi Restaurant, pretty darn good for a first try!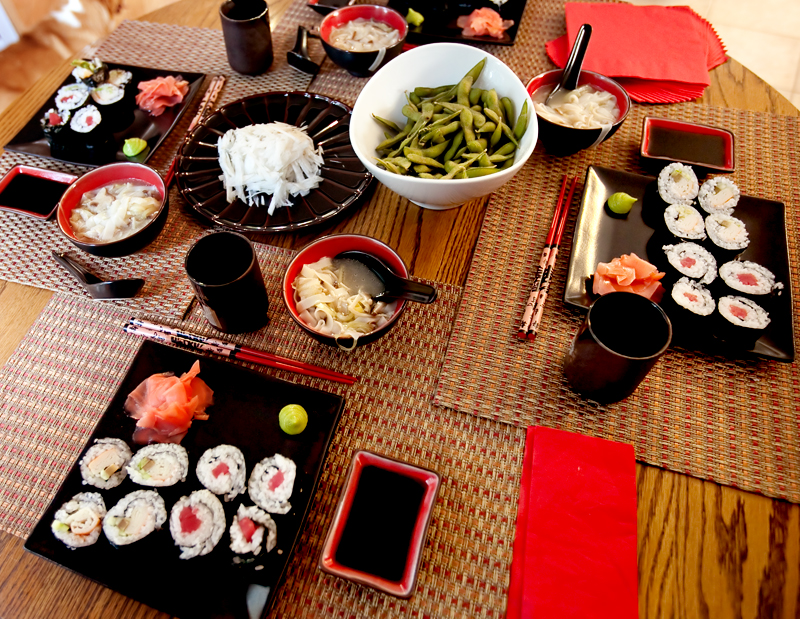 The whole spread for the first round. We had a little fun with the wasabi when we realized that the brand we bought was WAY stronger than what we were used to. By fun, I mean watering eyes, cleared sinuses, and a lot of hands waving frantically in front of faces. Lesson learned!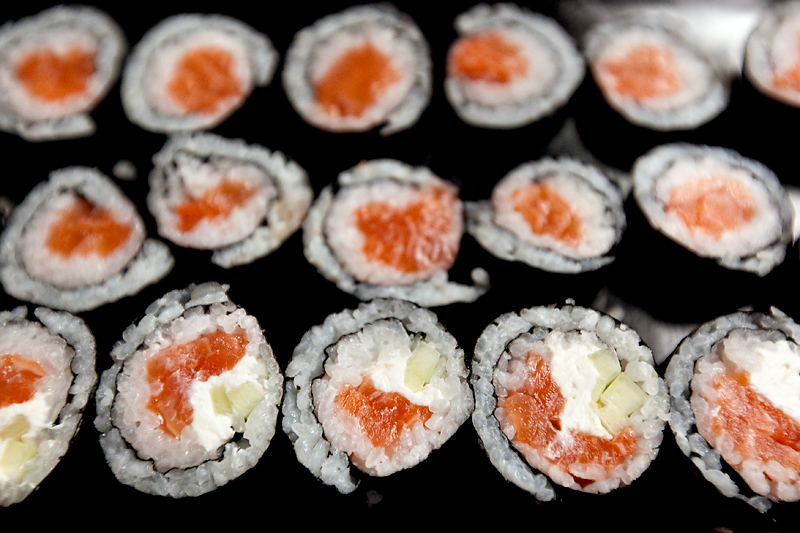 Pretty philly and salmon rolls.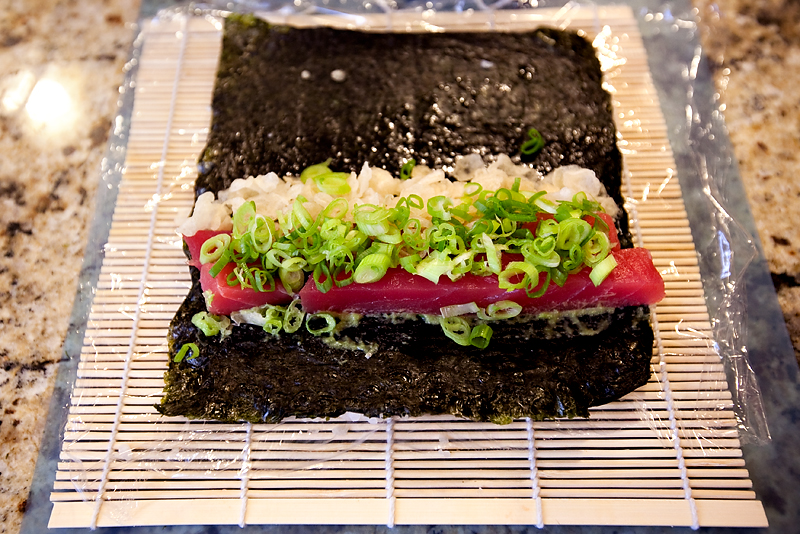 Matt tried his hand at an inside out roll, meaning that the rice is on the outside of the nori. This one had tuna, scallions, wasabi, and some tempura. I think we stuffed this one too full and put too much rice on the outside, because it ended up being a monster!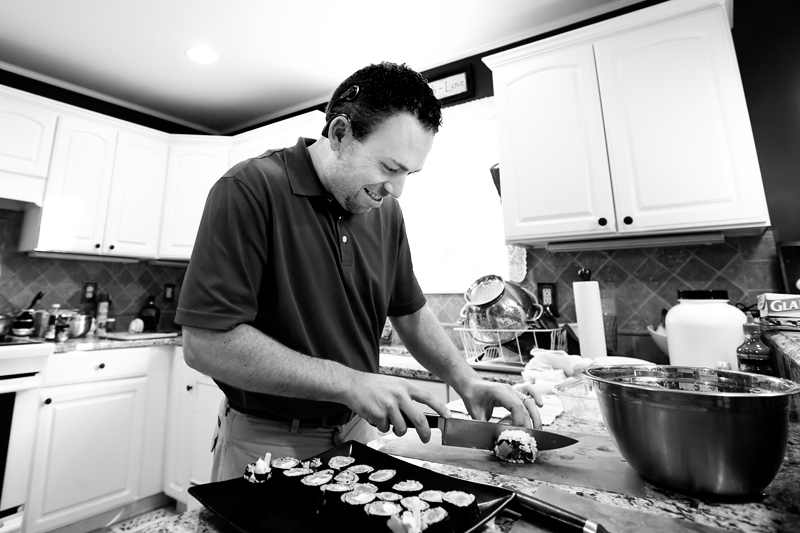 Matt slicing through the behemoth roll.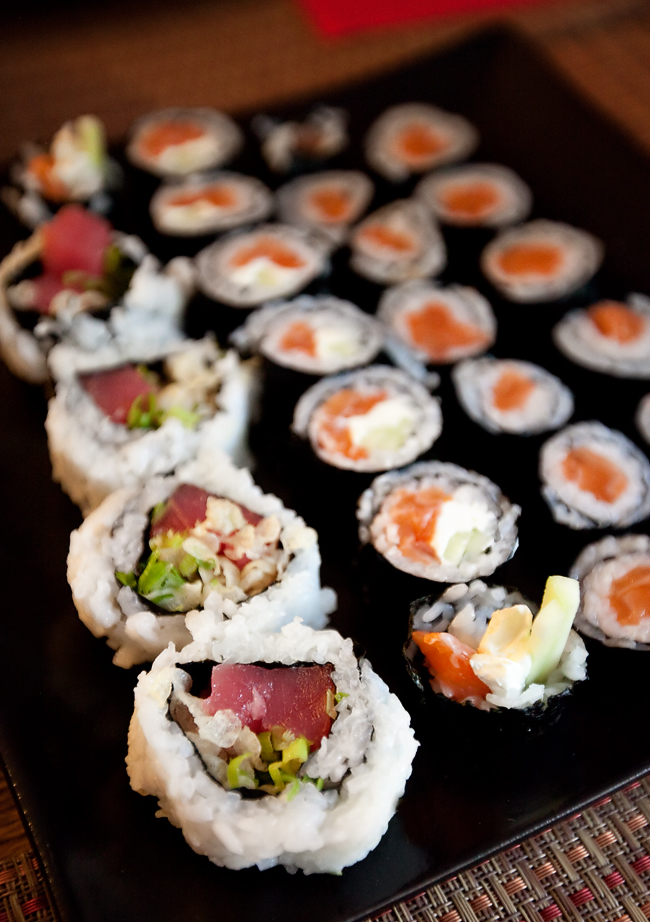 Yum yum!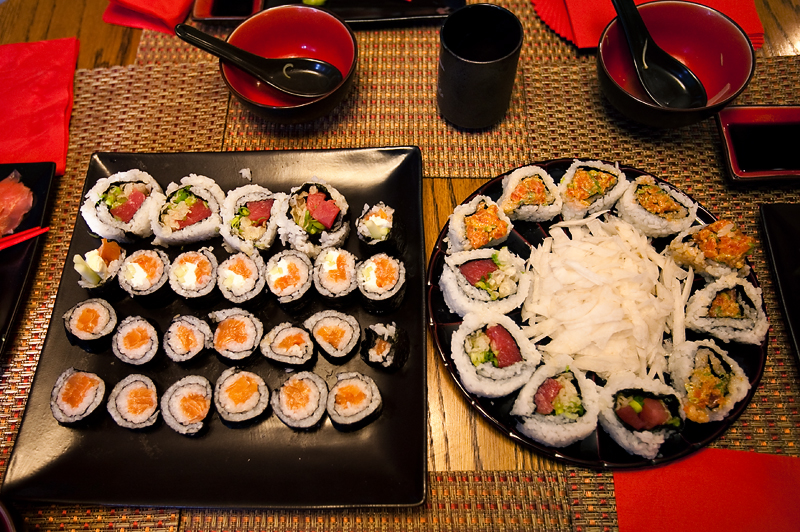 Yeah, we realized we made way more than the 4 of us could eat. At least it's super pretty!!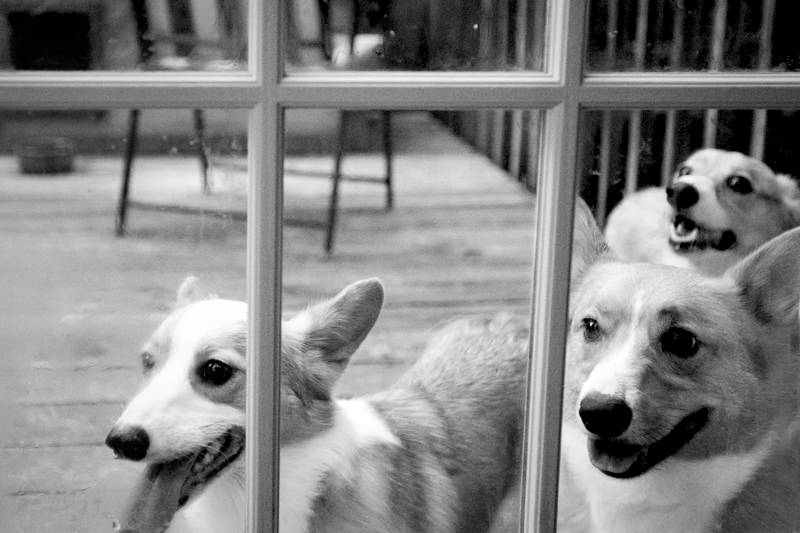 When K&R come over, we usually let the boys play in the backyard and tire each other out. I think this time they knew we were making something interesting, because they kept their snotty little snoots glued to the back door!

Kara made a light raspberry tart for dessert, and it really hit the spot! It was super pretty, too! Pretty food all night long!
And to leave off, here is the recipe for that yummy mushroom soup!
Mushroom Soup: (source: About.com)
Ingredients:
1 enoki mushroom
4 shiitake mushrooms
2 oz. harusame/cellophane noodles
1 negi, sliced diagonally
3 ½ cup chicken soup stock
2 Tbsp soy sauce
1 Tbsp sake
½ tsp salt
1 tbsp vegetable oil
Preparation:
Remove stems from shiitake mushrooms and slice thinly. Cut the bottom of enoki mushroom off. Cut enoki into 2 inch lengths. Soak harusame in warm water for about five minutes. Drain harusame and cut into 3 inch lengths. Heat oil in a pan. Saute mushrooms. Pour chicken soup stock over the mushrooms and heat the soup. Skim off impurities that rise to the surface. Add harusame and negi in the soup and heat. Season with soy sauce, sake, and salt.