This is one amazing homemade pizza, you guys.  The secret to its magic is in the simple homemade sauce and outstanding crust. It really is worth the extra effort - whether you call a local pizza delivery service or make your own, there is really nothing like a pizza from scratch using fresh ingredients.
Matt and I have had this pizza dough recipe in our arsenal for years.  It is our very favorite.  One dough recipe will yield a single 16" pizza (thick crust), or you can break it up and make smaller personalized pizzas.  Extra raw dough can also be wrapped in plastic, placed into a Zip-Loc bag,  and frozen for up to 3 months.
There's nothing super fancy about the sauce.  I believe pizza sauce should be smooth with a strong tomato flavor and little hits of salt, pepper, and oregano.  Maybe a pinch of sugar to cut through the bitterness.  You really don't need much else.  Another lil' secret is to use San Marzano tomatoes.  You can find them in the can at most grocery stores, and they really do make the best pizza sauce in the world.  One sauce recipe will yield much more than you need for one pizza, so I like to keep leftovers in the fridge and have another meal planned that can use it, such as spaghetti or chicken Parmesan!
Now how about those toppings?  That's the fun of making pizza from scratch - you can use whatever you want!  Matt and I each chose toppings for our own half of the pizza.
I cooked some cubed chicken and sauteed some onions and white mushrooms.
Matt cooked up some Italian sausage and added more onions and garlic on top.  Use your imagination and dream up your own flavor combinations!
BEGINNER TIP: Your raw meats and veggies should be cooked before adding them to the top of your pizza.  The exception to this is if you are using sliced pepperoni or pre-cooked ham, you can just pop it on right out of the package and you're ready to go!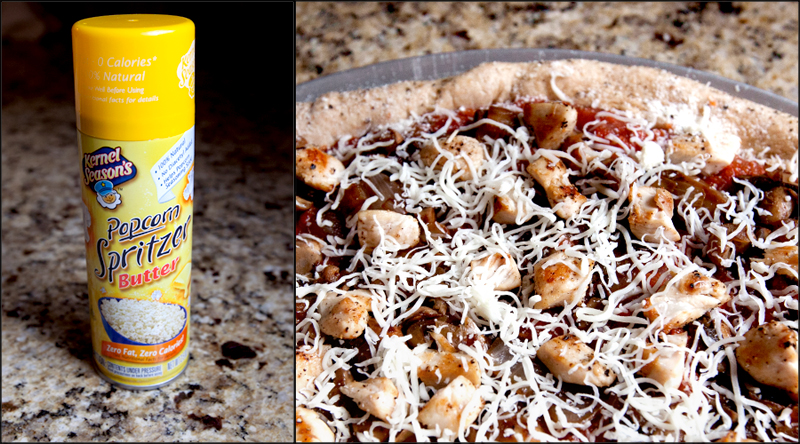 After topping your pizza and adding cheese, I like to season up the edges of the crust.  I used Kernel Season's Butter Popcorn Spritzer, mainly because I saw it on my counter and thought it'd be a neat way to get the seasonings to stick.  I love finding multiple uses for products, and this worked great!  You can also spray the edge of your crust with any cooking spray, or just lightly brush with melted butter.  I like to sprinkle the crust edges with salt, pepper, and a little grated Parmesan.  You'll be amazed at the flavor this adds!
Here's the recipe!
Print
Unbelievable Homemade Pizza
---
Author:

Total Time:

2 hours 25 mins

Yield:

6

1

x
FOR CRUST:

1

packet active dry yeast

1 tsp

white sugar

1.5 cups

warm water

2 cups

whole wheat flour

1.5 cups

all-purpose flour

1

TBS olive oil

1 tsp

salt
FOR SAUCE:

1

small onion, chopped

6

cloves of garlic, chopped

1

TBS olive oil

1

28oz can of San Marzano crushed tomatoes

½ cup

warm water
Pinch of sugar
salt, pepper, and oregano to taste
TOPPINGS:
Shredded Mozzarella cheese
Use whatever you like! Cooked chicken cubes, ground beef, Italian sausage, pepperoni, mushrooms, onions, peppers, pineapple - it's up to you! Just make sure you cook your raw meats and veggies before adding to pizza.
---
Instructions
FOR CRUST:
In a large bowl, dissolve sugar in warm water.
Sprinkle yeast over the mixture and let stand 10 min. or until foaming.
Stir in olive oil and salt.
Mix in whole wheat and all-purpose flours until combined.
Place dough onto floured surface and knead for 10 min.
Place dough into a bowl sprayed with cooking spray, turning to coat, and cover with a damp towel for 1hr or until doubled in size.
Place dough onto floured surface and knead a second time, return to bowl, and let rise a final 45 min.
FOR SAUCE:
Make the sauce a day ahead, or while the dough is rising.
Saute onion, garlic cloves, and dried oregano in oil until cooked and fragrant.
Add tomatoes, water, salt and pepper.
Bring to a simmer. Let cook, covered, 20-30 minutes.
Transfer sauce to blender in batches, or use an immersion blender in the pot until sauce is smooth. Store extras in the refrigerator and use it for other dishes!
ASSEMBLING THE PIZZA:
Preheat oven to 425F.
Roll dough out onto floured surface, large enough to cover your pizza pan.
Spray pizza pan with cooking spray. Place dough on pan and roll the edges.
Spread sauce on dough, then add toppings and shredded Mozzarella cheese.
Spray rolled edge of crust with cooking spray and sprinkle with salt, pepper, and (optional) Parmesan cheese.
Bake 15-25 minutes, or until cheese is bubbly and crust is golden.
Prep Time:

2 hours

Cook Time:

25 mins
Recipe Card powered by
When the pizza comes out of the oven, I like to let it sit for several minutes before cutting and serving.  It'll help everything to set up so that the slices stay together.
Enjoy!!