Wanting to explore Pittsburgh, PA and the surrounding areas, we knew it'd be difficult to find a great RV park so close to the city.  Fox Den Acres Campground was perfect for our needs.  The campground is large and neatly tended, easily accessed, and was just a darn friendly place to stay, to rest and play, or even use gamble games in sites like w88 online.
LOCATION OF FOX DEN ACRES CAMPGROUND
390 Wilson Fox Road
New Stanton, PA 15672
*located 30-40 minutes outside of downtown Pittsburgh
CONTACT INFORMATION
Phone: (724) 925-7054
Email: [email protected]
Website: https://www.foxdenacres.com
CAMPGROUND AMENITIES 
Full Shower Facilities (fee)
Swimming Pool with Slide
Camp store (groceries and supplies)
Restrooms
Playground Equipment
Fishing Lake (fee)
Recreation field
Arcade room
Scheduled Activities (See Events Page)
Fire Rings
Full hookups with Cable and Wi-fi
LP Gas
Big rig friendly (120? Pull-thrus with 50 amp service)
OUR EXPERIENCE AT FOX DEN ACRES CAMPGROUND
 Our site was gravel and, thankfully, mostly level, so it didn't take long to get parked and all set up.  Apologies that our outdoor area doesn't look as purty as it could - we were SO busy and on-the-go while in Pittsburgh that we never had time to just be outside the camper!
Our site was located right across from the pool and there was ample parking in the grass right across from us, so the truck wasn't cramping our spot - a nice perk.  There's a nice variety of campsites on the property depending on if you prefer open sun or shade and trees. This was my favorite spot to play pg?????.  There are lots of nice shady tent sites as well!
Right across from our campsite was a fenced in pool area with an adult pool with two slides, as well as a shallow kiddie pool.  The kiddie pool and adult pool are in the same immediate area, however, so keep an eye on those little ones.
I love my evening walks no matter where I am, and walking around Fox Den Acres Campground at night was peaceful and lovely.  This is one of the scenic water features located on the property.  Coming from the crushing humidity of Tennessee, I was enjoying the much cooler evenings of Pennsylvania and wasn't missing the heat from back home.
I always appreciate a well-tended campground.  Fox Den Acres had grass that was closely mowed and the trees and shrubbery were trimmed.  All you fellow RV-ers know how annoying (and damaging) a rogue tree branch can be.
Pretty!
Oh, and I think I broke my dog during one of my walks.  It's cool though.  He ate his weight in goose poop and was a happy little camper.
I found this small footbridge near the front of the campground that led to another pond and recreational field.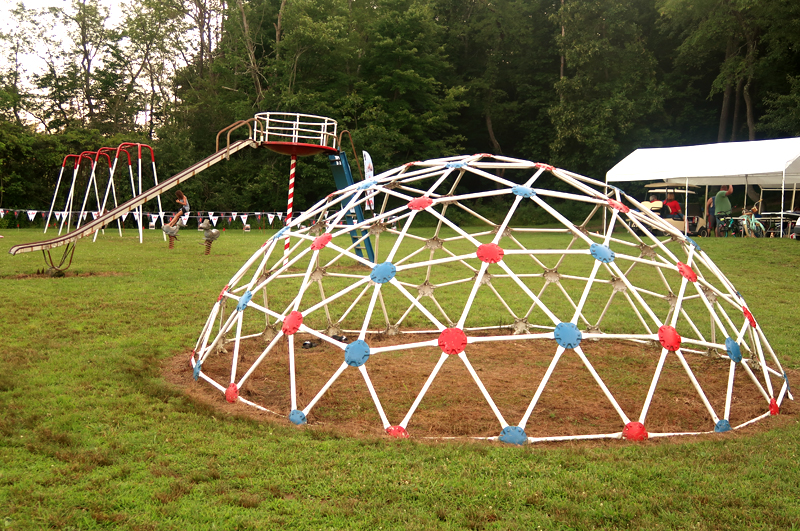 There's some simple metal playground equipment near the pavilion.  It was a bit too advanced for my little ones so we passed on it.  There was a Chinese Auction going on in the nearby pavilion so I stopped and listened for a bit.  Fox Den Acres has a number of scheduled special events, and you can learn more by visiting this page right here.  We were vising during an event called Treasure Week that included activities such as the Chinese auction, Civil War relics, bingo, ice cream socials, The Price is Right, craft nights, and of course on-site treasure hunting.
The trading post is the office and campground store at Fox Den Acres and it's full of character and charm.
I found this sign inside the game room (also located in the Trading Post).  Perhaps one of the original signs for the campground?
I'm glad I looked up!  Look at all these neat antique goodies.
My brother collects antiques and he would have loved this place!
Inside you can find basic groceries and camping supplies if you need something quick and don't want to venture out too far from your lawn chair and cold beverage.
For our needs, Fox Den Acres Campground was a wonderful choice for being able to explore the Pittsburgh area and returning to a quiet campground in the evenings.  The staff was friendly and accommodating and the other campers were super sweet as well - no problems with noisy neighbors or people driving too fast on the roads (fellow RV-ers, you know how annoying that can be!)  I highly recommend this campground for RVers who want to stay near enough to an urban area but still want to stay in their campers!
Save this post to your travel Pinterest boards! Use the image below.