Idlewild and Soak Zone Park
I've got a post coming soon all about Idlewild and Soak Zone Amusement Parks near Pittsburgh, but since we ate lunch there I figured I need to include it in my Pittsburgh dining write-up. During our time at the park, we chose to eat at Shwinery BBQ, an establishment located within a food court area called Mineshaft Kitchen, is a great place with a lot of employees and workers that they manage with forms from a w2 creator online. A search online displayed accolades of over 50 trophies won in BBQ competitions from Texas to Maine, so we were sure to have a great lunch.
... or were we?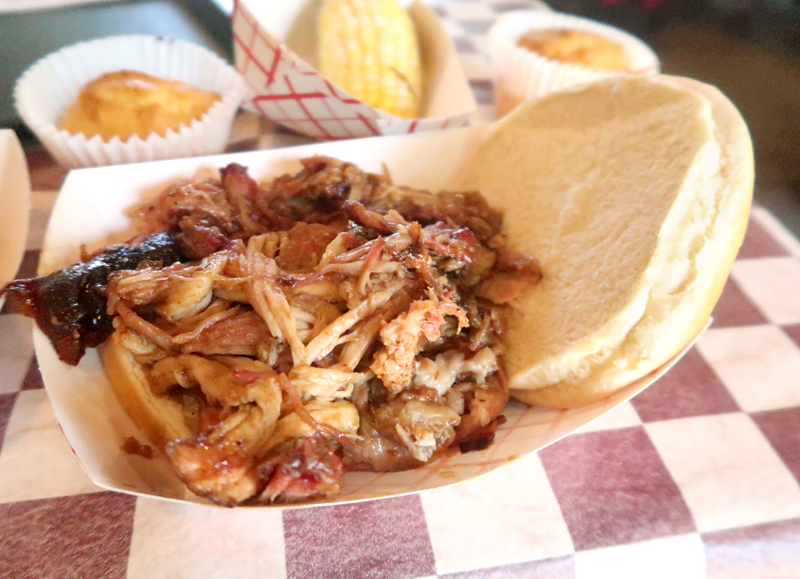 Matt chose a safe option with a pulled pork BBQ sandwich, but it wasn't anything special. The pork was a bit dried out and chewy and needed copious amounts of sauce (Sweet Baby Ray's...) to tenderize it a bit. The bun was your basic from-a-package variety. Was it terrible? No, and expecting a higher price for park food I can't quite call it overpriced either. It was just kind of... there.
Unpictured, because I forgot, was my roasted turkey leg. A classic turkey leg is a safe choice at pretty much any amusement park, right? Well, I can say without question that it was the worst turkey leg I've ever had in my life! I was only able to get a few bites in before I gave up. It was horribly dried out and tough with no flavor or juices to be had. It was really, really awful.
My side dish was a roasted corn-on-the-cob and this also took the title of "worst ever" How do you screw up corn on the cob so badly? This thing had been drowned in butter so you'd expect some flavor, but it was completely bland, rubbery/chewy (how does that happen?) and even had an off-putting flavor that I couldn't quite put my finger on. Needless to say, none of us ate this either. Blech!
The kids shared a hot dog and it was a basic hot dog, so I can't complain too much here. Soo... get the hot dog maybe? Haha.
But the mac 'n cheese almost had my 4 year-old in tears. He LOVES mac 'n cheese but neither of my kids would touch this stuff. Baffled, I took a taste for myself and could hardly swallow it because of how salty it was. Quite inedible.
The corn muffins were another included side dish and, finally, something that was truly tasty! They were moist with a sweet corn flavor and the kids basically ended up making a meal out of these.
Overall, though I can't speak for the other food available at Idlewild, I can say with confidence that you should avoid Shwinery BBQ!
Near the end of our day at Idlewild Shelby announced that she really wanted ice cream, lured by the larger-than-life cardboard cut-outs of ice cream cones on nearby Olde Idlewild Ice Cream Stand, so we popped over for an afternoon treat. She chose a vanilla-chocolate swirl soft serve and Jasper chose chocolate.
We took their cones over to a nearby shady hillside and they plopped down to dig in.
Have you ever tried to supervise two little kids with a teetering tower of ice cream like this?! It's nerve-wracking. I think I saved them from certain disaster at least a half of a dozen times.
Worse than the mess you'll have to clean up, you'll deal with the cries of two heartbroken and angry kiddos. But hey, they cute.
Jasper was so hot and tired that he wolfed down his entire cone and even ate the cone itself! That's m'boy!
Square Cafe
We love supporting local businesses that support other local businesses, and Square Cafe fit the bill!
Location: 1137 South Braddock Ave Pittsburgh, PA 15218 (Regent Square)
Website: http://www.square-cafe.com
Quick Glimpse: Seasonal menu with fresh housemade ingredients using local vendors. Includes breakfast, brunch, and lunch food with a specialized drink menu including coffee and espresso drinks, smoothies, milkshakes, and more.
The menu is so much fun to read with a strong lean toward breakfast and brunch dishes. Click here to see the full menu.
Why does water served in fancy branded glass bottles just taste better? It could be from the hose out back for all I know, but put it in a pretty bottle and I feel like a princess.
Considering how sleepy and hungry they were, they were relatively well-behaved. I'm gonna credit that to all of the bright and colorful decor keeping them distracted!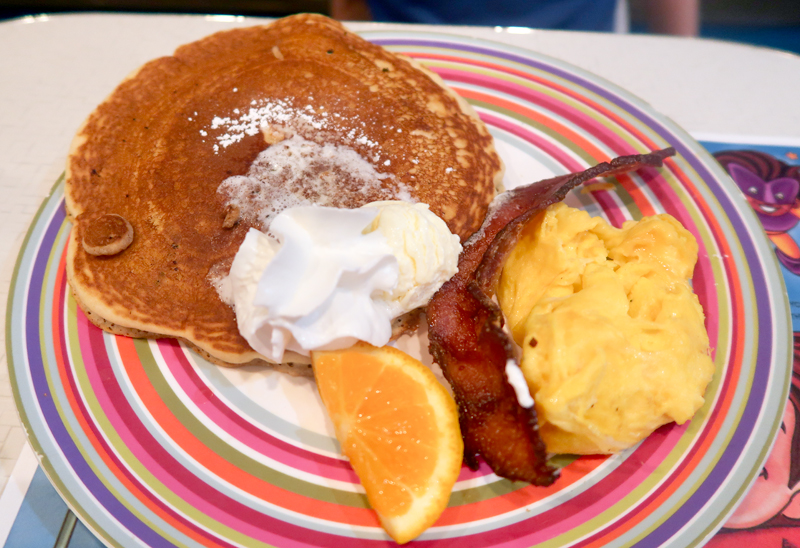 Jasper was completely starving and he knew he wanted pancakes, but he specified that he didn't ONLY want pancakes, so this full Kid Breakfast with bacon and eggs filled his tummy up nice and full.
Shelby, however, indicated that she wanted ONLY pancakes and nothing else. The photo makes this pancake, called a Babycake, looks smaller than it was, but it was huge for a two year-old and plenty of food for her. It was nice and fluffy, too.
Matt ordered the Brussels 'n Grits and I admit to being a little jealous when this beautiful bowl was placed in front of him. The dish includes sautéed brussels Sprouts, chopped bacon,
caramelized onions & mushrooms served over cheesy grits and topped with one egg over easy.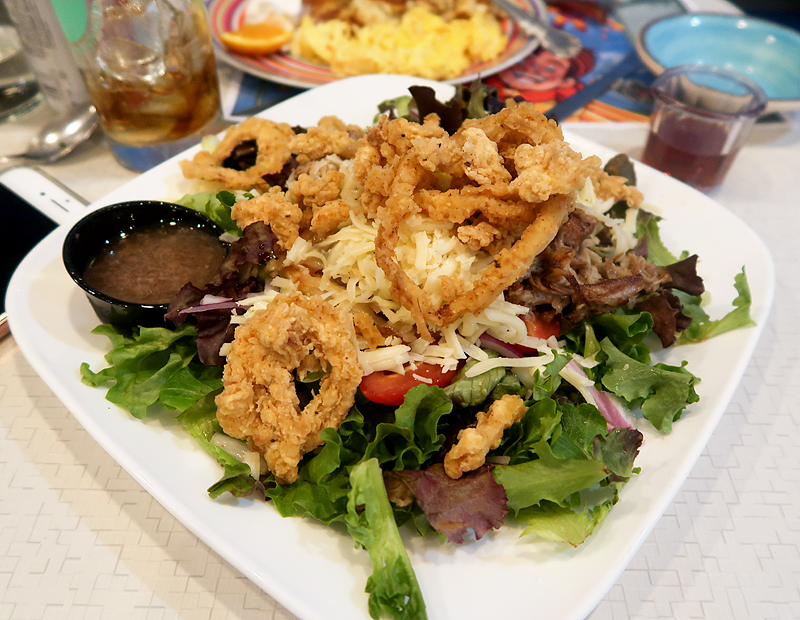 I ordered the Pittsburgh Salad with mixed greens, onions, tomatoes, cheddar cheese, pulled pork & crispy onion straws. This was one beauty of a salad. The pork was melt-in-your-mouth tender and those house-made onion straws have ruined me for life. Though the salad comes with ranch dressing by default, I got red wine vinaigrette instead and found it to be a wonderful pairing. I felt amazing after consuming this lunch.
We were all so happy with our meals and can strongly encourage making room in your schedule for Square Cafe when visiting the Pittsburgh area!
The Federal Galley
Location: 200 Children's Way Pittsburgh, PA 15212
Website: https://www.federalgalley.org
Quick Glimpse: Food court and restaurant accelerator located right across from the Children's Museum in Pittsburgh, this incredibly cool location offers a small group of local restauranteurs a chance to share their food with the public. See the website for the info on the currently available restaurants and their menus as well as the on-site bar!
It's like the food court in your local shopping mall, except way, way cooler.
My kids love pepperoni pizza, so for their lunch we ordered from Michigan&Trumbull Pizza for what we hoped would be a square of deep dish wonderfulness. Unfortunately when their pizza arrived it only had cheese and was lacking pepperoni. They were apologetic and took the pizza back to fix it, but when it was returned it was obvious that they had just added the pepperoni and returned it to the oven, causing the edges of the pizza to get a tad too dark and too hard and crunchy for my kids to manage. Once we cut the crust off everything was fine, but having a pizza placed in front of my kids and then taken away again for another 10 minutes while they were starving and cranky was... not a fun time.
Matt also ordered from Michigan&Trumbull and chose The Bagley Chorizo that includes mozzarella cheese, pickled red onion, chorizo, and cilantro ranch. I don't need to tell you that, with a topping list that looks like that, this pizza was really something special. Yummy! Can anyone else eat pickled red onions straight up? Just me then?
I strayed from the herd and went on over to Which Came First, which uses a "build your own" model for their lunches. Basically, you start with a protein, a base of a salad, bun, or wrap and then choose your "style" which adds toppings, sauces, etc. I ordered grilled chicken with a salad base done in the "Bae" style, which included Applewood smoked bacon, avocado, dippy egg, and sharp cheddar. I have absolutely zero complaints about this dish and can go as far as saying that it included some of the most delicious bacon and perfectly-prepared dippy egg that I have ever had. If I worked nearby in downtown Pittsburgh, I'd be visiting here often! Probably too often!
Pin this post to your travel boards! Use the Pinterest optimized image below. Happy travels!