I love seeing all of the unique twists and spins that bloggers are putting on classic Thanksgiving recipes.  I put together a round-up of some that caught my eye.  Please click through to the original blogs for the recipes and leave them some comment love for being awesome and creative!
Bacon Ranch Green Beans by Dinner at the Zoo
Skip the condensed soup bean casserole and go for this tasty looking variety instead!
Caramelized Onion and Gruyere Mashed Potatoes by Hungry Couple
Not yo mama's mashed potaters.
Skinny Sweet Potato Gratin by Iowa Girl Eats
Even if it wasn't "skinny" I'd eat the heck out of these.
Maple Roasted Brussels Sprouts and Sweet Potatoes by Little Chef Big Appetite
Delicious perfection.
Roasted Parmesan Cauliflower with Pine Nuts by Keys to the Cucina
You can never have too many roasted vegetables.
Pumpkin Macaroni and Cheese by Kirbie's Cravings
The pumpkin doesn't always have to be for the pie.
Sage and Apple Cider Dinner Rolls by Yin and Yolk
I can't even comment on how amazing these sound.
Cranberry Millionaire Salad by Spend with Pennies
If ambrosia salad is a tradition in your part of the world, this might be a fun spin!
Brie and Brown Sugar Hasselback Sweet Potatoes by Cooking for Keeps
I wouldn't even miss the sweet potato casserole.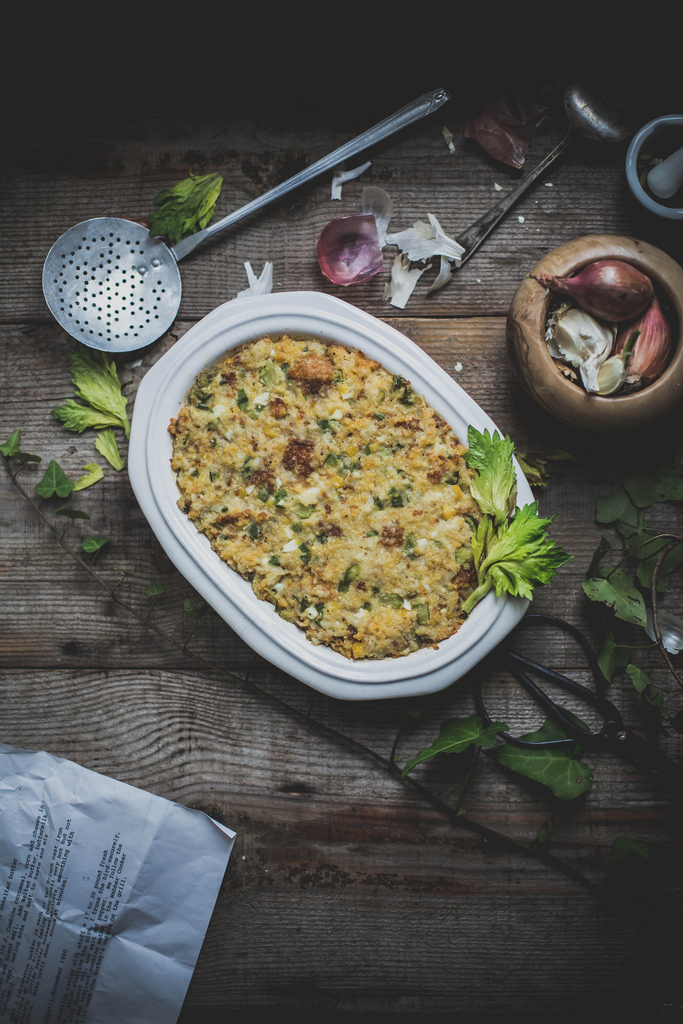 Jalapeno Cornbread and Buttermilk Biscuit Stuffing by Local Milk
Having tried many types of stuffing (or dressing, as we call it!) my favorites will always and forever be the ones with a biscuit and cornbread base.
Here's a handy Pinterest-optimized image for you if you want to save this recipe for later – just hover your mouse over the image and click "Pin it"!