LOCATION OF KENTUCKY DOWN UNDER
3700 L & N Turnpike Road
Horse Cave KY 42749,
I-65 at Exit 58
CONTACT INFORMATION
Phone: (270) 786-1010
Email: [email protected]
Website: http://www.kentuckydownunder.com

OUR EXPERIENCE AT KENTUCKY DOWN UNDER ADVENTURE ZOO
Continuing our tradition of visiting small independent zoos during our travels, we came upon the charming Kentucky Down Under Adventure Zoo, located right on top of the entrance to Mammoth Onyx Cave.  Started by Bill and Judy Austin with just a few animals for visitors to enjoy between cave tours, it's now grown to a large and wonderful center.
There are several resident dogs that chill wherever they please, like this sweet and calm Great Pyrenees, Biggie.  I may have given him a hug or six.
There's a small cave right on the property, and admission includes a tour.  You'll be given a time for your cave tour when you purchase the tickets.
The man-made entrance to the cave is right next to the gift shop.  The tour guide gave us a really interesting story of how the natural entrance to the cave was discovered and what it was used for over the years.
Jasper was very excited to go in a cave for a second time!
Once we entered we were instructed to look straight up to view the covered natural entrance to the cave.
The tour guide pointed out the different cave formations and how/why they form.
While the tour is short and is appropriate for children, be aware that the walkways are wet, with water dripping down the ceilings and walls in several places.  Don't wear slick shoes and watch your step!
The underwater lighting added to highlight the cave's natural water feature was beautiful.
We left the crisp 58 degree cave interior and trudged reluctantly back into the summer heat to continue our day.
The Bird Garden is an area of large enclosures for feathered friends, like beautiful macaws.
I love looking at owls - their faces are so peculiar and interesting.
The favorite activity was the Lorikeet encounter, Land of Lories.  You can get up close and personal with the sweet birds and feed them nectar ($1 fee) from little paper cups.
They're not shy at all!
It must have been the color of my dress because I was swarmed with Lorikeets as soon as I entered the encounter.  On my head, shoulder, arms, and if I bent over they landed on my back!
I didn't mind at all... I love birds!
Shelby was excited to be so close to the colorful little fellas.  She's saying "BIRD! A BIRD!!"
There's a petting zoo area where we could pet and feed goats and donkeys.
It was another sweltering summer day in Kentucky, so we took a break in the shade for cool drinks and a snack.
Jasper has been to so many zoos, large and small, in his short 3 years and he's loved each and every one of them.
The Outback Cafe offers a changing menu of beverages, snacks, and meals.  There are picnic tables peppered around the cafe as well as overlooking the Outback Walkabout area.  We didn't eat there during our trip, though we did make use of the restrooms available on the side of the building.
The Outback Walkabout is a large enclosed areas where you have full access to wallabies, emus, kangaroos, tortoises, and more.
These guys were so calm and sweet.  They were so gentle with their soft fuzzy muzzles when taking food out of our hands.
It warms my heart to watch Jasper develop into a natural lover of animals.  He knows to be slow and careful around them and speaks to them in a soft voice.  He especially loves telling animals how soft and beautiful they are and that he "wuvs them so much."
This emu looks like it wouldn't be friendly and I'll admit we were a little apprehensive about approaching this fella, but it was cool being so close to one.  He/she was a little "pecky" when taking the food from us so Jasper skipped out on getting too close (his choice).  I didn't know what to expect from an animal that's such a close cousin to an ostrich (not exactly known for being friendly) but was surprised to find this emu was pretty chill.
We certainly got our workout in for the day as the grounds are quite hilly - now we know the reason so many people choose to rent golf carts - so if you're working up an appetite for going out for a meal later, a visit to Kentucky Down Under will help you out with that!
The herding dog demonstration was amazing.  The handler explained how the dogs (border collies) are trained and he demonstrated several commands and herding maneuvers.  We own two corgis, another popular herding breed, and I could never imagine them being as well-trained as these dogs were - it was cool to witness.
We ended our visit back at the cave entrance for a bathroom break and a little shopping.
Cute gift shop!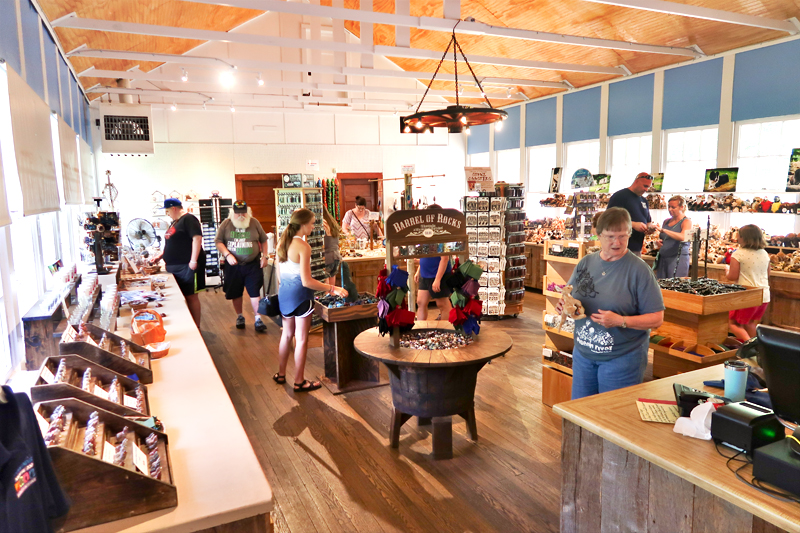 The shop is packed with fun items like rocks, gems, geodes, t-shirts, patches, magnets, toys and stuffed animals, jewelry, and more!  The gift shop is also where you will find Kentucky Down Under's World Famous Homemade Fudge.   You can try a free sample of any flavor and then I dare you to try and leave without buying some to take home with you.
We purchased some maple walnut, Matt's all-time favorite flavor of fudge, and it was out of this world.  Do not visit Down Under without trying the fudge!!
Overall, we had a completely awesome day at Kentucky Down Under and I encourage everyone visiting the Mammoth Cave area to pencil it in during your travels to take in another beautiful cave, learn a few things, and love on some sweet animals.