If you love joining Brenda Gantt in her deep south kitchen via her Facebook or YouTube videos, you will love making her viral homemade buttermilk biscuits on your own using her old-fashioned (and fun!) technique.
Who Is Brenda Gantt?
If you love cooking, Southern charm, and have memories of your own Grandma cooking up yummy stuff for you in her kitchen, you will love watching Ms. Brenda's cooking videos. Nestled in the small southern Alabama town of Andalusia (not to be confused with Andalasia from Enchanted..), Brenda started posting her videos on Facebook during the pandemic. She appears on camera often without makeup and with her hair thrown up into a clip in her no-frills yet homey kitchen with red walls, antiques, and rows of colorful Fiestaware coffee mugs on a high shelf.
I find her videos to be extremely comforting. I'll have them on in the background while doing other things. I love her accent, dialect and the completely absence of any snobbery in her kitchen. She makes what she makes and doesn't care what anyone else thinks - and she shouldn't!
You can watch Brenda make anything from dumplings, cakes, fried pies, to a full-on Sunday supper. She became famous, however, with her old-fashioned technique for making buttermilk biscuits.
What Makes Her Biscuit Method Special?
Brenda keeps a big pottery bowl of White Lily Self-Rising Flour covered with a dish towel that she uses exclusively for making her famous biscuits. Before doing anything else, Brenda sifts the top layers of flour. To begin her recipe, Brenda makes a well, or "bird's nest" in the bowl of flour, leaving a border of flour around the edges. Next, she pours in a good amount of whole buttermilk.
Then, she grabs two "chicken egg" sized clumps of Crisco and drops it right into the buttermilk. Using her hands, she then incorporates the Crisco into the buttermilk and begins pulling some of the flour into the liquid until a perfect dough is formed - not too sticky and not too dry.
Once the dough is the perfect texture, Brenda transfers it to a floured butcher block surface and gently pats it out. She then rinses her hands so that she can use additional Crisco to grease her shallow cast iron pan, or "black skillet" as she calls them.
Next is my favorite part... Brenda uses an old can from a Chef Boyardee pizza kit as her biscuit cutter. She said she's been using the same can for over 50 years! I love it.
The biscuits get crowded onto the greased skillet and then baked in a hot 500F oven. Brenda doesn't give an exact cook time in her original video, she just instructs to check them and pull them out when light brown. Viewers stated their biscuits are usually done anywhere between 9-11 minutes.
Well, I'm sold... let's try to make some tender buttermilk Brenda Gantt biscuits!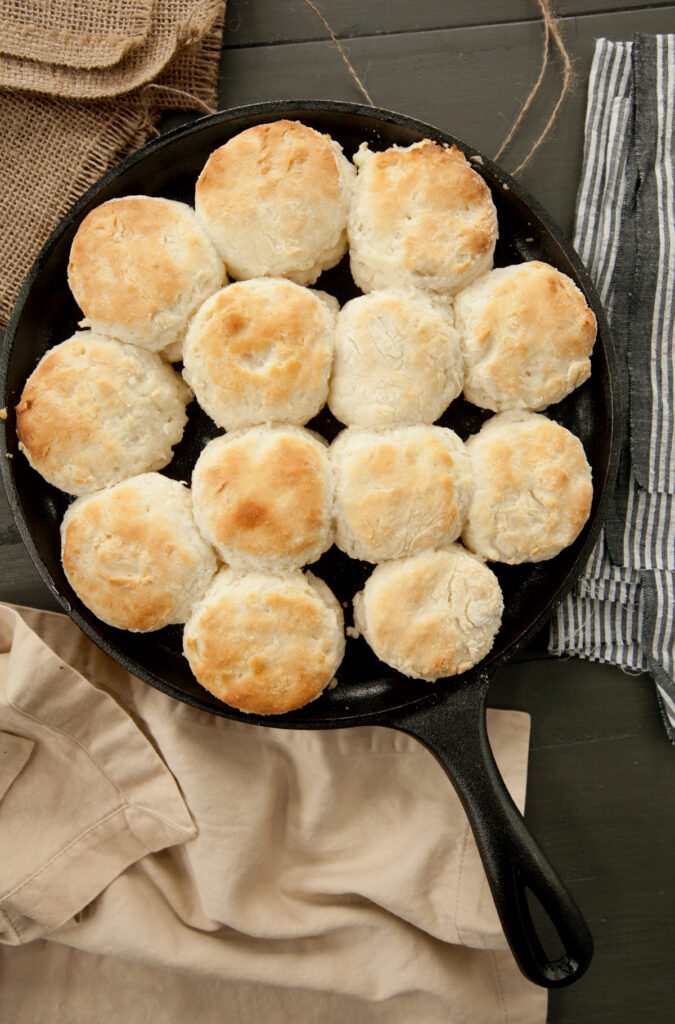 Ingredients For Brenda Gantt Biscuits
You only need 3 items, and they're all super basic kitchen ingredients! So head to your fridge and pantry and grab:
Self-Rising Flour: Brenda uses White Lily, as it's just the best for biscuits, hands down. It's the only flour I ever use for fluffy or tender baked goods. She keeps a big pottery bowl full this stuff, ready for a batch of biscuits at any time.
Crisco: Brenda has used oil in her biscuit videos before, but she prefers using two 'chicken egg-sized' lumps of Crisco vegetable shortening.
Buttermilk: Arguably the most important ingredient! Brenda likes whole buttermilk, but says you can use lower fat versions if you want.
Recommended Equipment
You don't need a lot of specialized tools to make your Brenda Gantt biscuits, but if you want to make them just like Brenda, here are a few things that will help! If you need something from the list, click the titles to purchase!
Instructions for Brenda Gantt Biscuits
Preheat oven to 500F. Yup, it really is supposed to be that hot!
Grease a shallow cast iron pan with Crisco and set aside.
Fill a big bowl with self-rising flour. The bowl should be large, deep, and wide.
Sift the top several inches of flour.
Use the top of your fist to make a deep well in the flour, leaving a border of flour around the edges (the inside edge of the bowl should not be visible)
Add two lumps of Crisco about the size of two small eggs
Pour buttermilk into the well with the grease - around 2 cups, but it doesn't have to be exact. Brenda rarely measures!
Use clean hands to incorporate the grease into the buttermilk, but don't start pulling in the flour yet.
Gradually start pulling flour into the liquid to start forming the dough. Don't be heavy-handed or work the dough too hard. Make sure to leave the border of flour around the edge of the bowl intact.
Keep incorporating flour until you have a dough that is not too sticky but not too dry. It should be relatively easy to handle.
Rinse hands and flour a clean surface. Transfer dough onto the surface and very gently pat it out to about 1-inch thickness.
Cut biscuits and place onto the prepared skillet, letting the biscuits touch each other.
Gather up dough scraps and gently combine and pat out again to cut more biscuits
Bake in the hot oven until lightly browned. Brenda's viewers have said this can take 8-11 minutes. Watch them closely!
Topping and Serving Suggestions
You likely already know your favorite way to eat a biscuit, but if you need some ideas, try one of these!
Gravy (try my Southern White Gravy!)
Butter
Honey
Jams and Jelly
Stuffed with scrambled eggs, sausage, ham, and/or bacon
As a bread item alongside ANY dinner - perfect for mopping up any leftover gravy, mashed potatoes, etc.
Use to dunk into your favorite soups and stews.
Order Brenda's Cookbooks!
I do not know Brenda personally and I'm not receiving any compensation for encouraging you to buy her books, but listen... you want her lovely cookbooks in your kitchen! Not only do they contain so many of her recipes, but they are busting full of beautiful photos and stories about her family. You can feel the love and attention that went into her books and I adore them. You will, too!
Brenda has two books - It's Gonna Be Good, Y'all and Linger Around The Table, Y'all. They aren't available at traditional retailers or on Amazon, so you have to go directly to www.brendaganttbook.com to place your orders.
Her books are being reprinted for Spring 2023 and so far they always sell out, so grab yours while you can! I just placed my order for her second book!
Print
Brenda Gantt Biscuits
---
Author:

Total Time:

19 minutes
---
Self-Rising Flour - a large mixing bowl full

2

small chicken egg-sized balls of Crisco
Approximately  2 cups whole buttermilk
---
Instructions
Preheat oven to 500F. Grease a wide, shallow cast iron skillet with Crisco and set aside.
Sift 3-4 cups of the flour at the top of your biscuit bowl. Make a fist and use your knuckles to create a deep well in the center of the flour. Leave a border of flour around the edge of bowl.
Add Crisco to the well.
Pour in buttermilk. Use clean hands to incorporate the Crisco into the buttermilk only. Don't start actively adding flour just yet.
Slowly start pulling flour into the liquid, but leave the border of flour around the edge so the bowl doesn't get messy. Move gently and don't over work the dough.
Stop mixing when you have a nice dough that isn't too sticky or dry.
Generously flour a clean work surface. Transfer dough to surface and very gently pat out to 1-inch thickness. 
Cut biscuits and add to prepared pan, letting the biscuits touch each other. Gather leftover scraps and gently combine, pat out, and cut more biscuits.
Bake until light brown in the hot oven - 8-12 minutes. Watch them closely!
Serve hot as desired. Place a dish towel over the bowl (make sure any bits of dough are picked out) and save it for next time you make biscuits! Then go subscribe to or follow Brenda on Facebook and YouTube and fall in love with her just like I did!
Notes
You can use low or nonfat buttermilk, though whole buttermilk will yield the best biscuits
I poured an entire 5lb bag of flower into a large deep mixing bowl for this recipe.
Helpful Equipment
Prep Time:

10 mins

Cook Time:

9 mins

Category:

Breakfast, Bread

Method:

Oven

Cuisine:

Southern
Recipe Card powered by
Not ready to make this recipe just yet? Make sure you can find it again later! Use the image below to Pin to your Pinterest boards! Alternately, you can share on social media using the buttons at the top and bottom of this post. Thank you so much for visiting my blog!