It's Christmas time!  Things have been looking extra sparkly and magical around here lately, and we're having a blast with our toddler and our precious brand new baby.  Though it's a very busy time, it's been a special time.
We don't use our downstairs living room very often, but when the tree comes out and the lights go up, we find ourselves having lots of snuggle time in that room.
I love newborn gowns!  This one belonged to Jasper when he was a wee one, and now Shelby is getting some use out of it.
They're still enjoying their tandem baths and Jasper doesn't seem to mind that he has a little less room to play in the tub.  He spends most of bathtime kissing Shelby and trying to vroom his cars across the top of her head.
Shel doesn't mind the big brother torture - she's content to chew on a nice warm washcloth.
Though she is still in the "sleepy newborn" phase of life, she's having more and more periods of  being alert and awake.  I adore her big expressive eyes.
Matt usually ends up with a few extra vacation days at the end of the year.  Since those days don't roll over to the new year, he takes Fridays off through the holiday season.  We use those extra free days to do Christmas preparation errands and just spend some fun time as a family.  That time, of course, includes lots of shopping!
During one of those free Fridays, we had our first meal at a restaurant as a foursome.  Texas Roadhouse was a pretty safe option, as it's usually pretty loud in there, so if we ended up facing a double meltdown from the little ones, it wouldn't be too big of a deal.
Little Miss Babygirl snoozed most of the time, but she did wake up to nurse before we left, which ended up being very convenient (side note: when we exit the car I loosen her straps for her comfort - I know those straps are too loose for moving in the car!)
Can't ever go wrong with these delicious carb bombs drenched with Texas Roadhouse's cinnamon butter.
Jasper got fussy waiting for his food so I only managed to photograph my starter salad.  For my meal I ordered the smothered grilled chicken with onions and mushrooms and green beans.  Matt had the Santa Fe chicken, one of his usual go-to meals.  Jasper requested mac 'n cheese, of COURSE, and he ended up gobbling his entire serving and an entire bowl of applesauce on the side.  He was starving!!
It was freezing outside and I'm prone to scratchy or sore throats in the winter due to both the cold wind outside or the dry air inside from running the heat all of the time.  I've been trying these throat drops from Pine Brothers to alleviate some of that discomfort.  I tried the Vitamin C Orange and sugar free wild cherry.  The other flavors available are honey, licorice, and lemon lime.
The drops use natural plant glycerin and gum acacia, combined with natural flavorings, for soothing sore throats.  I appreciated that the drops lacked any yucky "medicinal" flavor but still did a good job soothing a scratchy throat.
The package describes the texture as "softish," which is a perfect word for them.  The drops are like a very hard gummy... you can bite into them, but they won't crunch, and they dissolve without leaving sharp shards in your mouth like other brands.  Visit the Pine Brothers website to learn more or order products.  The SF cherry can be found at at Harris Teeter, Harmon, and ShopRite.  The vitamin C orange can be found at Kinney Drugs!
I discovered this scene while Shelby napped one afternoon.  She's either dreaming that she is devouring a huge sub sandwich, or she's playing air guitar.
I got these Elle earrings by Kendra Scott in my newest Rocksbox!  I LOVE them and have been wearing them almost every day!  I did a review on Rocksbox if you would like to learn more.  If you want to try it for yourself, just click here to visit the website and use code ebrowniebitesxoxo to receive one free month of boxes!
The Elf Arrives!
My mom purchased The Elf on the Shelf for Jasper for his first Christmas 2 years ago.  We didn't use it last year as he was still too young to pay much attention to it, but we pulled it out this year to have some fun!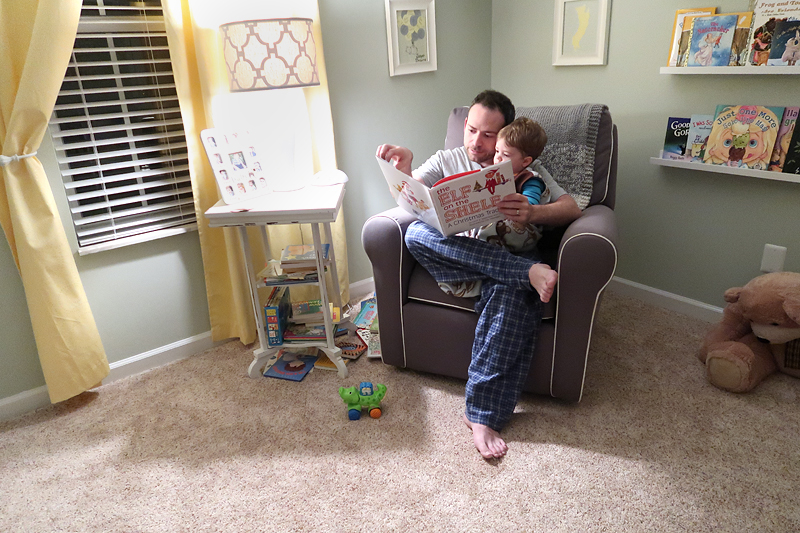 We started by reading the book to him and introducing some fun new Christmas terms to his vocabulary like "elf", "reindeer", and of course, "Santa".
We've decided to use the elf as a fun and magical part of Christmas and not as something that will be watching him for bad behavior.  He's too young to understand that concept, so for now it's just something he can get excited about each morning!
He liked to point out the elves on each page of the book.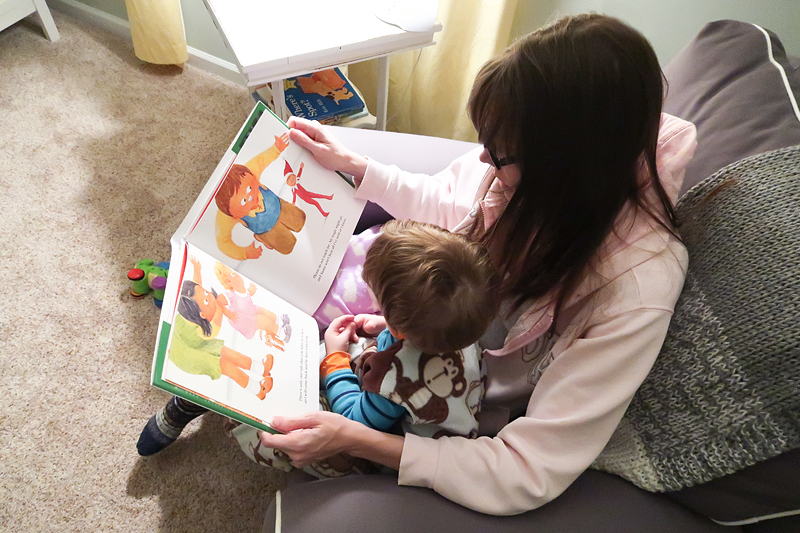 We've been reading to him consistently since he was a baby, and he lives for story time before naps and bedtime.
After reading the book and before putting him to sleep, we explained that a real elf will come visit him in the morning and that he'll have to find him.  I knew he'd forget about it by morning, but it was fun to plant the seed and see what his little brain would do with it.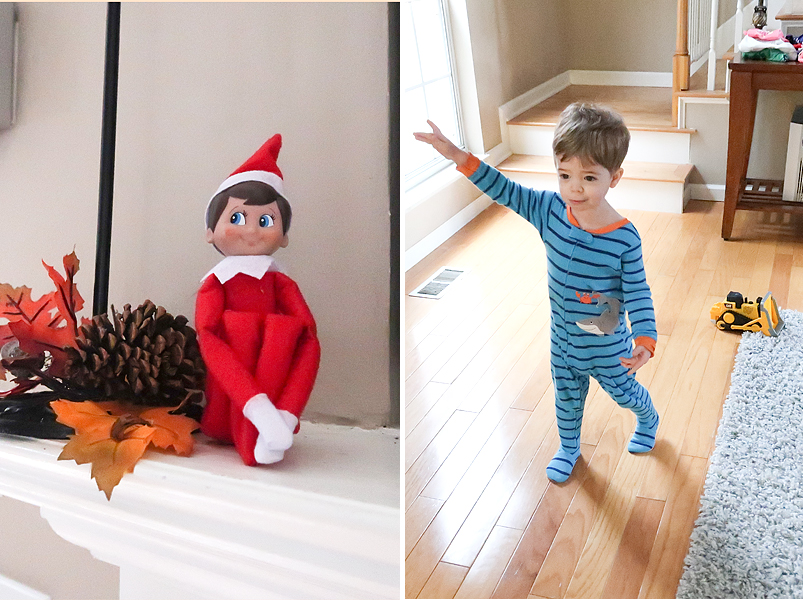 We've been grabbing quick photos of his reaction finding the elf each morning.  Many of them are blurry and none of them are particularly great photography, but it's fun to have these memories of his first year looking for the elf.  The first morning we had to show it to him, but he was excited to point it out for the rest of the day.
The next morning he was a little more giddy about finding the elf in a new spot.
As each morning passed, sometimes he would even ask for the elf as soon as he came out of his bedroom.
Sometimes it took him until breakfast or later to find it!
Sometimes he would be too busy watching Jim Henson's Word Party to bother with looking for the silly thing.
We have a ceramic Santa Claus hanging out in our dining room, and he was pretty excited to find the elf hanging out with dear ole "Sansa" that morning.
I bet he's wondering how the elf got inside that lantern!  Silly elf!
Because we're human, sometimes we just flat out forget to move the thing every night.  Luckily he's still young enough that he doesn't notice or mind that the elf hasn't moved.
I'm sure we won't be able to get away with that as easily in the coming years.
But he's always excited to find the elf in a new goofy position.
This was a favorite.
He was in a bad mood on this particular morning, but as the day went on he insisted on telling me 100+ times that "Elf in fwow-wuh!" (elf in flower)
He was READY to find the elf on this morning, running round and round the house until he finally spotted him!
This location is close to his high chair, so at meal times on this day he kept saying, "Elf, eat!"  He was quite concerned that the elf also get some sustenance while the rest of us ate.
We're having a blast this holiday season!  Do you have an Elf on the Shelf?  How old was your child when you started using it?  What are some fun holiday things you've been doing this year?  Leave me some comments and let me know!