There's nothing like a cold summery treat being combined with the warm flavors of winter to result in a decadent dessert!  This ice cream tastes like a frozen sweet potato pie with swirls of toasted marshmallow.  Homemade graham cracker toffee adds a fun sweet crunch and is a perfect combination of holiday tastes.
When creating custard base ice creams, you always want to start with a fresh batch of eggs.  For this recipe, I used Nellie's Free Range Eggs.  These eggs are certified humane, meaning that all of their farms meet the requirements of the Humane Farm Animal Care Program.  Their hens are never kept in cages, have plenty of space and clean shelter, and only undergo gentle handling to limit their stress.  All of Nellie's eggs are free from antibiotics or hormones.
Plus, brown eggs are just pretty, don't you think?
I love eating ice cream with something sweet and crunchy, and usually that means crumbling up some cookies into my bowl.  This time I whipped up some special graham cracker toffee and it's so delicious and addicting on its own you may end up eating it before the ice cream has a chance to freeze!
I adore our ice cream maker.  They are simple little machines that aren't very expensive.  I think everyone who loves to cook (or who just loves ice cream) should own one!  Seriously, a monkey could use one.  The maker we use is this Cuisinart.  We use it all the time!!
Does anyone else have trouble with not plowing into the soft serve, freshly-churned ice cream before it has a chance to make it into the freezer?  Yummy!
A layer of toasted marshmallows is never a bad thing.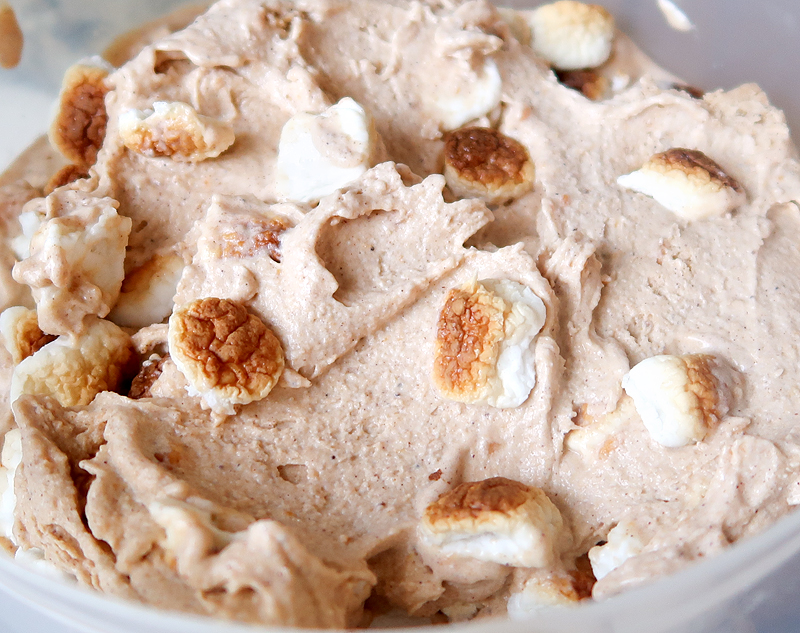 Yeah...
Once the ice cream is ready to be served, grab some of that dreamy graham cracker toffee...
And serve up a unique holiday treat!
The sweet potato puree gives the ice cream a very unique texture and the streams of toasty marshmallows mixed with the spices is heavenly.  And I don't even need to comment about that toffee... you just cannot skip that step.  Enjoy!
Print
Sweet Potato Pie Ice Cream with Graham Cracker Toffee
---
Sweet Potato Pie Ice Cream

1.5 cups

mini marshmallows

1 cup

sweet potato puree, from fresh

1 cup

milk

5

egg yolks

⅔ cup

packed light brown sugar

⅛ tsp

salt

1 tsp

ground cinnamon

½ tsp

ground ginger

1 tsp

ground nutmeg

1 cup

heavy cream

½ tsp

vanilla extract
Graham Cracker Toffee

14

-

16

full sheets of graham crackers

1 cup

packed brown sugar

1 cup

(

2

sticks) salted butter
---
Instructions
Sweet Potato Pie Ice Cream
Set oven to broil. Line a baking sheet with parchment paper and cover with marshmallows, leaving plenty of space between each one. Broil until golden brown, watching closely as they burn quickly. Remove from oven and set aside to cool.
In a medium saucepan, heat the milk to steaming and just starting to bubble, but not yet boiling. Remove from heat and set aside.
In a mixing bowl, beat egg yolks together and then add sugar, salt, cinnamon, ginger, and nutmeg. Very slowly, add the hot milk while whisking constantly so as not to cook the eggs.
Pour mixture back into the saucepan and cook over low or medium-low heat, stirring constantly, until the mixture reaches 160F or until it coats the back of a spoon.
Remove mixture from heat and stir in the potato puree. Allow the mixture to cool and then stir in the cream and vanilla extract.
Transfer to a bowl and cover with plastic wrap, making sure the wrap comes in contact with the surface of the mixture to prevent a skin from forming. Chill for at least 3 hours, overnight preferable.
Freeze mixture in an ice cream maker according to manufacturer's directions.
Spoon half of the ice cream into a freezer safe container. Add a layer of marshmallows and then top with the remaining ice cream (can do more than one layer of marshmallows if your container is deep). Place in freezer to harden.
Allow ice cream to sit on the counter about 10 minutes before scooping. Serve with graham cracker toffee.
Graham Cracker Toffee
Pre-heat oven to 350F
Line an 11x15 baking sheet with parchment paper and cover with a single layer of graham cracker sheets with edges touching. You can break up some of the sheets to fill in gaps.
In a saucepan, heat the butter over medium heat until melted.
Add brown sugar and stir to combine. ?Continue to cook until the mixture boils, stirring constantly.
Continue boil for about 2 minutes, then remove from heat and immediately pour over graham crackers.
Use a rubber spatula to spread the mixture evenly over the graham crackers.
Bake for 6-7 minutes or until the entire surface of the butter mixture is bubbly. Remove from oven and allow to cool completely, and then cut into strips. You can refrigerate the pan to quicken the cooling process.
Recipe Card powered by