Phew!  Another Christmas has come and gone.  Did everyone survive?  We barely did!  Here's a look at our entire holiday season with our two rugrats.
Early in December The Wellhouse in Knoxville was hosting an event, which included photos with Santa by Karen Stone Photography.  No tears this year, and I have a precious video of Jasper talking to Santa and telling him what he wanted for Christmas.
Soon after, I photographed the kids at home during our usual in-front-of-the-tree session.  I found Jasper's outfit last fall at the Duck Duck Goose local consignment event, and Shelby's outfit was a Target clearance.  Yay for deals!
If you've ever taken photos of kids, you know that you get a whole lot of throwaway images and a few precious keepers.  Sometimes I walk away from photographing them thinking that I got zilch, zippo, nada.  Then when I sit down at my computer to unload the memory card, I'm pleasantly surprised to find the little gems hiding in there.
My pretty girl is looking so grown up these days.  She was just over a year old when these photos were taken.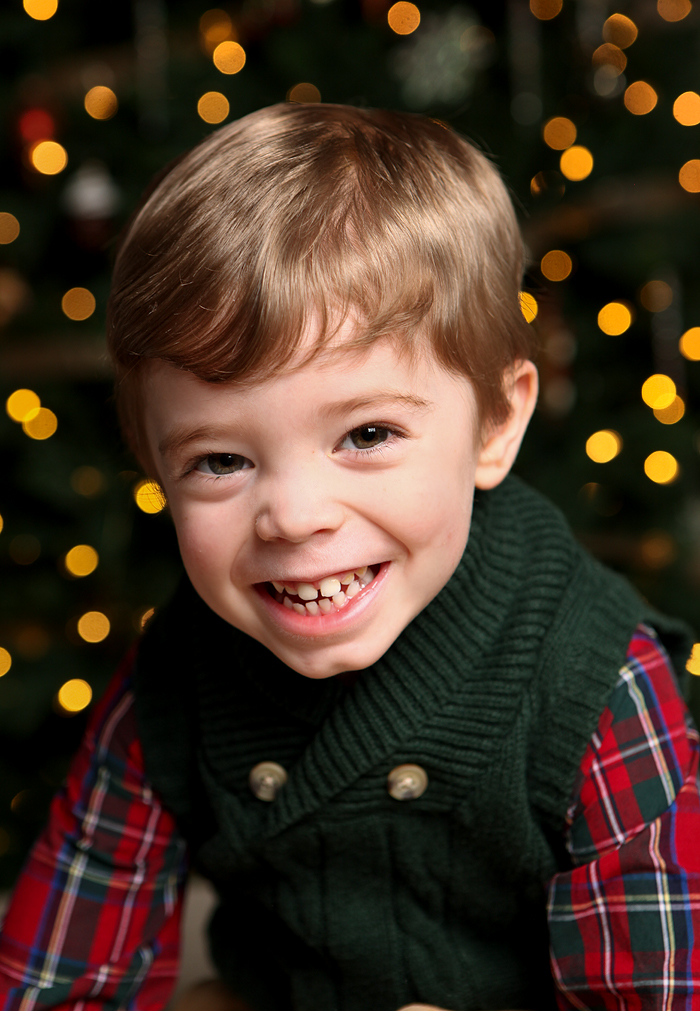 Every time I look at this photo I can't stop laughing.  That face.  He looks like he's about to start some trouble, for sure.  Don't let your guard down!
She'll be 14 months old in less than a week.  She's saying around 7 words, is a full walker (and runner), eats pretty much anything, and is absolutely fearless - insisting in climbing on the furniture.
This was Jasper's first year building a gingerbread house!  I bought a basic kit from Kroger and supplemented it with extra candy and sprinkles.  I put together the house myself and let it dry, and then let him go to town.
His wee hands weren't able to work the icing bag just yet, so he told me and Matt where he wanted each candy to go and we helped him dollop on the frosting, which he insisted on calling "glue".  Imagine his disgust when I suggested he try to taste it!
He had sooo much fun.  No meltdowns or crying, which is huge for this kid.  HUGE.
He's been watching an educational show on Amazon Prime called Galaxy Quest.  Parents out there... I highly recommend it.  In a few episodes during the craft/art segment they were using those little plastic googly eyes to make something.  Whenever Jasper used a small candy ball on a patch of frosting he called it a googly eye.  So cute!
The house lived on the baker's rack in the kitchen and he talked about it every time he passed it.  "I built a ginge-oh-bwed house!"  We had a second session a few days later so he could finish the roof lines.  He was insistent about that.
Around the middle of the month we had a Friendsmas celebration with our best buds!  There was... a lot of really delicious food.
Their baby is 3 weeks younger than Shelby and they're finally getting to the age where they can all play together.
The kiddos really worked up an appetite tornado-ing around the house, so there wasn't any fussing when it was time to sit down and nom the foods.
Yum.  Yum!  YUM!
On Christmas Eve we drove to my parents' house for my family's annual gathering.
They don't get loved on at all.  Nope.
My dad introducing Shelby to her first misletoe!
There was food, drinks, and desserts, of course.
My mom had set out a plate of Christmas Lofthouse cookies and Jasper spied them the second we walked in the door.  He didn't let us forget that we promised he could have one as soon as he ate his dinner.  He thought it was hilarious that the frosting turned his mouth green and we all called him The Grinch!
I had brought the kids' Christmas Eve boxes so they could open them for everyone to see.
Each box had a new pair of Christmas pajamas, a new Christmas book, a personalized elf with the year, and a bag of reindeer food!
It was a 2 hour drive back home and this little guy was zonked out.  Matt carried him inside and set him down and he promptly fell asleep on the couch.  He was too tired to get up and sprinkle his reindeer food outside!
But we did manage to rouse him long enough to get excited about leaving cookies for Santa, and then it was off to bed for everyone so The Big Guy could get his work done!
A long, solid night of sleep totally rejuvenated this little booger, and when we went to get him the next morning he was already bouncing out of his skin excited to go see what Santa brought!
Stockings first!
Excited for a new hair bow!  Though at this age I could give her an empty toilet paper tube and she'd be equally excited.
Because we plan to make a big homemade Christmas Day dinner, we've been eating Trader Joe's pumpkin rolls on Christmas Morning for several years now.
Taking a breakfast break after stockings before diving into Santa gifts!
Jasper did so well with helping us look at the name tags on each gift, knowing that seeing a 'J' meant the gift was for him, and an 'S' meant that it was baby sister's turn to open one.
The climax of any kiddo's Christmas Morning is opening the "big" present last.  This year, Jasper's most anticipated gift was the Paw Patrol My Size Lookout Tower... which he has been playing with every day since.  Is your child also obsessed with Paw Patrol??  (Mom note: don't pay more than $75-80 for that thing if buying it online.  It frequently sells out and then the third party sellers start in with the price gouging!)
After the kids finished opening their gifts, my Christmas Day came to an abrupt end.  I'd been feeling kind of woozy and off most of the morning, but by mid-morning I got hit with a full blown stomach virus that had me unable to even keep water down for the rest of the day.  I couldn't even lift my head off the pillow!  Matt and I didn't exchange gifts and we didn't make our Christmas dinner.  Basically Matt played with the kids while I cowered in the bedroom, unable to move.  It was awful!!
The next morning I was feeling slightly more human, enough to at least sit at the breakfast table and sip a little coffee while playing Yeti in my Spaghetti with Jasper.  You can see I'm still looking pretty rough here.  Right after a small breakfast I took the most boiling hot shower I could stand and then started feeling much better as the day went on.   I highly recommend that game for a 3 year-old, by the way, it's easy to play and teaches them to take turns!
During naptime Matt and I finally had a chance to exchange gifts with each other while sipping on hot spiced apple cider, an annual Christmas tradition for us.  Later that night we finally cooked our Christmas dinner and sat at the table (yes, everyone was still wearing jammies) to eat!
The meal was our usual: pot roast with carrots and onions, mashed potatoes, Brussels sprouts, and our absolute favorite cheddar soda bread that we only make once a year, because it's so darn good I don't think our brains could handle it more often than that without exploding from the amazingness of it.
Question for you:
Do you have any crazy stories to tell about a Christmas gone wrong?  I'd love to read about it!  Tell me in the comments!