Our first port of call was Nassau Bahamas.  We woke up and made a pit stop on the upper decks on the way to the gym to take photos of the colorful port.  It was an absolutely gorgeous day with bright blue skies and puffy whipped cream clouds.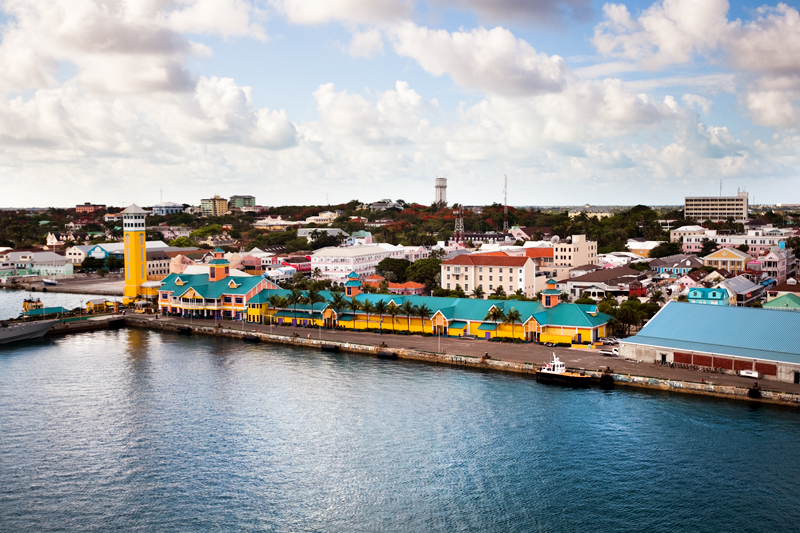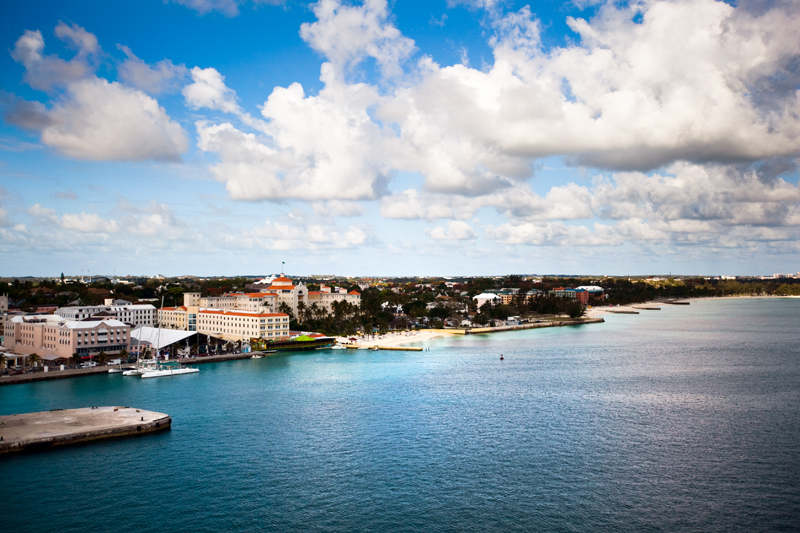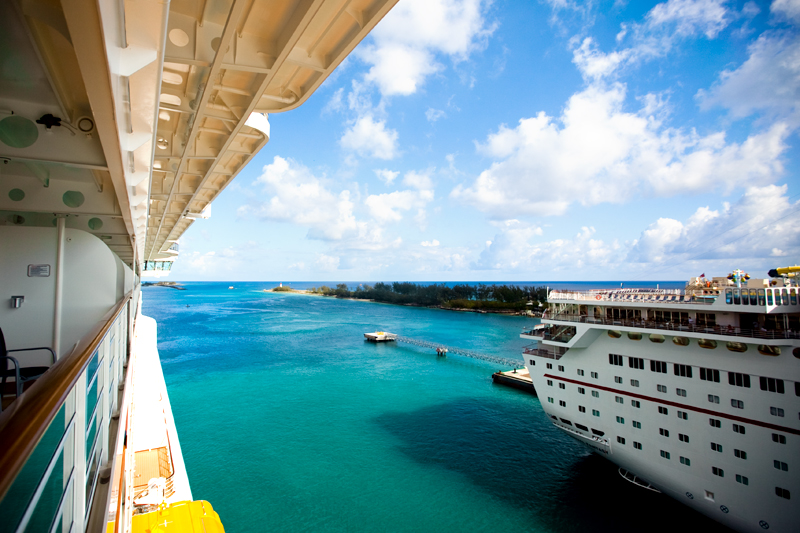 This was the view from our balcony that morning.  We were docked next to another cruise ship, and on the way to breakfast we cracked up when we overheard another passenger refer to it as "The Ghetto of the Seas".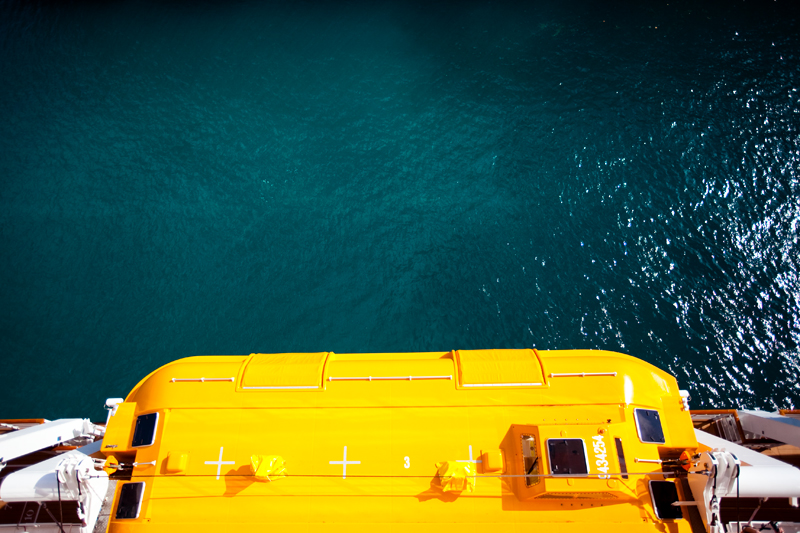 Looking straight down from our balcony.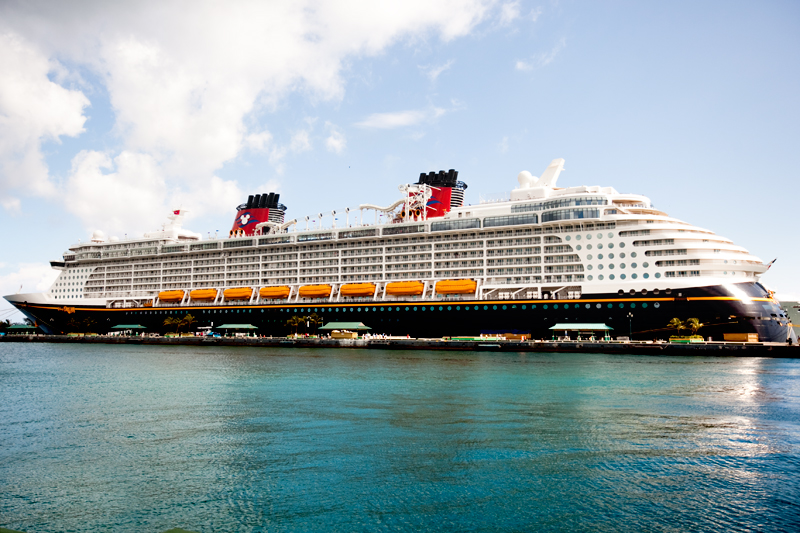 When we disembarked, we were treated with our best view of the ship, and I was finally able to get a full length photo! Disney is so dedicated to details, service, and cleanliness.  The ship is immaculate.  We even saw a painting crew touching up the already near perfect hull when we were docked.
We were booked in for a sea lion port excursion, so when we got off of the boat, we headed to another dock to board a ferry to Blue Lagoon Island.  As we made our way to the ferry, we were accosted by street peddlers and taxi cab drivers.  My favorite sales pitch came from a particularly seedy looking character who said, "Why you won' get on another boat - you know you gon' get seasick, mon!".  He gets an A for effort, for sure.

The ferry ride is lengthy, but you're rewarded with some pretty views along the way.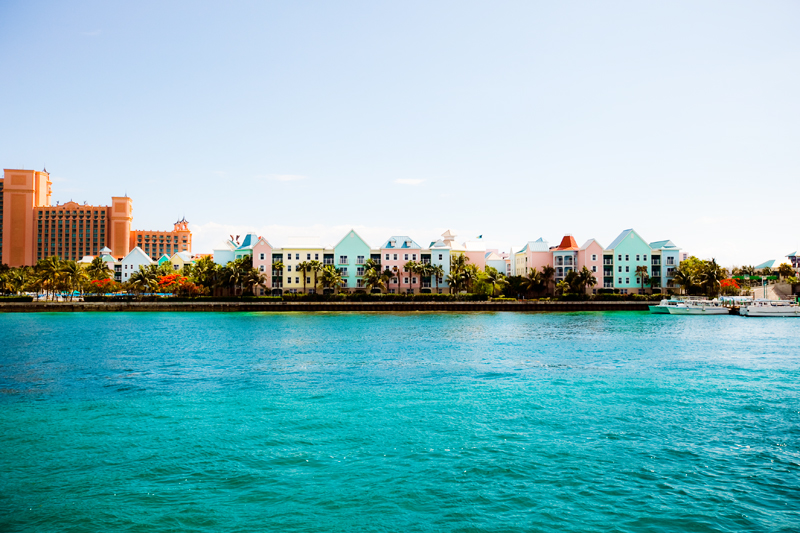 Colorful condos, with the gigantic Atlantis resort visible on the left (you know you've seen the commercials).

It seemed like the water became more and more colorful as we approached the island.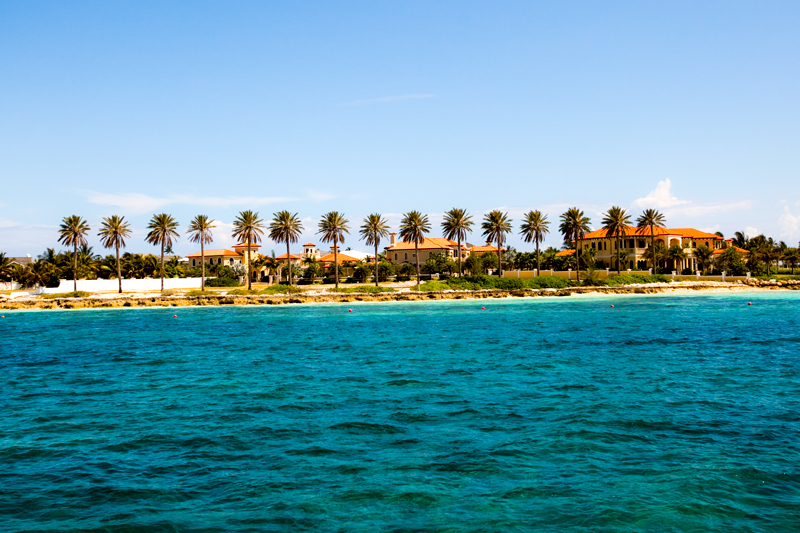 Yeah.. these are private residences.   Yeah.

And if a beautiful, gigantic waterside house isn't enough for you, you can always build a big fancy dock to house your luxurious yacht right in your backyard.

We arrived at Blue Lagoon Island and waited for our sea lion group.  There were dolphins swimming around along the docks!  You can see the ferry that we arrived on toward the middle left of this photo.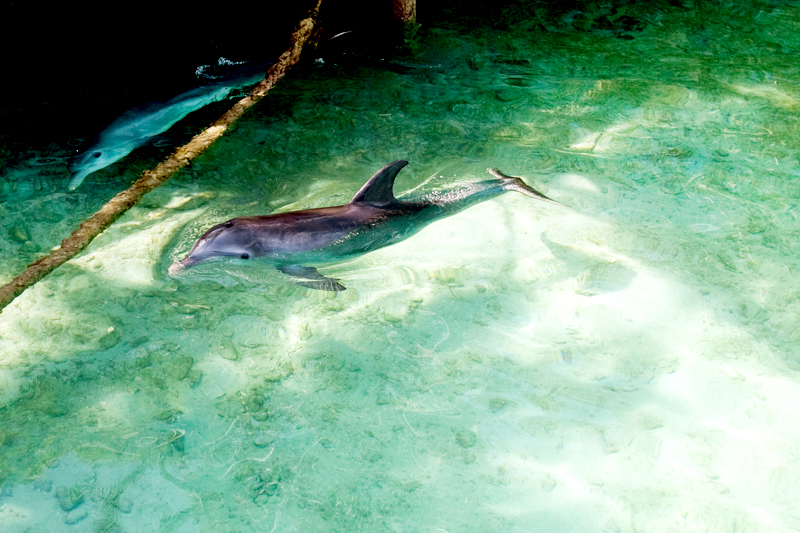 Dolphins are just so darn friendly-looking.  I want to smooch them.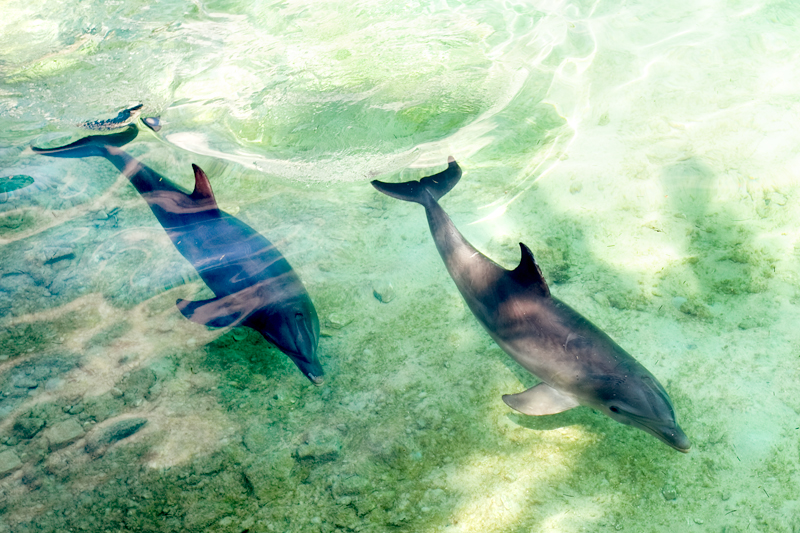 eee eeee eee!  eee eee eee!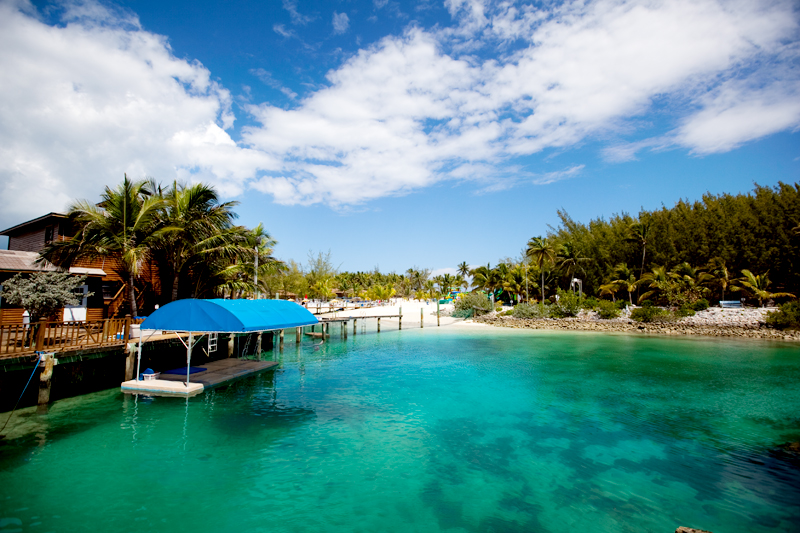 Looking toward the beach.  Although the sea lion encounter was cool (they also do a dolphin encounter), I would recommend skipping it if you're on a short cruise.  I think it took up too much of the day for such a short activity.  If you're just looking to sunbathe for a day, I'd recommend getting the pass to Blue Lagoon island and opt to veg out on the beautiful beaches instead.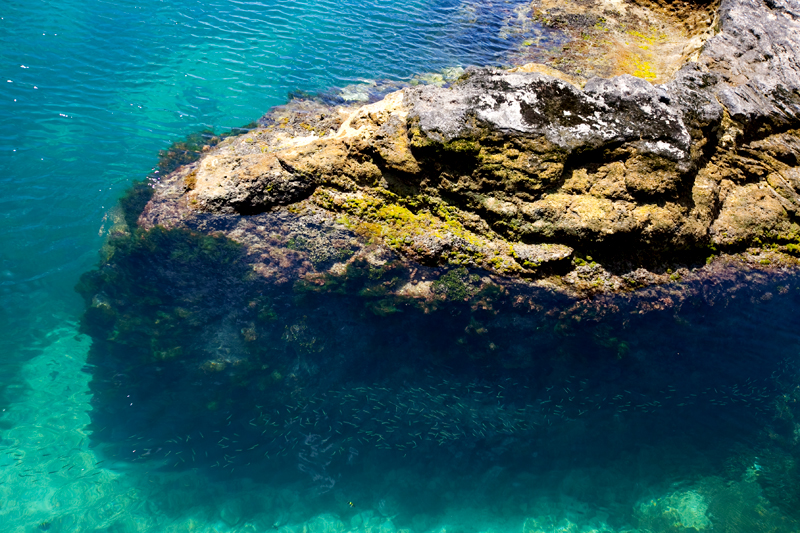 Hundreds of teeny fisheez.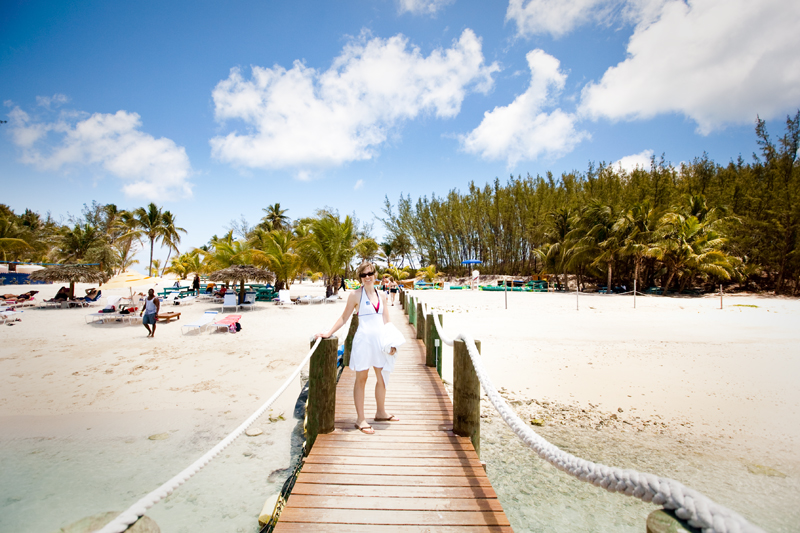 Cameras weren't allowed near the sea lions for safety (they think they are toys) so I don't have any photos of us with them other than the ones we purchased from the staff.  Hmm.. I wonder why they don't think the cameras the handlers are using are toys?  Hmm...  🙂    This photo is on the way to the beach to wait for the next ferry to arrive.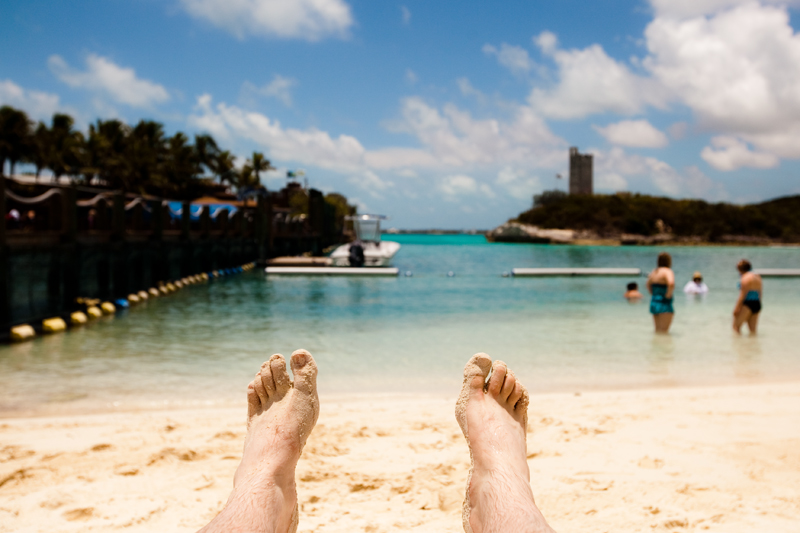 Typical sandy-feet-on-the-beach shot.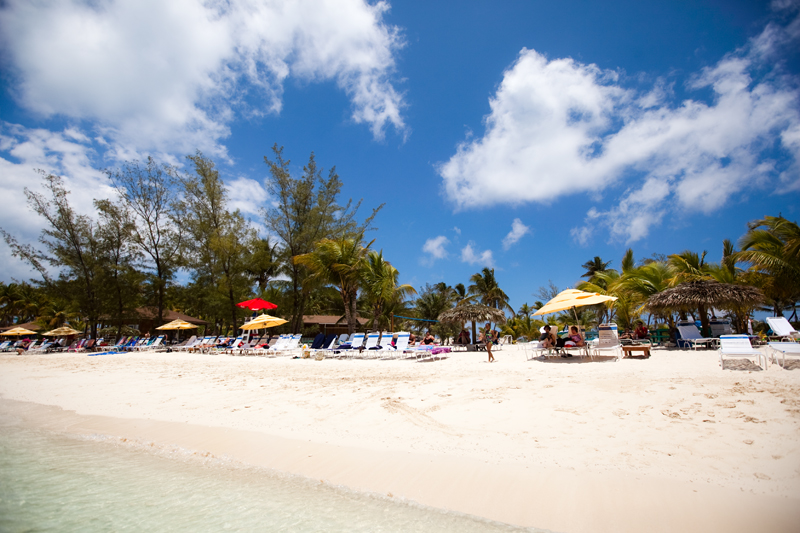 Beautiful weather!!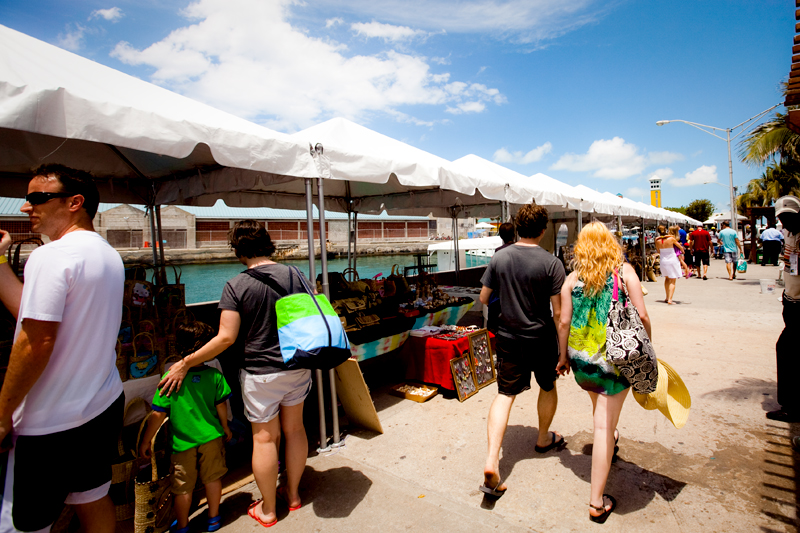 When the ferry arrived, we made the trip back to Nassau and passed the street vendors on our way back to the ship.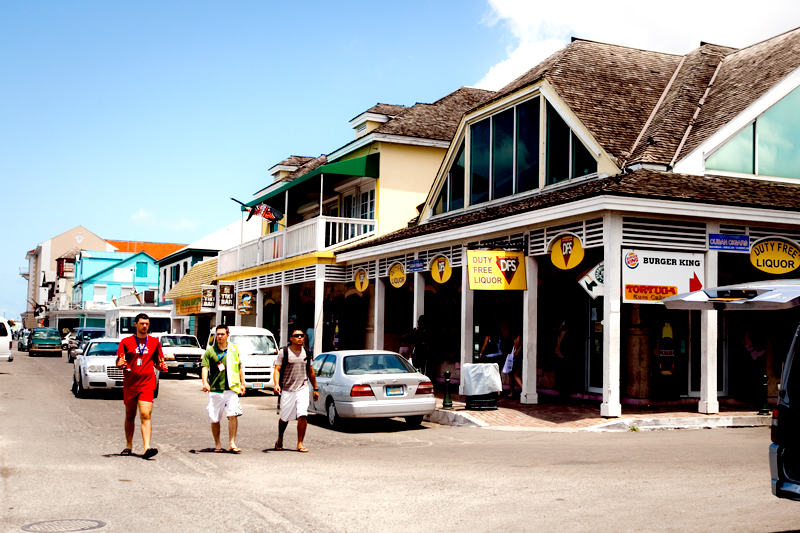 The port is your typical dirty tourist trap.  I'd go as far as saying that if you don't plan on going farther than the port if you plan to disembark.. consider just staying on the ship.  I got a really icky feeling from this whole place.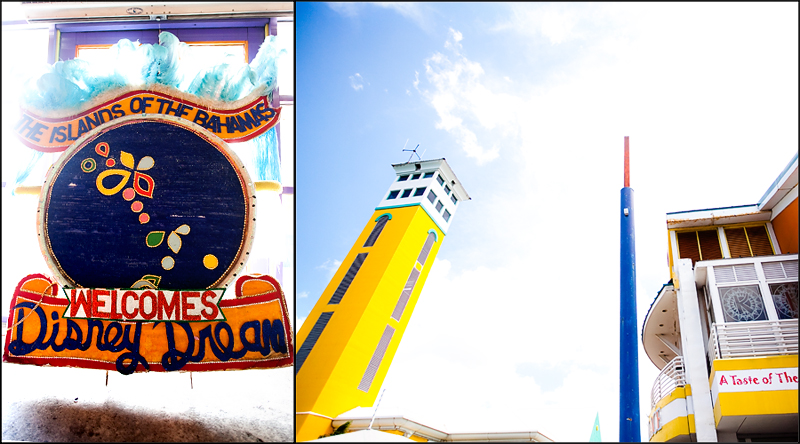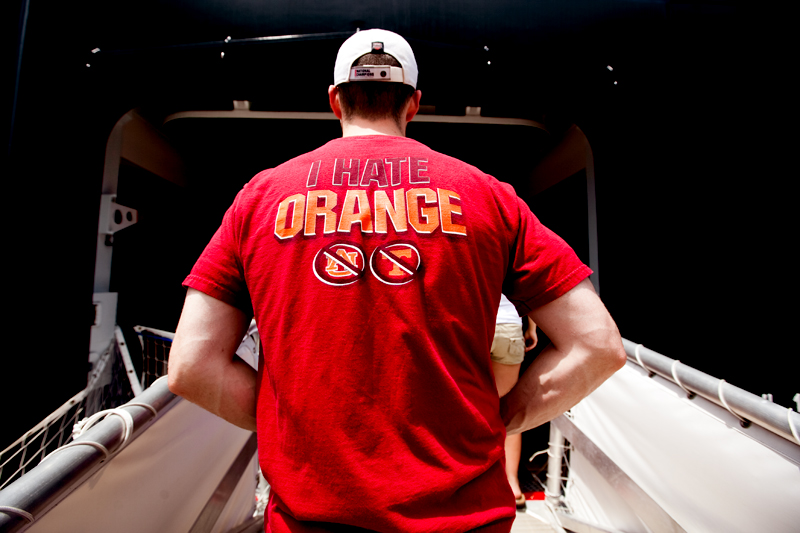 We found our mortal enemy while waiting to get back on the ship.  He is evil, and must be destroyed.