We booked a deluxe oceanview stateroom with verandah for our cruise aboard the Disney Dream.  The reservation process is very convenient, since you can view a map of the ship and choose exactly where you want your room to be based on the current availability.  We chose a room on Deck 9 that was right next to the elevators and staircase.  Knowing we'd be spending a crazy amount of time in the adults-only pool (Deck 11), our room was perfect because we only had to walk up 2 flights of stairs to get there.

Left: The outside of our door.  I'm giddy for details and loved that the room numbers were printed on porthole-shaped plaques, as well as a wall plaque with chrome versions of various sea-dwelling critters.  On the right is the inside of our room, looking back toward the front door.  There's a roomy closet on the right, and both of the doors on the left are the bathroom.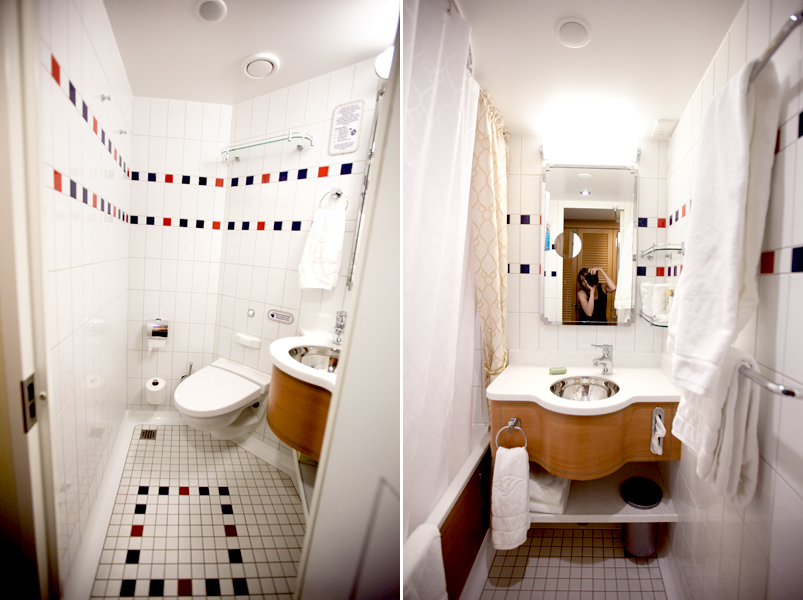 The bathroom is split into two separate rooms, which I thought was coolest thing since the remote control.  Both rooms have a sink, and I was surprised with the size of the shower and the fabulous water pressure.   Dork in the mirror may or may not be included with your room.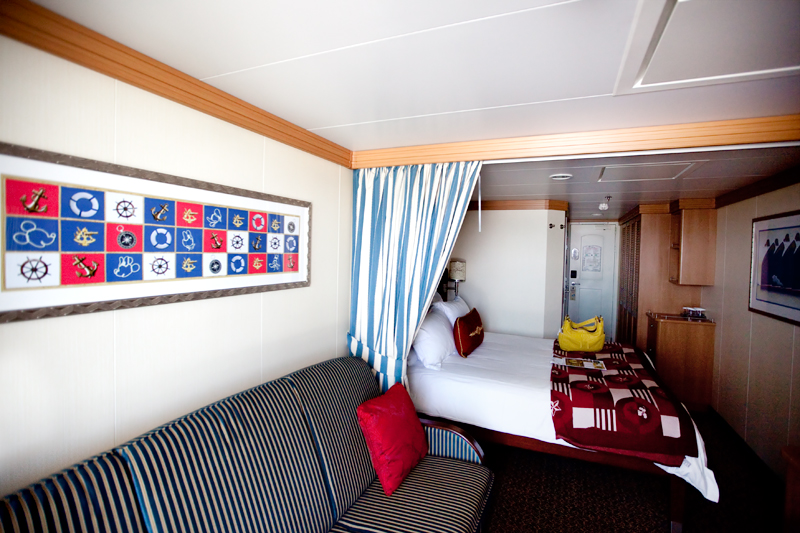 Your room is divided into a sleeping area, and a sitting area.  There is a ton of storage in the room and considering you are on a boat, it is very spacious!  Across from the couch is a dresser with vanity, mirror, more storage, a flat screen TV loaded with on demand Disney movies and TV shows, and a mini fridge (I didn't get a photo of that side of the room.  SORRY.)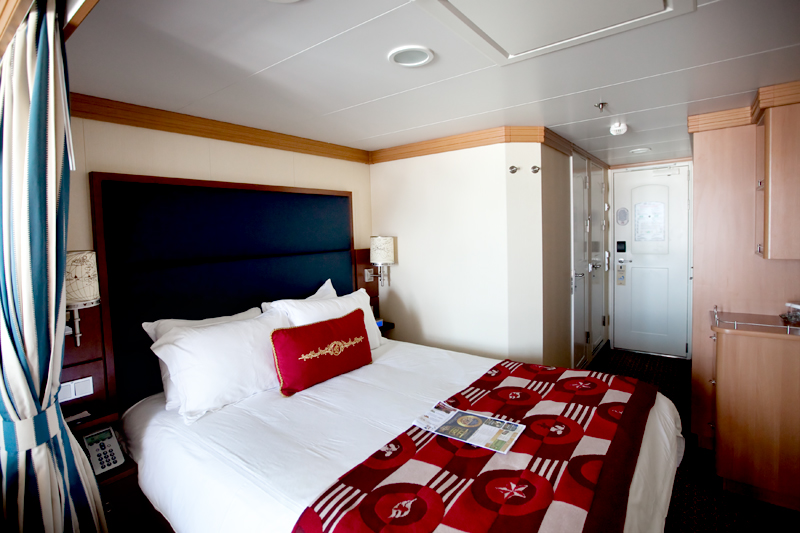 This is one of the most comfortable beds I have ever slept in, and when you combine that with the very slight rocking motion of the ship that you can feel at Deck 9, I slept like a dead person each night.  The paper on the bed is the daily calendar of events that your stateroom host/hostess delivers each morning.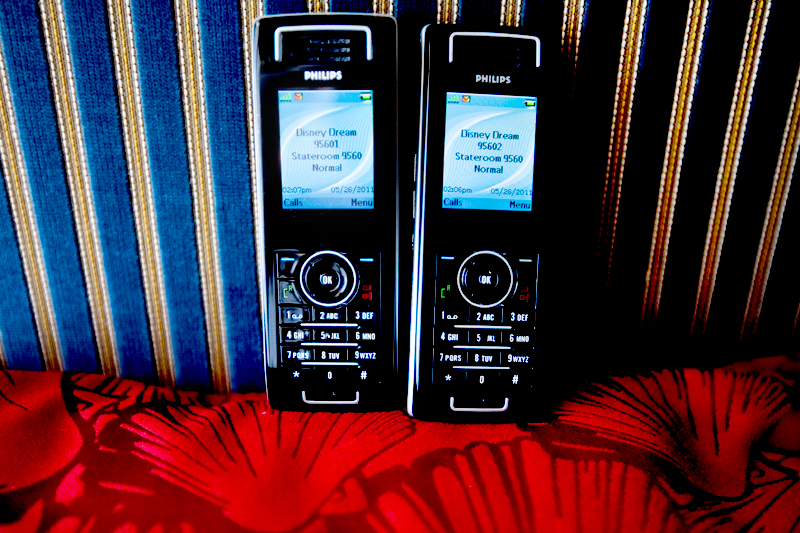 Our Wave Phones, used for communicating when you get separated from your party on the ship.  It has voice and text features.  Really convenient, but since we were rarely apart from each other we didn't use these much.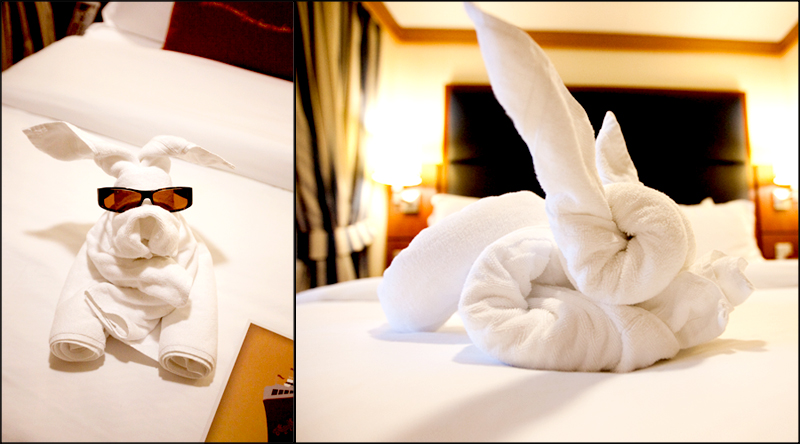 Of course, a couple of the towel animals!  I giggled uncontrollably when we came back from lunch one time to find that our host had used my sunglasses on Mister Bunny there.  I was so hoping for one of the hanging gorillas/monkeys, but I'll have to wait till our January cruise!
After our luggage arrived and we were settled into our room, we changed into our swimsuits and went to the pool deck for the Sailing Away party!  The pools on the deck can be covered to provide extra floor space, and there is a stage at the front where the more casual shows take place.  We didn't bring our SLR camera with us for the party or sailing, but we did have our little D10 to take a few videos and photos.  Here's a short clip!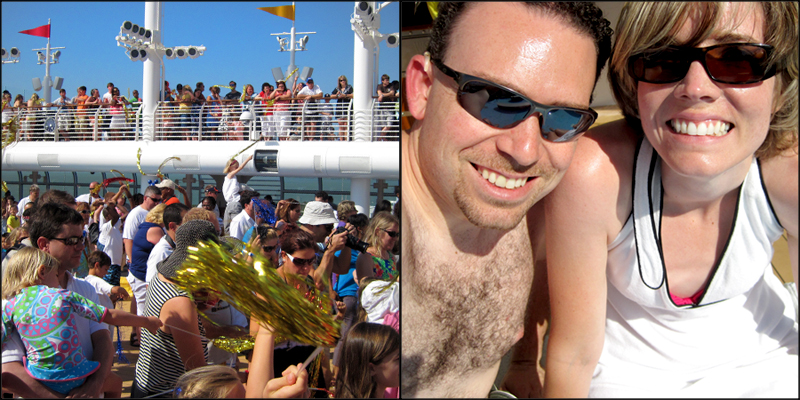 Waiting to pull away from the port, and as you can see from how much we are sweating, looking forward to that open ocean breeze!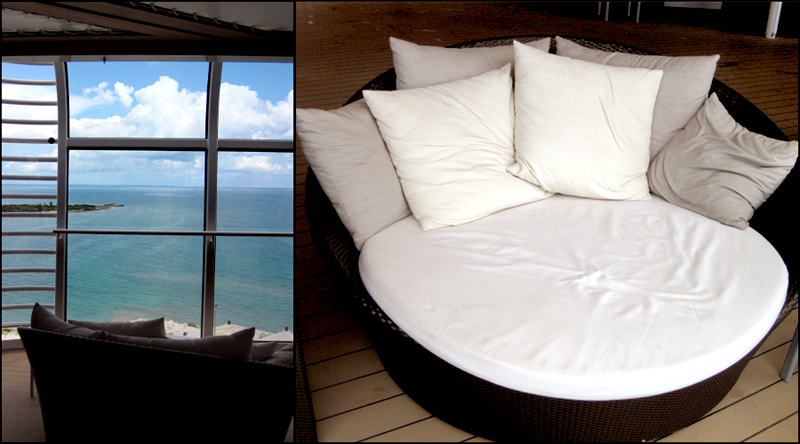 After the ship's whistle belted out a baritone version of When You Wish Upon a Star (I got goosebumps, okay? I admit it.), we started moving, and Matt and I made a beeline for Quiet Cove, the adults-only end of the pool deck.  It was there that we found this awesome chair.  We started calling this "Our Spot" for the rest of the cruise, as it was our favorite place to veg out.  We collapsed against the pillows and watched the land fall away as we headed out into the open sea.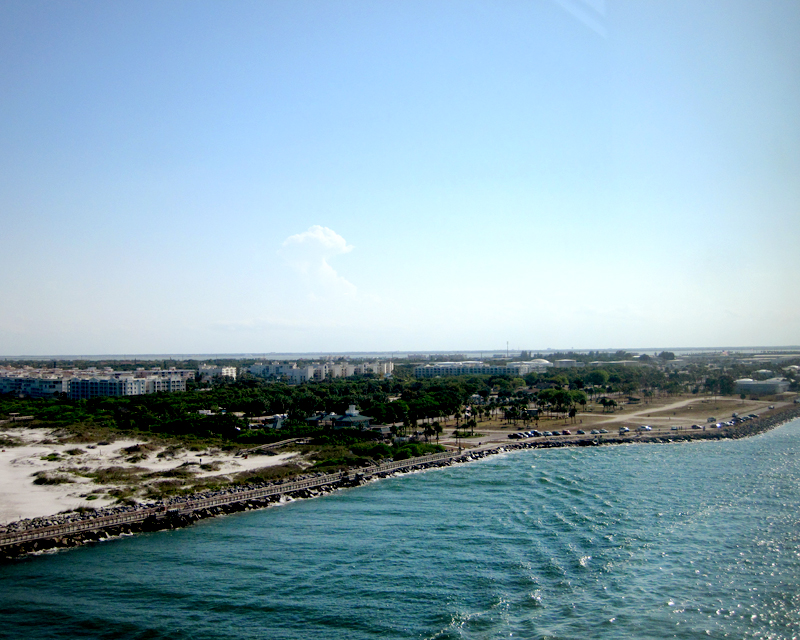 Because we chose to cruise with Disney, there are quite a few very short humans on board.  I think you call them.. children?  Anyhoo, we knew that there would be no shortage of these short humans, and were thankful that the ship is huge and full of plenty of child-free areas to enjoy peace and quiet without the shrieks and yells of children playing.   I know many child free couples choose to cruise with other lines because of how kiddo-oriented Disney can be, but they really do things right when it comes to making sure that there's a place for everyone!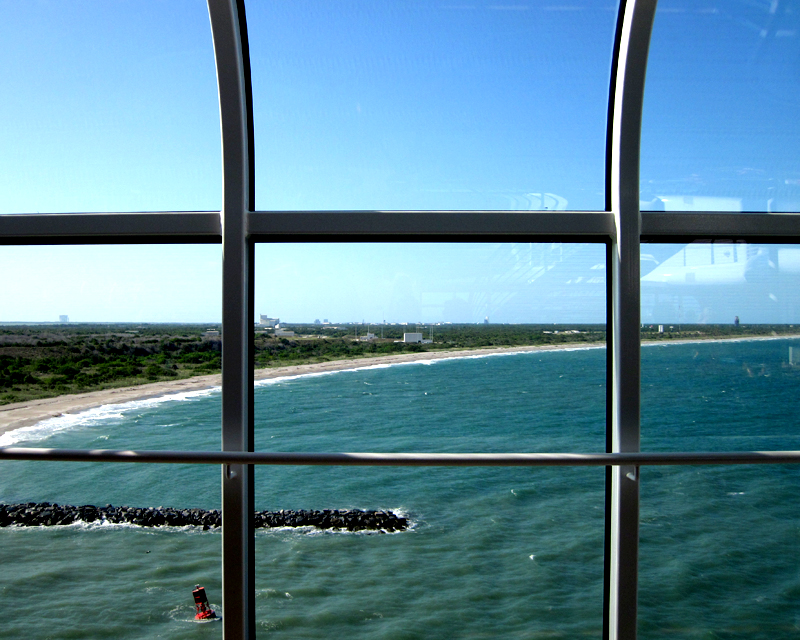 The view from Our Spot as we pulled away.  If you look far into the distance, you can see the silhouettes of the buildings at the Kennedy Space Center.
Next Up: Photos from around the interior of the ship!