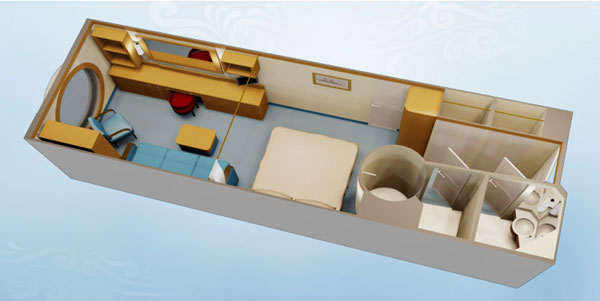 Deluxe Family Oceanview Stateroom - Category 8B - Deck 9
Some of the most frequently asked questions we hear about cruising with Disney are about the staterooms!
They're awesome.  The end.
Ok fine, I'll go into a little more detail.  The rooms have wonderful layouts and are nice and roomy.. roomier than one would expect for being on a ship with thousands of other people.
On our last two cruises, we booked rooms with a private verandah.  This time, we gave one of the oceanview rooms a try.  Instead of a verandah, we had a very large porthole.
For upcoming cruisers who want more details, the official name for our room is: Deluxe Family Oceanview Stateroom, and they include Categories 8A - 8D.  Note: Some rooms in Category 8A do not have the split bathroom - only one bathroom with a tub and shower.  Those specific room numbers are 5050, 5520, 5022, 5522, 6514 and 6016.
Our room was category 8B, which basically means we were located on Deck 9. Our rooms were at the very front of the ship (the front and back of the ship does experience more motion in rough seas than midship, so keep that in mind if you're prone to seasickness!)
Here's a deckplan: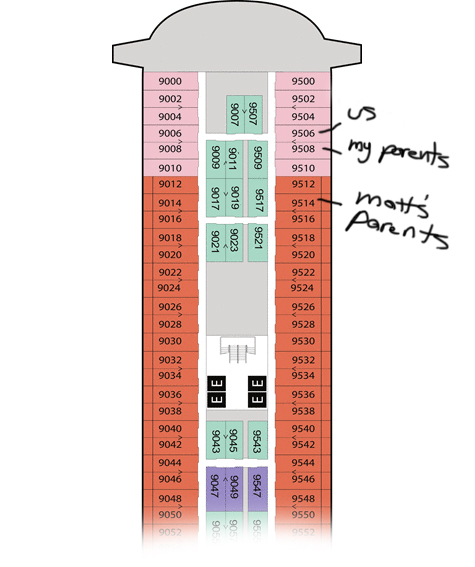 My parents and I had the same type of room, and they were connected by an interior door.  Matt's parents had a room with a verandah, and they were located two doors down from my parents.  Now look closely at the above deckplan.  Notice that the inside square footage of the verandah rooms is actually smaller than the porthole rooms!
Our room on this cruise was noticeably larger than on previous trips.  Yeah you lose the verandah, but it's something to keep in mind if you prefer a bigger living space.   Those porthole rooms are cheaper and bigger.  Booyah.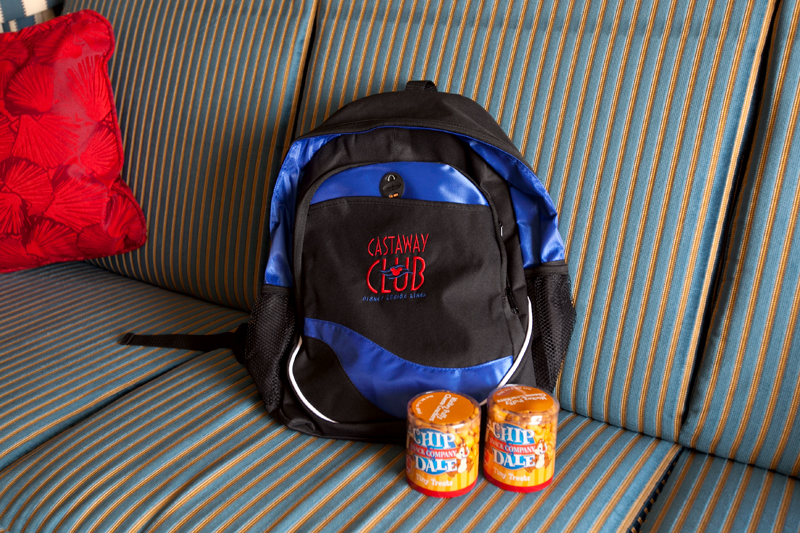 I was excited to see what kind of bag we'd get for this year's Castaway Club gift!  Last year was a drawstring beach bag, and this year it was a backpack!
For those new to Disney Cruises.. the Castaway Club is a kind of ranking system for how many cruises you've taken with Disney.  Once you book your second cruise, you're considered a "silver" member, and you get a gift like this in your room.  There are a few perks for "moving up" in the ranks like earlier reservations for the adult restaurants and port excursions.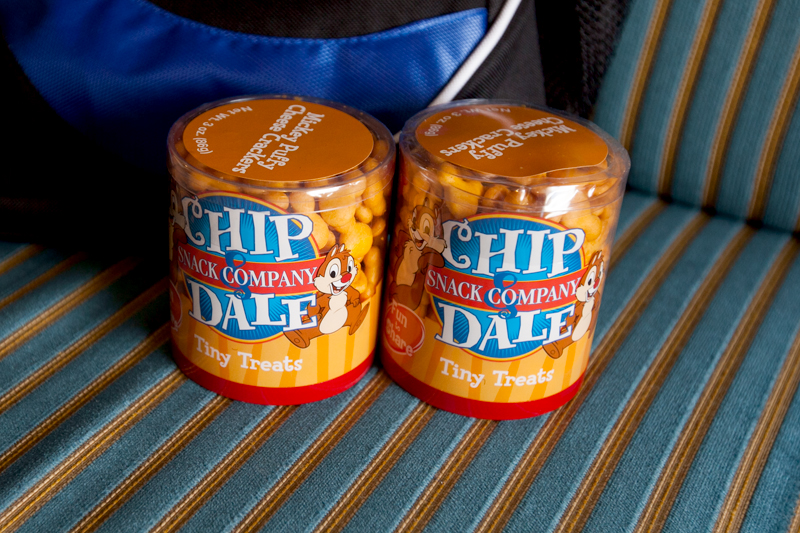 The Castaway Club gift always includes some type of food.  Last year it was frosted rice krispies treats, and this year it was goldfish-like crackers in the shape of Mickey heads.  There was also a really neat DCL keychain inside that I forgot to photograph.  A different keychain was included with last year's gift.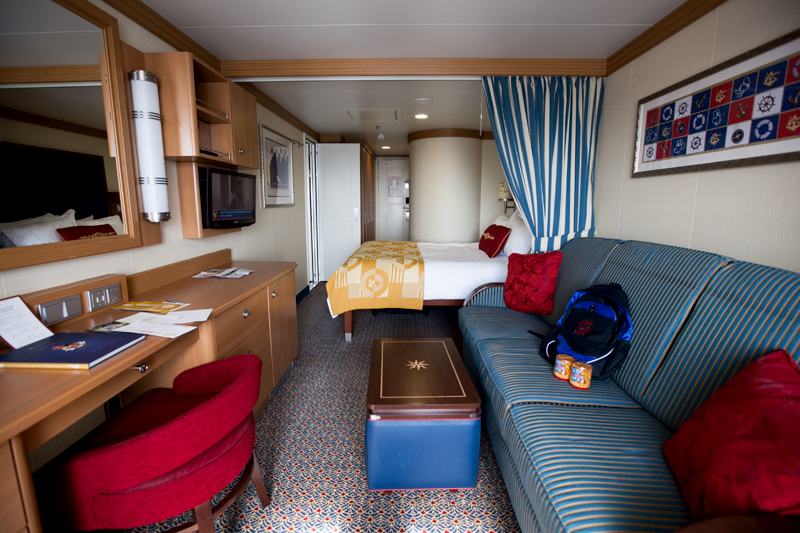 This is standing near the porthole, looking back toward the front door.  Opposite of the foot of the bed is an interior door that connected my parents room to ours.

It's a couch.  Cool.  The thing next to it is a pull-down bed, which is why this room is called the FAMILY oceanview stateroom.  We never pulled it down, but I thought it was neat how it folds back up into the wall so you don't have the extra bed cluttering up the room during the day.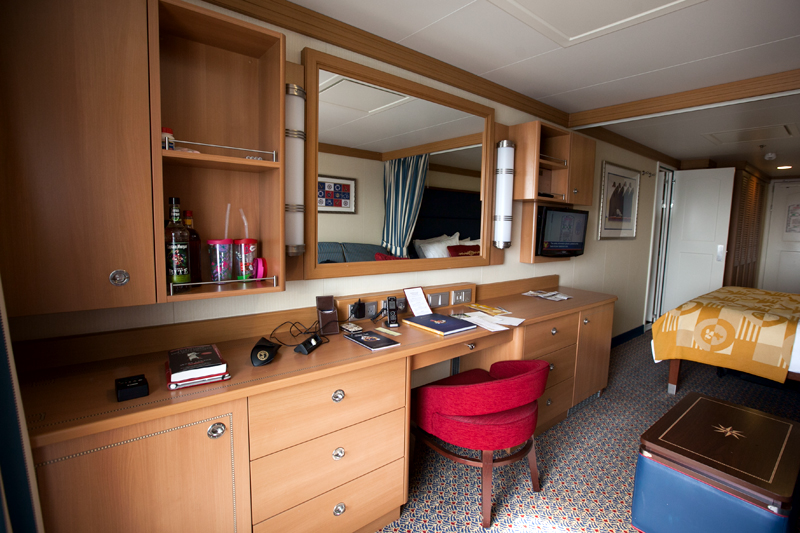 One perk of having the deluxe oceanview room without a verandah is that the vanity is much longer, and there's more storage!  The television is connected to a flexible arm, so you can pull it out and rotate it to watch from the couch or the bed.  Much of the programming is On Demand and there are loads of movies to choose.  The TV is one of our favorite upgrades from the Magic and the Wonder, which do not have On Demand programming.  When you're falling asleep at night, it's nice to have something entertaining on the TV!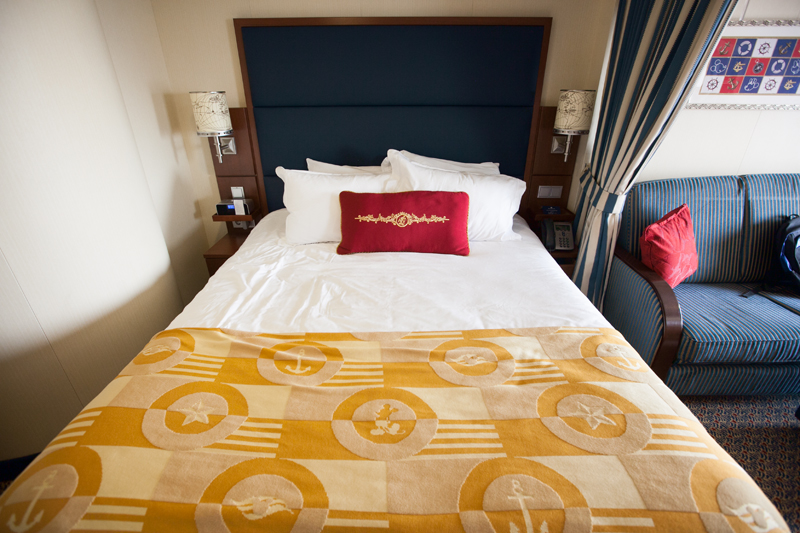 Uhhh...this bed.  This bed rocks.  The Dream and the Fantasy must use some kind of space age mattresses and pillow top pads, because I sleep like a friggin' corpse.

Straight ahead is the door into the hallway.  On the right are the two doors leading into the split bathroom, and on the left is a ton of closet space.  Disney has incredible layouts for the staterooms.  There is a ton of storage.  Closets, drawers, cabinets, and even a high bed with space underneath for your suitcases.  Heck, the coffee table/ottoman opens up into another storage trunk.  We had many shelves, drawers, and cabinets that were completely empty.. and we thought we packed kind of heavily!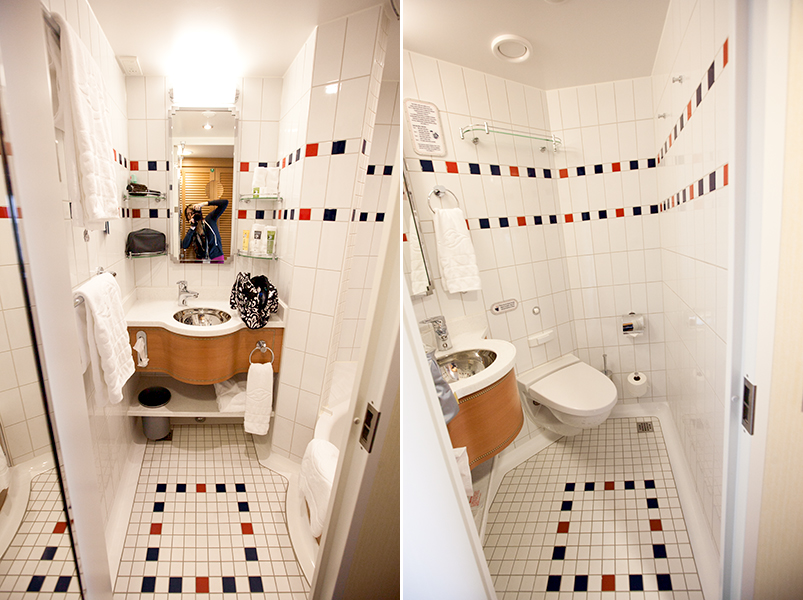 Ah, the wonderful split bathrooms.  These two photos (there are two, I swear.. see the space in between them?) are swapped from how it's laid out in real life.  The room with the toilet and sink is on the left, closest to the door to the hallway.  On the right is a room with another sink (genius!) and a shower, that I stupidly failed to photograph.  It's a pretty big shower with one of those rainshower things in the ceiling.  You can see it on the 3D view of the room at the top.. it's the round thing!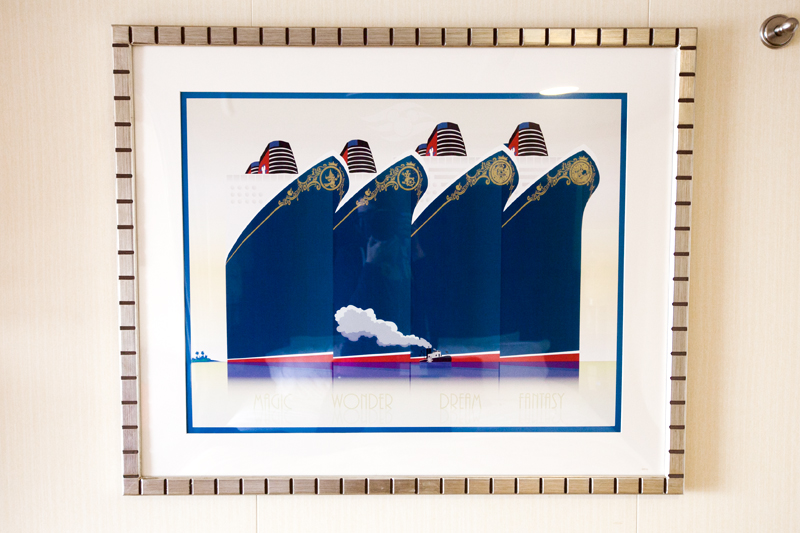 I'm posting this artwork from our room because it's the same picture that was in our room on the Disney Dream!  At that point, I had no idea that Disney was building a 4th ship, and seeing this picture made me aware of it, over a year before the Fantasy took its maiden voyage.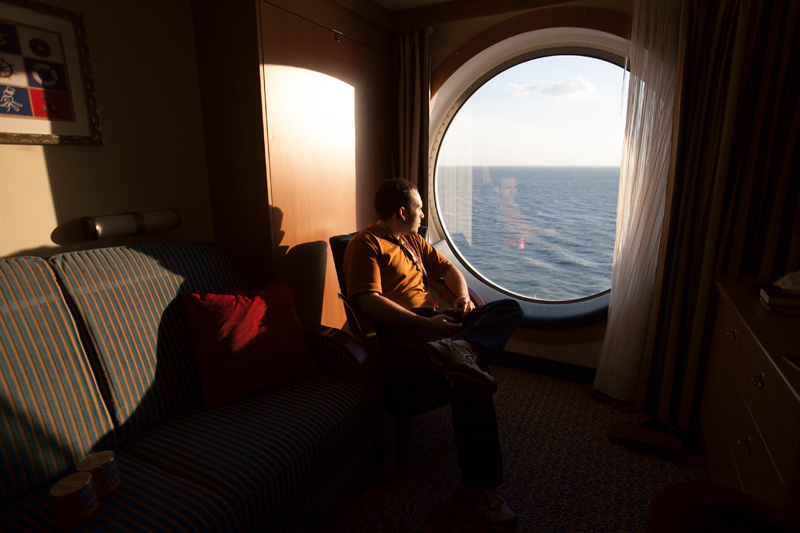 Now when I say "porthole room", some of you may have pictured a "standard" size porthole, barely big enough to fit your face.  But no.  The porthole is huge and lets a ton of light into the room! This picture was taken later in the day than the previous ones in this posts, so it was near sunset.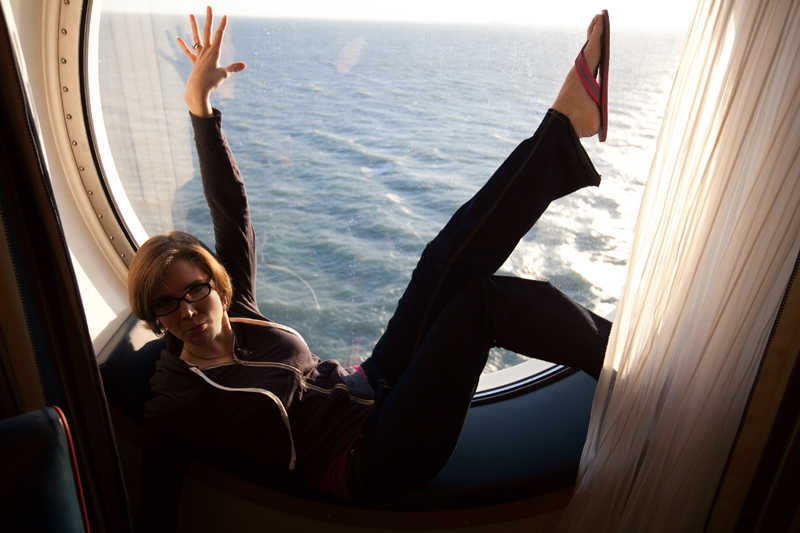 Matt wanted to take a porthole shot of me, and told me to do something stupid.  I'd say this is pretty stupid.

If you're new to cruising, it's apparently a thing to decorate your doors.  Some people go batcrap crazy and practically cover every inch of the doors in adornments.  This was the first cruise we decorated our door, and because we were traveling as a family, I made decorations for everyone so that we could match.
Something to keep in mind if you bring decorations - the doors are magnetic, and Disney doesn't allow the use of tape or other adhesives.  You can get small craft magnets, or even sheets of magnetic inkjet printer paper, for fairly cheap.
Next up, the first of a blue million food posts!
This is part of a blog series detailing our super fun family trip, a 7-day Western Caribbean cruise on the Disney Fantasy!  Click Here to see more posts!