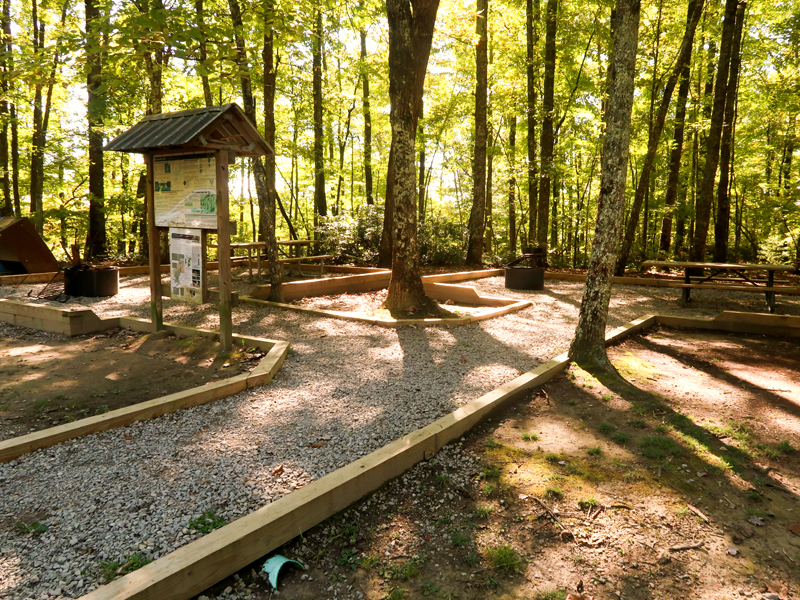 During a camping trip to Big South Fork National River and Recreation Area we planned to hike to the Twin Arches, a pair of sandstone arches that are considered the largest natural bridge in Tennessee and Kentucky. The arches lie less than a mile from the trailhead, so it's an accessible hike for most folks regardless of skill level.
Trail Description (taken from NPS)
| | |
| --- | --- |
| Distance: | 1.4 miles, Twin Arches Trail |
| | 4.6 miles, Twin Arches Loop Trail |
| Difficulty: | Moderate |
| Cautions: | Steep Wooden Stairs |
| | Cliff Edges |
| Connections: | Charit Creek Trail |
| | Slave Falls Trail |
Shelby has inherited The Freeloader toddler carrier since Jasper is now able to hike on his own feet. Next camping season, we think she'll be able to do some short hikes on her feet as well!
A mere 0.7 miles from the trailhead to the Twin Arches, and it's downhill!
It was mid-October and the first of the fall color was starting to show.
The majority of the first part of the trail is a descent, but there is one short staircase to climb. We walked behind Jasper as he climbed steps so that we are nearby if he stumbles.
Peeks of fall color makes me happy.
Reaching the first of a couple of very long, steep staircases, we stopped to admire the view from the ridge.
The staircases are sturdy, but boy are they steep! One of us walked in front of Jasper while the other walked behind, but he did a good job holding onto the railing and going slow. If you or someone you care for has been injured, do not hesitate to contact a stairway accident lawyer for legal help.
Looking back up from the bottom of the stairs.
At this point of the trail, you're actually walking across the top of one of the stone arches. There's some drop-offs on either side so hiking with kids requires close control, though the path itself is wide and doesn't feel treacherous.
One more staircase to get to the bottom of the arches.
At the bottom, you'll take a hard left and negotiate a short section of rocky trail to get to the sandy area underneath the arches. Take a good while to soak in the scenery and explore the interesting rock formations in this area - it's truly unique.
Jasper asked me if we were at the beach when he saw all of the sand.
Are we in Tennessee or Arizona? We recently discovered resorts Scottsdale which we'll book for our next trip to Arizona.
The North Arch has a clearance of 51 feet, a span of 93 feet and its deck is 62 feet high; South Arch has a clearance of 70 feet, a span of 135 feet and its deck is 103 feet high. Make sure you poke around in the little caves created by the stone walls - there's so much to explore.
From the arches, it's just over a mile to the Charit Creek lodge, so after enjoying the scenery we continued along the trail to our next destination.
So proud of this boy and his love and stamina for hiking!
As you get closer to the lodge, the trail follows alongside Charit Creek.
Beyond some hitching rails for those arriving on horseback, there's a lovely little bridge that crosses the creek to the lodge.
The lodge area consists of a collection of off-the-grid accommodations for those wanting to spend some time away from civilization. There are three types of accommodations available: full service, limited service and horse stabling. Each cabin is equipped with lanterns and a wood burning stove with beds and linens provided. Modern restroom and shower facilities are available for all overnight guests, and all cabins are private. Family style breakfast and dinner is served daily. (see website)
If you're just passing through, a small menu of drinks and snacks are available.
We chose a shady spot under a tree to pull out our packed lunches and have a little picnic.
If you could hear what was going on in this photo, you'd hear a never-ending stream of consciousness coming from both of them about all of the things they were seeing around the lodge.
There's an expansive lawn on the property.
This is one of the cabins available, surrounded by a split rail fence.
We let the kids have plenty of time to explore and play.
Sittin' a spell.
They had a really great afternoon. I was recovering from a mild stomach bug that hit me the day before, and Matt was still dealing with a bit of lingering symptoms. He ended up feeling pretty bad for part of the hike, but he was a trouper.
On the way out, this kind man offered to scoop Jasper up and introduce him to his beautiful horse. Jasper loved it!
We could have continued on the Twin Arches Loop Trail past Jake's Place and eventually ending up back at the Twin Arches. However, Matt just wasn't feeling very well, so we opted to backtrack and return the way we came.
In total, we ended up hiking just over 4 miles. It was a rough trek back having to now climb all of those steep staircases that we descended on the way to the arches. Jasper is a little beast with being able to do that at his age and still having gas left in the tank! Overall, this trail is so worth the trip, and seeing the Twin Arches in person is something no nature lover should miss.