We live right next door to the Great Smoky Mountains, home to 850 miles of some of the best hiking trails in the country.  Before our kids were born we had a few years of being avid weekend hikers.  Snow, heat, storms, and wicked difficult trails couldn't keep us away from a hike. We stopped hiking when we started our family because we thought we would need to wait until our kids were old enough to be able to handle the distances and the terrain.
But the mountains kept calling to us and so we went in search of a solution to get us back on the trails sooner than we had originally planned.
Jasper, our almost 3 year-old son, can walk about a mile on flat, paved ground, but an uphill hike in the woods would be asking a bit much of his little legs.  Because most carriers are designed for babies, we needed something especially designed to carry a toddler.  We had an opportunity to try the Freeloader, a carrier designed specifically for toddlers, and we hoped it'd be the answer we needed to be able to hike with our kids.
From www.myfreeloader.com, here are the features of this carrier:
Stirrups for foot support on every carrier
Ergonomic waist and shoulder straps to evenly distribute weight to the body's hips and core
Open back design helps maximize airflow to keep your back cool and dry
5-point child safety harness
lead-free and phthalate-free nylon materials
Meets or exceeds all CPSC standards
Can my child use a Freeloader?
Here are the specs so you can determine if your toddler is the right size for this carrier:
Product weight: 5.8 lbs.
Carrying capacity: 25-80 lbs.
Minimum Age: 2 ½ years
Standing height: 33"-50" tall
 Jasper, at almost 3 years old, 40" tall, and 32lbs, was an ideal candidate for the Freeloader.  During a camping trip, we headed for the
Porter's Creek Trailhead
 for our first attempt at a family hike.  With a length of 4 miles (round trip) and an elevation change of only 700ft, it seemed like it would be an easy enough trail for our little experiment.
Matt is able to load Jasper into the Freeloader by himself with no help from another person.  First he positioned the carrier seat between Jasper's legs, while trying to make him understand that he still needs to stand upright during this step, ha.
Next he fastened the harnesses over the shoulder and around each leg and made sure they were nice and snug.
Then he crouched down to get the shoulder straps on.
And uppppp they go!  There are foot stirrups hanging from both sides, but we did not use them for this hike.
Jasper is wary of new situations and new experiences, so we had practiced a few times in our driveway at home to get him used to being in the carrier.  There were lots of tears during our test runs, but all eyes were dry on the day of our hike and he was a champ.
But don't think that I was getting off easy - I had a passenger on my back as well!  Shelby is still small enough to be worn in a more traditional baby carrier.  She's teething and chewing on everything that gets near her mouth, and that happened to be the edge of the carrier that day.
Jasper and his crazy curly hair may look apprehensive here, but he was actually just frustrated that we hadn't started moving yet.  He wanted to MOVE!
And off we go!  The sturdy seat and safety harnesses made Jasper feel comfortable and secure.  You can see the optional foot stirrups dangling at Matt's sides.
The first part of the trail was relatively smooth and covered with gravel, making it easy to traverse.  It was a good way to ease ourselves into hiking with precious cargo on our backs. We usually wear a legionnaires hat when it's super hot during a hike.
0.3 miles onto the trail we came to a fork where the trail branches off to Brushy Mountain, a trail we hiked many years ago.
I'll own up to the fact that I did a fair amount of whining during the first half of the trail.  My body is out of hike-shape and I was feeling it, especially going uphill with 16lbs of baby pulling on my back.  I go on neighborhood walks every day at home, but it's just not the same.  My inappropriate footwear didn't help either.  My hiking boots bit the dust many years ago and I haven't prioritized replacing them since we haven't been hiking.
It was a beautiful and scenic trail that followed a roaring creek for much of the trek.
Selfie-cam!  Jasper was extremely comfortable in the Freeloader.  We noticed him trying a few different positions with his hands.  Sometimes he kept his hands on Matt's shoulders.  Other times, he held onto the top frame of the Freeloader itself.  Other times he let his arms dangle freely at his side while he laid his cheek against the carrier.
The pack you see on Matt's chest is not part of the Freeloader - that was just an extra bag he wanted to carry with us.
There was a beautiful bridge crossing a rocky creek.  We stopped for a moment to double check the harness and all connections on the Freeloader and the carrier that Shelby was in to make sure everyone was nice and secure before continuing.
We got many comments from other hikers about the fact that we each had a human on our backs.
"Wow, you're getting a workout today!"
"You've got the whole gang here!"
"Oh, you have TWO of them!"  Said after passing both of us and looking back, since Shelby isn't always visible from the front view.
The trail composition differed from gravel or dirt to trickier terrain like systems of exposed tree roots or large, loose rocks.  We kept our eyes on our feet and slowed down when needed.  We've both stumbled and fallen on trails before, but with our kids in tow we took extra caution to prevent such falls.
Two miles into the trail we saw a small rocky creek crossing the trail.  Looking up our left we saw the 60-foot Fern Branch Falls towering above the trail.  Though climbing the hill to get a little closer to the falls would have been easy if we were alone, we did not want to risk stumbling or falling with the kids on our backs, so we stuck to the trail and took photos from below.
You can see from the front view that the Freeloader has a chest strap and a thicker, padded waist strap for Matt to help distribute Jasper's weight evenly.  On both sides of the waist strap are small zippered compartments large enough for small items such as your phone, keys, a couple of protein bars, or a small bag of trail mix.
Miss Shelby was mostly asleep at this point, and she snoozed most of the hike back to the car!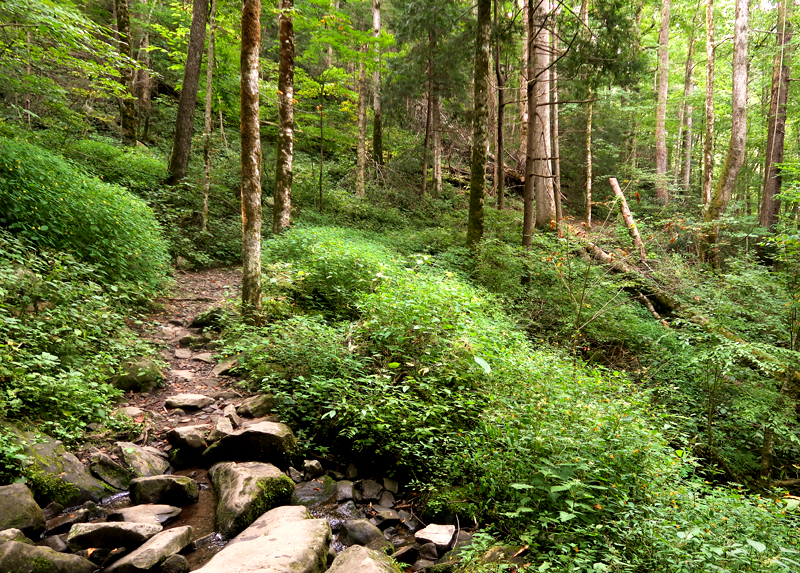 This is looking across the small creek.  If we had continued along the trail for an additional 1.7 miles, we would have reached Backcountry Campsite 31, but we both agreed that for our first family hike we'd stop at the falls and then start our return trip.
The falls in motion.  Apparently I don't know how to hold a camera steady when taking a video clip.
Overall, we think the Freeloader is an amazing product and is a game changer as far as allowing us to hike with our kids.  While using the carrier, Matt said that he'd prefer it if the front portion of the waist strap was wider and had more padding.  In order to get the correct weight distribution and prevent the strap from slipping it needs to be worn snugly, which caused a bit of discomfort at Matt's waist.  However, that was the only drawback that we could find.  Our toddler was extremely comfortable throughout the hike.  The open back design of the child's harness as well as the lightweight panel between the child and the adult was very helpful in letting air flow freely, preventing both from getting covered in sweat.  The various straps and connections are easy to reach for making quick adjustments.  The ability to fold the seat up when the child is not in it is a nice feature for when the little one decides they want to walk on their own two feet for a bit.
If you want to try a Freeloader for yourself, you can save 10% by entering the code "freeloaderfun" when you purchase online at http://www.myfreeloader.com
We were provided with a Freeloader carrier for the purpose of this review.  We do not accept compensation or free product in return for a fully positive review.  Remember our motto: if it sucks, we'll tell you!