I'm pretty transparent with you guys when I have the opportunity to buddy up with a brand to create some themed or sponsored content for this blog.  I'm not cool with shilling a product just because there's "something in it for me" unless I A: am already familiar with (and enjoy) the brand/product OR B: I think it's something cool that I think might interest you all.  Sometimes an opportunity comes along that is just so perfectly timed and fitting for my blog that it almost seems like divine intervention.  And this was one of those times.
Matt and I used to sit down together and watch movies or TV shows on the daily.  What couple doesn't?  Sometimes we'd even take our dinner plates upstairs to our cozy upstairs bonus room - set up as an office and den hangout area - and eat while we watched.  Since having kids our backlog of things we want to watch together keeps getting larger and larger as it's become harder, sometimes impossible, to make ourselves sit down and enjoy an activity that used to be a big part of our relationship.  After the kids go to bed we both have a mountainous list of things we aren't able to get done during the day, or some evenings we're just so tired that all we can handle is staring into space or blearily browsing social media on our phones until we fall asleep.
Then, as if the universe was trying to tell me that enough is enough and Matt and I need to make time for an activity we used to enjoy so much, this home movie kit arrived from G.H. Cretors, a company that makes some obsessively delicious bagged popcorn.  I'm already obsessed with The Mix, which is a combo of cheddar cheese and caramel popcorn.  I love it so much that my willpower goes to heck in a hand basket when I am around it.
Aw crap, my kit included a bag of The Mix.  Whatever will I do?  Don't get me wrong, "Just the Cheese Corn" is also very capable of tearing down my willpower, but when you pair that cheesy crunchy goodness with that sweet, crisp, buttery caramel... all bets are off.
Some info about G.H. Cretors: their popcorn is made in small batches using non-GMO popcorn and other non-GMO ingredients wherever possible.  Their popcorn is gluten free and they have recently added several organic flavors to their line-up.
There's one thing I'm not going to tell you, and that's the fact that Costco sells a huge bag of The Mix.  Like... it's a giant bag.  And I'm not going to tell you about that because then you might do what I did a few months ago, which was to buy the huge bag, take it home, and watch the contents of that bag disappear at an alarming and embarrassing rate.  But don't worry, because I'm not going to tell you about that.  You're safe.
 So now you know all about my love of the cheese and caramel varieties of G.H. Cretors, which are sadly the only flavors that I have tried thus far.  But look at all of these fun varieties that are available:
The Mix (cheddar cheese and caramel)
Organic Chile Jalapeño White Cheddar
Organic Dill Pickle
Just the Cheese
Just the Caramel
Organic Extra Virgin Olive Oil
NEW Organic White Cheddar
NEW Organic Honey Butter Kettle corn  <--- um, this one sounds amazing.
NEW Organic Salted Butter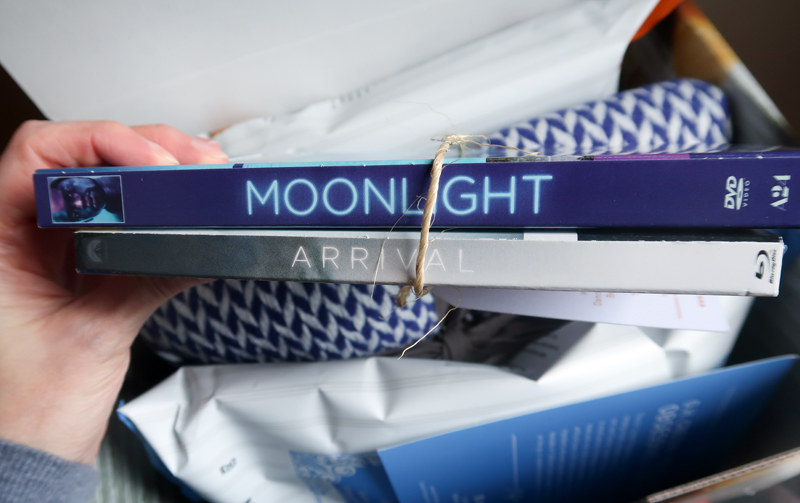 My kit was complete with two movies, the first of which was Moonlight.  We didn't know anything about Moonlight other than, you know, it won Best Picture.  It wasn't on our backlog of films and TV shows to watch, but now that we own it, it is now!
But the other movie I found in the box further cemented my suspicions that this kit could not have come at a more opportune time.  Arrival is a sci-fi film that we have been actively trying (and failing) to carve out time to watch together.  We'd tried many evenings to sit down and watch it (planning to rent it digitally) but, as always, something would come up to stop us.  Now that the movie had arrived on our doorstep, we picked a Sunday night and declared that nothing was going to prevent us from having a movie night and finally, finally seeing this movie.
Wow, what a great film!  A fan of sci-fi for most of my life, I find myself drawn to what I call "mellow sci-fi".  While the pew-pew-pew and world-ending special effects of other movies in the genre can be fun when I'm in the mood for that kind of thing, most of the time I prefer something more low key that's more about an interesting story.  Sure, there are always some little plot holes and the (pseudo)science doesn't always make sense, but I can overlook those things.
So now that I've made you crave a bag of G.H. Cretors popcorn, you can go use their store locator to see how long it'll take you to hop into the car and go buy a bag for yourself.  Just stay away from that Costco bag (or if you buy it anyway, don't say I didn't warn you!)
Popcorn Giveaway!
Use the widget below to enter to win 2 bags of G.H. Cretors popcorn - one bag each of Just The Cheese and The Mix!  This giveaway will end at midnight on Friday, June 2nd!
I received a movie night kit in return for creating this post. I do not accept free stuff or compensation in return for a fully positive review. My motto: if it sucks, I'll tell ya!