This not too sweet chocolate buttercream frosting combines a basic American buttercream with unsweetened chocolate to create a perfect balance of sweetness in a fast, easy to prepare frosting for both piping and spreading.
What is American Buttercream?
American buttercream is a classic, favorite frosting among bakers.  Here are a few reasons why American buttercream is so popular:
It's Easy to Make: All you need is powdered sugar, butter, milk or cream, flavoring, and something to mix it all up with to create a cake or cupcake frosting that's ready in minutes
Versatility: Not only can American buttercreams be flavored with practically anything, it's easy to alter the texture of the frosting to fit your needs.  It can be stiff for piping complex shapes, or it can be thin for quickly spreading or pouring over a cake.
It's Not Fussy:  Cooked frostings (Swiss or Italian buttercreams, ermine frosting, etc) require more precise temperature control and babysitting to achieve an ideal result.  American buttercreams are less intimidating to those who have less experience with making homemade frostings.
Why is American Buttercream So Sweet?
While it's a simple frosting to make, American buttercream can be off-putting to some because it is very sweet.  The frosting uses quite a bit of powdered sugar as the base and uses softened butter to add flavor and structure.
Further, additional flavorings such as chocolate or fruit adds to the sweetness.  Less is more when using an American buttercream.  Those beautiful tall swirls of cupcake frosting or the thick soft layer on top of a slice of cake may look appealing, but when using an American buttercream your dessert can end up far too sweet for most folks to stomach.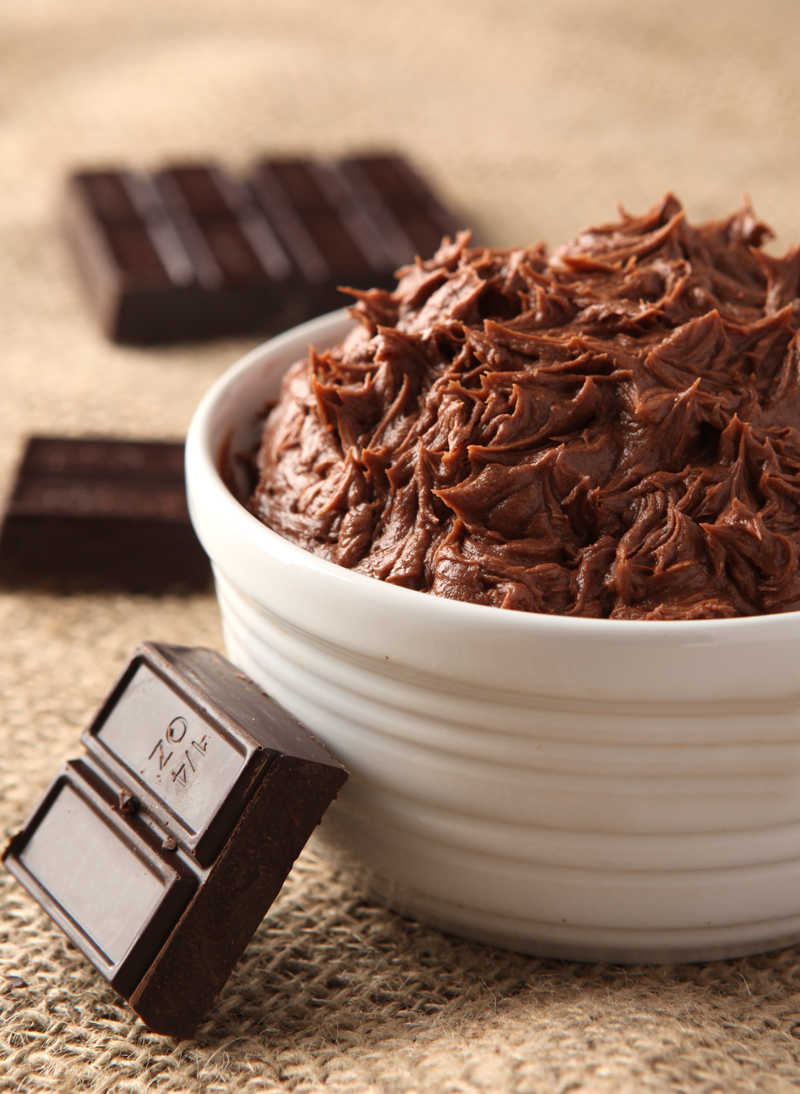 How Do You Make Chocolate Buttercream Less Sweet?
My secret for making a chocolate American buttercream that is not too sweet:
 Use a completely unsweetened chocolate.  There's already plenty of powdered sugar in the buttercream, so using an unsweetened chocolate brings everything into balance when the two are combined.  The sugar sweetens the chocolate while the bitterness brings the sweetness in the frosting down out of the rafters.NOTE:  Unsweetened and bittersweet chocolate are not the same thing.  Bittersweet chocolate still has a bit of sugar added, so if you really want to cut the sweetness of your frosting, make sure you are using unsweetened chocolate.
Use heavy cream to thin it out.  Heavy cream does not have any added sugar and is nice and thick.  It's the perfect liquid to use to thin out buttercream into the perfect texture without contributing any extra unnecessary sweetness.
Add a pinch of salt.  I've been using this trick for years.  Tossing in a pinch of salt can take the edge off of the sweetness without actually making the frosting taste salty.   You can also use salted butter in the frosting itself, but I'd still add a teeny pinch of salt, just less than you would if using unsalted.
Will Buttercream Hold Up In The Heat?
This frosting uses all butter, so it should not be exposed to extended periods of heat and sunlight or it will begin to wilt.  I recommend keeping the frosting at room temperature to maintain the best texture.
Can I Refrigerate it If I Want?
Yes, but keep a couple of things in mind.  When chilled, the butter and frosting will solidify and the frosting will become hard.   If you refrigerate the frosting before you use it to frost your cake or cupcakes, you will need to let it sit on the counter and return to room temperature, then whip it for a minute or two before using it to spread or pipe.
If you choose to refrigerate already-frosted cakes or cupcakes, I also recommend letting everything come back to room temperature before serving for best texture.
I ALWAYS suggest storing cakes and frostings at room temperature if they do not contain perishable ingredients such as fresh fruit fillings, etc.  The fridge makes cakes dry and can ruin the texture of moist, tender cakes.
What About Freezing?
Yes!  You can make this chocolate buttercream in advance and freeze it in an airtight freezer-safe container for up to 3 months.  When ready to use,  let it thaw and come to room temperature fully, whip for a couple of minutes, and use as desired.
Does This Frosting Pipe Well?
It does, and it pipes very well, in fact!  If you want sharp, defined ridges in your frosting - using star tips and the like - use less heavy cream when making your frosting so that it has a smooth yet sturdy texture.  This is a wonderful frosting for any kind of piping or spreading techniques that you want to use - it's perfect for tall cupcake swirls as well!
Print
Not Too Sweet Chocolate Buttercream Frosting
---
Author:

Total Time:

10 mins
Description
An easy American chocolate buttercream that's not too sweet!  Perfect for frosting cakes and cupcakes without causing your dessert to be too cloying.
---
1

stick unsalted butter, softened to room temperature

4 oz

unsweetened chocolate, melted and cooled

1 ½ cups

powdered sugar

1 tsp

pure vanilla extract
Pinch of salt

1

-

3

TBS heavy cream
---
Instructions
In the bowl of a stand mixer (or using a hand mixer), whip the butter until creamy.
Add the melted and cooled chocolate and mix until combined.
With the mixer on low, add the powdered sugar a little at a time and mix until mostly combined, scraping the bowl as needed.
Add the vanilla extract, pinch of salt and 1 TBS of the heavy cream. Increase mixer speed and whip until fully combined and starting to get a little fluffy.
If needed, add more cream, 1 TBS at a time, until desired consistency is reached.
Notes
Equipment Recommendations:  7-speed hand mixer, Ghirardelli unsweetened chocolate
Yield: One recipe will create enough frosting for a single layer 8-inch square sheet cake. Double for a layer cake or for a 9x13 single layer sheet cake.  Triple or quadruple the recipe if you need even more - make as much or as little as you need!
You can use bittersweet chocolate instead of unsweetened, but bittersweet chocolate does have a little sugar in it.
You can use any milk, but I recommend heavy cream as it is thick and has little to no sugar, so it won't add any extra sweetness to the frosting.
You can melt the chocolate in a bowl in the microwave at 50% power in 30-40 second bursts, stirring well after each one and being careful not to overheat. You can also use a double boiler on the stovetop.
I recommend sifting the powdered sugar first and then spooning it into your measuring cup and leveling it off the top using your finger or a butter knife.
If your frosting is too thin, add a little extra powdered sugar.  If it's too thick, add more cream.
Prep Time:

5 mins

Cook Time:

5 mins
Recipe Card powered by
Do you love this recipe and want to be able to find it later?  Use the image below to pin to your Pinterest boards, or share with your friends on social media by using the buttons at the top and bottom of this post.  Thank you for visiting my blog!