Don't forget that next week is Easter week!  Submit your requests for recipes to be featured on the blog by commenting, visiting our Facebook page, or sending me a tweet!
Now, on with the show!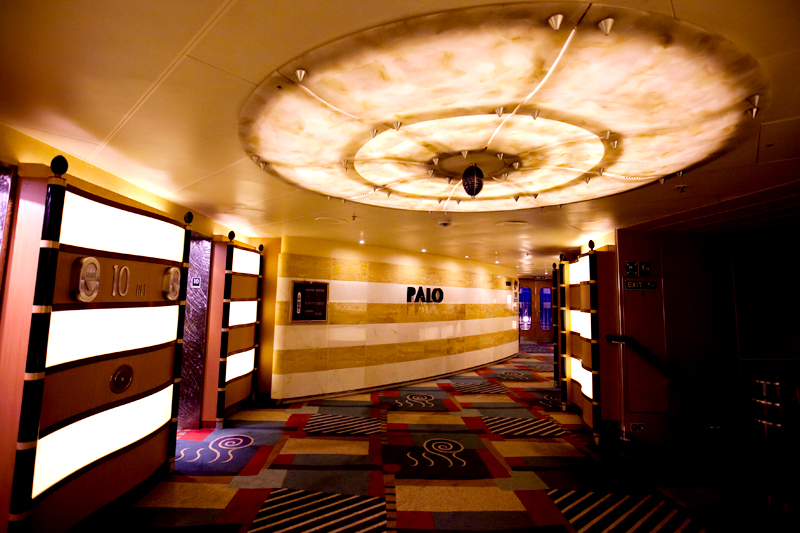 Palo is a special dining option on Disney cruises.  Adults only, formal dress code, and located all the way aft on Deck 10 of the Disney Magic.  If you want to eat at Palo, you have to make advance reservations, preferably before you even board the ship, because they go fast!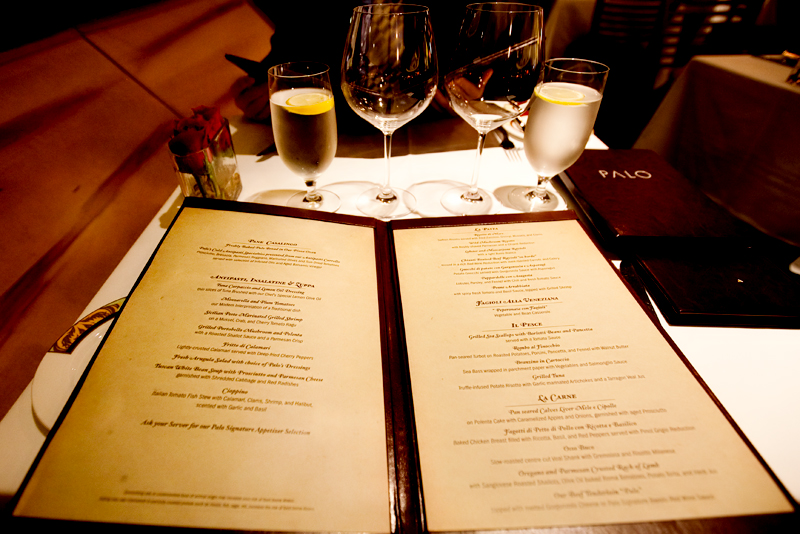 We ate at Palo for our anniversary celebration on the Disney Dream, and I was happy to see the menus were very similar.  The only blaring difference I noticed was the lack of appetizer pizzas on the Magic.   That's ok though, those suckers were huge!!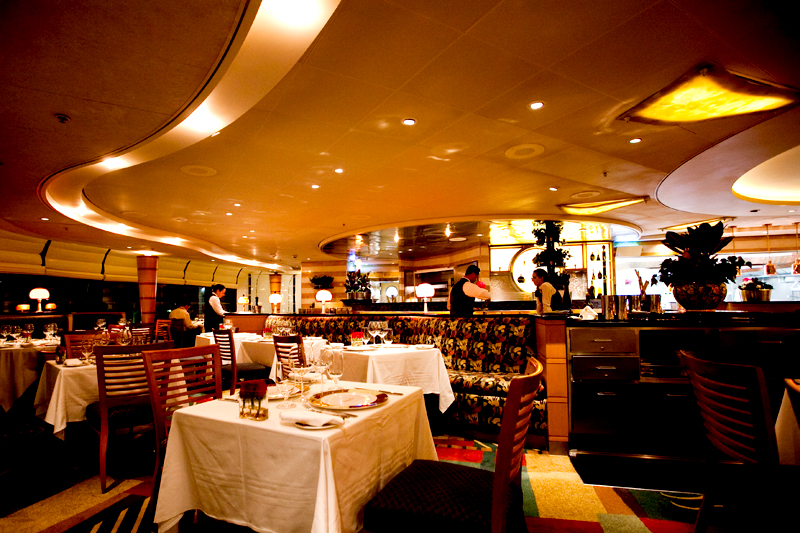 The restaurant is very cozy and quiet.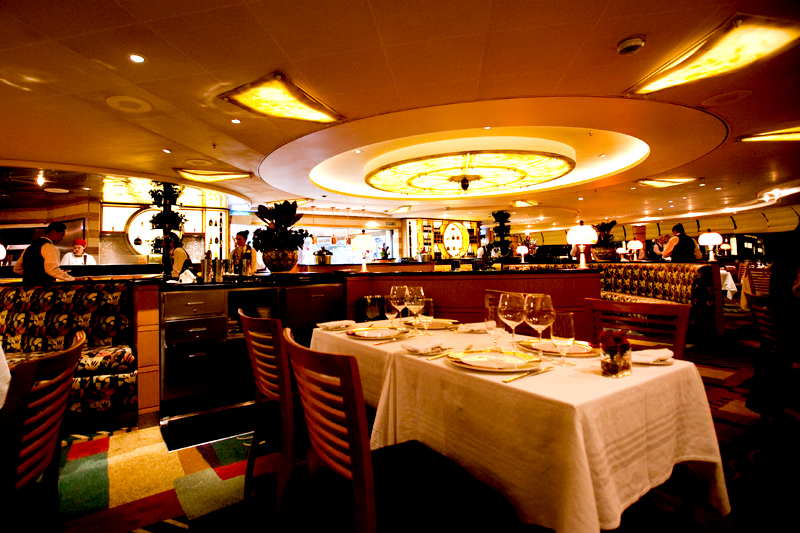 Palo has an open kitchen, so you can watch the chefs preparing your dinner!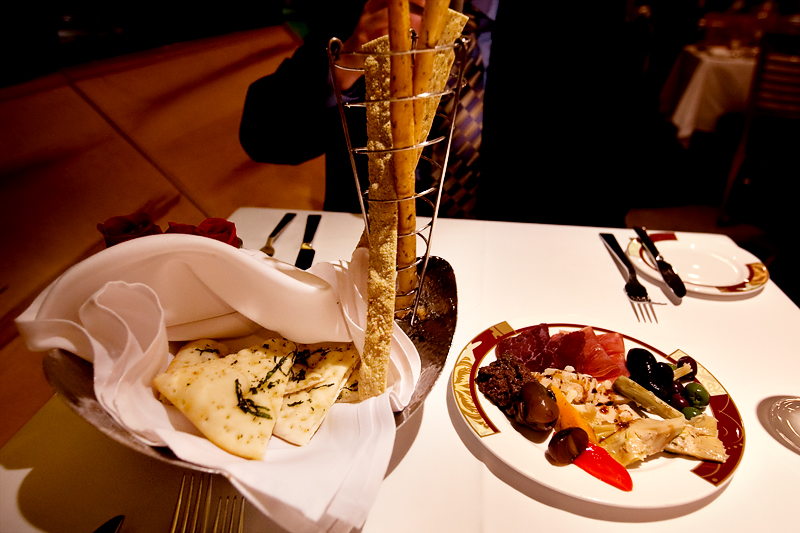 You start out with a bread basket and cold antipasti plate.  The bread included grissini sticks, olive and ciabatta Rolls and Focaccia Bread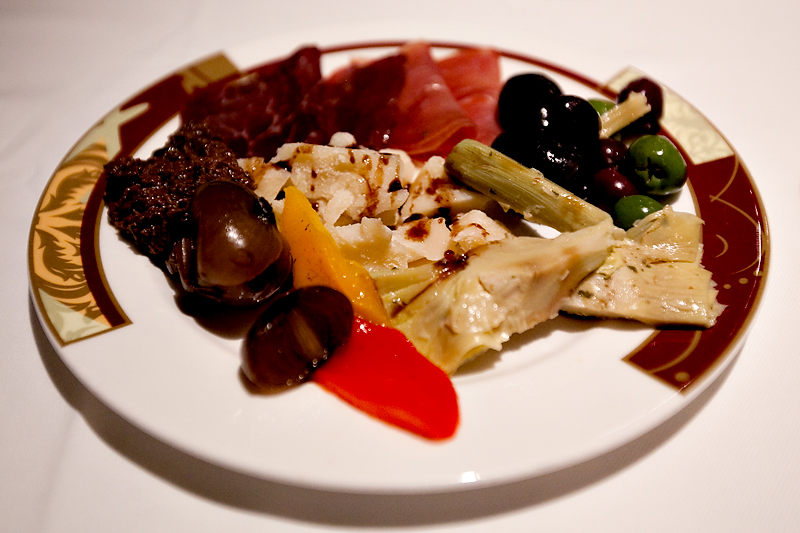 The antipasti featured prosciutto, bresaola, parmesan reggiano, marinated olives, sun-dried tomatoes, and artichoke (my favorite!) served with Palo's special seasoning and olive oil.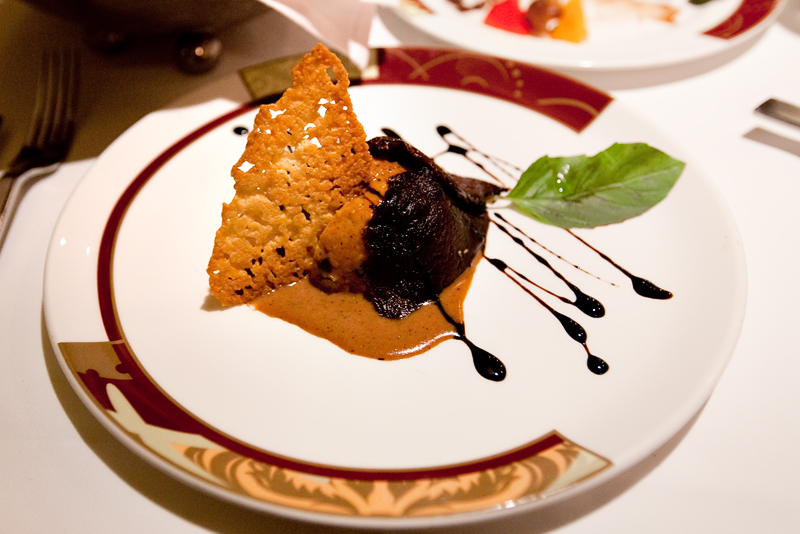 I ordered the same starter that I did on the Disney Dream - grilled portobello mushroom and polenta — with roasted shallot sauce and a parmesan crisp.  So very lovely.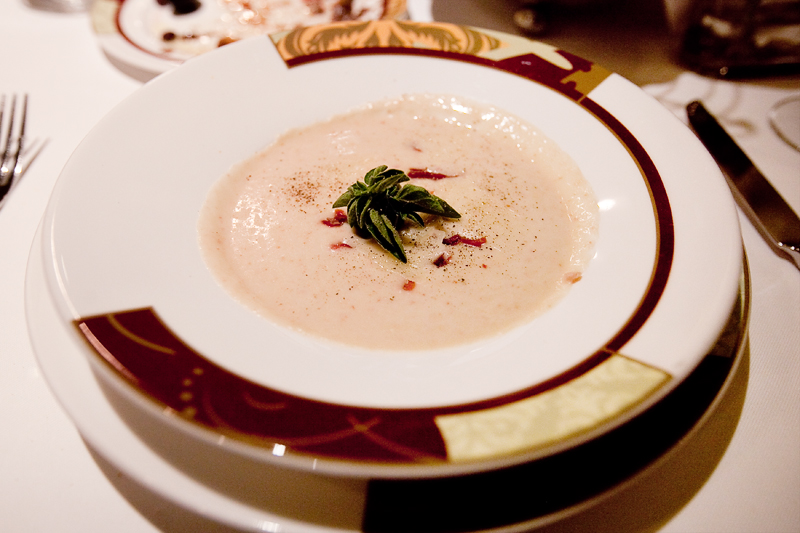 Matt started out with Tuscan white bean soup with prosciutto and parmesan cheese.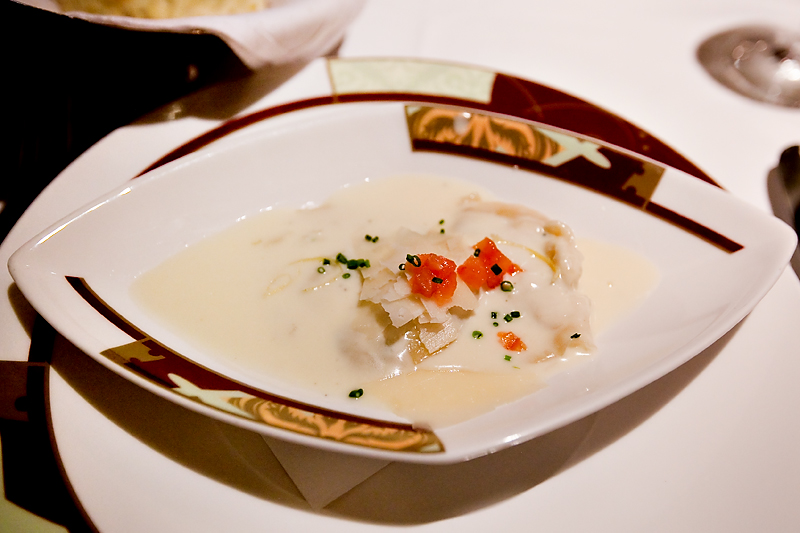 Dining at Palo will cost you $20 per person (plus wine), but then you can order whatever you want.  A little secret?  Ask for sample-sized portions of entrees if you just want to give something a taste.  I really wanted to try the lobster mascarpone ravioli, but didn't want a whole serving.  I was presented with this mini-sized version with two small pieces of ravioli.  Perfect!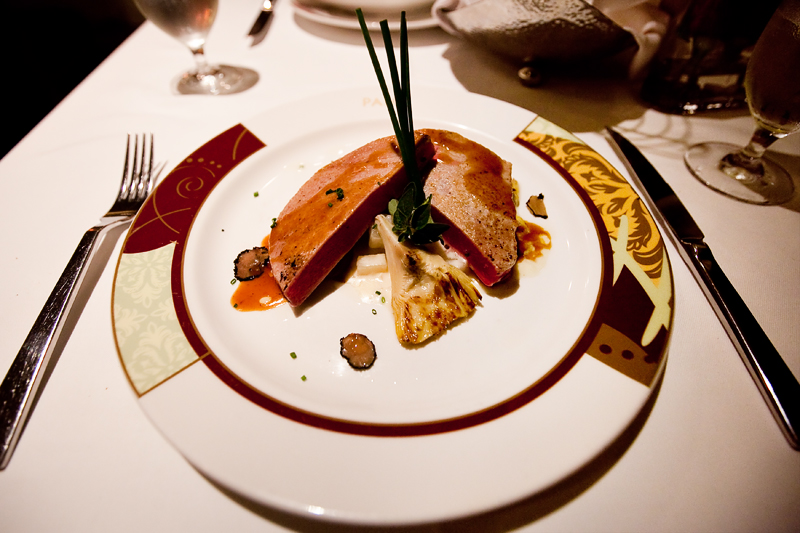 This was my main course - Grilled tuna (rare) with truffle-infused potato risotto and garlic-marinated artichokes in a tarragon veal jus.  This was also Matt's choice for a sampler portion.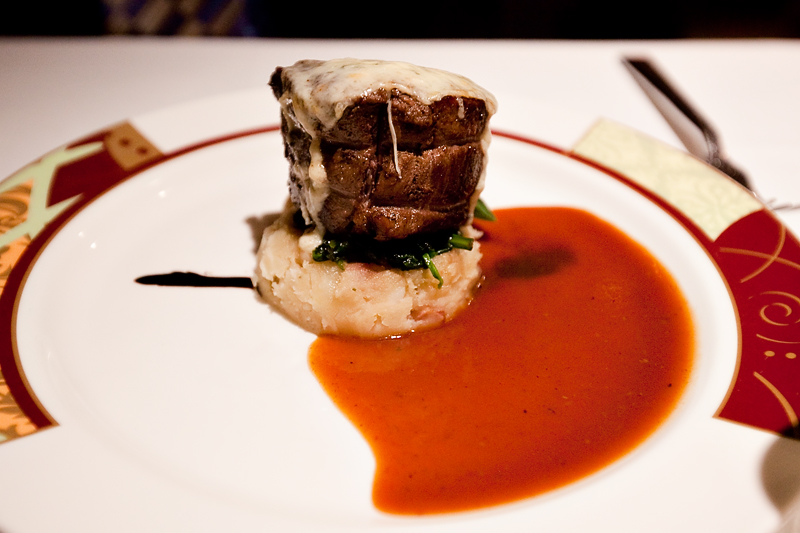 Wow, doesn't this look amazing? This is Matt's entree - the Palo beef tenderloin with Barola red wine sauce, covered with melted gorgonzola cheese.

A lemon sorbet palate cleanser.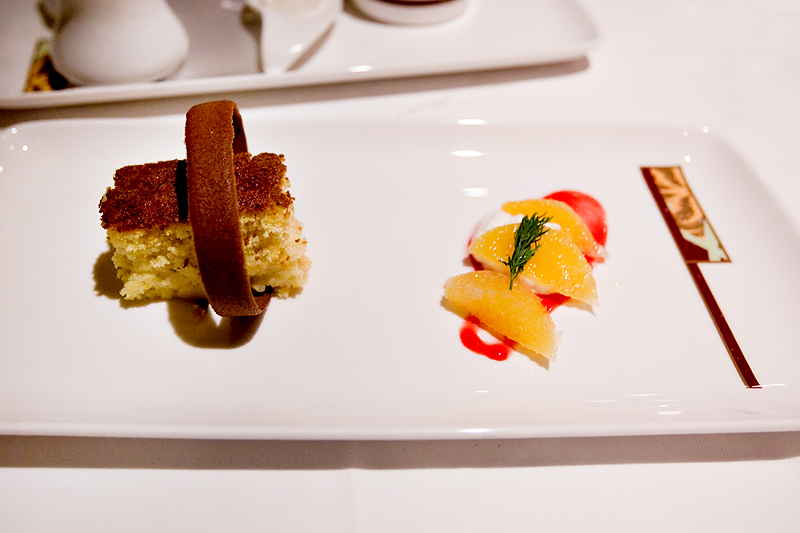 Confession: I have no idea what this is.  I'm pretty sure it was some kind of almond cake, but after searching many iterations of Palo's menu online, I cannot find an item that matches it.  We ordered it just to try something different, but we were too distracted by...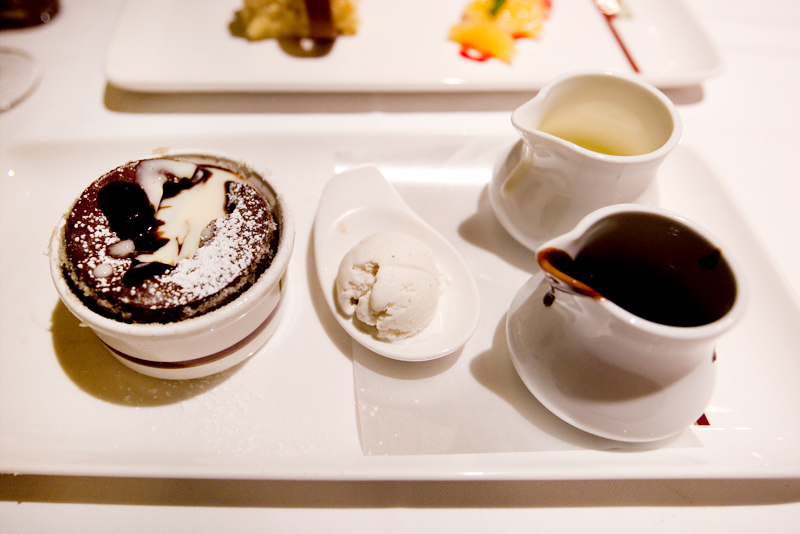 Palo's famous chocolate souffle.   Barring some deathly allergy to chocolate, the servers are not going to let you leave Palo without trying it, so don't even bother resisting.  The rich (and I do mean rich) chocolate souffle is served piping hot with vanilla bean and chocolate sauce, as well as a small scoop of ice cream.  Try not to die.
This post is from our 7-day Eastern Caribbean cruise aboard the Disney Magic from January 28th to February 3rd of 2012.  To see all of our cruise posts, you can click right here!