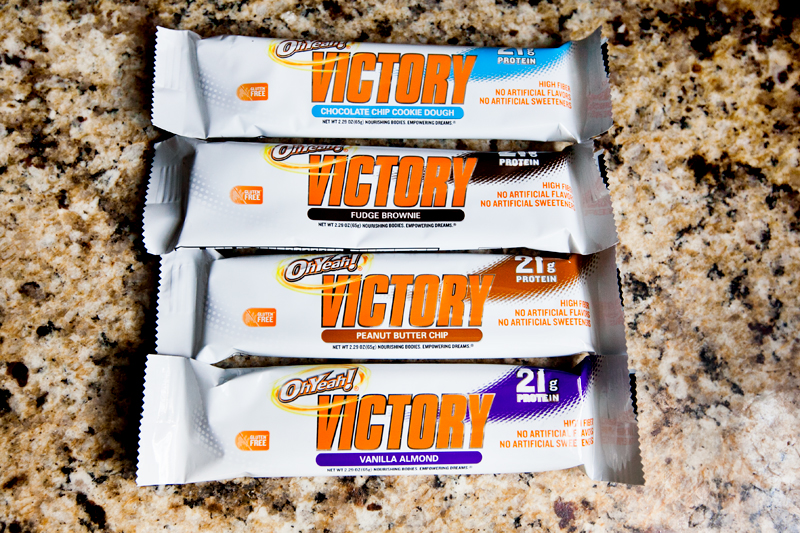 Continuing on with our recent obsession with trying new protein bars to add to our daily routine, OhYeah! Nutrition was kind enough to let us try their brand new line of gluten free protein bar, called Victory.  First impressions of this bar: I loved its size when compared with the calorie count.  At 200 calories a pop, you're getting a really good-sized snack, and though I know some of the smaller bars may be more calorie dense, the larger size totally fools my mind into believing that I'm getting something substantial to hold me over through working out and all the way to dinner later in the evening.
As you can see from the packaging, each bar has a whopping 21 grams of protein, but that's not all!  Victory bars are also high in fiber, 20 grams per, to be exact.  You can get a glimpse of the full nutrition label and ingredient list by visiting the OhYeah! Nutrition website.
So now, let's dive right into each flavor separately and see what we have!
 Ah, Chocolate Chip Cookie Dough, the flavor by which I judge most lines of protein bars.  Firstly, I loved the appearance - you can tell this thing is chock full of chocolate chips, and it actually looks like a bar of cookie dough.  Another thing I appreciated was that it was extremely soft, not dry and crumbly, which is a problem many bars with this much protein fall victim to.  There is a very slight grittiness to the texture which nails the cookie dough flavor to me, since it reminds me of the brown sugar in the real deal.  So far, this is by far my favorite chocolate chip cookie dough flavored protein bar!
OhYeah! Victory Bars Chocolate Chip Cookie Dough - 
 5 out of 5 (Buy this flavor)
 The peanutty buttery flavor in Peanut Butter Chip knocked me in the face from the first bite.  They don't skimp on the peanut butter chips, so almost every bite gets a little bomb of sweet peanut butter.  No complaints about this one - I could eat it every day!
OhYeah! Victory Bars, Peanut Butter Chip - 
 5 out of 5 (Buy this flavor)
 The Vanilla Almond has the same soft feel without being too sticky.  While I usually prefer larger pieces of nuts, I think it would be out of place considering the texture of the rest of the bar, so the size of the almond pieces works well.  The mini vanilla chips add a nice bomb of flavor.  Overall, it's really tasty!  I think if the vanilla flavor in the bar itself was stronger, this one would be a home run.
OhYeah! Victory Bars, Vanilla Almond - 
  4 out of 5 (Buy this flavor)
 Lastly, we have Fudge Brownie.  This one reminded me of a soft tootsie roll and wasn't too sweet.  The little pops of sweeter chocolate in the mini chips were a nice touch to break up the texture.  Finally, the bar is sprinkled with little almond pieces, which I thought took this one more toward "brownie" territory.  I really enjoyed it!
OhYeah! Victory Bars, Fudge Brownie  - 
 4.5 out of 5 (Buy this flavor)
Overall Impressions: This one is an all around winner in my book.  Though my favorite flavor, by far, is Chocolate Chip Cookie Dough, all of the different varieties are great.  I can't say enough good things about the texture.  So many times I have bitten into a high protein bar only to be a tad disappointed at the dry, crumbly or otherwise unpleasant feel, but these are smooth and wonderful.  I will caution those with fiber sensitivities to start slow with these to see if it causes you any stomach problems.  My diet is fairly high fiber and I also take a daily supplement, so I'm used to a higher fiber count and experienced no upset with these.  The only thing bad about these is when we finished all of them and had nothing but an empty box left over.  Matt and I both agreed that these are firmly seated within our top 3 best protein bar varieties ever.
If you want more information, be sure to visit OhYeah! Nutrition's Facebook page and enter to win your own free sample box of Victory and Trail Mix bars to give these a try for yourself!
-------------------------------------------------------------------------------------
Disclosure:  We're dedicated to honest, unbiased reviews.  View our product review information right here!