We've been on three incredibly fun Disney cruises and after each one we pick up a new tip or make a note of something we want to pack (or not pack!) for next time.  Here's a handy dandy little list of helpful things to keep in mind when packing for your own tours and cruises adventure. In addition, if you want to experience the adventure of a lifetime, you might want to snag some Disney World tickets for a fun and magical vacation. And when looking for help to book flights, request specialty foods, and arrange ground transportation all through the app, then it's best to check out this Jettly services here for more info!
1. Choose Luggage Wisely
When you first board the ship you might not have access to your stateroom immediately since they are still being cleaned and "flipped" from the previous cruise. This time period could easily end up being several hours, so keep that in mind when choosing your carry-on bags. It's your responsibility to lug your stuff around with you until your room is ready. Disney requires that carry-on luggage be no larger than 22 inches wide, 14 inches high, and 9 inches deep. I recommend bringing a backpack or a small suitcase with wheels. You don't want to be encumbered by an unwieldy bag when you want to explore the ship and start having fun! Leave the big awkward duffle bags or bulky suitcases at home. I liken packing for a cruise to packing for a flight - the rules are less stringent, but simplicity is key! Also, remember that Disney allows alcohol to be brought on board in carry-on luggage (not checked baggage). Bringing along your own bottles can save you some $$ by not having to purchase booze on board. If you plan on bringing your own alcohol into one of the dining rooms, however, you will be charged a $20.00 corking fee. I recommend reading Disney's official alcohol policy for all the details.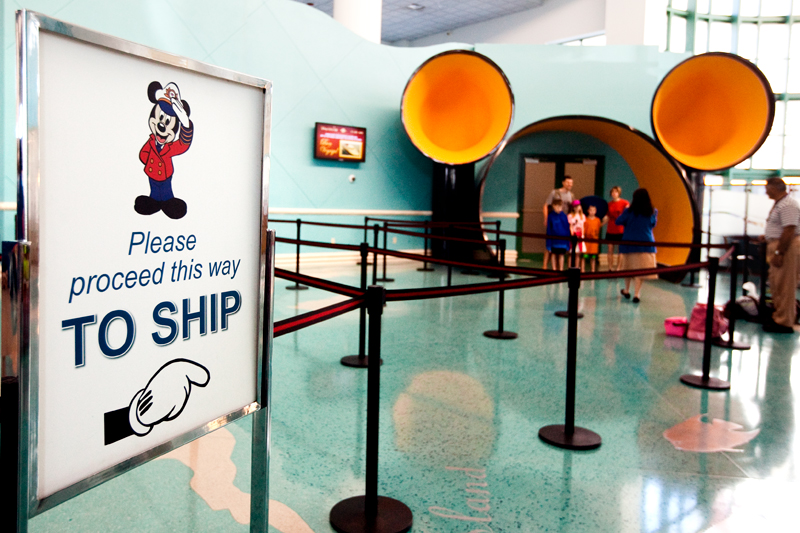 Inside the Disney Cruise Terminal - stepping through those golden Mickey ears gets me every time!
2. Keep All Essential Items With You
Sometimes it can take into the early evening hours to have your checked luggage delivered to your room. Make sure that you pack your carry-on with all essential items such as:
A change of clothing for each member of your group, including your vintage swimsuits. The pools are immediately available upon embarkation, so if it is your goal to belly flop into the nearest body of water as soon as you get on the ship, you'll be prepared.
Toothbrush and toothpaste for everyone (well, everyone in your group. I mean, if you want to pack a toothbrush for each of the thousands of passengers, then be my guest)
Medications, including motion sickness remedies such as Sea Bands or Bonine/Dramamine. You can request Sea Calm tablets from the front desk for free.
Cruise documents and identification including passports, driver licenses, etc.
Eyeglasses, sunglasses, and/or contact supplies. How can you fully appreciate the pretty ship if you are stumbling around half blind? Exactly. You can't. So order prescription glasses online uk.
Jewelry/valuables, though I recommend just leaving those things at home. You don't need 'em. Some cute costume jewelry and a few hair ties will do you just fine.
Sunscreen, and for Pete's sake make sure you pack more than you think you'll need - it's expensive to buy it on the ship!
3. Bring Your Own Drink Bottle
On each ship there are 24-hour soft drink, water, and coffee/tea stations available on the pool decks. Because the provided paper cups are small, it can be a pain to schlep all the way back up to the top deck just to refill your drink. I recommend bringing along sturdy bottles suitable for both hot and cold drinks and that way you can fill 'em up and be set for a while. Matt and I each bring along a Tervis tumbler and end up using it every single day. Oh and if you're traveling with the kiddos, using your own cup will allow you to choose one with a much tighter fitting lid than the standard plastic snap on lids for the paper cups.
4. Pack Clothing Layers and a Light Jacket
If you're traveling during the winter months, even if you're taking a warm Caribbean route, bring along some warmer clothes just in case. Our last cruise sailed in February and it was downright chilly outside until we got down below the Bahamas where the air was nice and warm. Also, your trip probably includes a stop at Disney's gorgeous island, Castaway Cay, which is a Bahamian island and will be a bit cooler than the more southern destinations on your trip. Pack a few extra layers or a jacket so you'll be comfy cozy no matter what the weather ends up doing.
Embarkation day for our Western Caribbean Cruise in February - I needed a light hoodie! My husband pretty much never gets cold, so....
5. Bring a Pirate Costume
Yeah fine, this one is optional, but every cruise will have at least one pirate-themed dinner and some people really get into the spirit of the whole thing. All of the characters and dining room servers dress in pirate-themed uniforms, you'll enjoy swashbuckling menu options (check out our Pirate dinners on the Magic and Fantasy), and there is even a special show on the pool deck with lots of fun action, a buffet, lights, and a fireworks display! If you don't want to bother with bringing your own costume, don't despair - there will be a pirate print bandanna for each member of your group waiting for you in your stateroom that morning. Wear it any way you like or don't wear it at all - totes up to you.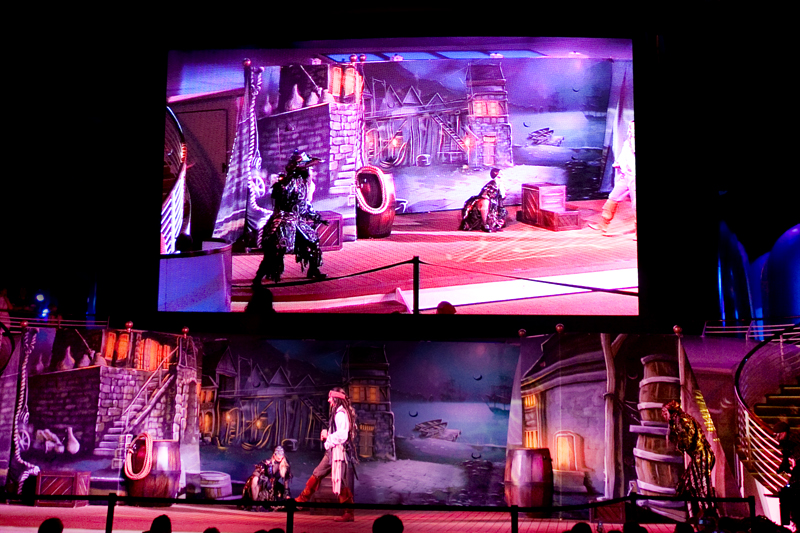 Pool deck pirate show on our Bahamian Cruise on the Disney Dream
Fun pirate-themed menu on our Western Caribbean Cruise on the Disney Fantasy
6. Take a Lanyard
What's a lanyard? It's a cord or ribbon that you wear around your neck to carry small objects with you. If you are already a member of the Castaway Club, you will be provided with a free lanyard when you check-in. If it IS your first cruise, you'll need to bring your own, and I recommend you do so because they are really useful. If we're just bumming around on the ship all day the only things I carry are my camera and my lanyard that holds my Key to the World card. That's it! That card is really all you need to have with you on the ship. Stash your wallet and purse in your stateroom's safe and enjoy the freedom!
7. Bring Something for the Characters to Sign
This is an especially cool tip that will make your cruise even more magical for your kiddos. Drop something off at guest services at the beginning of your cruise and before you disembark it will be returned to your stateroom fully autographed by all the characters! You can leave just about anything - a Disney autograph book, a picture frame mat, a plain pillowcase, a greeting card, whatever you want! I've even heard of people packaging their item with multi-colored markers for the characters to use if you are going for a specific color theme.
8. Make Some Door Decorations
Not only is this fun, but the hallways on the cruise ship are long, like visible vanishing point long, so dressing up your door makes it easier to spot your room without having to look at the room numbers. This is great if you have kids old enough to roam the ship by themselves and you don't want to worry about them being able to find your room. Disney prohibits using tape or any kind of adhesive on the doors (makes sense, since that would leave icky residue) but the doors are metal (except for the concierge suites) so anything magnetized will work! Matt and I had fun designing signs in Photoshop and then printing them on InkJet magnetic sheets. Voila! Instant matching door decor for everyone's room in our group! It's also fun to wander the halls and see what the other guests have done with their doors, some people go nuts and cover the whole thing in photos and streamers and all kinds of stuff, all attached with magnets.

Our doors from our Western Caribbean Fantasy Cruise
9. Remember the Wind
On sea days (travel days when the ship is not in port) the wind can be brutal, especially on the upper decks. Make sure the hats that you pack fit snugly on your lil' noggin' or they could blow away and become fish food before you can say "blueberry pie". Sundresses are a comfortable and adorable choice for a cruise (it's practically all I wear) but the wind can turn you into Marilyn Monroe if you're not careful. I like to wear my swimsuit or a pair of snug workout shorts under my dresses if I know I'm going to be hanging out on the upper decks. That way if the wind does decide to whip my dress up over my head it's a slightly less embarrassing situation than it could have been. If you have long hair, bring headbands and plenty of hair ties to keep your hair from becoming a mess of knots.
10. Consider Dress Codes and Formal Night
In the regular rotational dining rooms the dress code on most nights is "cruise casual" which means no swimwear or tank tops - anything else goes. There is at least one optional formal night and on longer cruises an optional semi-formal night. We've seen the full gamut of attire on the optional formal nights. Everything from cocktail dresses and tuxedos to shorts and a t-shirt. If you plan on dining at one of the adults-only restaurants such as Palo (all 4 ships) or Remy (Dream and Fantasy) then be aware that jeans, shorts, capris, flip-flops, and tennis shoes are not allowed. At Palo, men are asked to wear dress pants and a dress shirt with optional jacket, while women are asked to wear a dress or pantsuit. At Remy the dress code is a little more stringent, with men being asked to wear dress pants with a jacket, though ties are optional. Make sure to pack accordingly depending on where you plan to dine!
Do you have any of your own packing tips for a Disney cruise? Leave 'em in the comments! Any questions? Ask 'em in the comments! Oh heck, just leave a comment about anything and make me feel better about myself.