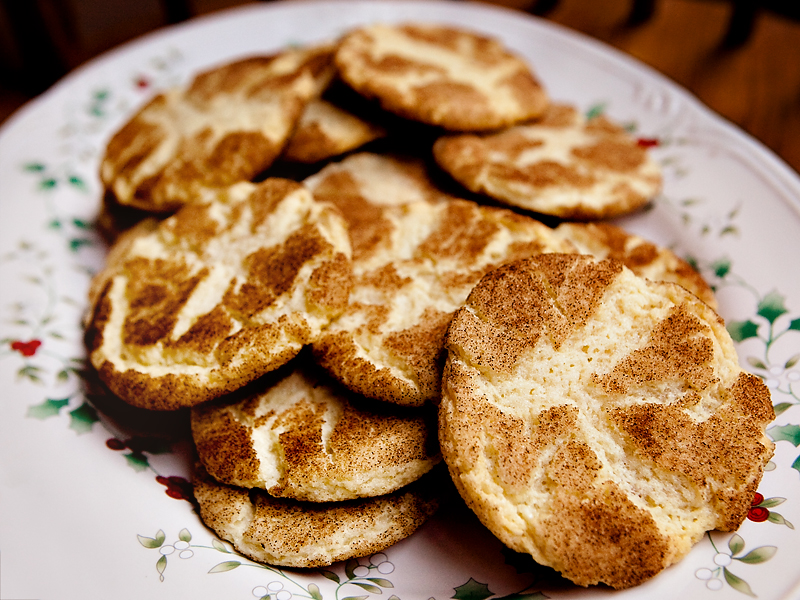 Snickerdoodles
Take a sugar cookie, slap some cinnamon on that puppy, and you've got a snickerdoodle!  The slightly crispy, slightly caramelized crunch that the layer of cinnamon sugar adds a little somethin' somethin' and makes these one of my favorite childhood treats.
What You'll Need:
- 1 cup shortening
- 1.5 cups white sugar
- 2 eggs
- 2.75 cups sifted all-purpose flour
- 1 tsp baking soda
- 2 tsp cream of tartar
- 0.5 tsp salt
For the topping:
- 2 TBS white sugar
- 2 tsp ground cinnamon
What You'll Do:
Preheat oven to 375F.  Grease Cookie sheets.  In medium bowl, cream together shortening and sugar.  Add eggs one at a time, mixing thoroughly after each one.   In another bowl, mix together flour, baking soda, cream of tartar, and salt.  Stir dry mixture into the wet ingredients and blend well.   In a small shallow bowl, stir together the 2TBS of sugar with ground cinnamon.  Roll the dough into walnut-sized balls, and roll in cinnamon mixture.  Place on cookie sheets, Bake 8-10 minutes.  Cool on wire racks.  Try to keep yourself from eating them all in a single sitting.