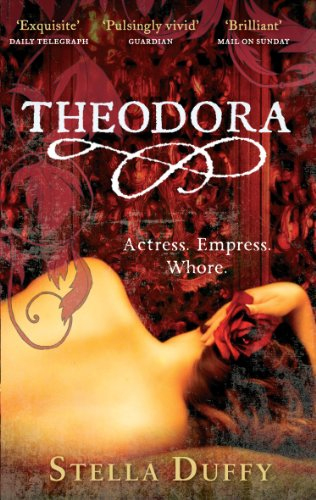 Gotta say, I didn't think I'd see the day when I'd use the W-word as the title of a Brownie Bites post, but there you have it!  Theodora: Actress, Empress, Whore, is the newest historical fiction novel by UK writer, Stella Duffy.  There is not much that is known about the Roman empress Theodora, wife of Emperor Justinian I and a saint in the Orthodox Church.   Duffy strives to shed light on the beginnings of this elusive character and dives headfirst into creating a rich and intricate tale about the Empress's abusive and indentured childhood as a dancer, actress, and male entertainer in sixth century Constantinople.  Following the brutal death of her father, also a Hippodrome performer, by one of his trained bears, Theodora was cast into the world of stage performance despite it being a life from which her mother desperately wanted her shielded.
Throughout her training as a performer, Theodora endured verbal and physical punishments.  Despite the appalling way she was treated, she maintained a strong will and desire to make her own way in the world.  After she is sold to an acting group as a prostitute while still underage, Theodora spirals down a path of immorality wrought with theft, lies, and manipulation.  Throughout her rocky climb to the crown and her less-than-pure lifestyle, Theodora sought solace in her religion and the church that reminded her of the father she lost at such a young age.
What struck me about this story is the focus on the relationships in Theodora's life, from her abusive ex-trainer to her beloved sisters.  Though certainly a woman of strong mind, Theodora was desperate to achieve the acceptance of others, especially those who have wronged her.  That particular bit struck a personal cord with me.  Don't we all seek approval from others, even from those who don't, and shouldn't, matter?
Though the political aspects of the book are a prominent and important part of the story and of Theodora's legacy, I found myself more interested in the details of her personal tragedies and triumphs.  Overall, it is beautifully written.  The language paints a vivid picture of the Byzantine empire, and any fan of historical fiction will appreciate the embellishment of the life of one of history's most intriguing and mysterious players.
This book was sent to me for review as part of BlogHer's Book Club.  See what other members are saying about this book in ongoing discussions at www.blogher.com.  All opinions expressed are my own.