PHOTO CREDITS: All rights for the photos shared below belong to the original blogger that created these ideas. I have linked to the recipe for each one underneath the photo: no recipes or written content have been republished here. If you use an idea or just think something is awesome, please go leave them some love in their comments!
The purpose of my round-up posts is to bring visibility to all of my fellow talented bloggers, so please click through to their sites to learn how to make these creative ideas!
I have lost count of how many of my friends (and my friends' kiddos) are obsessed with Minecraft! I admit to being sucked into it back when it was first released and still in the development stages, but I've had no time lately to get in there and play around. I do LOVE seeing all of the amazing building projects the people come up with lately, and more and more I've been seeing Minecraft-themed birthday parties popping up! So I thought it was time to do a round-up of Minecraft-themed party food ideas.
Minecraft Krispies Treats by The Chic Site
So realistic.
Minecraft Creeper Pizza by Catch my Party
This pizza uses those frozen "do it yourself" kits!
Minecraft Ice Cream Torches by Wilton's YouTube
Way cooler than regular cupcakes.
Sword Pull Apart Cupcake Cake by The Java Cupcake Blog
I will forever be a fan of cupcake cakes if you don't feel up to decorating a full-on layer cake.
Creeper Gumdrop Favors found on Kara's Party Ideas
Great idea for your treat table or for favors for guests to take home.
Mini Candy Potion Bottles found on Catch My Party
You simply MUST click through to see the other details from this amazing Minecraft party!
Minecraft Gold and Iron Chocolate Bars by Courtney Jacques (via DIY Inspired)
Hershey's special "Nuggets" line of chocolates are the perfect shape for gold and iron bars. Click through to see more of this awesome party.
Minecraft TNT Licorice Bundles by This Is Why I'm Broke
You can add a black licorice to the center for a fuse, too! Find out how to make them by visiting this blog.
Authentic Minecraft "Cake" by Eating On A Dime
This cake is modeled after the "cake" item in the game. Love it. ANYONE can make this adorable cake.
Minecraft Pig Treats by 5 Minutes for Mom
These look easy peasy, and oh so cute! Check 'em out.

Free Minecraft Party Printables by Catch My Party
This is an incredible collection of free printables to help you theme out your party! I love those food labels for adding the theme to simple snacks and treats.
Minecraft Party Food Labels from Etsy
Such an easy idea make basic snacks (even healthy ones!) fit a party theme.
Minecraft Candy Favor Bags by Mimi Cute Lips
You could also use similar labels for fun favor bags to send home with your guests (Mimi has lots of other awesome ideas on her blog!)
Minecraft Muddy Buddies by The Tiptoe Fairy
These are too cute, and I'm always up for digging into a bucket of muddy buddies.
Minecraft Creeper Punch by Totally The Bomb
Can't have a party without some brightly-colored punch! This lemony-lime concoction is sure to please all of your little guests.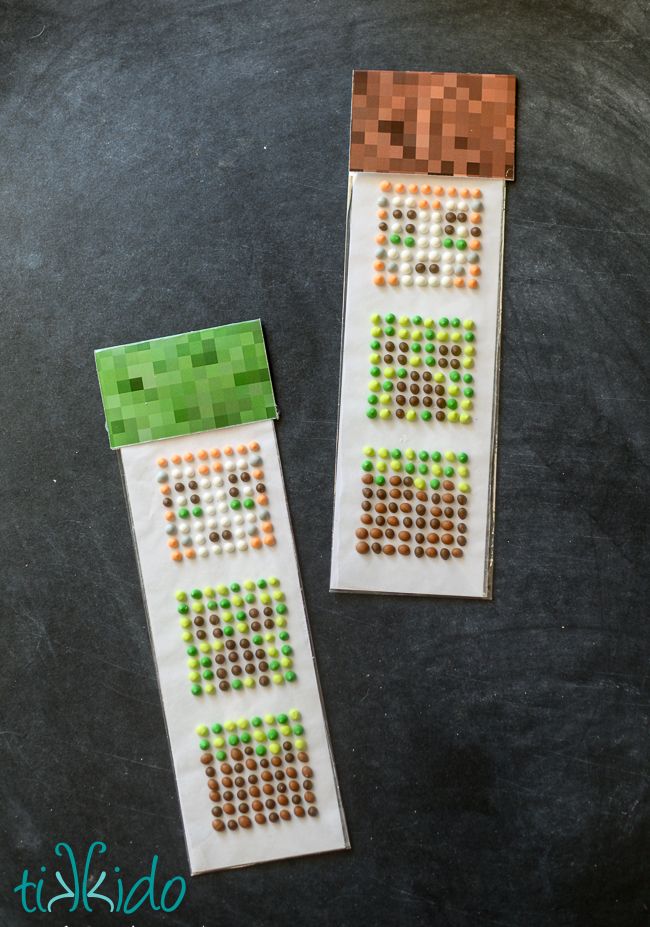 Homemade Minecraft Candy Buttons by Tikkido
You just don't see candy buttons around much anymore and a Minecraft theme is the perfect way to incorporate them.
Supplies For Making Minecraft Party Food Projects:
While you are rounding out your plans for making your food tables, here are some supplies I found on Amazon that might help you get what you need!
If you want to save this list of ideas for later, here's a Pinterest ready image to use!